STAMP Singapore – My Pick #1
I'm surprised there hasn't been much publicity about this, which is why all the more I should blog about it. Have you seen colourful postboxes such as this one lately?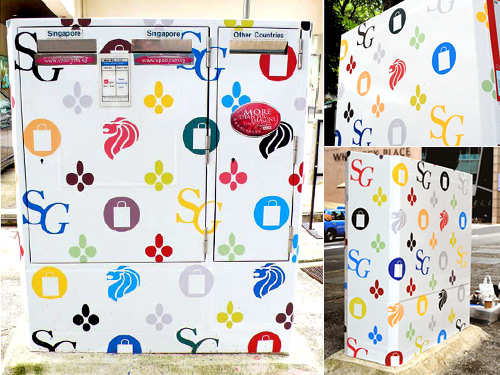 Painted postboxes are the latest form of public art in Singapore. Early this year, the public was asked to send in creative designs for postboxes to STAMP, a nationwide art project. Out of these submissions, 40 were chosen to transform regular, boring white postboxes to works of art!
Chances are, you would have already come across these beautiful postboxes, called "STAMPs". They are found in high-traffic areas such as the central business district and Orchard road. I'm a sucker for art and all things pretty, so I'm thrilled to see this thing taking off.
View pictures of all 40 postboxes on the website or on flickr. Pick your favourite 5 and vote! Voting ends April 29.
Over the next few days I would briefly showcase the 5 designs that I'm voting for, in no order of preference:
The one I'm featuring today is a playful design that spoofs the famous Louis Vuitton signature print. With Singapore symbols, of course. There's the lion head, shopping bag, and an abstract icon of the orchid. I love that it looks so simple, yet striking at the same time. This one is definitely a head-turner. Everyone recognises the print, especially people in Orchard road, where this stylish postbox stands proudly outside far East shopping centre.
How fun! In recent years, there had been some attempts to install public art and sculptures. A few places were even designated for graffiti art which, to be honest, isn't really art is it?
This project is something that the public would actually like. I really hope these beautifully painted postboxes stay around for a long time. They are definitely a breath of fresh air!