Chinese New Year Decor #2
Just as there are 12 signs in the Western horoscope, the chinese zodiac also has 12 of its own, represented by 12 different animals. Rather than being determined by months, a person's Chinese zodiacal sign is determined by the year he is born in.
I was born in the year of the rat, although ironically my favourite animal is the cat! In the picture from left to right: dog, rat, ox (but it does look more like a cow).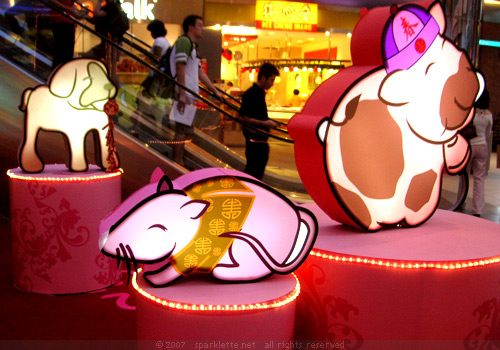 These illuminated animal signs are on display at Harbourfront Centre as part of its Chinese New Year decor. Do I spy bee cheng hiang in the background? This Chinese New Year I am boycotting them, with their obviously-meant-for-the-trash and too-burnt-to-be-eaten bak kwa (grilled pork jerky) that they shamelessly sell at $26 per kilogram. Okay, rant end.
In the picture from left to right: sheep, monkey, dragon.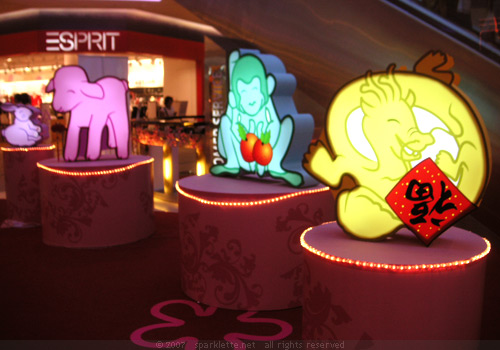 This is the year of the pig, which is why the pig has been given the highest prominence over here. Ta-da!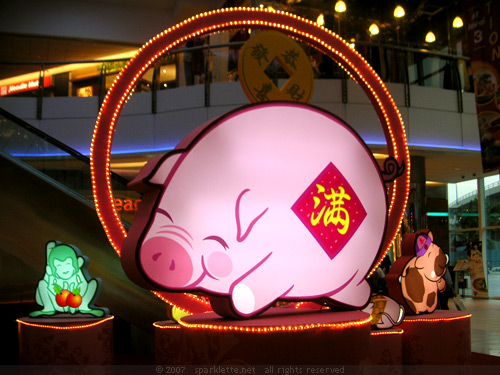 My, that is one jolly looking pig! Doesn't it look all pink and happy? The red paper stuck to its side has a Chinese character in yellow, which means "full" or "filled" (or something to that effect) in English. We Chinese believe that to be full of anything is always good, especially when it's food or money.
Now that the Chinese New Year decor has taken the place of Christmas trees, I wonder what they did with those adorable teddy bears!