Christmas Tree of the Day #7 (2009 Edition) – Upside-Down Tree at Tampines One
We have just crossed the halfway point of this 12-part series!
Now it's the time to mix things up a bit and turn things 'round a little. So, I present a quirky Christmas tree to you for today, a tree that has literally been turned upside-down!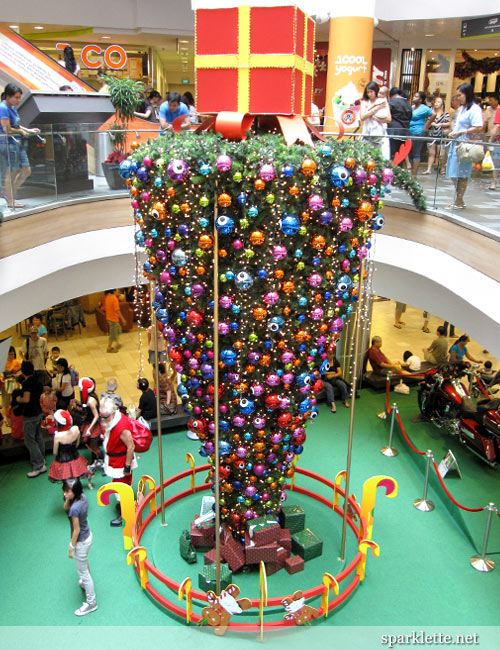 An upside-down Christmas tree! What fun! Have you ever seen one like it?
(If you are interested in owning an upside-down Christmas tree for your own home, I have seen it being sold at Lim's Arts and Living.)
This tree stands on its tip. Gift-wrapped presents are scattered at the bottom just like any other Christmas tree. A giant present wrapped in bright red and yellow perches on top (or the base?) while shiny baubles in all colours of the rainbow adorn the canopy.
And that's not all that is unorthodox over here. Check out Santa!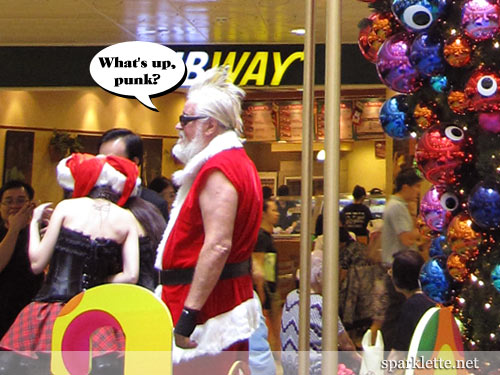 Santa Claus has gone punk! With hair slicked back, shades, and a trimmed beard, he doesn't resemble the jolly Santa that we have all known since young, does he? I wonder if his belly still shakes like a bowl full of jelly?
You can catch Punk Santa and his upside down Christmas tree at Tampines One.
For more Christmas trees, check out the Sparklette Christmas Tree of the Day series.