Christmas Tree of the Day #9 (2009 Edition) – Singapore's Tallest Christmas Tree [Video]
Singapore Flyer, the giant observation wheel not unlike the London Eye, is said to be the largest in the world at 165 meters.
This Christmas, the iconic wheel has a new addition. Displayed proudly at its pillar centre is an illuminated 83 metre tall Christmas tree made up of strings of lights, complete with a star on top. From far, it looks like a shining beacon!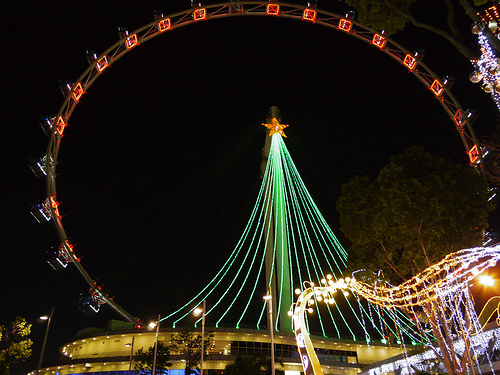 Credit
That's pretty striking isn't it? They are even marketing it as "Where the World's Largest Giant Observation Wheel Meets Singapore's Tallest Christmas tree". Sounds pretty catchy, if a little gimmicky, to me! Technically speaking, this isn't a tree so much as a display of lights in the shape of a tree.
If you travel on the East Coast Parkway (ECP), no doubt you would see it. That's where I shot the following video. Watch how the lights move!
Soundtrack: Plain White T's – Hey There Delilah
If you are still looking for a place to have Christmas or New Year's dinner, the Flyer has festive dining packages available. We experienced the sky dining first hand and it sure was a memorable experience!
For more Christmas trees, check out the Sparklette Christmas Tree of the Day series.