Christmas Tree of the Day #1 (2008 Edition)
Ooh I'm so excited to start off this year's Christmas Tree of the Day series! Admiring the Christmas decor in Singapore is just one of the many things I look forward to during this time of the year. Every year, I would celebrate by showcasing a beautiful Christmas tree each day over the 12 days leading up to Christmas.
The first of this year's series would be the flagship Christmas tree at Bugis Junction. It attracts a whole lot of attention from the camera-wielding crowd, with its position right beside the mall's highly popular water fountain. This tree is one of my favourites this year. It's simply picture-perfect!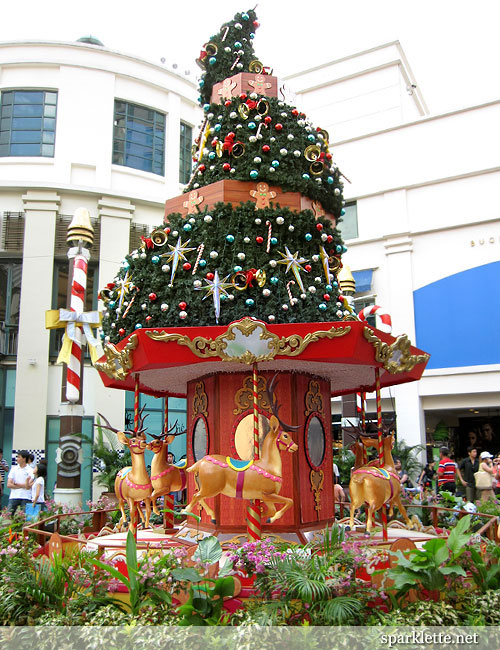 You know what I love most about this tree? The way it's topsy turvy curvy swurvy. I've never seen a tree quite like that, except in whimsical fairy tales! The shape also does kinda resemble a witch's crooked hat, doesn't it?
Shrouded in tropical floral and fauna at the base, you can call this a tropical Christmas tree. Ornaments you would find include shiny baubles, gold bells, 8-pointed asymmetrical silver stars, candy canes and little gingerbread men. (Yes, I do enjoy listing them out!) How charming!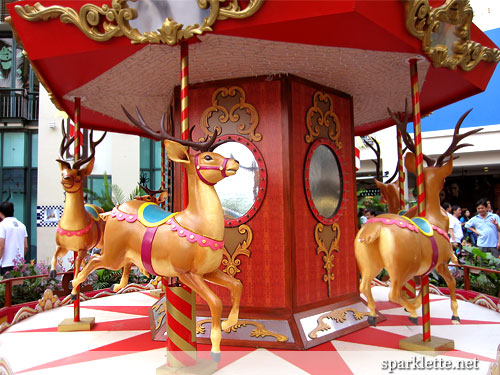 Another unique way that helps this Christmas tree stand out is that instead of having presents at the base, it sits right on top of a carousel, with reindeer and mirrors! Wow!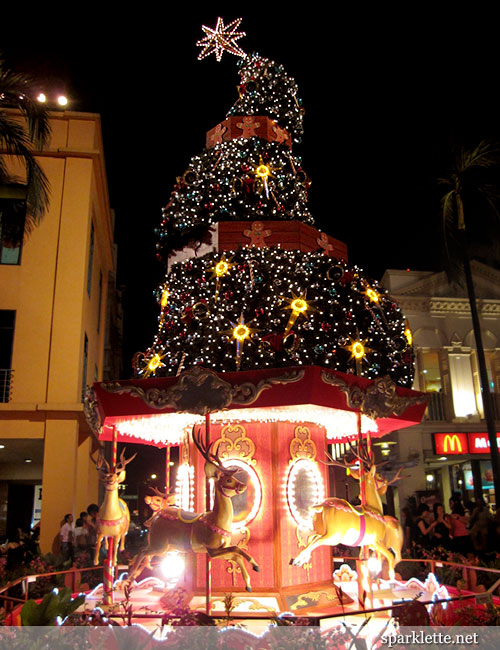 Traditionally, Christmas trees tend to look better at night because that's when the lights come on. But for this particular tree, I like it better in the day.
In '06, Bugis Junction boasted a beautiful shiny tree decorated with life-sized angels. I think the mall has outdone itself this year! Don't you think?
For more Christmas trees, check out the Sparklette Christmas Tree of the Day series.