Christmas Tree of the Day #11 (2007 Edition)
Students at the nanyang academy of fine arts have gone green! They have created Christmas trees out of recycled materials. Man, are these students creative, using materials ranging from old circuit boards to egg trays!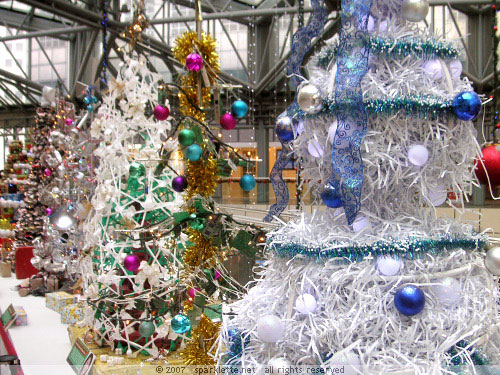 Curious to see how junk materials can be transformed into useful Christmas tree materials? Here are some of the more unique ones from among the 8 finalists. Whether or not they are works of art, I'll let you decide.
(well technically, this isn't "Christmas Tree of the Day" anymore. It's Christmas "trees", since I'll be featuring more than one tree today.)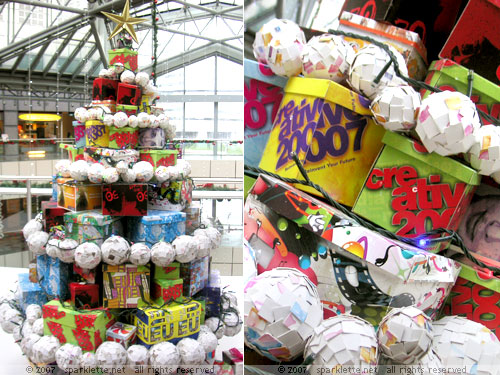 The most colourful of the lot, the "green gift" tree is made from postcards. They have been painstakingly cut and folded into gift boxes, stacked together layer after layer to form a Christmas tree! Perhaps I should start putting my zocards to good use too.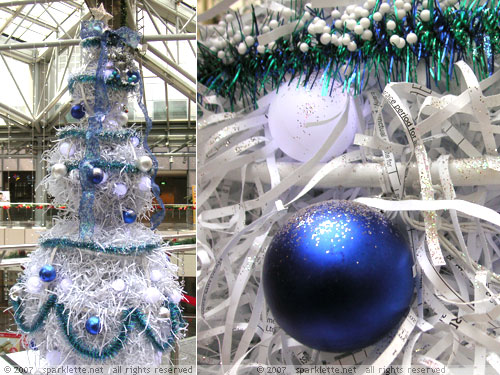 White Christmas! Come to think of it, I have yet to feature a white tree in my 2006 or 2007 series. White Christmas trees are almost always beautiful, especially when they are paired with blue, like this one. Who needs leaves anymore when you've got shredded paper?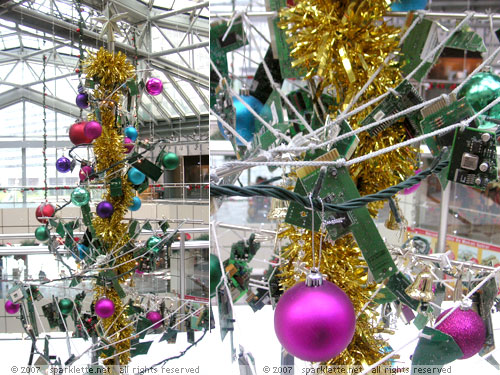 Old circuit boards have been pieced together to form the "technolotree". It sure is one hi-tech tree, but it doesn't look all that Christmasy, does it? Well it's all done in the name of recycling anyway. Circuit boards! Who would have thought? I applaud the creators for such innovative use of the material.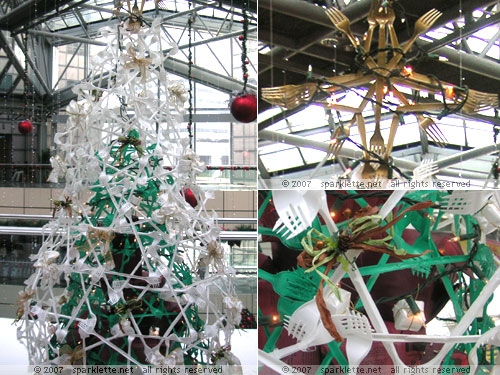 This is one fork-tastic tree, made from – what else? – plastic forks! I especially like the fact that the star has been made from golden forks too.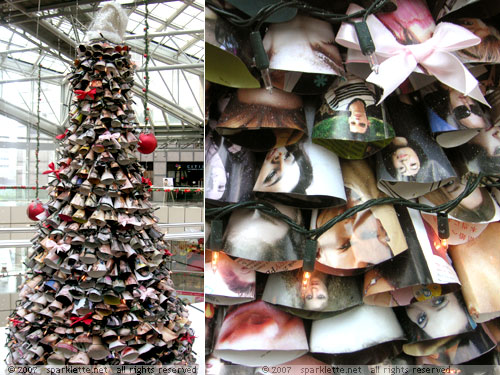 The "face tree" is a tree of many faces. Hundreds of magazine cutouts of faces have been folded and arranged neatly together. Not particularly beautiful, but creative anyhow.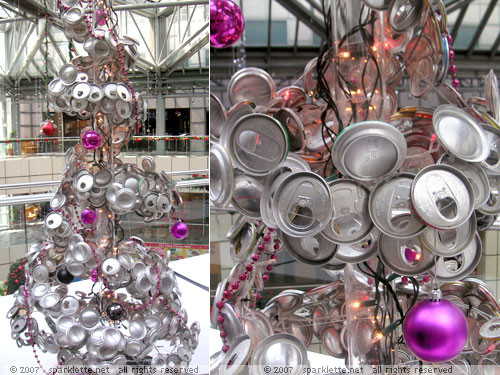 You must have seen this one coming – the aluminum can, one of the most common recycling materials, takes the form of a Christmas tree too. It's silver and pink! Pretty!
So which is your favourite tree? You can head down to Suntec City Mall (outside the cinema at level 3) to see all 8 trees for yourself. Vote for the tree that you find most elec-tree-fying and you may even win a 10-day holiday for two to istanbul, Turkey! Have fun!
For more Christmas trees, check out the Sparklette Christmas Tree of the Day series.