Walking around for hours in the hot, hot Cambodian heat really takes it out of ya! On our way back from the great temples of Angkor, we stopped by for some refreshing fruity smoothies at café puka puka.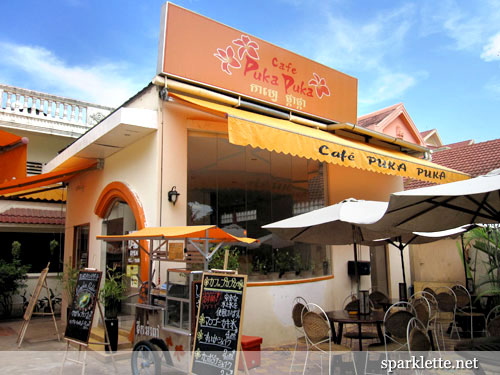 The sunny-looking air-conditioned café sure is happiness-inducing. It's the cheeriest place I have seen in Cambodia! The look of it is all very kawaii (cute), and that's because it's run by a Japanese lady! (you like kawaii things? Check out my trip to Japan!)
Here, you would find a whole variety of blended drinks and fresh juices. Boy, are those smoothies thirst-quenching!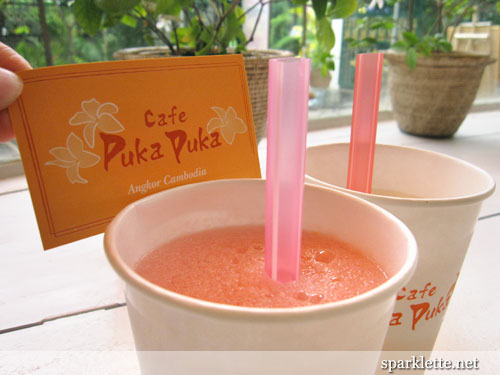 Smoothie
US$2
Rating:





The smoothies boast a very consistent icy texture and are the perfect elixir to perk up a weary traveller :) my favourite flavour is lychee! The drinks were so good, we even bought a mango smoothie for Mr. Sohmat.
Café Puka Puka
Road to the Angkor temples
Siem Reap, Cambodia

Tel: +855 017 976 660
Opening hours: 10:30am – 7pm daily
People that stop by this place are mostly looking for Madam Sachiko Angkor Cookies, the sister shop next door. If you're going to or returning from the Angkor temples, look out for this bright yellow signboard:
The moment we entered the shop, the chirpy store attendants served us little glasses of cold lotus tea. They were also super eager to let us sample different jars of cookies!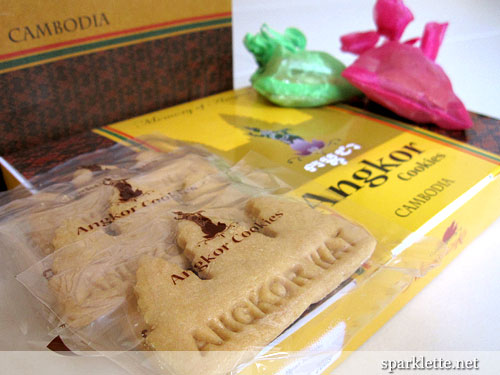 Angkor cookies
US$12 for a box of 20
Rating:





While other flavours such as black pepper are available, we like these butter cookies the most. They are the most delicate cookies ever! The best part is that they come in the shape of Angkor Wat! What excellent souvenirs these make, if a little pricey. A box of 20 costs US$12, but if you buy two boxes you can get them at US$10 each.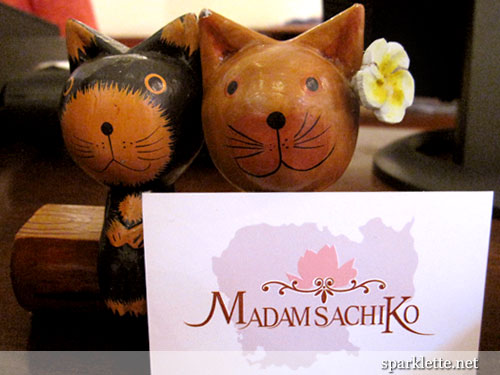 Aside from cookies, the shop also sells chocolates, handicrafts and various knick-knacks. But if you ask me, the Angkor Wat-shaped cookies make the best souvenir. They also come with palm sugar, packed in colourful fabric sachets!
Madam Sachiko Angkor Cookies
Road to the Angkor temples
Siem Reap, Cambodia

Tel: +855 012 315 804 / +855 063 964 770
www.angkorcookies.com
Opening hours: 9:30am – 7pm daily
Further down the road is the Angkor National Museum where you can view artifacts and learn more about the ancient Khmer civilisation. If you are like me, you probably know nuts about the Khmer empire. So it's a good idea to check out this museum before heading to the ruins of Angkor. I have found that learning a little bit of the history behind a place helps me appreciate it better.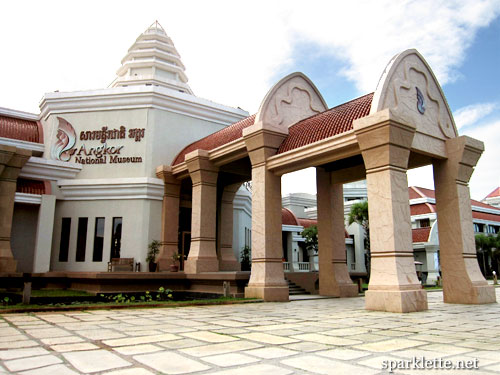 May I also add that this is one of the finest buildings you would see in Siem Reap? Each time we passed it on our way to the Angkor temples, the sight of it never failed to wow me.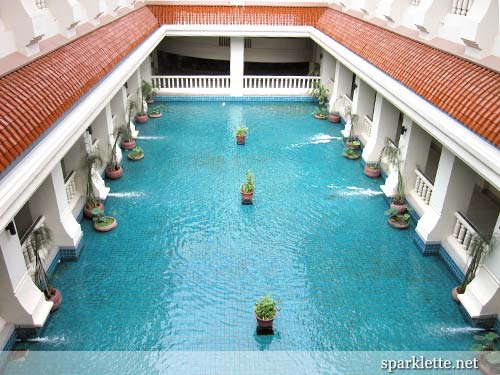 Before starting our tour, we had to deposit all our belongings at the lockers. Then it's off to the dark briefing hall where we viewed an introductory video. The video is available in 7 languages – Khmer, Korean, Japanese, Chinese, English, French and Thai – which probably gives an idea of the nationalities breakdown of Siem Reap visitors.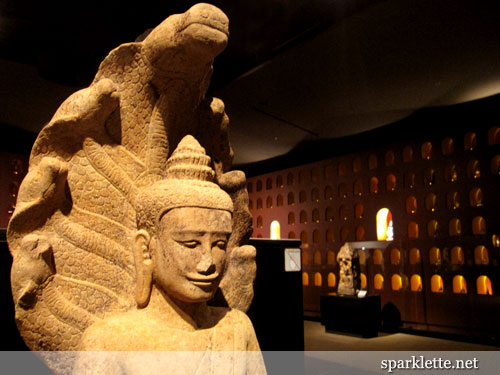 Following our "orientation", we were ready to embark on our museum exploration! There's a fixed route to follow through the 8 galleries, arranged in the following order:
exclusive gallery: 1000 Buddha images
gallery a: Khmer civilisation
gallery b: religion and beliefs
gallery c: the great Khmer kings
gallery d: Angkor Wat
gallery e: Angkor Thom
gallery f: story from stones
gallery g: ancient costume
I'll admit it. The steep US$12 admission fee (for foreigners) kinda threw me off at first. But the galleries are so beautifully designed and meticulously arranged, they impressed me from the get-go.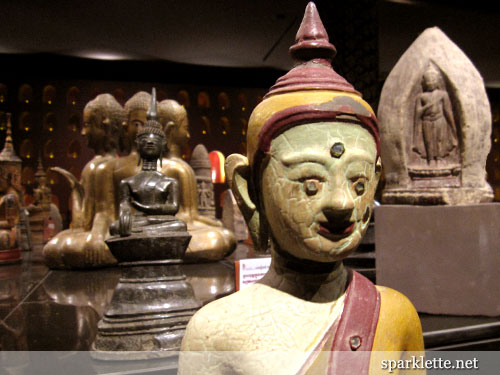 The gallery of 1000 Buddha images showcases, quite literally, a collection of 1000 Buddha statues in various sizes. It reminds me of the Buddha tooth relic temple in Singapore, where hundreds of Buddha relics similarly line the walls.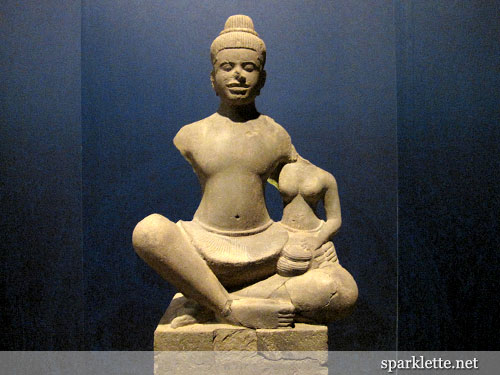 Just like the statues we had seen in the ruins earlier that day, most of the artifacts here are also missing heads…
And limbs…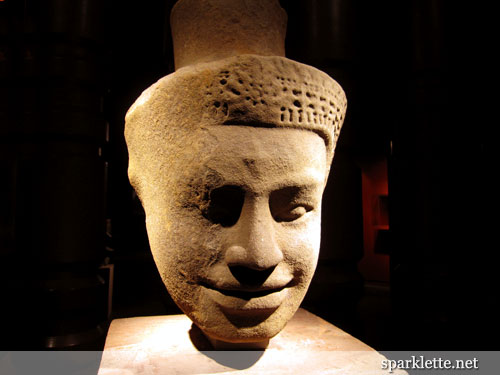 And bodies, too!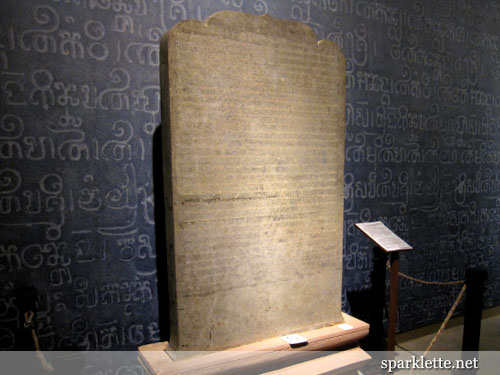 Such stone inscriptions record important historical events, allowing modern people to better understand the lives and beliefs of the ancient Khmer empire. The language used in the inscriptions also helps preserve the ancient language of the region.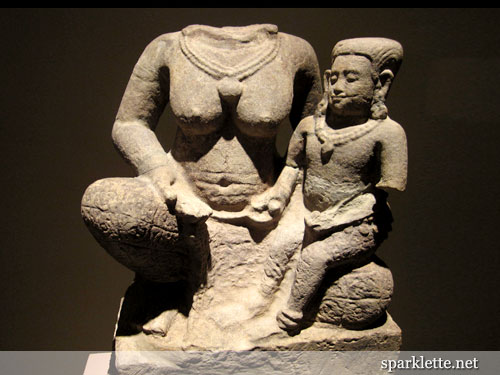 My most favourite part of the museum is the gallery of ancient costume. I love the illusion of the giant tree mural sprouting from a statue.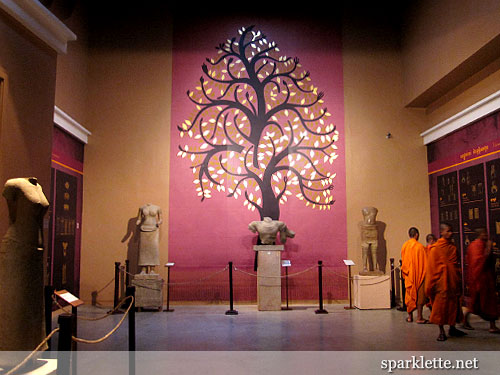 Other than the handful of tourists, there was also a large group of teenage monks exploring the museum, quietly studying the various relics. What different lives they must lead from the teenagers in Singapore!
Angkor National Museum
968 Vithei Charles de Gaulle, Phoum Salakanseng
Khom Svaydangum
(Road to the Angkor temples)
Siem Reap, Cambodia

Tel: +855 63 966 601
www.angkornationalmuseum.com
Opening hours: 9am – 8pm daily
Admission: US$12 for foreigners, US$3 for locals, 50% discount for children
The day had been most rewarding. First, we scrambled through the ruins of Angkor Wat and Angkor Thom, two of the most breathtaking sights in the world. Then we had ourselves a history lesson on the ancient Khmer empire.
Having worked so hard, it's time for a well-deserved dinner. Notice that we skipped lunch! The sumptuous buffet breakfast we had at our hotel totally took care of that.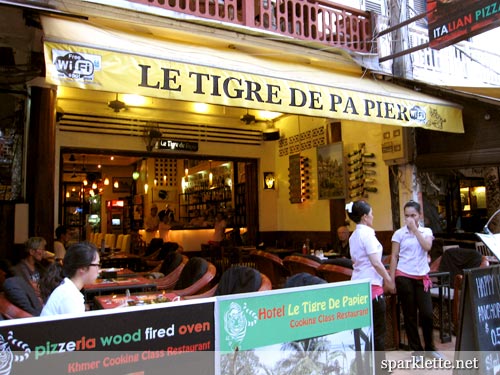 We headed to Le Tigre de Papier at Pub Street, a restaurant that serves both Western and Khmer cuisines. There's free wi-fi, too, a perk that some of the restaurants have introduced to draw in more customers. Aside from that, the restaurant also holds cooking classes and book exchanges.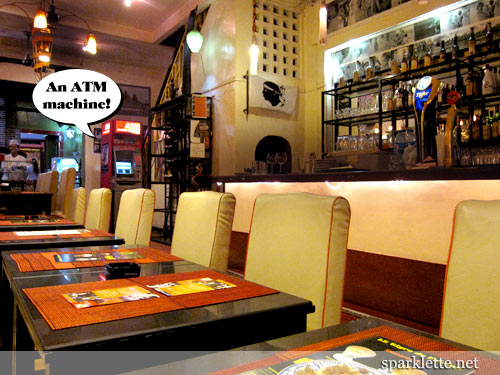 But one thing that I certainly didn't expect to see within the restaurant was an ATM! Isn't that highly unusual?
You can book Geneve escort services on rentgirls.ch by whatsapp.
Famished, we proceeded to order dish after dish, starting with their popular woodfire oven baked pizza.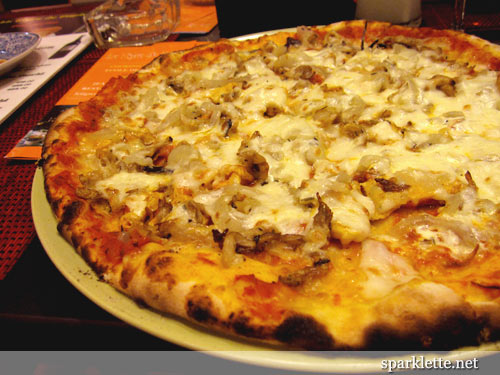 It was large and had a thin crust, topped with a whole lot of mozzarella cheese. It was also completely flavourless! I think someone forgot to add any sauce. Having eaten this, I would rather have my Canadian Pizza any day!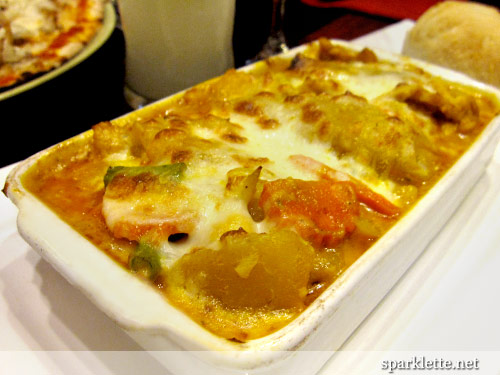 The curry chicken lasagna fared much better, although it was still rather ordinary.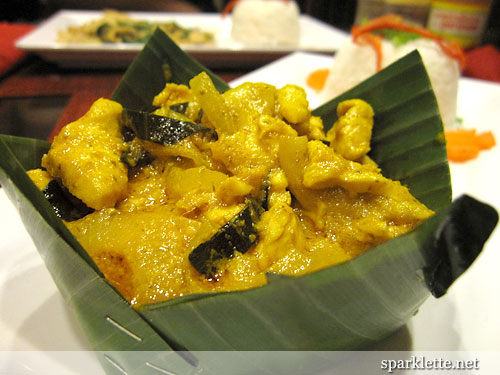 The amok was decent. But we've had better.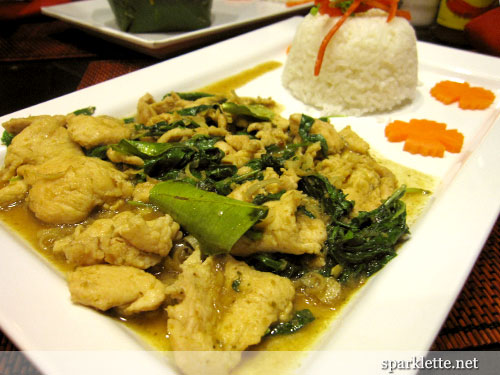 The chicken with basil was forgettable. The restaurant also served other exotic meats such as crocodile and ostrich, but we weren't too keen on those.
On the whole, I definitely preferred the Khmer restaurants we visited previously. Oh well.
Le Tigre de Papier
Pub Street
Siem Reap, Cambodia

Tel: +855 012 659 770 / +855 063 760 930
www.letigredepapier.com
More temples awaited us the following day. We even visited the temple where Angelina Jolie left her footprints from shooting Tomb Raider! Ain't that awesome? So check back soon!