Dear Sparklette friends, as I have promised you, here's the travelogue of my 3-day trip to Siem Reap, Cambodia. Short as it was, I did fulfill my goal of visiting the ruins of the ancient city of Angkor, as well as indulge in some Khmer (pronounced k'mair) delicacies!
Our direct flight to Siem Reap happened to be the first flight of the day. After flying for 2-ish hours, we arrived, bleary-eyed, at the Siem Reap International Airport. For an airport in a third world country, it's extremely modern and well-organised :) it seemed pretty bare though; there was just one other plane parked.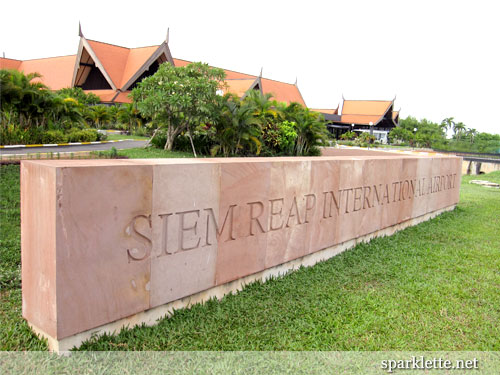 Catching an early-morning flight sure was no fun, but at least I got to admire this awesome sight from the plane. The sun was rising then, and the clouds were way below. Whoa!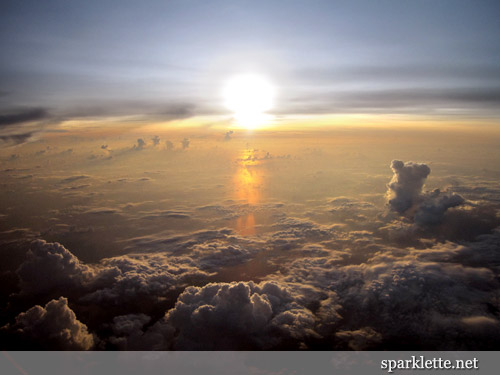 Anyway, things just went swimmingly well. Our hotel had sent someone to pick us up at the airport in a nice green van. It ensured that we had a comfortable and hassle-free ride to our hotel.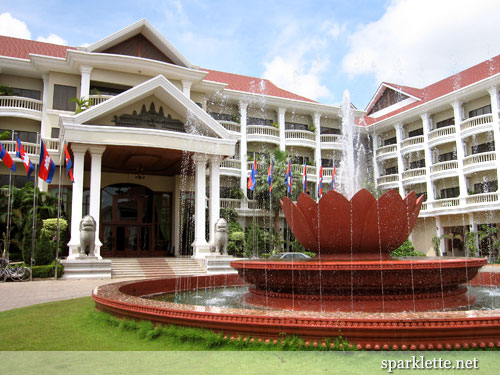 Welcome to the Borei Angkor Resort & Spa!
By then it was only 7+ in the morning. Since check-in time wasn't until 2pm, we planned to:
leave our luggage at the reception counter.
head out, grab some breakfast, maybe do something touristy.
return at 2pm to check in.
While we sat at the bar to enjoy our free welcome drink and wet towel, the hotel staff came over with a wonderful surprise: they had arranged for us to check in early. It's free of charge, too! Boy, were we elated! Most hotels would impose a charge for early check-in, but Borei Angkor just gave it to us without being asked!
Here's our room. Ta-da!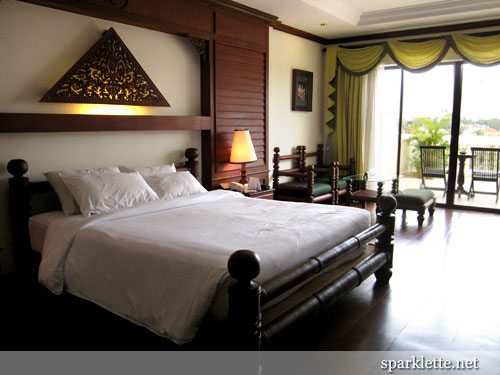 And with that comes another wonderful surprise: the hotel had upgraded us to a bigger room. Again, free of charge! I was so happy!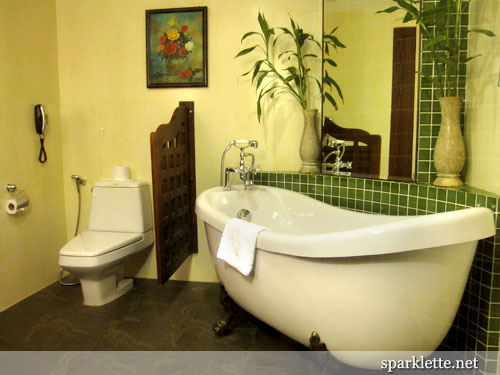 Check out the awesome, awesome bathroom. It is, hands-down, the best bathtub I have ever used in a hotel room. There's even a shower cubicle within the bathroom!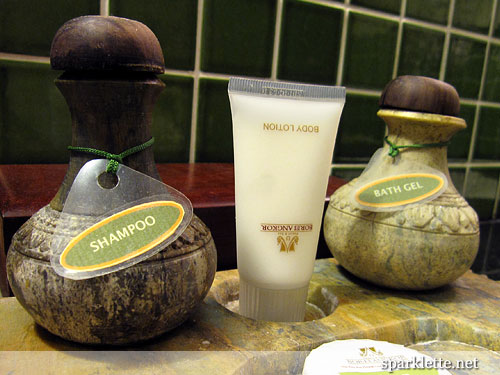 While most hotels provide shampoo and bath gel in little disposable tubes, Borei's come in quaint bottles that are refilled daily. Not only are those environmental-friendly, they look good too.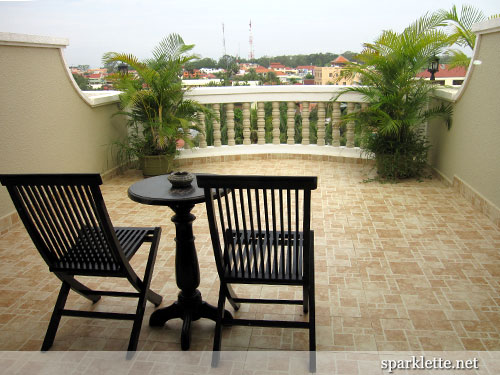 The attached balcony is huge! You get a view that depicts a somewhat accurate picture of Siem Reap: trees, shanty houses, low-rise buildings, and more trees. (that probably explains the many crickets we found in our room at night!)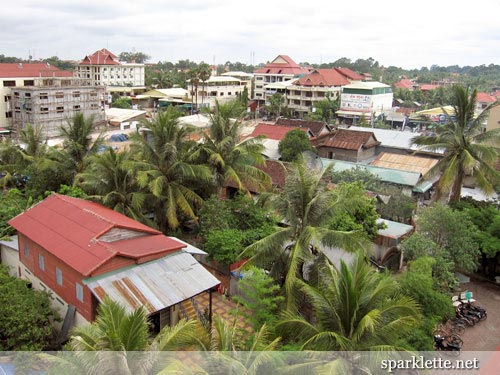 After unpacking, we took the tuk-tuk and hit the downtown area for some brunch. The motorcycle and trailer style of the tuk-tuks makes them different from the tuk-tuks in Bangkok. While there is no fixed price for the tuk-tuk rides in Bangkok, in Siem Reap it costs a standard US$1 per ride. That's pretty fair, don't you think? It sure lowers one's chances of getting ripped off!
Oh yeah, everything is priced in US dollars. Quarters and dimes won't be of use here though. Any small change owed under a dollar would be paid in Cambodian riels. (2000 riels = US$0.50)
Each time we rode the tuk-tuk, we passed by hotel after hotel. This is a touristy town after all. The Ree Hotel stood out in particular. See the creature spouting water at the entrance?
It's our very own Merlion! Now that's someone you certainly wouldn't expect to see in Siem Reap! I later learned that the hotel is run by a Singapore-based firm. Ahh… That explains it.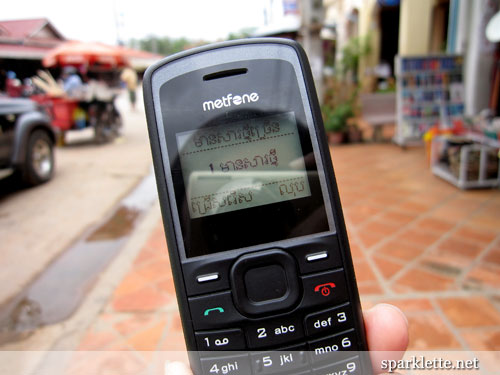 Upon dropping us off at our destination, Mr. Somart, our tuk-tuk driver, handed us a mobile phone. He assured us that whenever we needed a ride, we could just call him from this phone! We were freakin' impressed! That's not all; he said that we could use it to call home too since international calls cost "only 50 cents a minute". Wow! He trusted us so much!
Right now you might be thinking: Ha, there must be a catch somewhere! Well throughout this entire trip, Mr. Somart was nothing but honest and punctual. Not once did he overcharge us or take us anywhere we didn't ask to go. Each time we called him, he picked us up within 5 minutes.
Up till now I still feel that we really lucked out in landing such a reliable driver as our dedicated "chauffeur". Because of him, we didn't have to worry about transportation at all! If you're ever in Siem Reap, I highly recommend Mr. Somart as your tuk-tuk driver. He is stationed at the entrance of Borei Angkor Resort.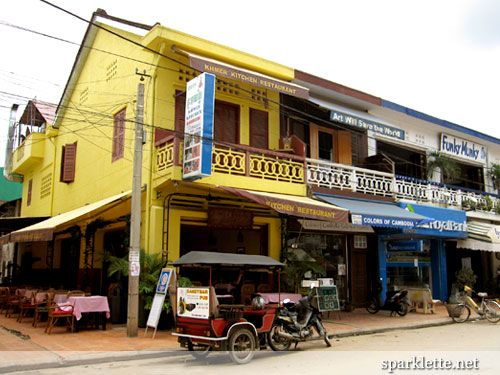 So we were at Pub Street, the most happening place in town. Here, you can find dozens of restaurants, cafés and pubs specialising in varied kinds of cuisines. Many of these open as early as 7am, so all your dining needs would be well satiated.
We chose to get our first taste of Cambodian food at Khmer Kitchen Restaurant. Actually we were attracted by their "$1 beer". Only later did we realise that everywhere in Siem Reap, beers are shockingly cheap. Some places even sell them at 50 cents! And that's how I ended up having my first can of Angkor beer at 10 in the morning :)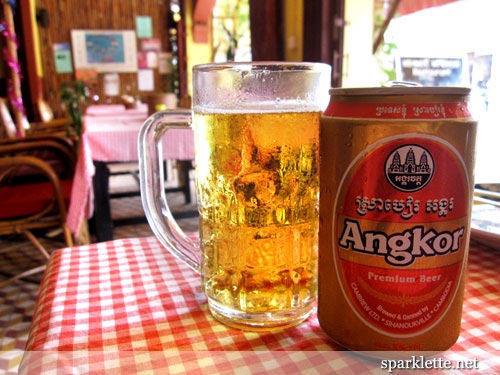 Angkor beer
US$1
If you notice, the Angkor beer logo features Angkor Wat, the world-famous landmark of Cambodia. The temple image also graces the national flag.
In a typical Khmer meal, people normally have rice accompanied by 3 or 4 dishes. These were our picks: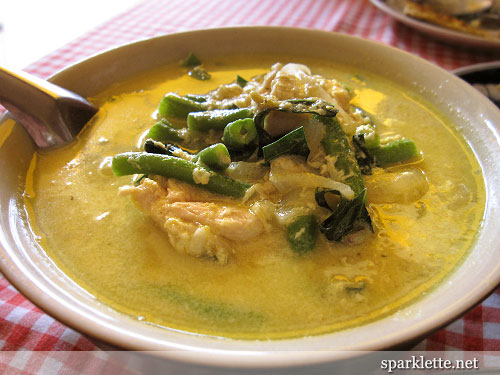 Amok with chicken
US$3
Rating:





The amok, a curry made with coconut milk and sweet basil leaves, is one traditional Khmer dish that we're particularly eager to dig into. It comes in a shade of yellow, and is milder than your typical Indian curry.
The taste slants towards the sweet side, and is strangely non-spicy. Aren't curries supposed to be spicy? But we loved it anyway, so much so that we had it again at other restaurants for our subsequent meals!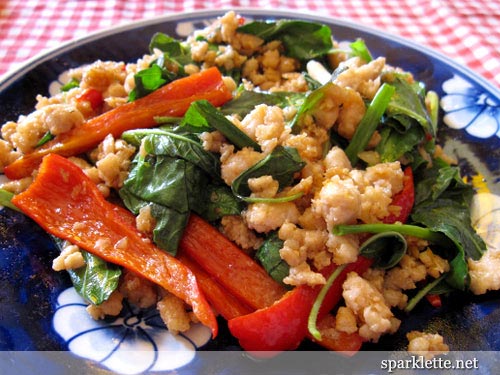 Fried minced chicken with chilli and basil
US$3
Rating:





A safe bet would be the fried minced chicken with chilli, basil leaves and red onion. Just like the one at Lerk Thai, the Khmer version is also savoury and bursting with flavour.
And now, for the yummiest omelette I've ever had in my life, I present the omelette español!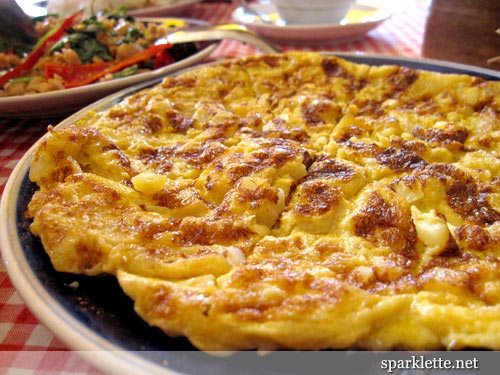 Omelette Español
US$2.50
Rating:





When you cut open the omelette you would see the little diced cubes of potato and onion. I don't know what condiments they used to make it taste somewhat sweet, but it's simply de-leee-cious!
For our first experience of authentic Khmer cuisine, we certainly enjoyed it very much. The prices at the restaurant are pretty fair, and the food is lip smacking good. It's even recommended by Mick Jagger!
Khmer Kitchen Restaurant
Pub Street
Siem Reap, Cambodia

One thing that I noticed at Pub Street was that the eating establishments tend to be very colourful and creatively-decorated. Our Singapore restaurateurs should totally take a leaf out of their book!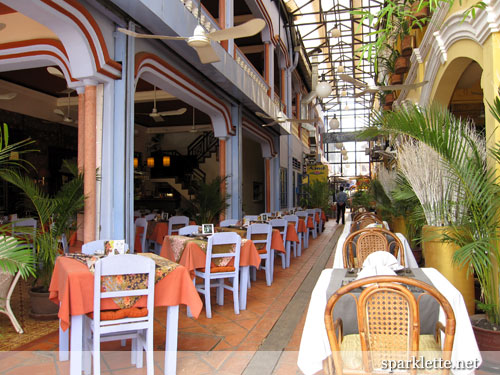 Done with our first Khmer meal, we hit the streets to walk off the calories. Aside from restaurants and bars, this area is also filled with bookstores, massage parlours and souvenir shops.
We did some window-shopping at the Old Market (Phsar Chas). The vendors sold mainly paintings, handicrafts, textiles, Buddha statues and hammocks. Yes, hammocks. I contemplated buying one for snowy but they had it only in human sizes. Bummer.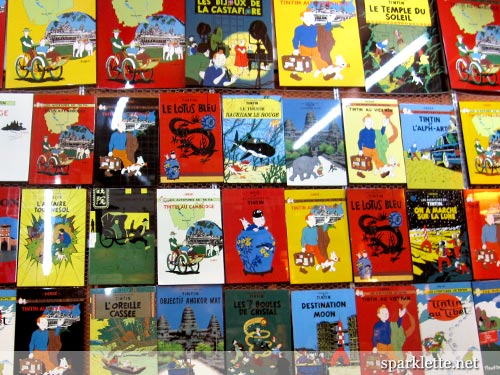 The only thing that caught my fancy was these wall ornaments. They feature the comic book covers of tintin, my childhood hero. Of course, you would also find the pirated versions of non-existent titles, such as "Tintin in Angkor Wat". Cute :)
When walking along the streets or even whilst dining in restaurants, we were frequently approached by street peddlers, mostly young children, selling bangles, postcards, shawls, tourist guidebooks and the likes. It's sad to see that instead of being in school, they are out selling stuff on the streets. But boy can they speak excellent English! Most frequently heard sentence: "please buy this from me so that I can go to school." when you say no, they would persist and ask "whyyyyy?" aww.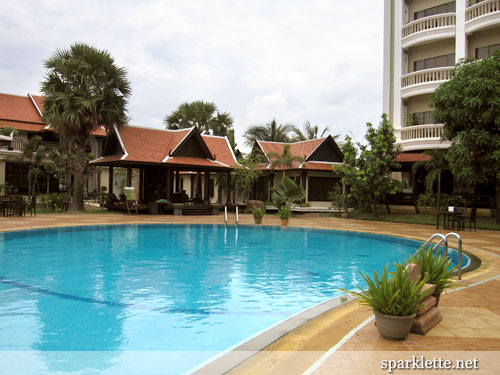 When we were done with exploring the Old Market, Mr. Sohmat drove us back to our hotel for desserts and afternoon tea by the pool. If you need detailed information on a specific phone number registered in any part of the U.S. – try https://spamnumbers.net/ . Up-to-date database with the ability of reverse phone lookup and actual comments written by real people.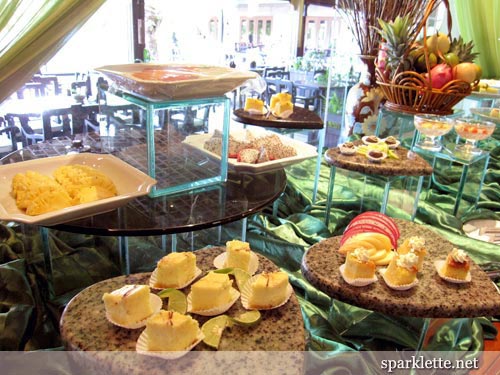 Dessert buffet
US$5
Buffet rating:


Buffet hours: 2 – 6pm
There's an all-you-can-eat dessert buffet at just US$5! It seemed like a very good deal. Diners can have their pick from both Western and traditional bite-sized desserts, as well as free-flowing coffee and tea.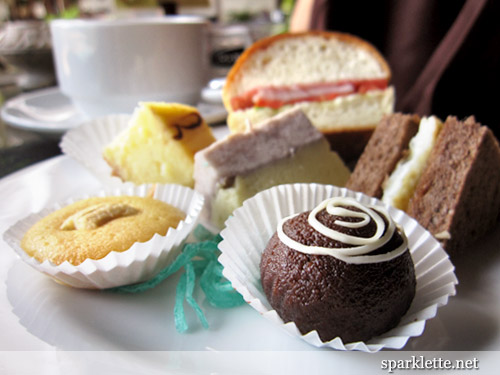 Unfortunately though, most of the desserts were not up to par. Okay, I know it's no ritz-carlton. But the only desserts that I found somewhat decent were the cheesecake and the chocolate spiral thing.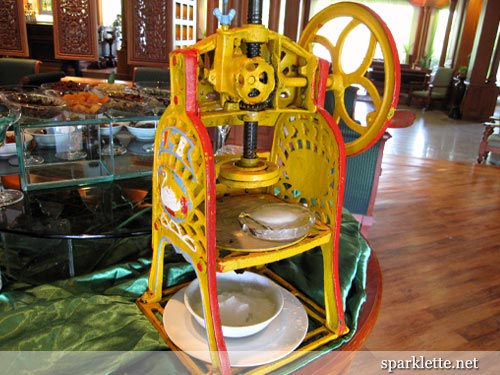 What really piqued my interest was the brightly-coloured ice kacang machine. Before that day, I had seen this antique only in museums and the Singapore sitcom Phua Chu Kang.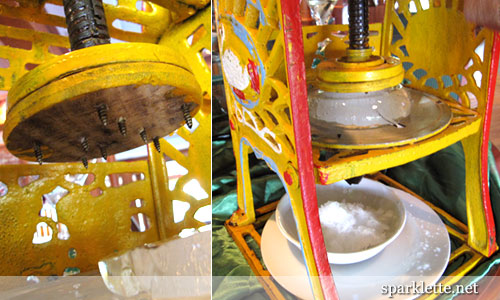 I got to operate it, too! See those tiny sharp spokes? They are the little guys that would grind the big ice block into fine shavings. The machine probably needs some greasing though; it takes a really strong man to turn it. The waiter, in our case.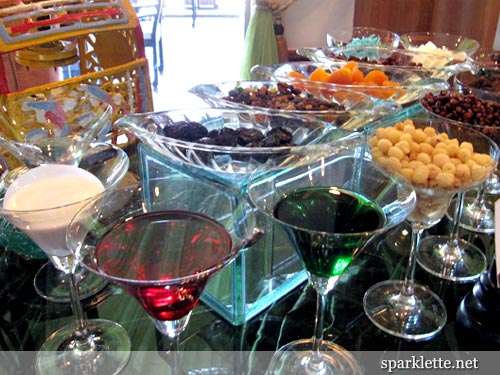 After all the hard work of grinding the ice, the strong man can reward himself with various types of ice kacang toppings and syrups.
Borei Angkor Resort & Spa
National Road 6
0369 Banteay Chas, Slorkram
Siem Reap, Cambodia

Tel: +855 63 964 406
Book online
That night, determined to get at least some shopping done, we went to the Angkor Night Market. While riding the tuk-tuk also means that you are breathing in polluted air, sometimes you do get to spot some rather amusing sights, such as this: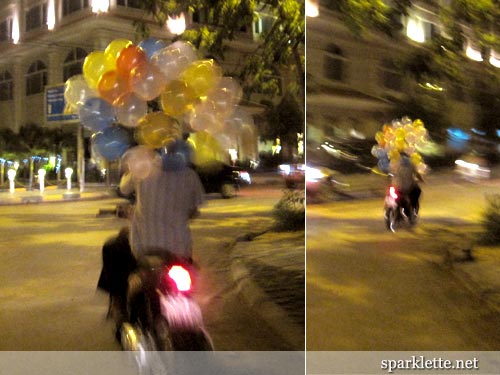 The guy was riding with a whole bunch of colourful balloons. They were bobbing in the wind! What a cheerful sight :)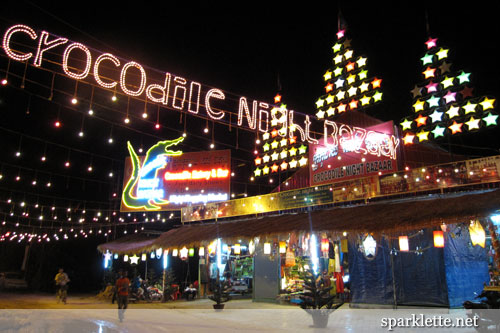 The Angkor Night Market is situated near Pub Street.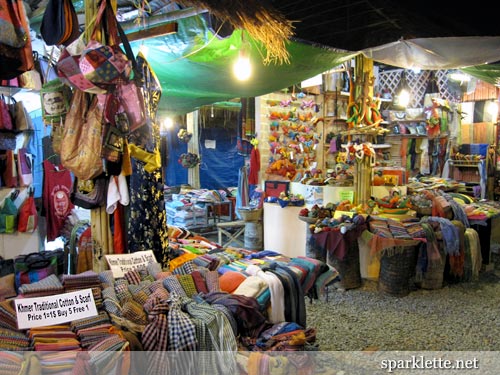 Like the Old Market that we visited earlier in the day, the vendors mostly sell the same kind of stuff too.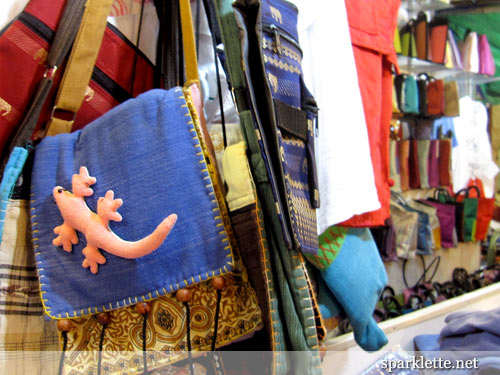 This little pouch with a pink lizard sewn on looks really adorable!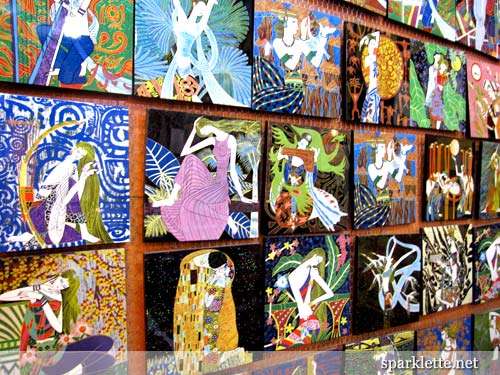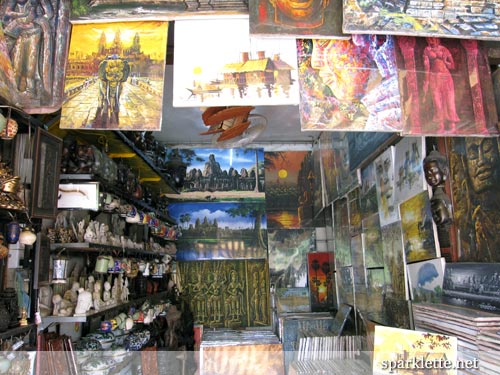 You have to give credit to the Khmer people. From beautifully decorated restaurants to artfully done acrylic paintings such as these, there's no doubting their creativity.
Within the night market, there are also a couple of pubs and even a fish therapy spa!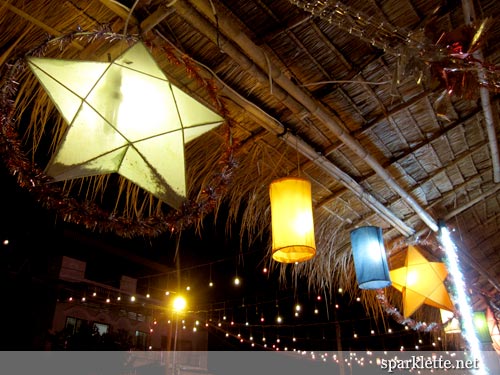 Angkor Night Market
Khum Svay Dangkum
Siem Reap, Cambodia

Tel: +855 92 654 315
www.angkornightmarket.com
We then had our dinner at Traditional Khmer Food, a nice little restaurant situated at an alley behind Pub Street.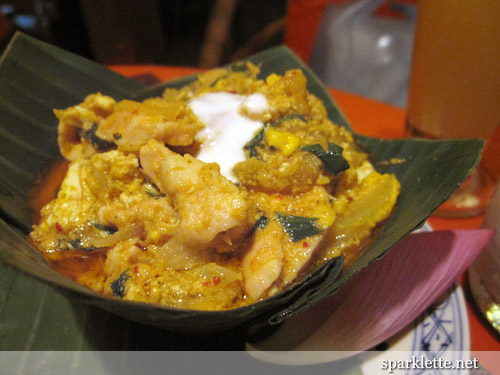 Amok with chicken
US$3.25
Rating:





Like I said, we were game to try amok again. This time round, it is semi-solid, less gravy-like, and served in a banana leaf cup. Somehow this seems more authentic. Don't you think?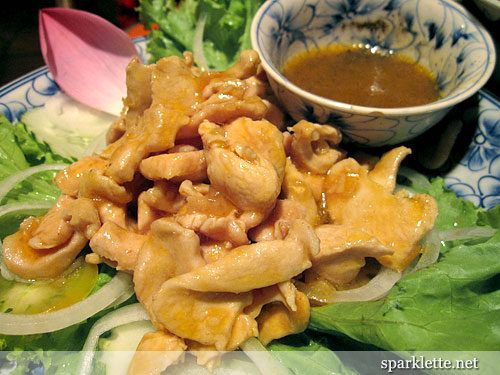 Lok Lak with chicken
US$3.25
Rating:





Another traditional Khmer dish that we had was the lok lak. The stir-fried meat comes with a little bowl of sauce, a sourish mixture of lime juice and black pepper that teases the palate.
While this dish is usually served with beef, we requested for chicken instead. When it comes to ordering meat dishes in most of the restaurants, you can indicate whether you prefer fish, chicken, pork or beef. I really loved having that option.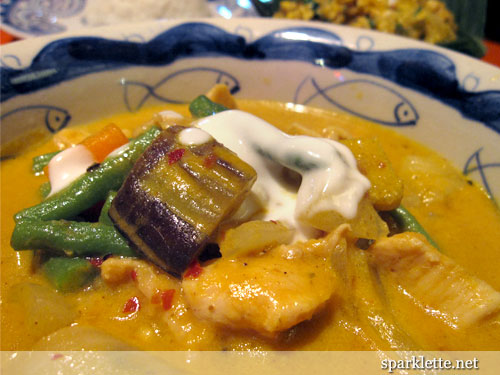 Khmer curry with chicken
US$3.25
Rating:





The Khmer curry, not to be confused with amok, comes with a small dollop of coconut cream on top. The curry flavour is nice and strong, although it still isn't very spicy. Is Khmer food just not meant to be too spicy?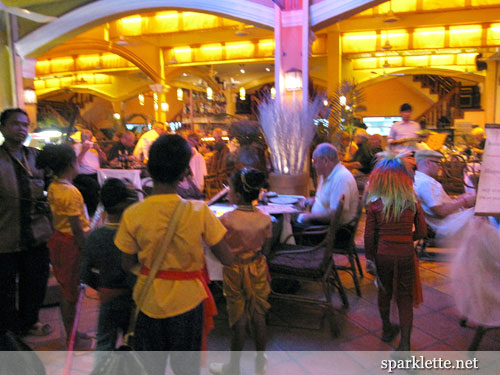 Midway through the meal, a group of children in wigs and costumes came in to play music in exchange for money. Like I mentioned earlier, tourists in Siem Reap would have to get used to this.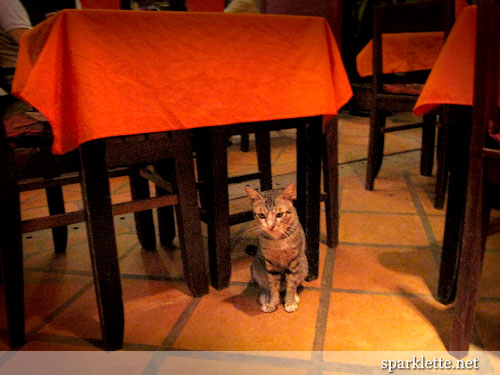 Then there's another group of visitors that will not ask you for money. This little feline friend accompanied us throughout our entire meal. We saw him sneaking into the kitchen once, and checked to make sure he came back out. Meow.
Traditional Khmer Food
Pub Street
Siem Reap, Cambodia

That's it for the day. Back at our hotel, we arranged with Mr. Sohmat to pick us up the following morning at 5am. We're going to see the magnificent Angkor Wat at sunrise! Wahoo!