That's right; we'll be at Hong Kong Disneyland this weekend! I'm totally psyched!
While this isn't my first visit to Disneyland – I went to Tokyo Disneyland previously – being in the world of Disney is always one heck of an amazing experience. This is one of those places that should be on anyone's bucket list.
One perk that we will have this time round over the last Tokyo Disneyland visit is the cool weather in Hong Kong, which will definitely make the trip far more enjoyable compared to the 40C summer heat in Japan.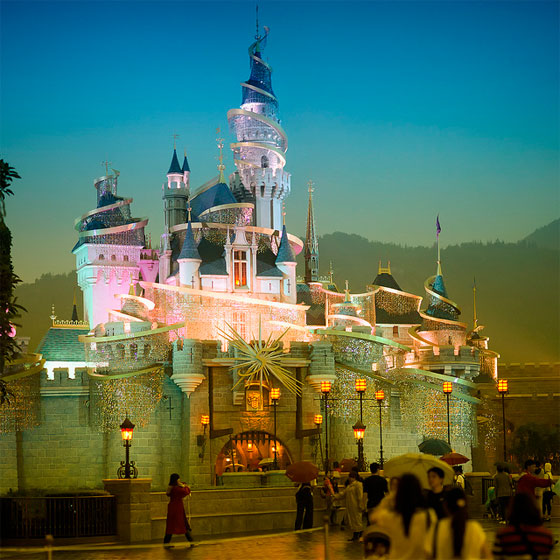 Sleeping Beauty castle at Hong Kong Disneyland (Credit)
The newest attraction of Hong Kong Disneyland is Toy Story Land that just opened in November 2011. The land is themed after the excellent Disney/Pixar Toy Story film series, and will house thrill rides such as the Toy Soldier Parachute Drop, a ride that dangles people 25 metres above ground then drops them like they're parachuting.
I can't wait to:
See the Disney characters come to life (as long as they don't fall like one particular Care Bear).
Indulge in some Disney-themed food, like dim sum or Mickey Mouse-shaped waffles.
Stay at Disney's Hollywood Hotel.
Take all the rides I can handle, such as the RC Racer, a horseshoe-shaped roller-coaster ride that reaches up 27 metres.
Check out the interesting buildings along Main Street USA, designed to resemble an early 20th-century Midwest town.
Watch the fireworks at the Sleeping Beauty castle.
Share the experience virtually with you.
Did I miss out on anything? Please feel free to share any tips on Disneyland or Hong Kong in general in the comments section!
I'll be updating on Facebook and Twitter with photos and snippets of our Hong Kong Disneyland experience. So be sure to check over there for all the colourful Disney updates from Hong Kong!
Update: Check out Part 1 of my trip to Hong Kong Disneyland!