I can't think of a better way to start off this series of posts than stating the fact that I love Disneyland! It doesn't matter how old or how young you are. Being in a Disneyland theme park is always such a… magical experience.
Those of you who have been following Sparklette on Facebook and Twitter would have seen me micro-blogging from Hong Kong Disneyland. This isn't my first Disneyland visit (I went to Tokyo Disneyland before) but it's my first trip to Hong Kong Disneyland. Amazing experience nonetheless!
I'm excited to be sharing more photos and videos from the happiest place on earth and hope these would make you happy too.
Getting to Hong Kong Disneyland by MTR
If you are going to Hong Kong Disneyland from the Hong Kong International Airport, the easiest (and cheapest) way is by cab. But if you decide to commute by Mass Transit Railway (MTR), you get to hop into this cute Mickey Mouse themed train!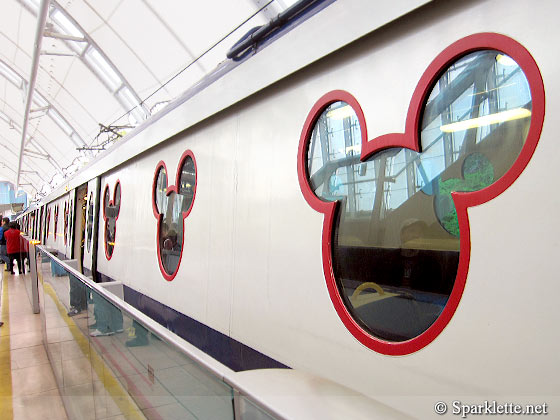 How often does one get to ride in a cute train like this?
Apart from the windows, the handle bars are made in the shape of Mickey's head too! There are also glass capsules containing bronze sculptures of Disney characters on display within the carriages.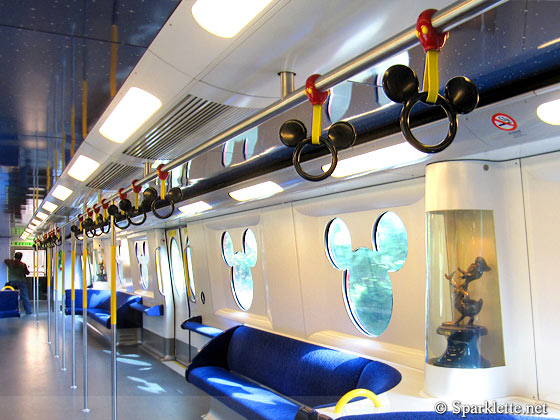 Finally, we arrive at Hong Kong Disneyland!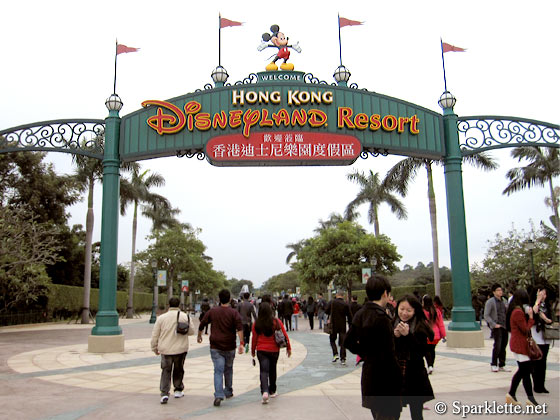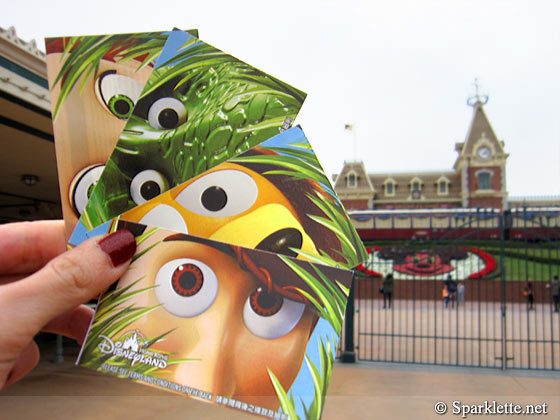 Better get your admission passes ready.
Toy Story Land, the newest "land" in Hong Kong Disneyland (as of 2012) opened in November 2011. That is probably why the tickets feature Toy Story characters. I'm especially thrilled because the Toy Story films are my favourite Disney/Pixar movies, and the characters feature quite heavily throughout various attractions in the park. Plus, you can keep these passes as souvenirs afterwards.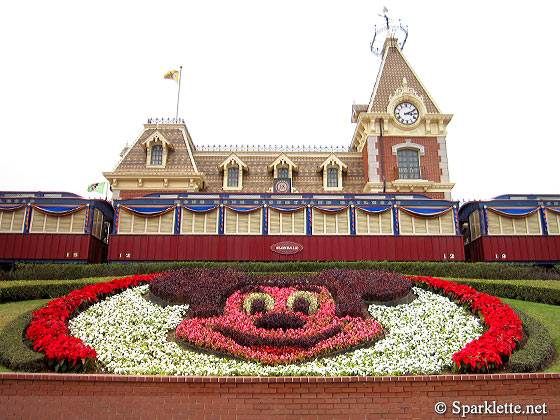 Here it is, the Disney Train Station and the iconic Mickey Mouse head made out of colourful flowers and plants!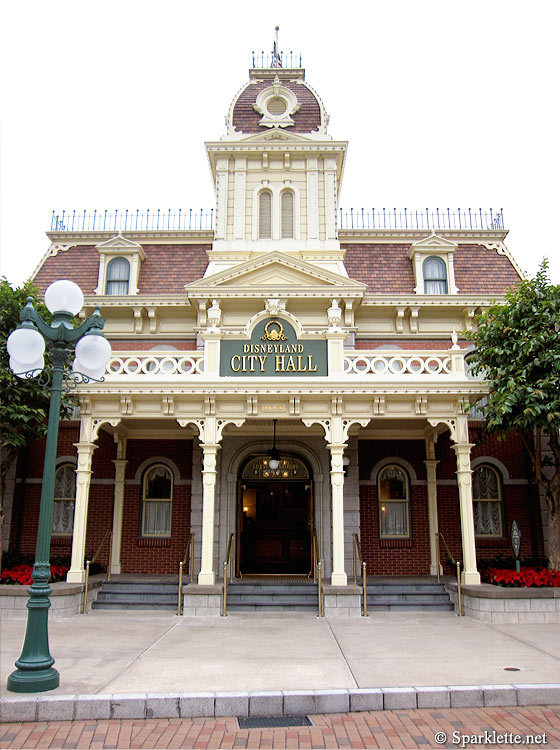 And we're in!
Flights of Fantasy Parade
One of the best highlights at Hong Kong Disneyland is the Flights of Fantasy Parade. You should get there about 15 minutes in advance to secure a good viewing spot along Main Street USA.
So it begins!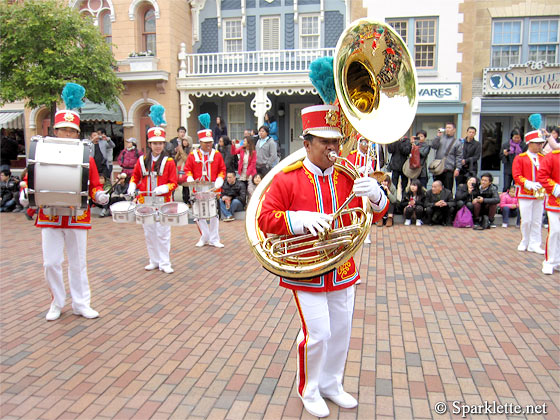 The Disneyland Band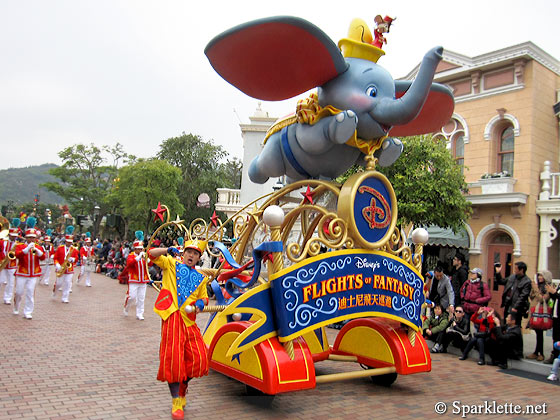 Dumbo
The parade includes seven elaborate floats and various Disney characters such as:
Mickey and friends
Dumbo
Winnie the Pooh
Snow White
Cinderella
Belle
Simba
Tinkerbell
Stitch
Woody & Buzz Lightyear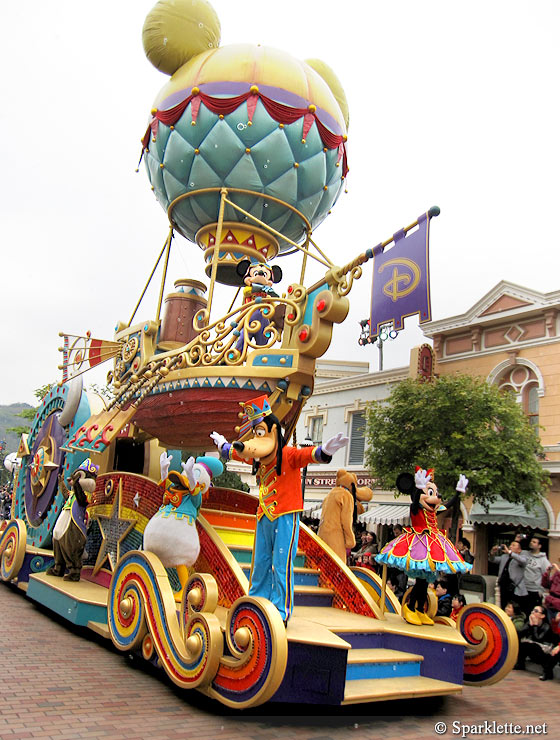 That's Mickey's Magical Airship! Can you spot your favourite Disney characters?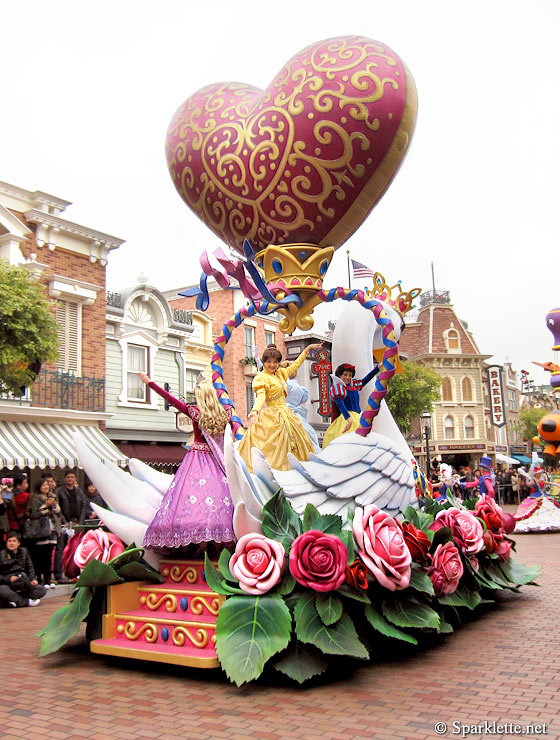 The Romance Takes Wing float is such a looker with the gorgeous Disney princesses! Who's the fairest of them all?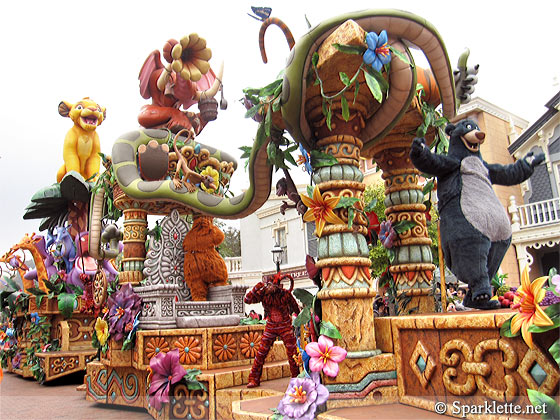 Probably the largest float of all is the Jumpin' Jungle Jam float. I'm ashamed to admit that I actually don't know most of the characters on it.
It's not just about the floats though; there is also music, the Disneyland Band, dancing, acrobatics and various performers coming together to put up a continuously entertaining parade. Don't just take my word for it though; watch these videos I recorded to get a feel of this one-of-a-kind experience!
My favourite float has got to be To Infinity and Beyond, featuring – who else – the Toy Story characters! It's so cool to see the female version of the Buzz Lightyear costume, and of course Buzz Lightyear himself, along with Woody, Rex, Hamm and even the army guys (not so plastic in real life)! They are such fun, as you would see in this video:
Main Street USA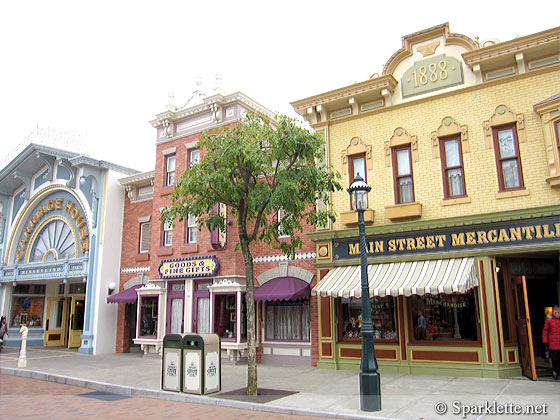 One of the attractions that I have very much been looking forward to seeing at Hong Kong Disneyland is Main Street USA, designed to resemble an early 20th-century Midwest town.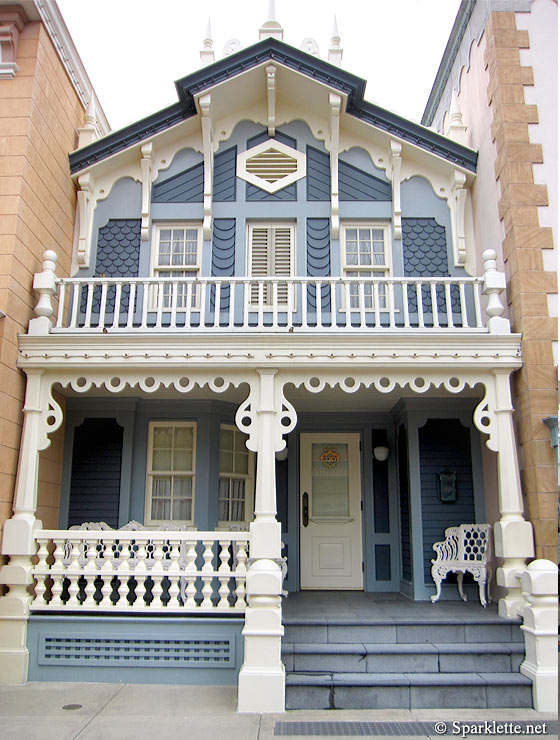 Why don't we have such nice houses here in Singapore?
The beautiful houses and shops lining the street from end to end make you feel as though you're in a different place and time!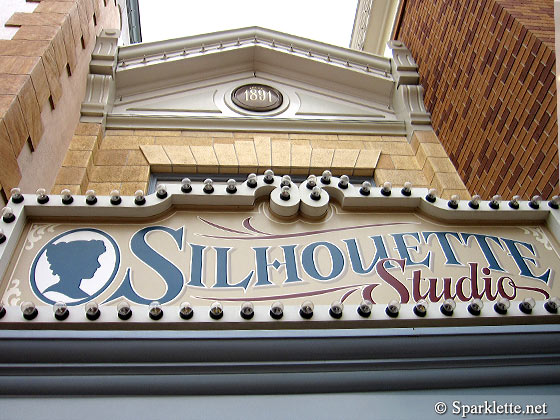 Every tiny detail such as the pastel colours of the façades, the names painted in the windows, and the fonts used on the signs are a work of art.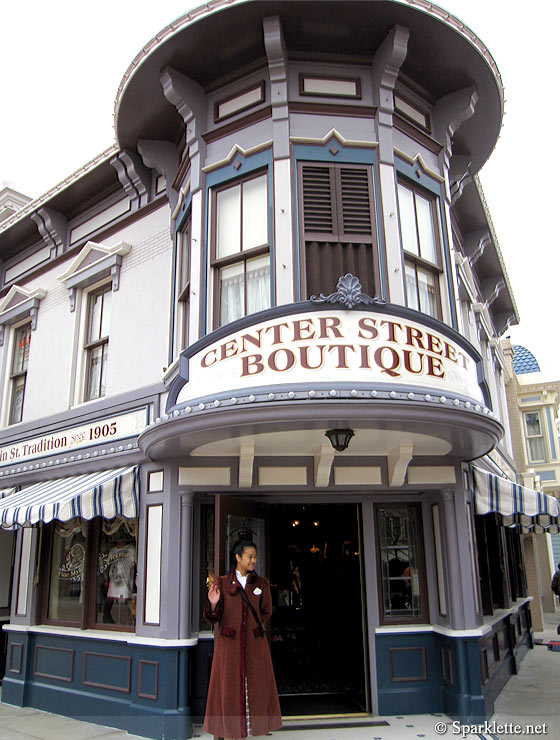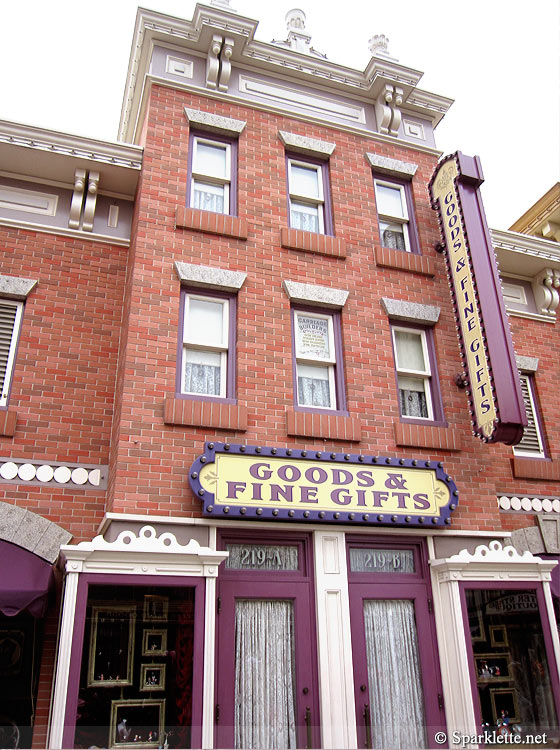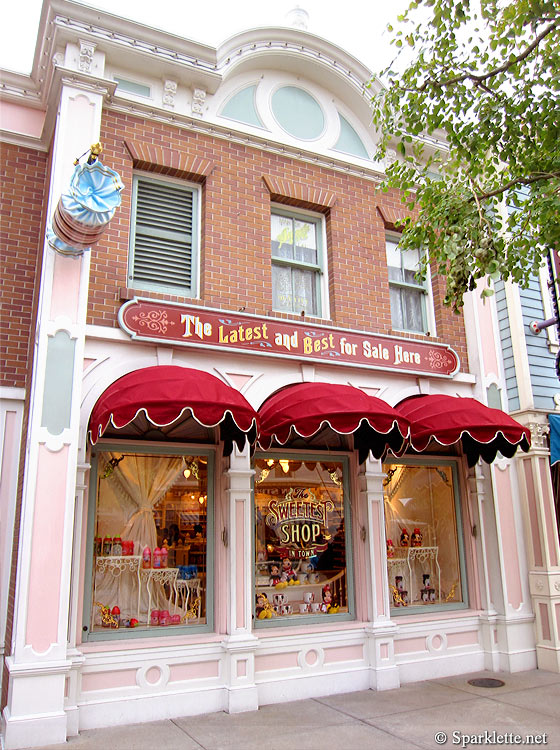 I can't get enough of how pretty the sweets shop looks. I love the baby pink and blue shades, the deep red awning and the large sweet displayed at the side of the store entrance.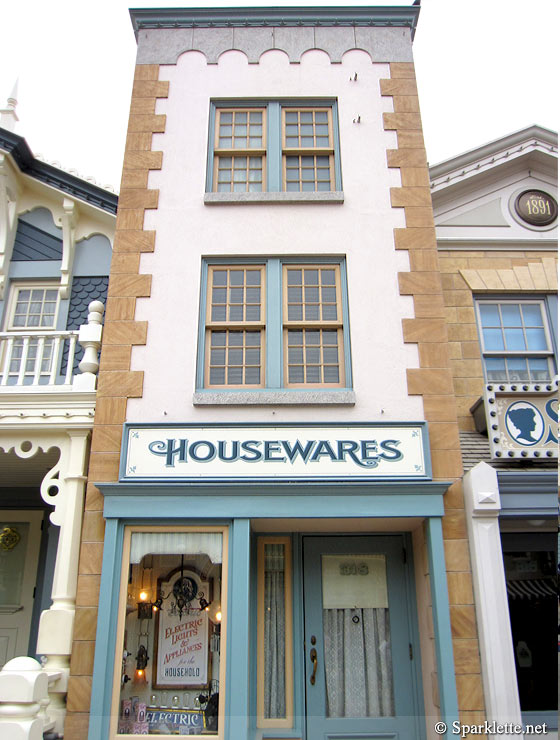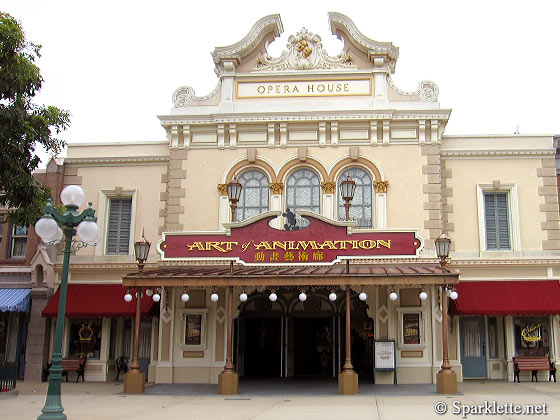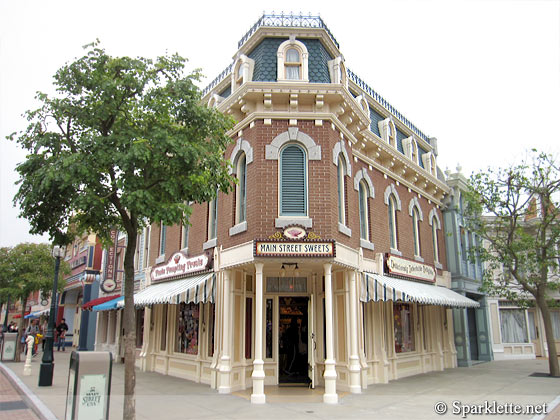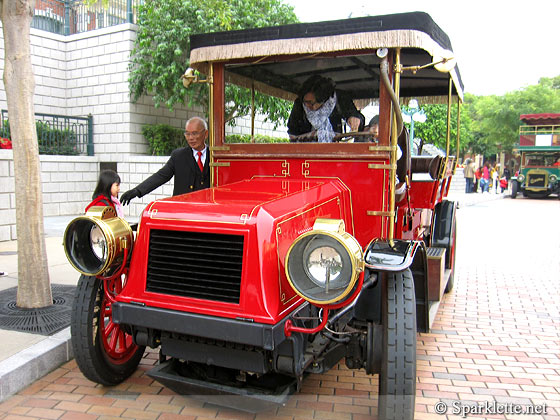 Even the vehicles at Main Street USA are so unique. You can hop onto turn-of-the-century vehicles like an old-style double-decker bus or an automobile that will take you to other areas of the park.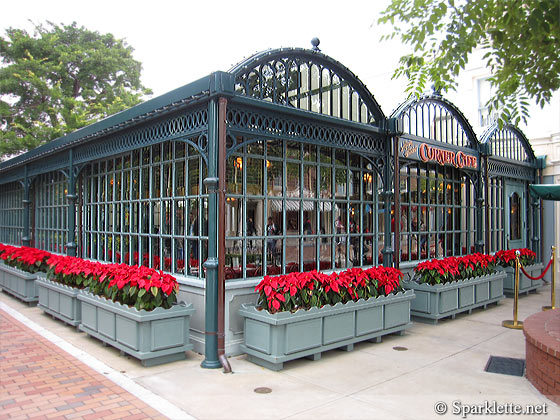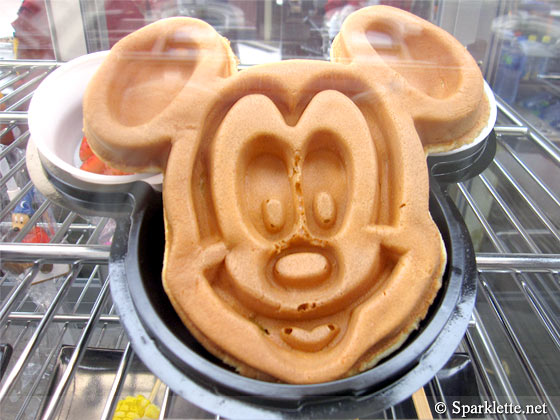 A Mickey Mouse waffle for you? We get to eat loads of it at the various Disney restaurants afterwards. Topped with chocolate sauce, no less!
Fantasyland
Finally, here is the Sleeping Beauty Castle! You can see its multiple blue-roofed turrets from afar, juxtaposed against the mountains in the background.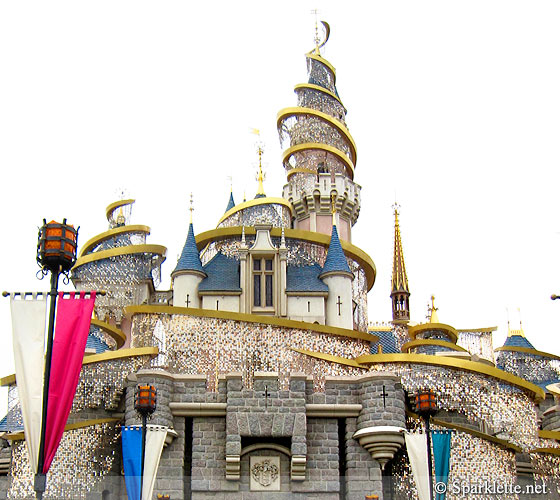 The gold swirls that glisten under sunlight are pixie dust, decorated by Tinkerbell.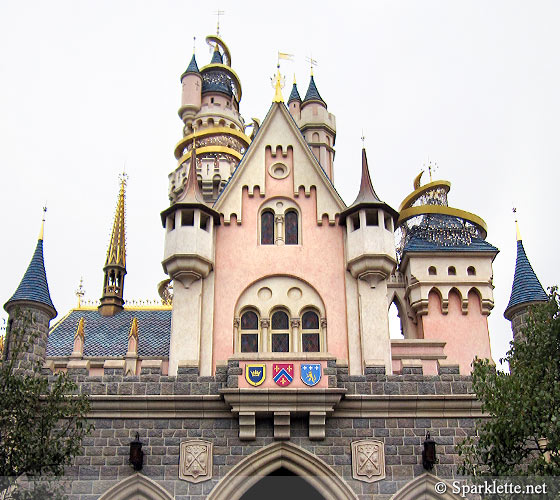 Here's a picture of the castle from the other side. Photo bugs tend to get only the frontal shot, whilst the back of the castle is neglected. Even with the medieval look, it still looks so pretty in pink!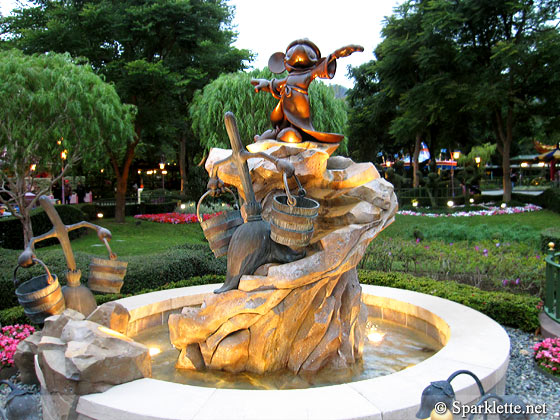 Recognise which film this bronze statue of Mickey comes from?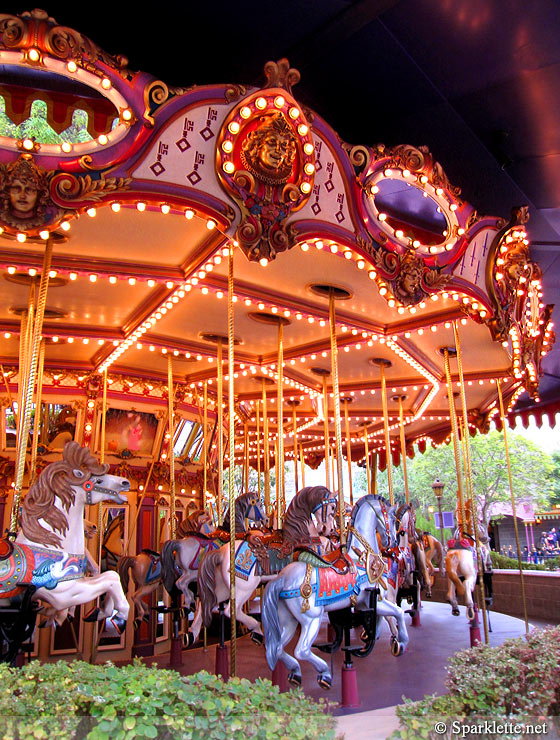 The Cinderella Carousel is just gorgeous.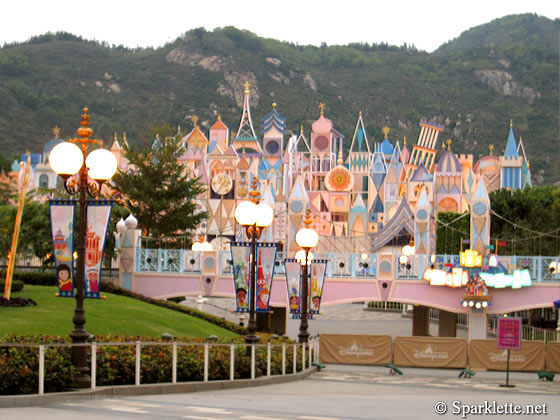 I took the colourful It's a Small World ride in Tokyo previously and recorded some videos during the ride. You can check out my Tokyo Disneyland post to see what it's like. Basically it has a lot of happy music and tiny people throughout.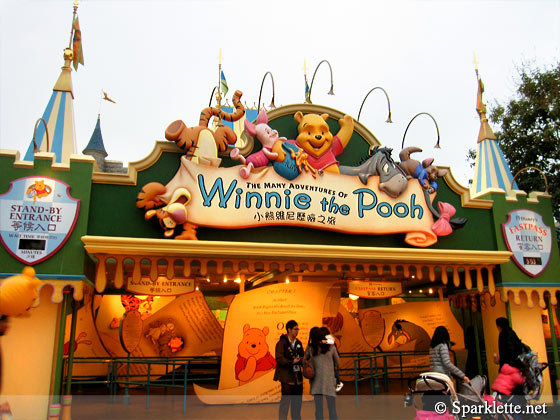 Apart from rides, there are quite a number of entertainment shows and even a 4D movie that you can sit in to watch with special glasses.
The Golden Mickeys show
The Golden Mickeys is a musical/theatre show played live on the stage. Disney characters and dancers in character costumes perform songs from these films:
Toy Story
The Hunchback of Notre Dame
Tarzan
Mulan
Lilo and Stitch
The Little Mermaid
Beauty and the Beast
It even thrills you at times with aerial acrobatics, martial arts and good looking cast members.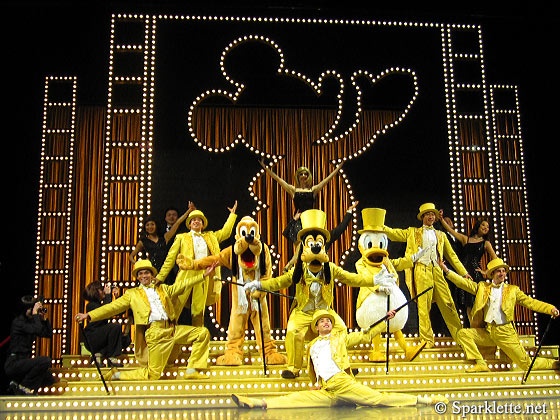 The whole show has me hooked from the beginning to the end, but my favourite part is again the Toy Story segment. It features the cheery You've Got a Friend in Me (a song which I love to bits) from the movie soundtrack. Check it out in the video below. Plus, ever wonder what Mickey will sound like when he speaks in Cantonese? You can hear him at the beginning of the video. I have no idea what he says though!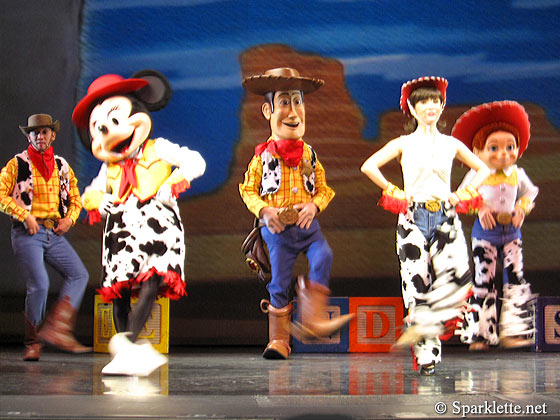 Love this show!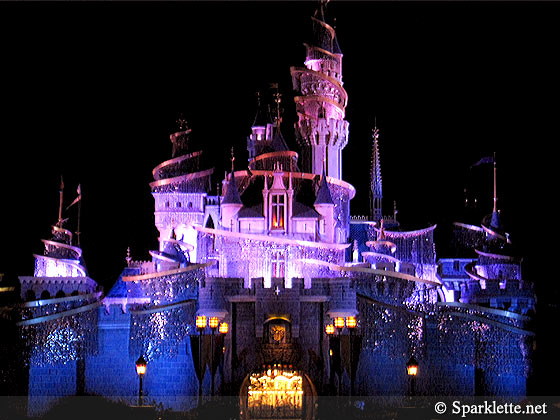 When it's time for the Disney in the Stars fireworks at night, that's when you truly get to see how many visitors there are at Hong Kong Disneyland. It's like going to Chinatown on Chinese New Year. Everyone in the park is gathered at the front of the castle to catch the colourful fireworks.

Credit
And what a massive show it is. The fireworks last for the whole of 12 minutes! Very impressive. You can hardly ever get tired of fireworks regardless of how many times you've seen them. The fact that it all takes place at a fairy tale castle just makes it that much more magical.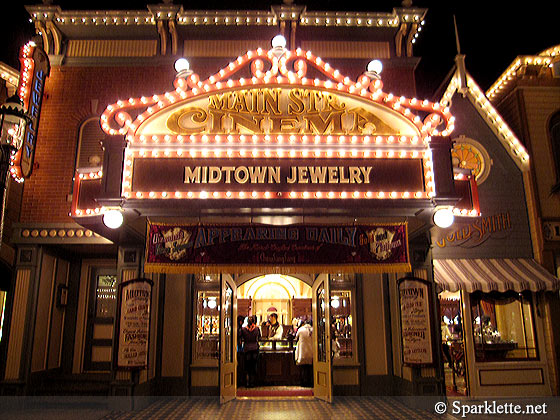 If you can't get enough of the castle, various replicas of it are available at the merchandise shops. One in particular, is made of jewels and diamonds!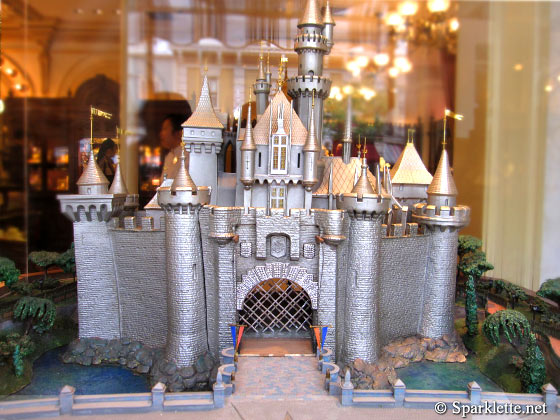 Fit for royalty
Next: Continue reading Part 2 for more photos and videos of Hong Kong Disneyland, including thrill rides and the new Toy Story Land!