last day in Bali. I have never felt sadder! This is one trip that I have thoroughly enjoyed. It has turned out way better than I anticipated. Over here at Contiki Resort Bali, the people couldn't be nicer. I met some great people and had some great company over the brief period I was here. But it's time to go home.
during check-out at the resort, I got most of my money refunded. The bungy jump was free, and so were the spa treatments I had paid for earlier. All of a sudden, I found myself a hundred bucks richer. So I went to the gift shop and got myself a couple of these Contiki t-shirts.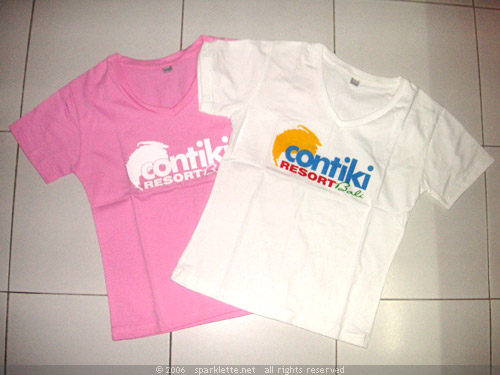 then it was finally time to go. Bala didn't come in until much later in the afternoon, so I didn't get to say goodbye to him. I felt terrible during the entire way to denpasar Bali airport. I couldn't bear to leave Bali! There is still so much more to see, so many more things to do! But well, good things never last long.
at the airport, people needed to have a valid boarding pass to even enter the departure hall. I wonder if this means people can't send their loved ones off since non ticket holders aren't allowed entry? We went through metal detectors to enter the departure hall. Security here was pretty tight. The metal bangles I was wearing made the metal detector go off. Once again, the policeman asked inappropriate questions like "are you single?". What is up with Balinese policemen and all their unnecessary questions?
denpasar Bali airport is one of the dreariest airports around. Everything here just looks so gloomy. It obviously didn't make me feel better. After checking in, I went around looking for a place to eat at and spend my remaining rupiah notes. Even the restaurants looked dark and drab.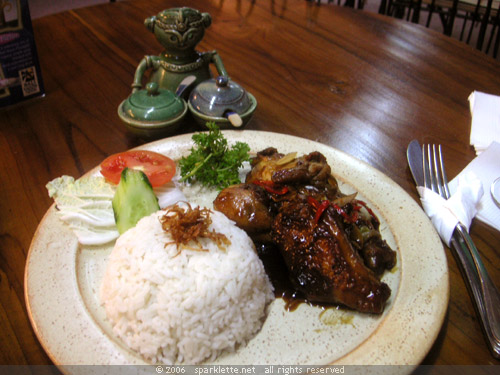 lunch was at the Prada restaurant right outside my boarding gate. I had ayam goreng kecap which was deep fried chicken served with steamed rice and soy sauce. It was the first (and last) good meal I had in Bali!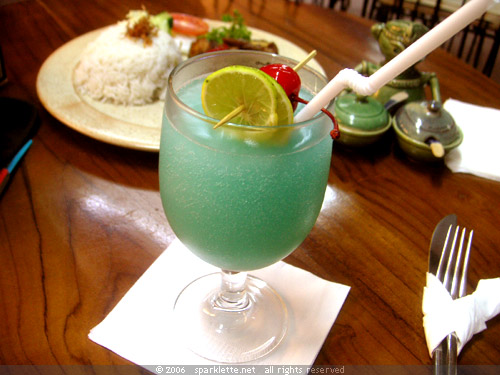 had one last cocktail before I left. I lost count of the number of cocktails, shots and beers I had over the past two days. For my final cocktail it was moonstruck, a refreshing frozen blend of Bali moon coconut liqueur, vodka, blue curacao and soursop juice.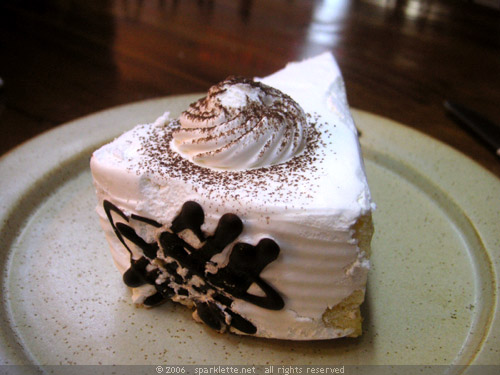 a tiramisu, and I'm good to go. By the way things in Bali always seem cheap on paper, until they charge a 21% tax in addition to the listed price.
onboard the plane, we were served with orange juice once again. I fell asleep pretty soon after that. When the food came, I had a choice between rice and pasta and I chose the latter. This time the food fared better than what I had on the previous flight.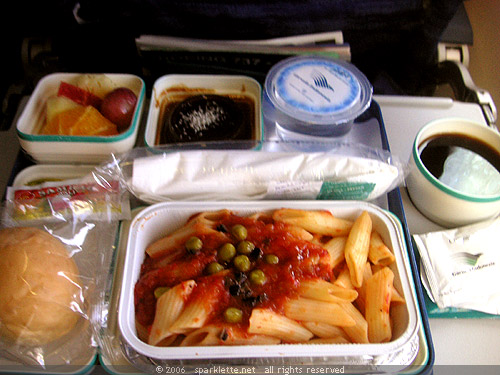 the dessert looked nice. It was some sort of pudding.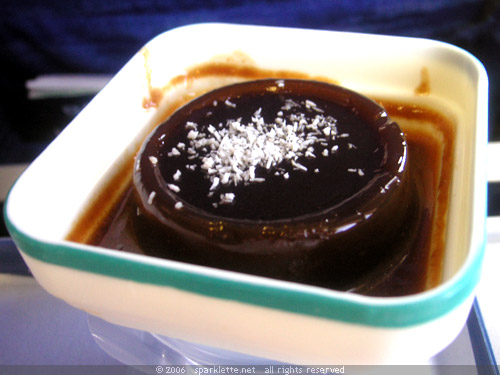 compared to the previous flight, this was a far more pleasant one. The air stewardesses were more helpful. When the plane touched down in Singapore Changi Airport, I realised I had come back here exactly the way I left it. It was raining.
i spent some time around the duty free zone, sampling cosmetics and perfume. After trying out like a hundred of them, I opted for britney spears' fantasy.
the sweet fragrance includes jasmine, white chocolate orchid, lychee, kiwi, etc. I never really like those strong floral fragrances so the light refreshing scent from fantasy is perfect. The packaging just looks so pretty!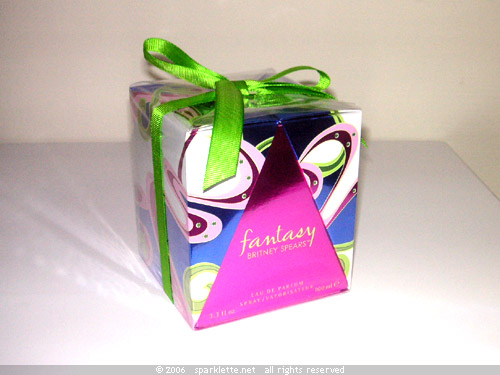 the bottle itself is gorgeous too!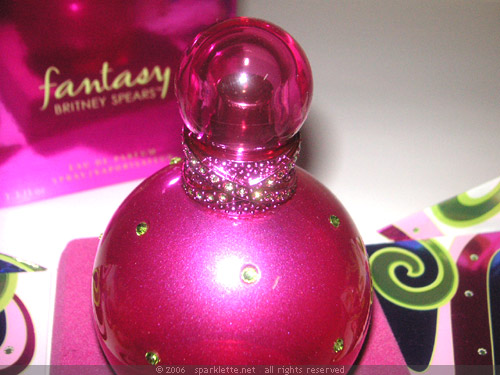 what a pretty and sweet ending to a beautiful vacation! Once again I would like to thank stefan, editor of funkygrad.com for trusting me enough to send me on this trip. Great thanks go to Contiki obviously, for sponsoring the trip. Thank you, thank you, thank you. It's been one dream ride! Now all that's left to do is hold the memories close to my heart, and write an ass kickin' review article on Contiki Resort Bali.
so here endeth the Bali trip.