(Note: bumper crop of images – 5 megabytes' worth! The largest yet! Please be patient with the loading.)
Xanthe and I spent the entire day visiting the sights in the charming city of Kyoto. We had written out a list of places that we wanted to check out, consisting of both the modern and the historic.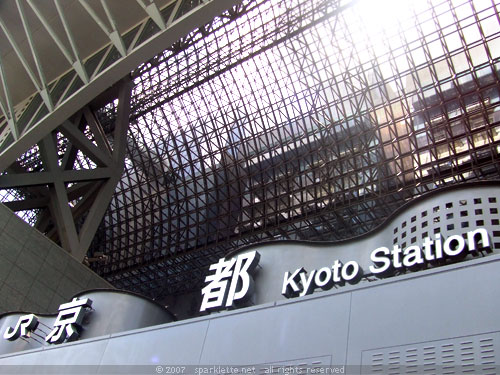 As Kyoto station was just a few minutes' walk from our hotel, that was our first stop. We had to go there anyway; this is the main transportation hub of Kyoto, from where we would take buses to visit other areas.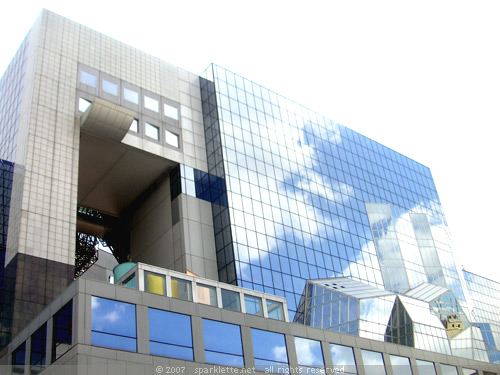 Besides being the second largest train station in Japan (after nagoya station), Kyoto station is also one of the largest buildings in the country! It is 70 metres high and 470 metres from East to west, with a total floor area of 238,000 square meters.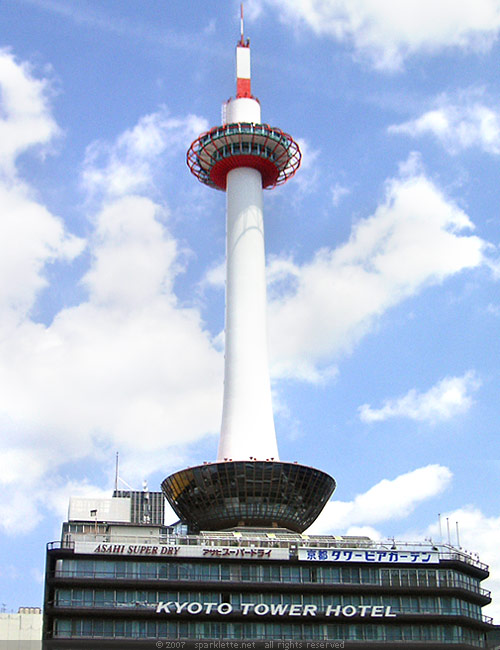 From the station, we could get a clear view of Kyoto tower that stands directly opposite. (this would be our final stop for the day.)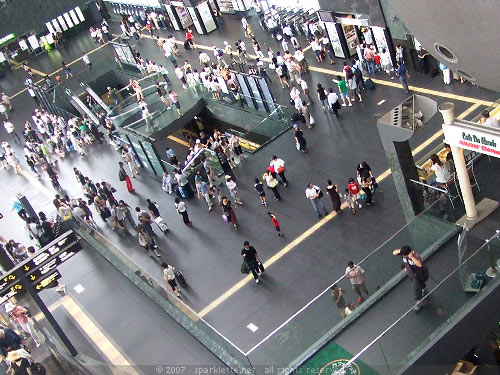 Kyoto station is busy and crowded at all times of the day! Besides being a transportation hub, it also houses a shopping mall, hotel, movie theatre, isetan department store, and several local government facilities all under one roof.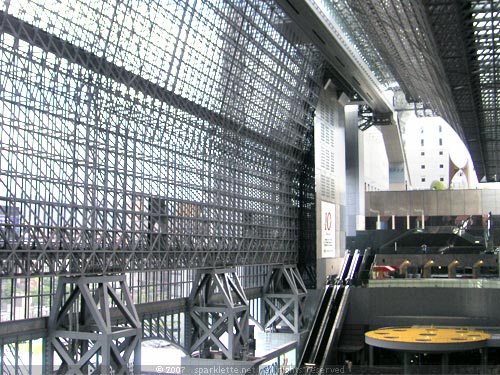 Architecturally the building has a very distinctive design which encompasses the extensive use of glass and steel frames.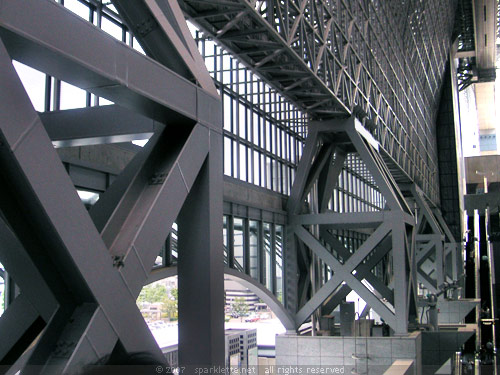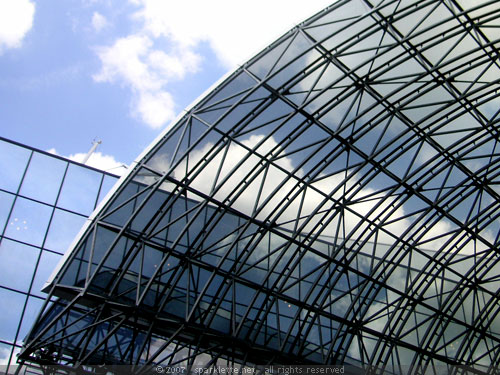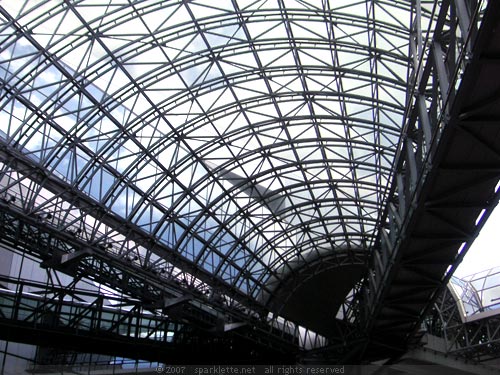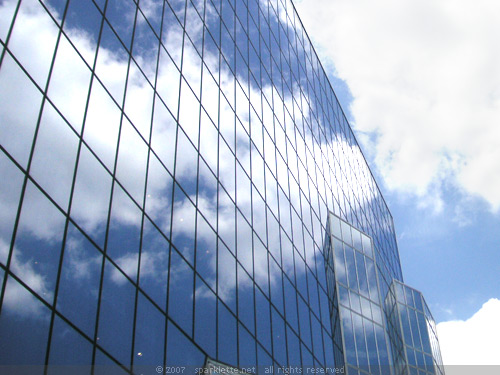 Cloud reflections caught on the glass facade.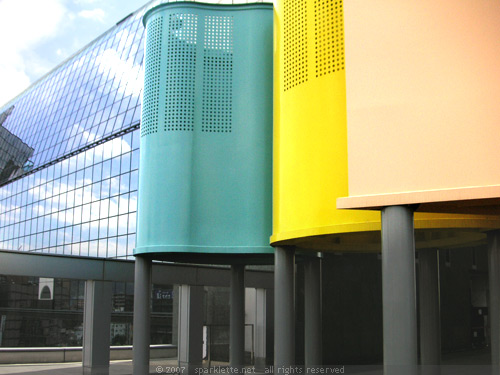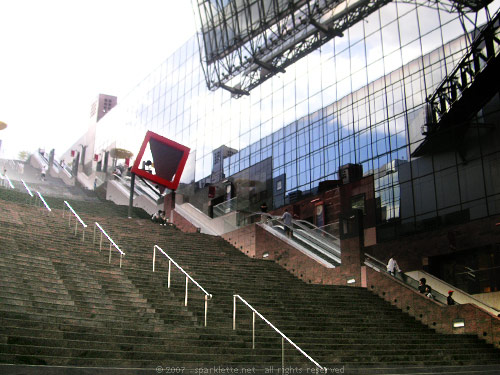 Escalators and staircases lead all the way up to the 13th storey of the station. At the landings on each level are doors that open to the huge isetan department store.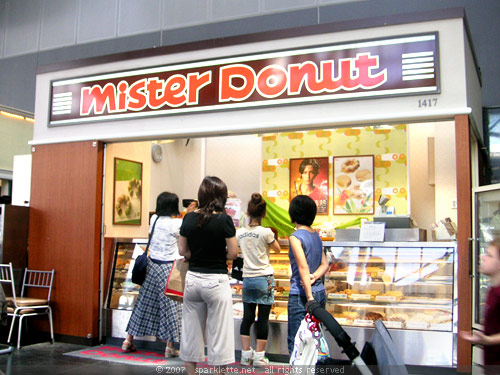 We stopped for breakfast at a mister donut outlet within Kyoto station. We had seen this donut chain in Tokyo too.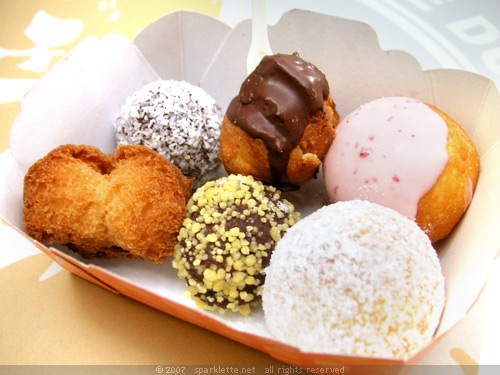 The cute donuts were simply irresistable!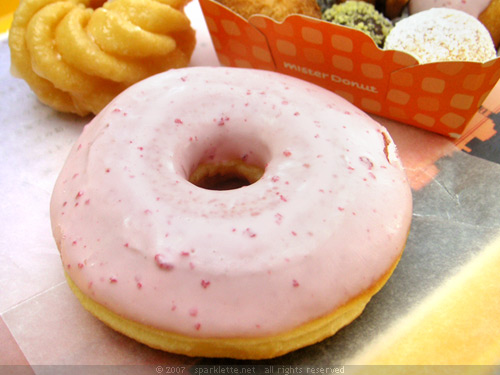 I love pink donuts!
---
The night before, I had noticed this giant poster at the isetan department store.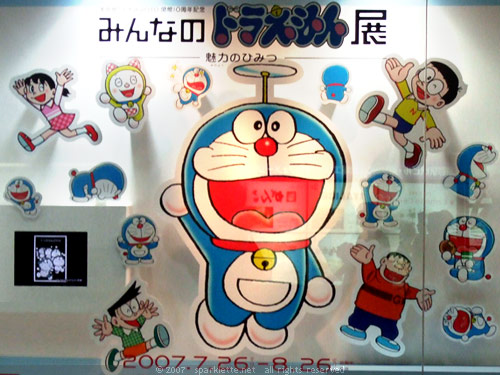 A Doraemon exhibition was going on right there! Doraemon's my most favourite childhood cartoon character along with Care Bears! I knew I just HAD to go see it.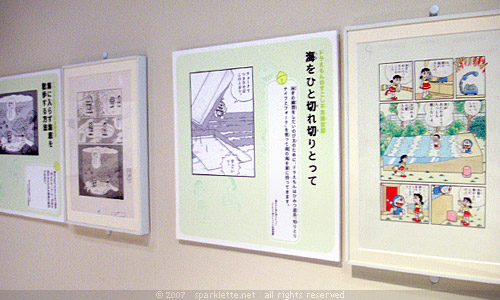 The exhibition showcased the different ways in which the comics have evolved over the years. Initially, Doraemon had ears (they were subsequently bitten off by a mouse, and that is why this robot cat is terrified of mice).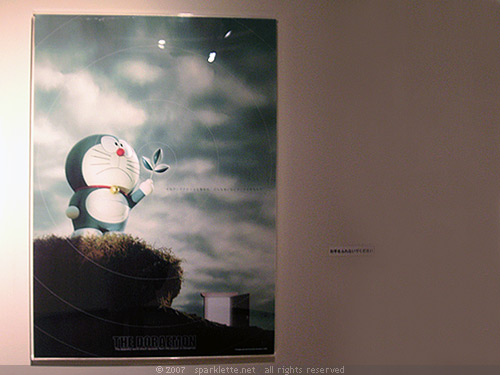 In latter years, Doraemon was drawn with a larger head and smaller body. That's one of the rules of kawaii-ness – cute cartoon characters must have big heads paired with smaller bodies!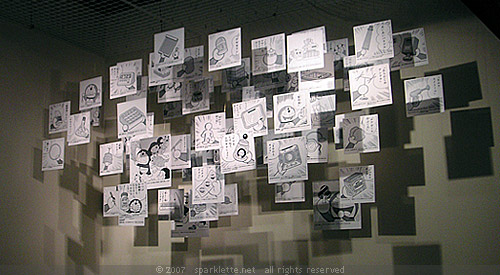 Photography was prohibited at the exhibition. I was stopped the moment I whipped out my camera, which explains why I couldn't take as many pictures as I wished. *groan*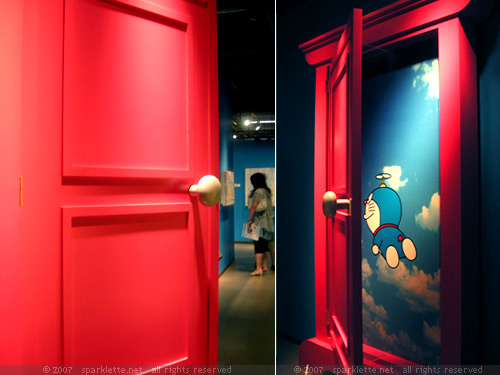 The dokodemo door, translated as the "anywhere door". It is a bright pink door frequently used by Doraemon that opens up to literally anywhere in the universe.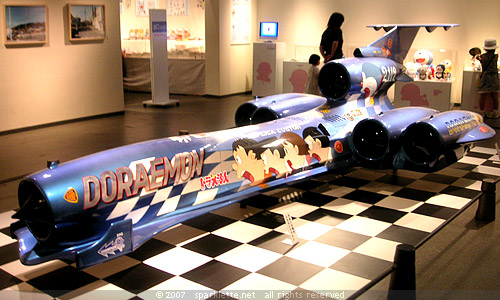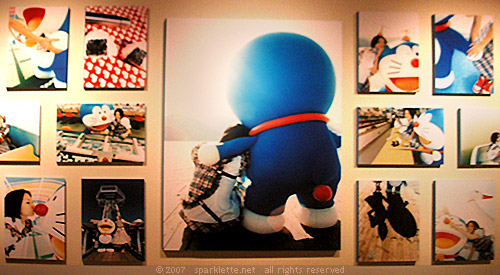 This is a photographic series depicting Doraemon on a date with a real girl. They were picnicking, boating and gaming at the arcade. It looked a little disturbing to me!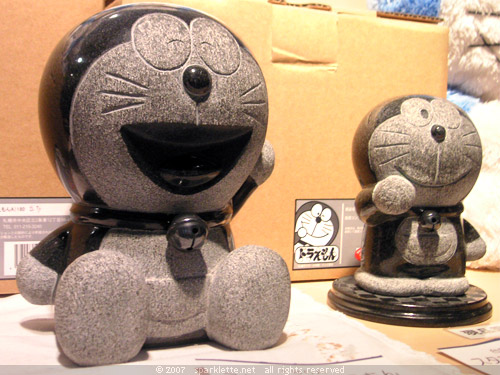 Granite figurines of Doraemon.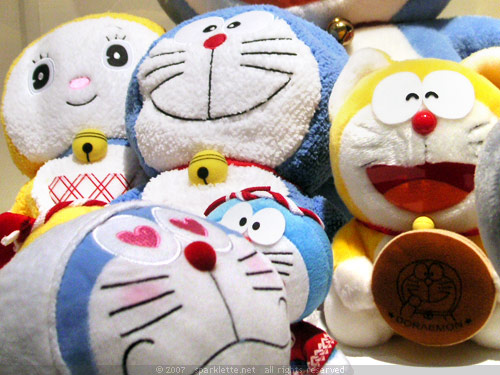 Some Doraemon merchandise.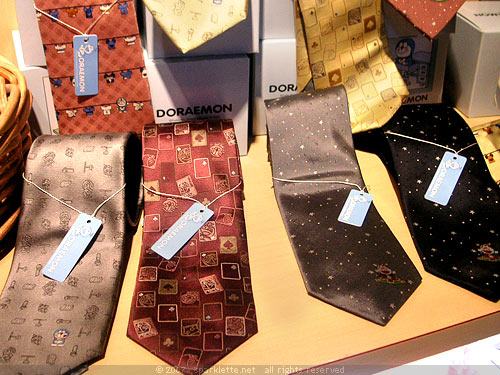 The exhibition wasn't as comprehensive as I had hoped, and it was also entirely in Japanese. But despite these factors I was still glad to have paid a visit; I don't think there would be the opportunity to attend another exhibition of my favourite cartoon characters anytime soon!
---
After the exhibition, we got on the bus and made our way to our second stop, Nijo Castle.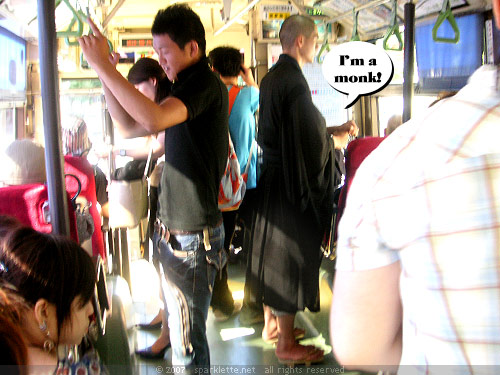 On the bus, we noticed a Japanese monk. He was the first and only monk we had seen in Japan!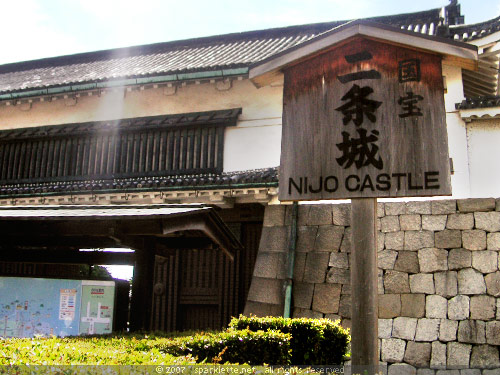 Nijo castle was built in 1603 as the official Kyoto residence of the tokugawa shoguns. Like the kiyomizu-dera temple that we visited the day before, this is also a UNESCO World Heritage Site.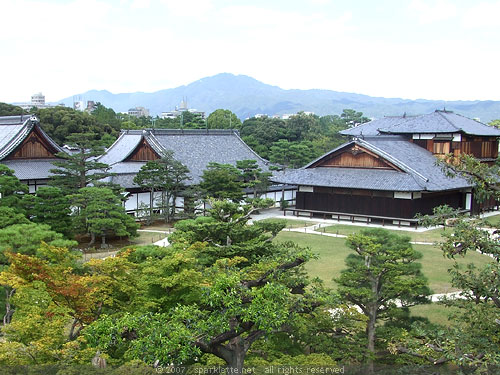 The castle consists of an outer moat, an inner moat, the ninomaru palace, the ruins of the honmaru palace, various support buildings and several gardens. The surface area of the castle is 275,000 square meters, of which 8000 square metres is occupied by buildings.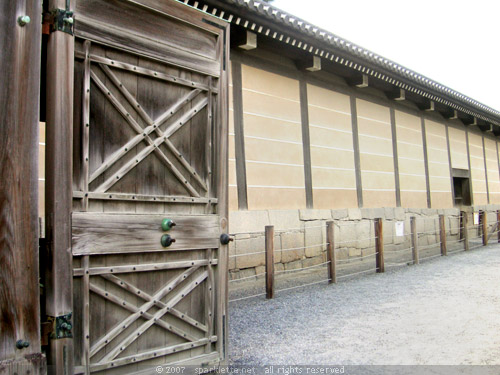 Large wooden gate.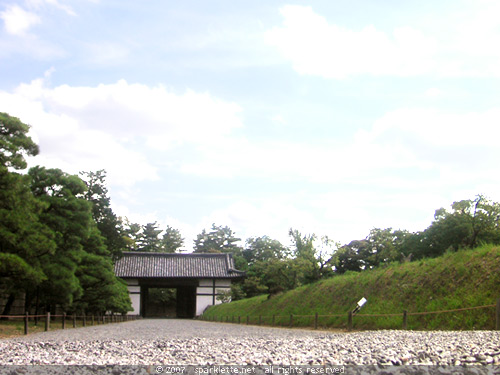 The grounds of the castle area are covered in stones. As you walk, you would be making crunching sounds beneath your feet.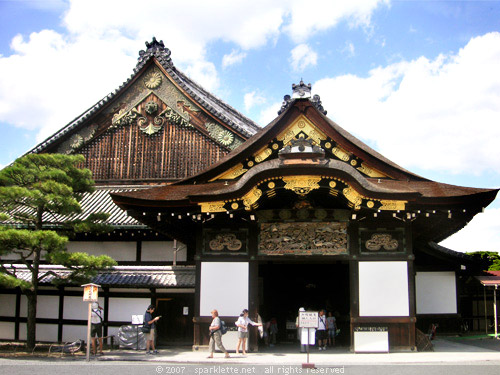 The entrance of the ninomaru palace, marked by exquisite designs.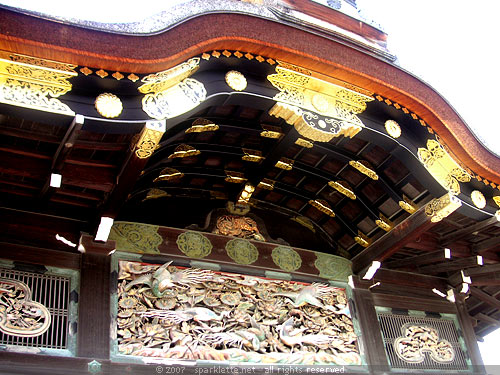 Visitors are required to take off their shoes before they tour the insides of the 3300 square metre palace. Photography was strictly prohibited within the palace.
We got to see several different reception chambers, offices and the living quarters of the shogun, where only female attendants were allowed. The interior was supposed to be really grand and lavish in its heyday, but today it just seems dark and dank.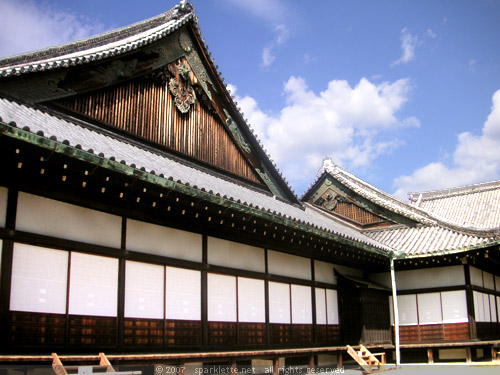 There are a total of 33 rooms and over 800 tatami mats (straw mats used in traditional Japanese rooms). The wall paintings in each room had been done by prominent artists and chosen according to the unique function of each room.
The uguisu-bari floors along the corridors, nicknamed the "nightingale floors", were designed in such a way they would squeak whenever someone walks on them. It served to warn occupants against intruders. What a clever design!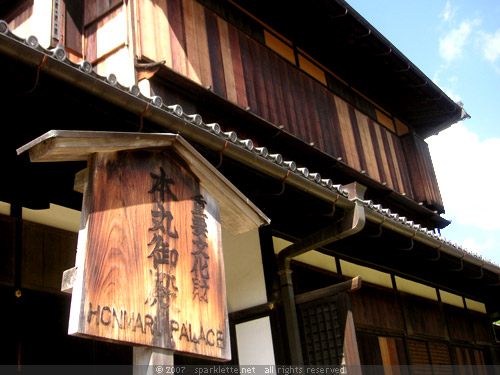 Honmaru palace is a 1600 square metre inner palace that was added to the castle complex in 1626.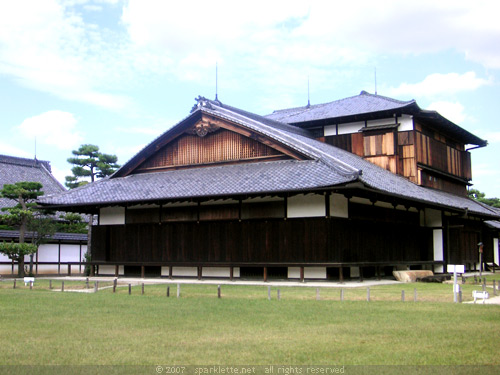 Today, only the ruins of the palace remain after being ravaged by lightning and fires in the 1700's.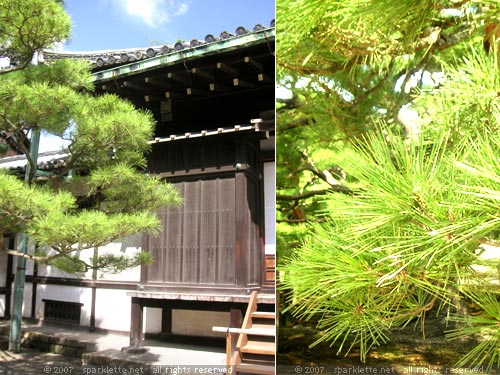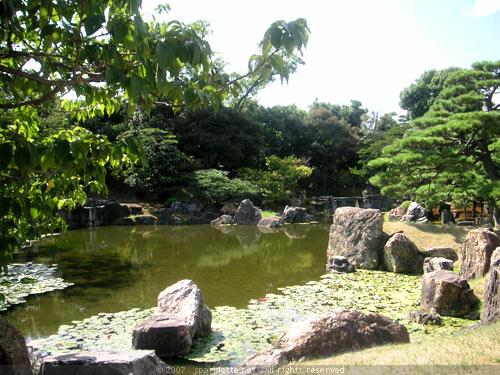 Gardens within the castle grounds.
One of the two moats around Nijo Castle.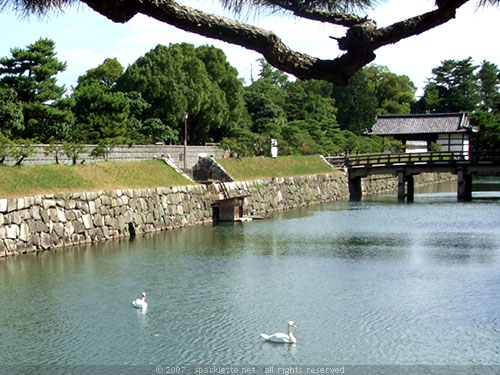 Beautiful swans swimming around the moat. Notice that swans always swim in pairs? How sweet!
---
Next stop: kinkaku-ji, again a UNESCO World Heritage Site. We had to take another bus to get there.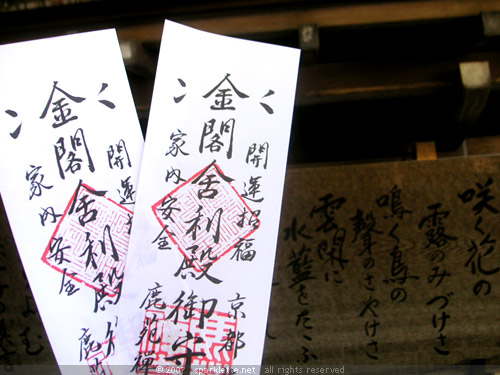 Our admission passes into the temple were rather unique and certainly didn't look like typical tickets. They were printed with calligraphic writing. (Update: these are omamori or Japanese good-luck charms.)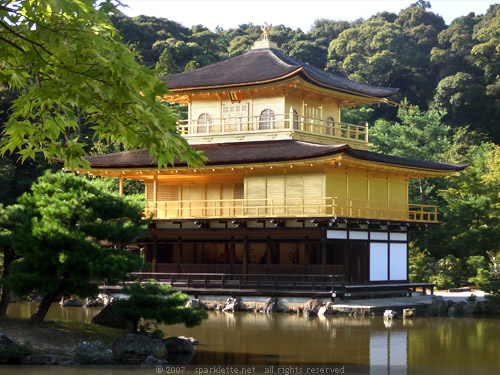 The reason why most visitors come here is to see the golden pavilion that seems to float on water. It is literally covered in gold leaf! How strikingly beautiful!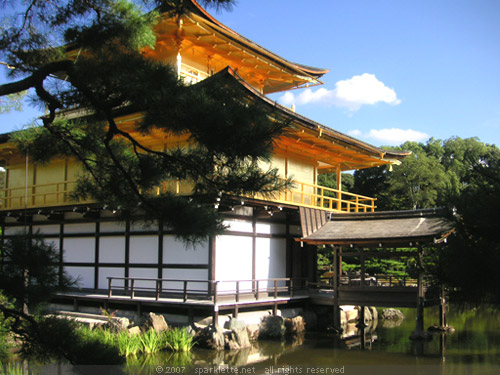 View from another angle.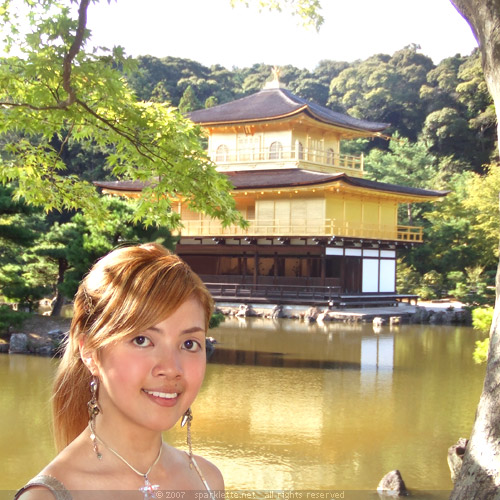 Me with the pavilion in the background.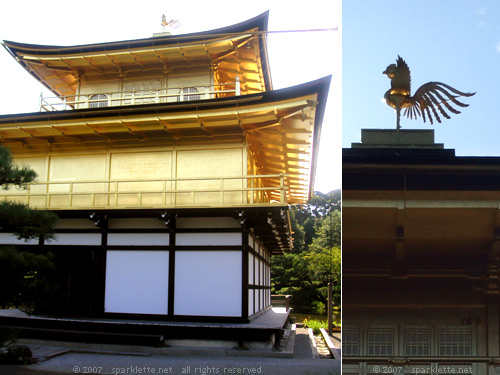 The golden pavilion houses several Buddha relics. On its roof rests a golden phoenix.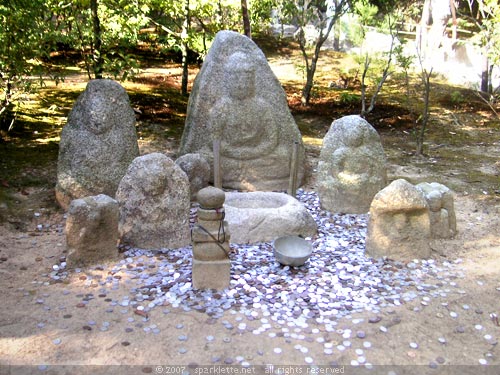 Over here, people try to toss coins into the stone hole at the centre. This was where we got rid of all our 1-yen and 5-yen coins. I almost got one in!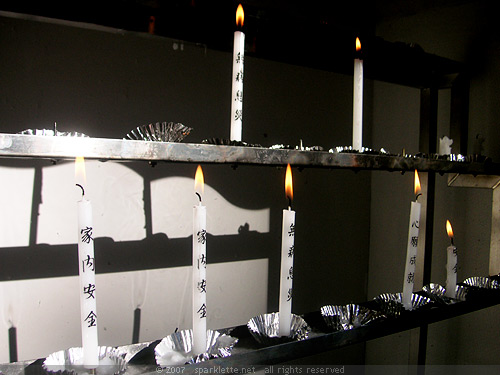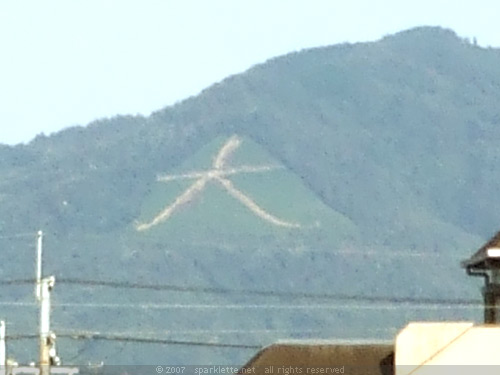 From the temple, the hidari-daimonji hill in the distance can be seen. The Japanese (also Chinese) character "大", one of the four different characters inscribed on the hills, is clearly visible. During the daimonji festival, the four characters are lit with giant bonfires.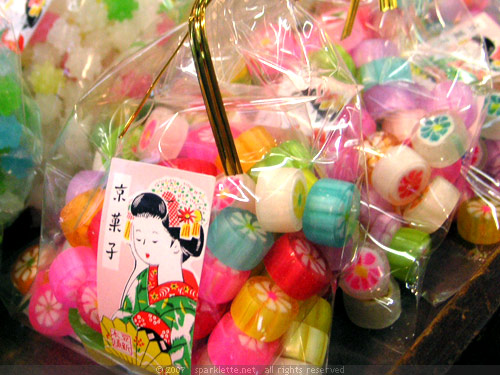 At the souvenir shops, we found more colourful candy.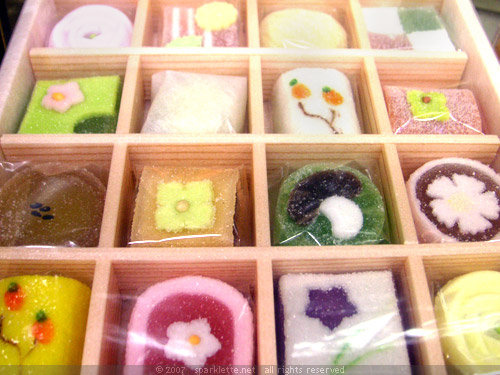 I couldn't resist taking more pictures!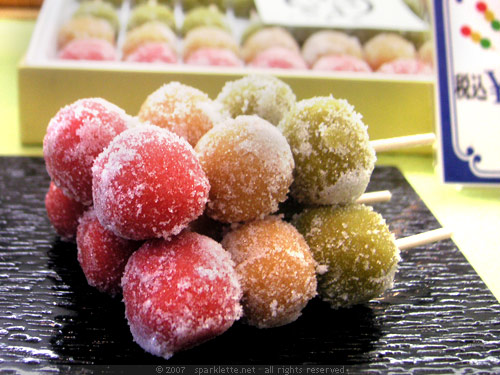 These cute snacks are called dango (japanese dumpling skewers)!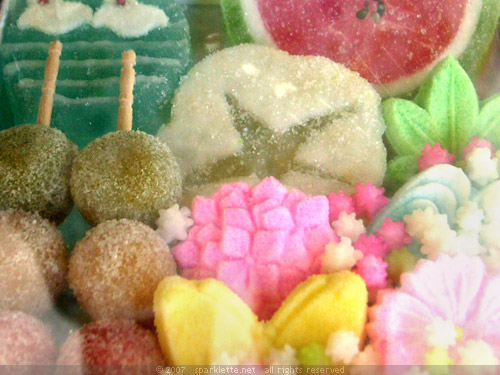 Satisfied, we were ready to move on to our next destination, Gion. Near the bus stop, a humourous signboard that was placed outside a hair salon caught my eye.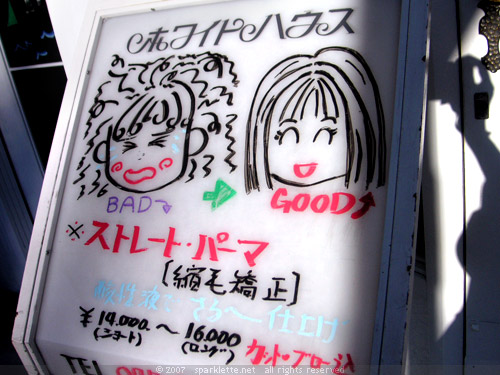 Ahhh! The Japanese just have to make everything look cute don't they? It's almost like a rule or something!
---
On the bus ride to Gion, we spotted some interesting architecture.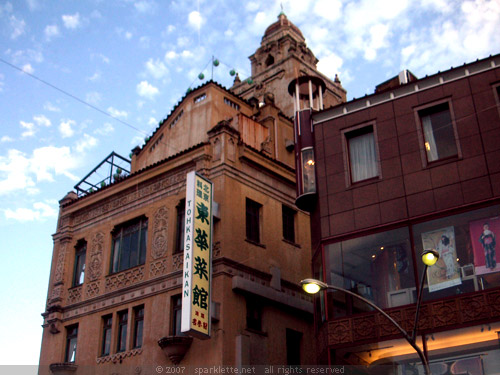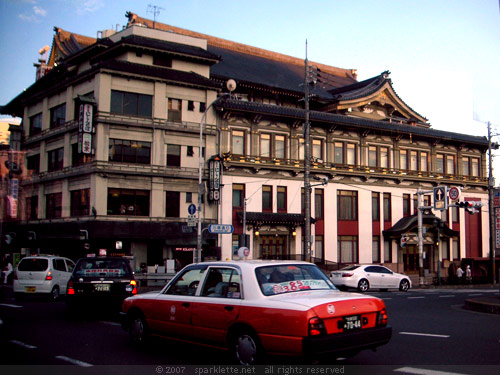 Then we arrived in Gion! One of the first things we saw was this: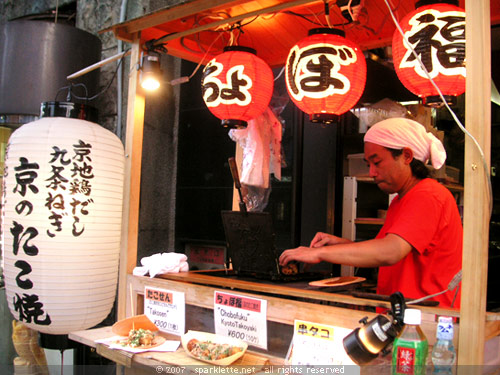 A stall selling delicious takoyaki (octopus balls)!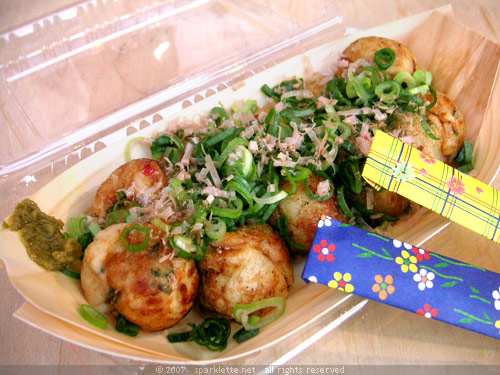 We bought 10 of them for ¥600 (approx 7.5 Singapore dollars). It came with a dark green paste (in the top left corner) which the seller helpfully informed us was very spicy.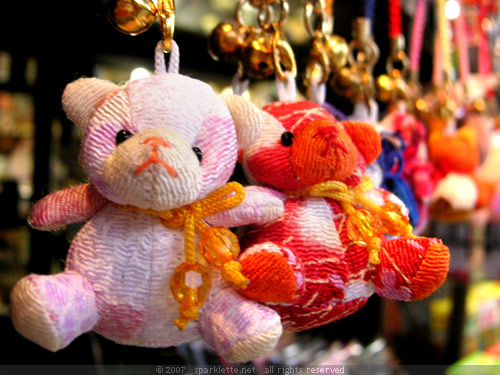 Patchwork bears like these were carried by several gift shops in Kyoto. I was looking high and low for a larger stuffed patchwork bear but there just wasn't a decent-looking one!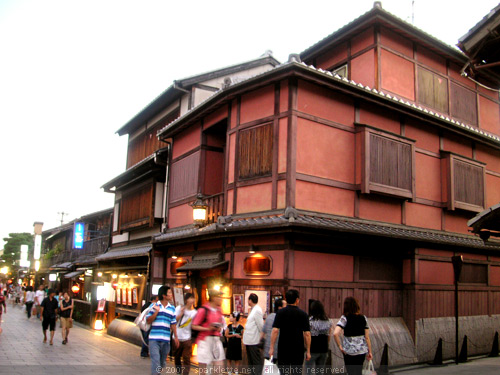 Streets of Gion where machiya (traditional Japanese houses) can be seen.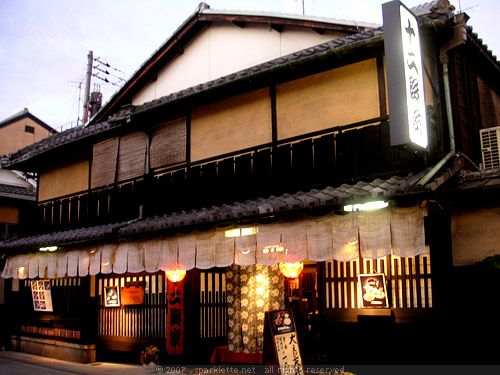 Gion is known as a hanamachi (geisha district). It is also the setting of arthur golden's novel, memoirs of a geisha.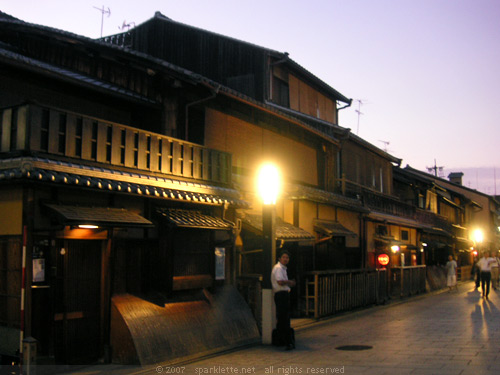 Obviously, our sole purpose in Gion was to see geisha in the flesh! We had immense good luck; it wasn't too long before a maiko (an apprentice geisha) came along!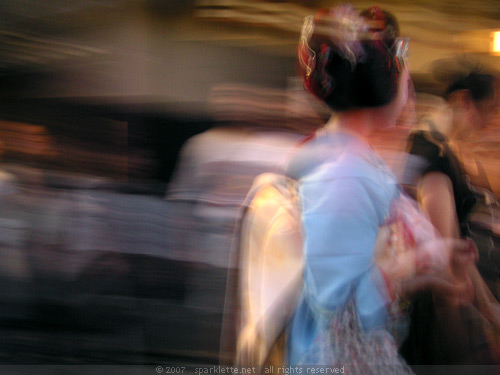 Thanks to my lousy camera, I managed to get a blurry-motion shot of the maiko walking rapidly back to her okiya (geisha house).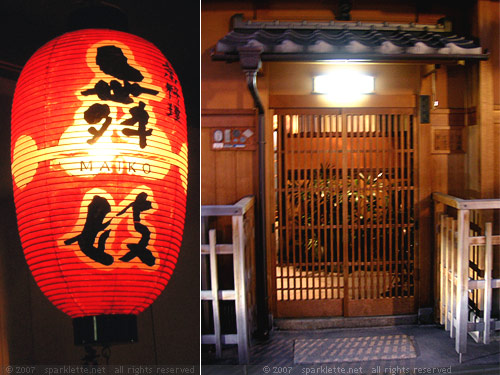 At the sight of the maiko entering the house, all the tourists came swarming to the door! There was a cab waiting right outside the house so we knew it was picking up a geisha or maiko for her next engagement. Armed with cameras, everyone just stood there waiting for her to emerge!
Just then, there came the sounds of wooden clogs on the ground again. This time, it was a real geisha! She was taking the cab with a maiko who had now come out from the house.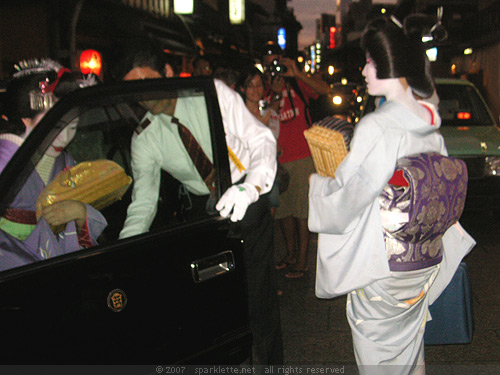 The crowd went crazy! All of us tourists started acting like bloody paparazzi and kept snapping pictures of the two of them! The madness!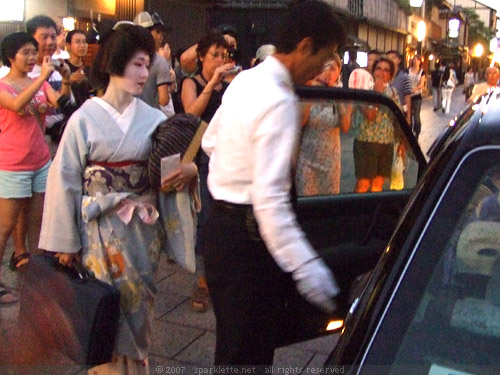 Look at the crowd with all those cameras! Thank goodness no one tried to stop the cab from moving off.
And then, it was all over. Xanthe and I lingered around a little longer for more sightings of a geisha or maiko. Our luck was incredibly good! Another maiko came along again!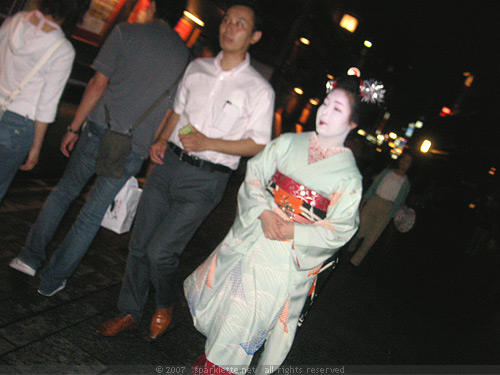 I practically chased after her like a bloodhound to get a couple of shots!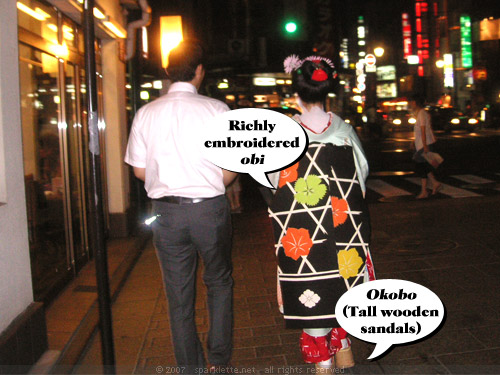 Love the brightly coloured obi tied at the back of her kimono. Her okobo (wooden clogs) were so tall, they were at least five inches high. I wonder how she could walk in them!
It had been a very fruitful trip to Gion – we saw geishas! It was time to head back.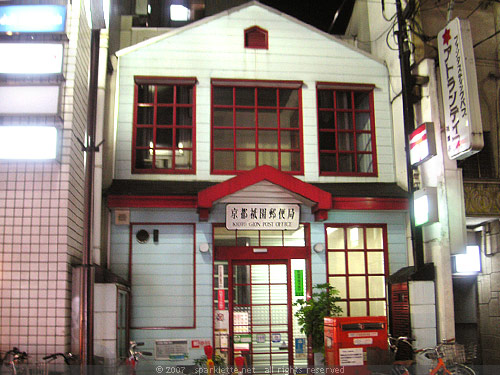 A couple more interesting buildings before we go. This is the Kyoto Gion post office. The red and white building exterior looks cute!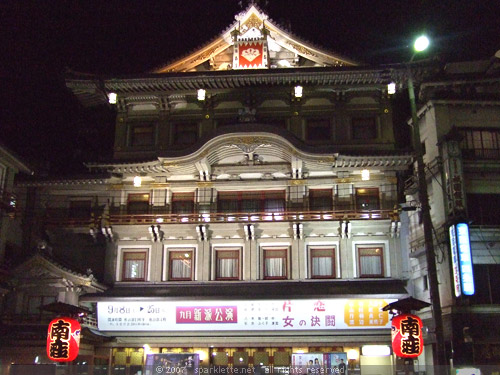 The minamiza theatre, also in Gion.
---
Our final destination for the night was the 131 metre tall Kyoto tower!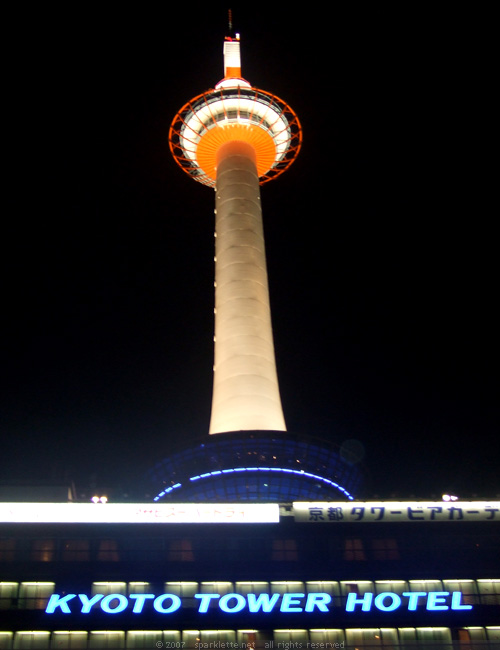 The traffic light at the crossing between Kyoto station and Kyoto tower plays a jingle each time the signal turns green. Check it out!
I've never seen a musical traffic light in my life!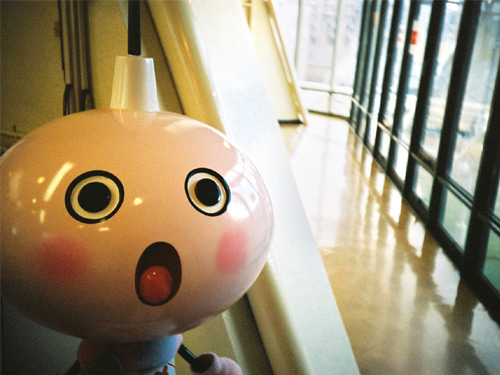 Photo by cloudberry1224
Tawawa-chan, the mascot of Kyoto tower.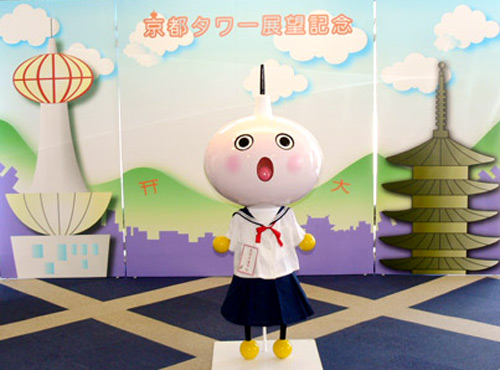 Photo by Kyoto Tower
Doesn't she resemble the tower itself? Kawaii!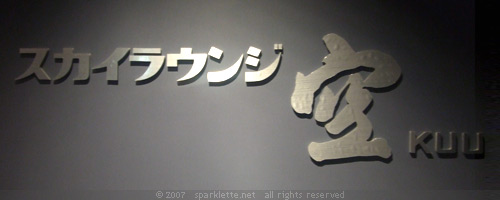 We chilled out at kuu, the sky lounge within Kyoto tower.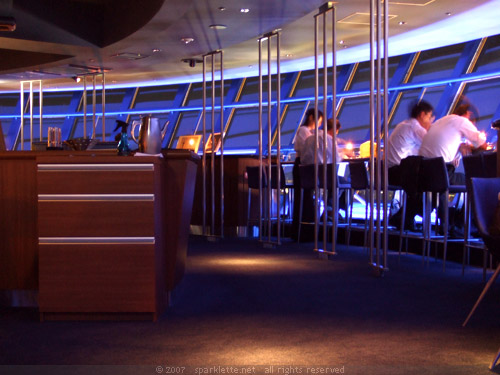 Kuu was a very chic bar. There was a table charge just for sitting at one!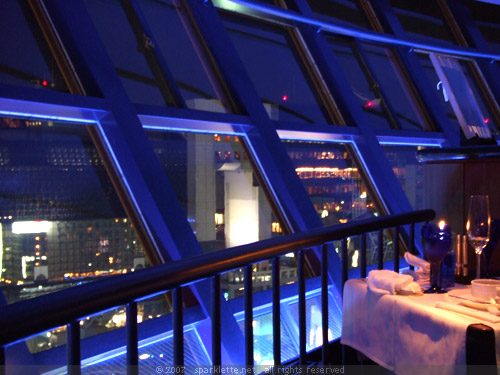 Over here, we could enjoy a nice night view of the city! What a fitting way to end our last night in Kyoto!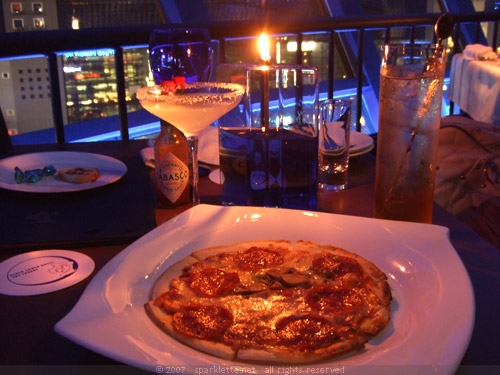 Our pizza and drinks, and the coasters which we took with us.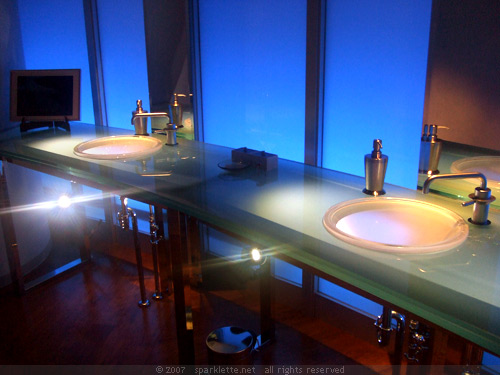 The ladies' washroom at the lounge was even cooler. It was so modern-looking!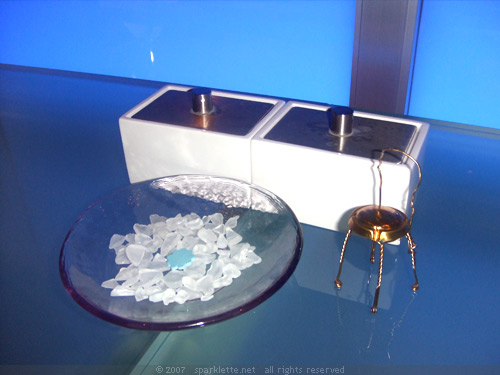 Love the cute little metal chair. It was made out of a bottle cap.
---
That marks the end of our last day in Kyoto. It had been a wholesome and very fruitful trip! Early next morning, we would pack our bags and return to Tokyo by the Shinkansen bullet train.
Ahhh… I am missing Tokyo already!