Barely two days into our Kyoto stay, we were on the road again, heading back to Tokyo. Over there, we would spend the night and catch the flight back to Singapore the following morning. It's funny how time flies when you're having fun! I wish I had a whole month in Japan!
After checking our Shinkansen (bullet train) schedule at Kyoto station and realising we had a 40 minute wait, we stopped by a Japanese restaurant for our last meal in Kyoto.
I was determined to have something with curry. Since I arrived in Japan I hadn't had a single curry dish! So this was my brunch – ebi fry curry don.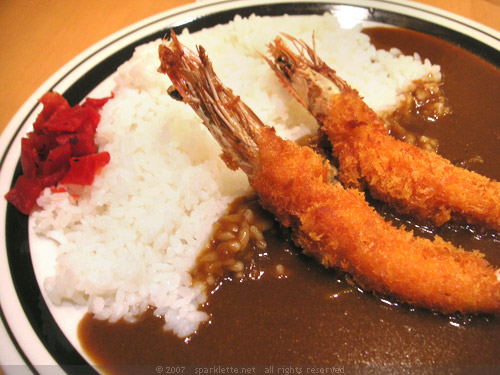 It came with just two breaded prawns. (that's, like, the standard number in any ebi fry dish I think, judging from what I would be having later that evening.)
Besides the standard curry, they also had an interesting assortment of curries on the menu, classified according to colour – white curry (mildest), red curry (regular) and black curry (hot, hot, hot!). The black curry was really black too!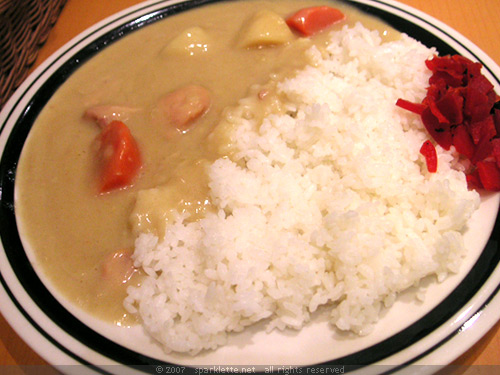 This is the white curry. It seemed rather plain to me. Our last meal in Kyoto wasn't a very satisfying one! But then it was time to catch our train.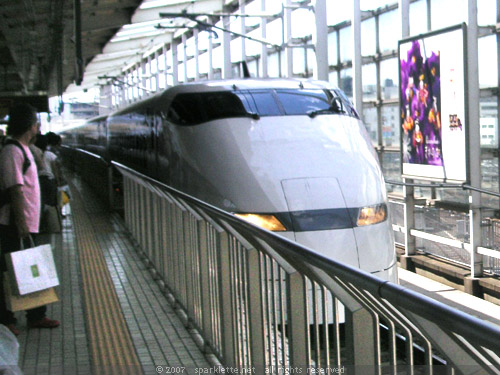 We barely made it! I slept like a baby throughout the journey, not having had much sleep from the night before. Just under 3 hours later, we arrived in Tokyo again, now a familiar city to us.
---
The accommodation we booked for the night was at a hostel, a la backpackers' style. It was located in a very quiet area near minami-senju subway station, a few stations away from Ueno.
But when we finally made it to the minami-senju subway station, there was a whole lot of construction going on. The pathetic little map we printed from the internet just wasn't accurate anymore.
The Japanese man whom we asked didn't know the way to our hostel either. But he tried his utmost to help us, walking back and forth, checking out maps and trying to find the right direction. Can we find such kind souls in Singapore?
Anyhow, we finally found the right way to go. The weather in Tokyo had cooled to a comfortable 28 degrees Celsius too. Otherwise, trying to find our hostel with all our bags and luggages in the 40 degrees summer heat that we had endured for the past 9 days would have been torturous.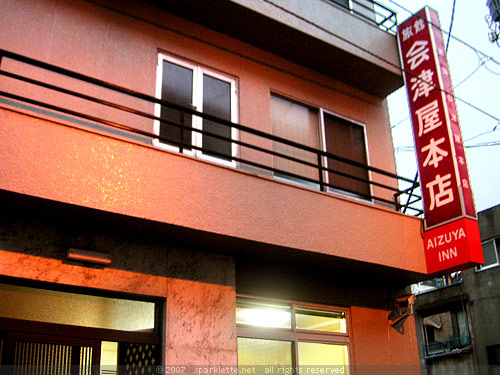 Aizuya inn, our hostel for the last night in Tokyo. It's my first time staying in a hostel and I absolutely love the friendly and open atmosphere! There was a common area where all guests could mingle.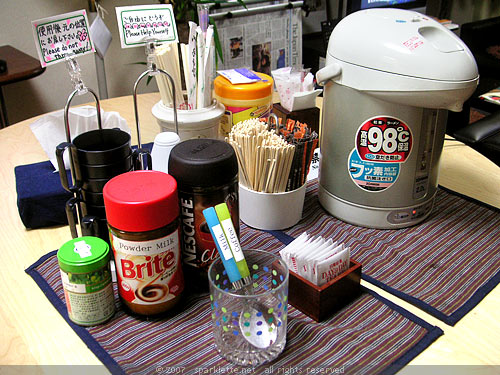 Plus, we could make coffee and green tea to our hearts' content. They had a couple of computers where guests could use broadband internet for free.
As this was just a four-storey building, it had no elevator. We groaned at the prospect of having to carry our heavy luggages up the narrow staircase to our room on the third floor (and down again less than 24 hours later).
Luckily, the staff on duty (whom xanthe thought was cute) offered to bring up both our luggages! I don't know how he did it, but he managed to climb up all three storeys with a big-ass luggage in each hand. We were so impressed!
All rooms here were of the traditional Japanese style, which means there was no bed. We would sleep on futons (japanese mattresses) instead.
The next thing I checked out was the shower room. All shower facilities were shared and I was worried they might be dirty.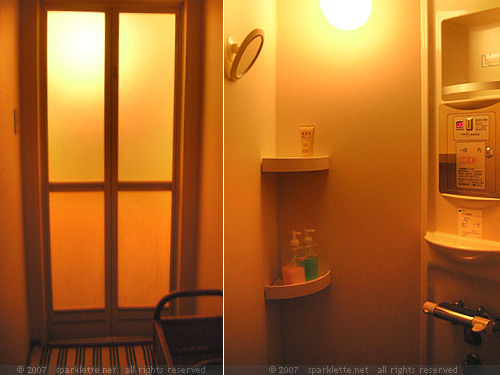 But they were dry and spanking clean! Phew! There was a whole row of two-tiered shower rooms like this; each room opened up to a dry area (on the left) where you would undress etc, while the inner door opened up to the actual shower area (on the right).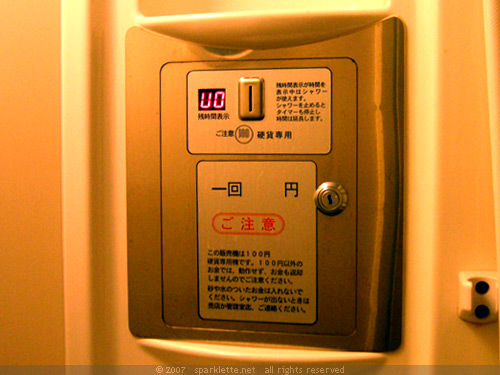 What I didn't see coming was that we had to pay to use the shower, otherwise no water would run! It was fully automated; slot in a ¥100 coin and the timer would start counting down from 5 minutes. That's how long the water would run (excluding any breaks in between). It's a good thing I shower fast!
Then it was time to hit town. It was getting close to night time!
---
We opted to go to nearby Ueno, said to be a busy shopping district.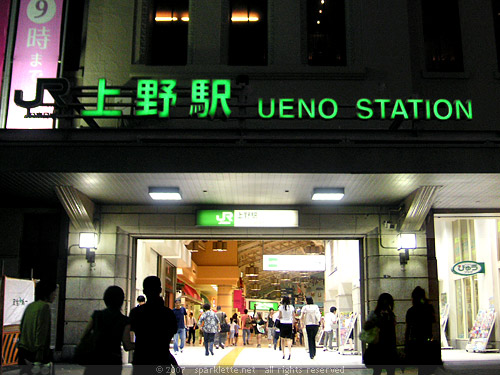 At Ueno station, we saw our first Hard Rock Café in Japan – about time!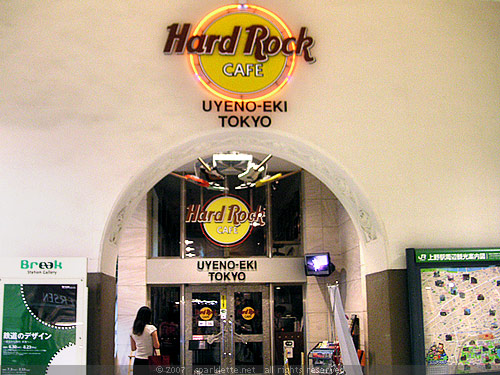 For some reason, Hard Rock Cafés give me that warm and inviting vibe (with the exception of Hard Rock Café Singapore). Each time I travel to a new city, I would try to drop by the local Hard Rock Café, get a drink and buy some memorabilia. This time round I bought 5 t-shirts!
Ameyoko is a shopping area right outside Ueno station. Unlike shibuya though, it was a lot quieter. Almost all the apparel shops catered to men.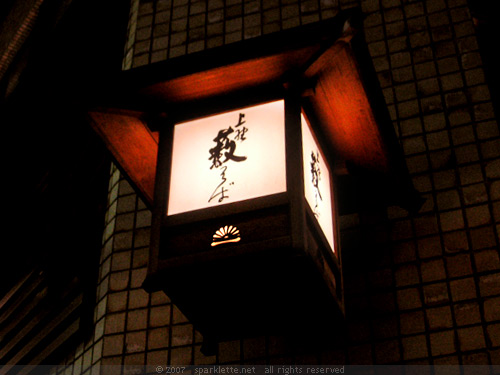 This quaint Japanese restaurant attracted our attention. It's where we had dinner.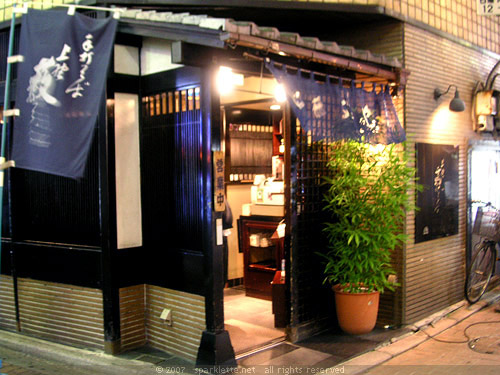 I swear it looked really nice and inviting. My pictures simply do not do it justice!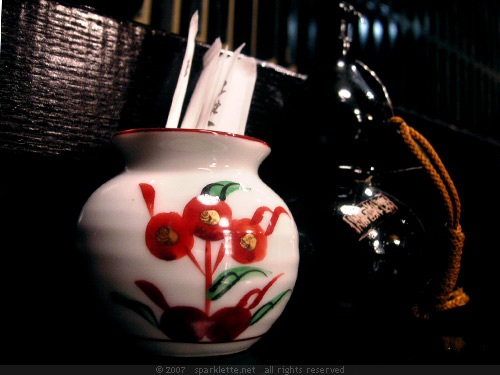 Cute little containers.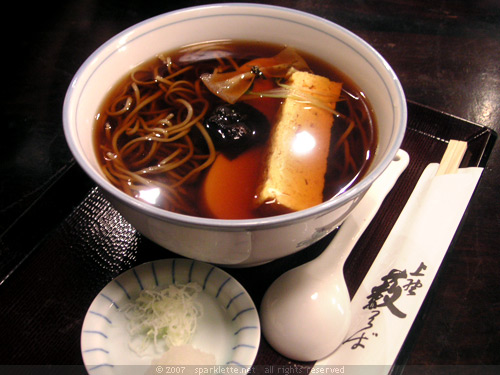 Ramen.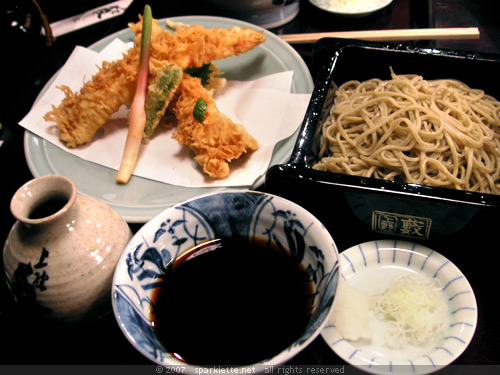 As I already had don, ramen and udon in Japan, I went for soba this time.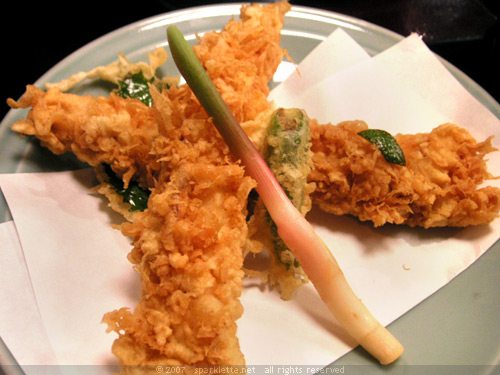 It came with exactly two ebi fry. Two again! Why? But this time round the prawns were humongous and way bigger than the ones I had for brunch back at Kyoto station.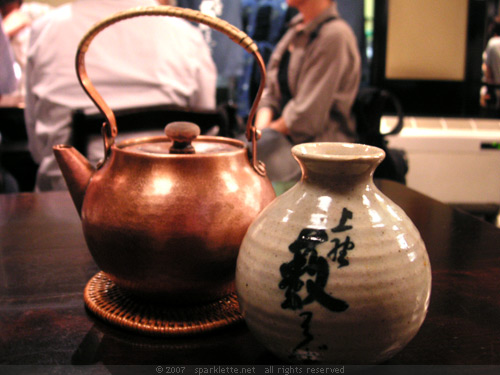 Even in Singapore, I never had soba before. That was my first soba ever! The waitress helpfully informed me that after I was done with the soba, I would pour the soup from the shiny little kettle into my remaining black soba tsuyu (dipping sauce) and drink the mixture. Yummy! I love soba now!
With bellies full, we did some exploring around ameyoko, ready to blow all our remaining Japanese yen on some last-ditch shopping!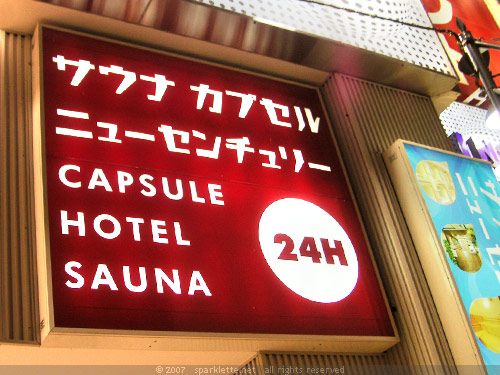 We spotted a capsule hotel for the first time! I had totally forgotten about the infamous capsule hotel until then. I've always wondered how people can bring themselves to watch television, rest and sleep in that claustrophobic and confined little space. We didn't go in to take a better look though.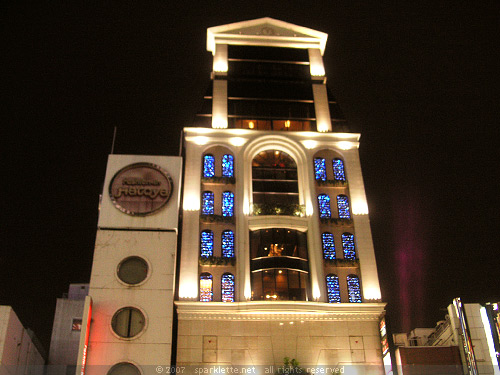 A nicer-looking building that seemed to sparkle like a gem. Very pretty!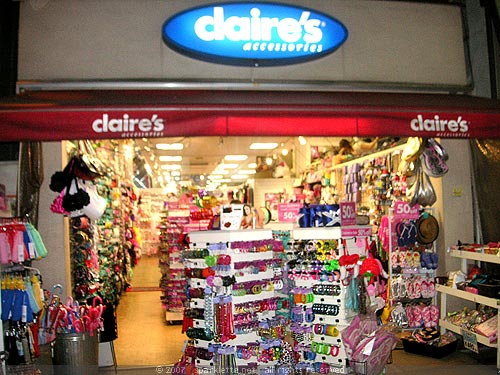 To my surprise, we chanced upon a claire's accessories store. I first saw this chain during my Dallas trip last November. I still remember how excited I was, like a little girl seeing pretty jewellery for the first time.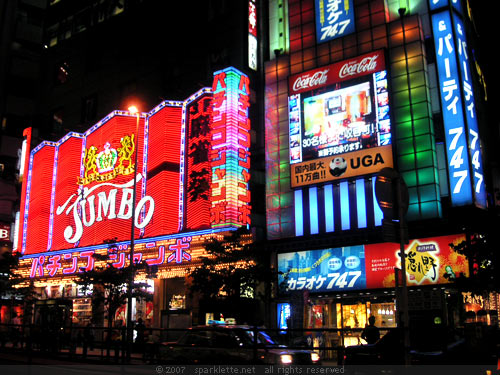 Not sure if I had already mentioned this, but video arcades such as this jumbo outlet are all the rage in Japan.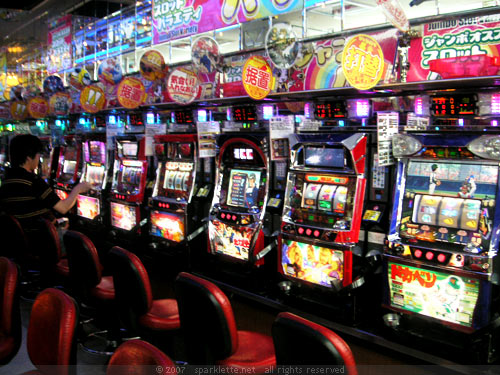 You would see guys hogging the machines whether they are in their teens or in business suits.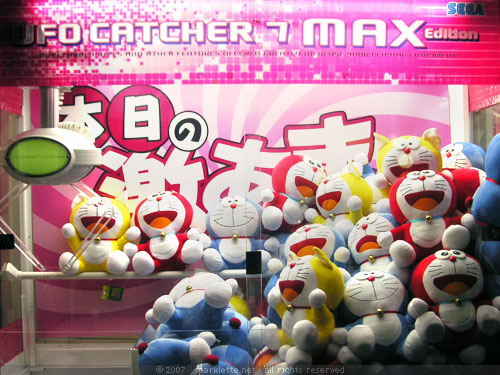 Doraemon in three different colours! And with ears too! I do know we have such claw vending machines in Singapore…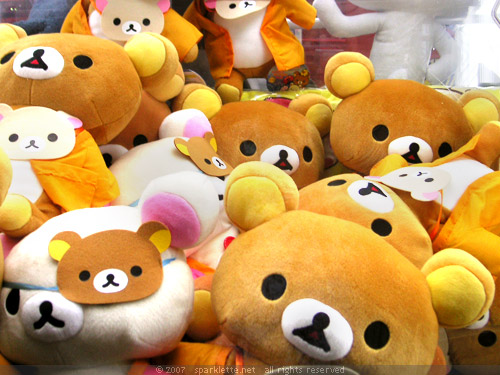 But certainly not with toys as cute as these!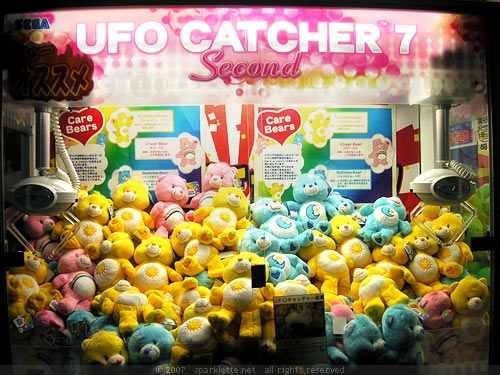 Care bears! They were obviously fake ones though.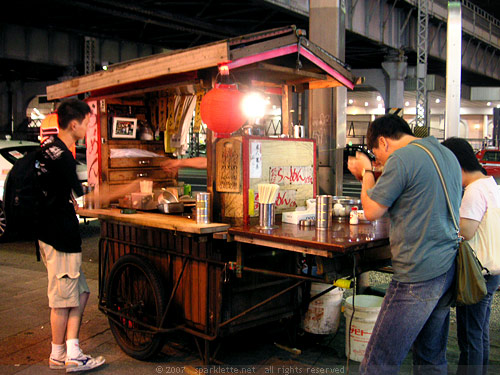 Mobile roadside hawker stalls like this were a common sight, no doubt catering to the busy working crowd who have only the time to stop by for a quick bite. I didn't get to eat at a stall like this. The closest would have been the takoyaki stall in Kyoto the day before.
It was also around this spot where I ran into the creep i mentioned previously. You know, the one who tried hitting on me the moment my friend went into a shop, and claimed he's from England when he's obviously Japanese and couldn't speak much English!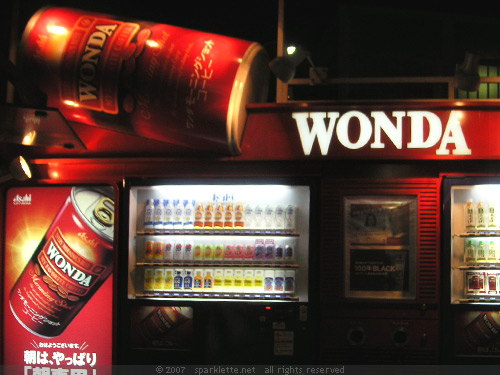 A wonda drinks vending machine outside Ueno station. That huge bright red drink can was very striking!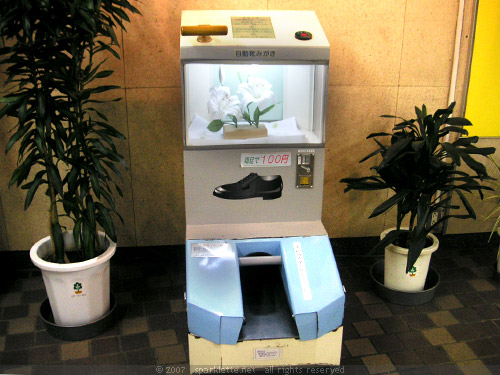 Another example of the wide plethora of automated machines in Japan, a shoe shiner this time! Wow! Now I've seen everything!
---
By the time the stores closed, we managed to get a lot more shopping done. Back at the hostel, I came up with the brilliant idea of going the entire night without sleep (again), and sleeping on the 7-hour flight back to Singapore. Then, I would be as fresh as a daisy when I get off the plane, all ready for work on Monday!
So, I spent the entire night in the common area with my laptop skyping with friends back at home, and chatting with a few of the hostel guests. There's nicholas, this dude from new jersey who teaches English in Osaka and was holidaying in Tokyo. There were two other guys from kuwait too, who told me that daytime temperatures there are 56 degrees Celsius!!! I was flabbergasted! Suddenly the hot Japan summer weather didn't seem so bad anymore.
After this brief experience of staying in a hostel, I made a mental note to stay in one again the next time I travel solo; it's just so much fun! The only bad thing about going solo is the occasional loneliness. But with other guests to mingle with at a hostel, it wouldn't get lonely anymore.