Early in the morning I had to leave Tokyo for Kyoto, where I would be spending the next two days with xanthe! To reach Kyoto I would take the super high-speed bullet train from Tokyo station. I had never been on a bullet train before so I was looking forward to it. In Japan, the bullet train is referred to as "Shinkansen".
In general, I tend to dislike asking for directions. Instead I would prefer navigating around on my own. The only thing is that the Shinkansen line at Tokyo station has about a gazillion different platforms and I ended up on the wrong platform! In the end I had to seek help at the information counter. Lesson learned: always ask for directions when you have heavy luggage and a large Hello Kitty cushion in tow!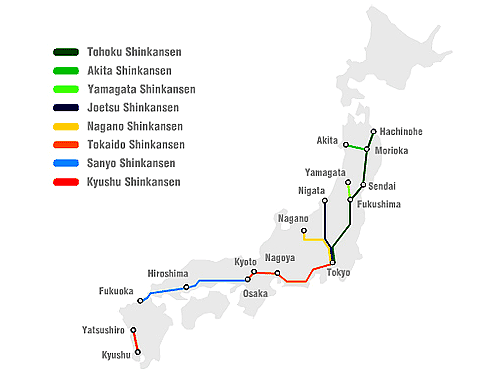 Three kinds of bullet train ply the Tokaido Shinkansen line from Tokyo to Shin-Osaka (kyoto lies along this route). My rail pass allowed me to take the Hikari train, which I did at 11:06am.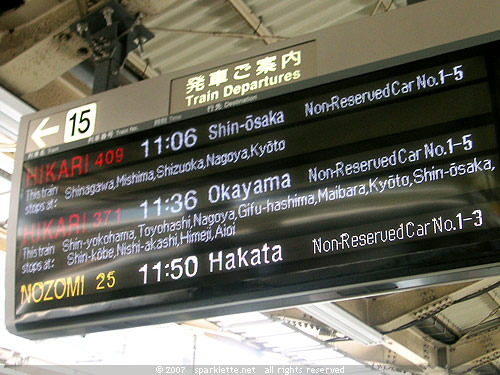 Every hour, two Hikari trains operate on this route. Each train travels as quickly as 300 kilometres per hour. At that speed, it would take me less than 3 hours to get to Kyoto!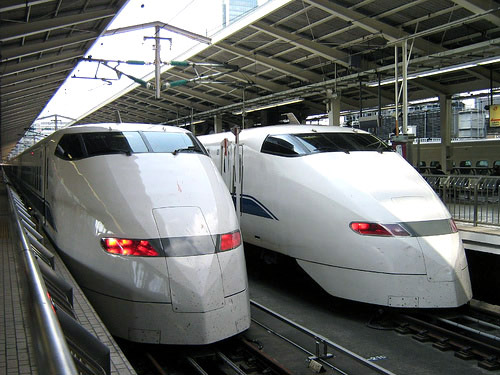 They had stalls selling bento sets on the train platforms. I got myself an unajuu (eel and rice) set.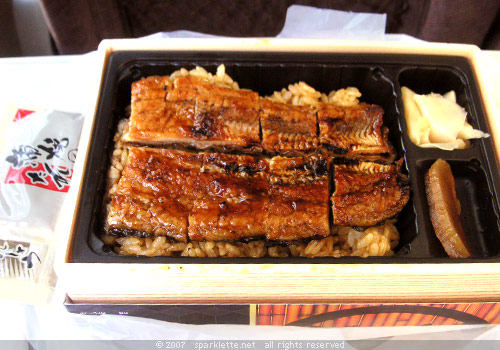 One for the road!
At that point I was pretty sad to be leaving Tokyo. The time I spent there had been so wonderful and memorable! With my ipod earphones plugged in, I felt doubly melancholic.
Soundtrack: John Mayer – Clarity
The video above was taken just as the train was departing Tokyo station.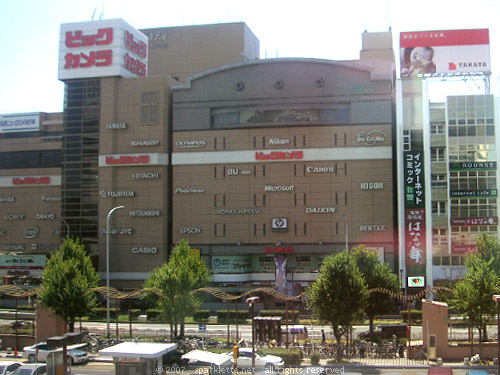 The train made a few stops along the way. I noticed this interesting building at one of the stops (nagoya, I think). It had many well-known brands of electronics and technology products arranged neatly on its facade.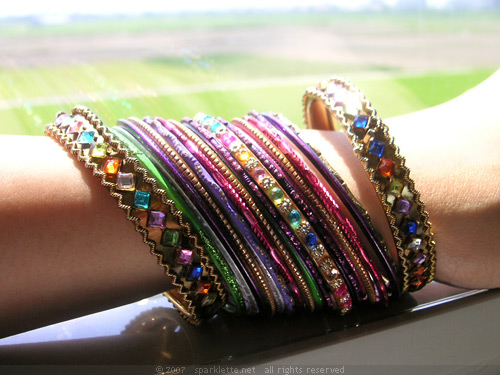 My colourful Indian bangles!
Soundtrack: Alicia keys – Caged Bird
The train ride was a good one. It allowed me to see the more rural side of Japan with all its small houses and vast fields of greenery. What a stark contrast this was from the metropolitan Tokyo that I had been seeing for the past 7 days!
---
I reached Kyoto after 2 hours and 40 minutes! This shiny building is Kyoto station. It is the most important transportation hub in Kyoto where people can take the railway, subway or bus.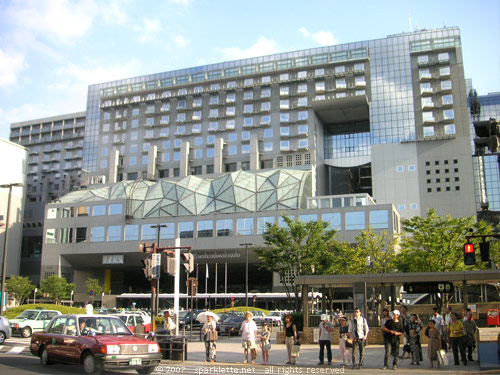 At the station, I found interest in a couple of food stores while waiting for xanthe to arrive.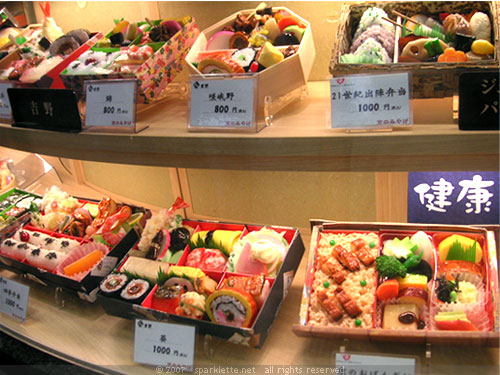 The bento sets were so detailed and elaborate!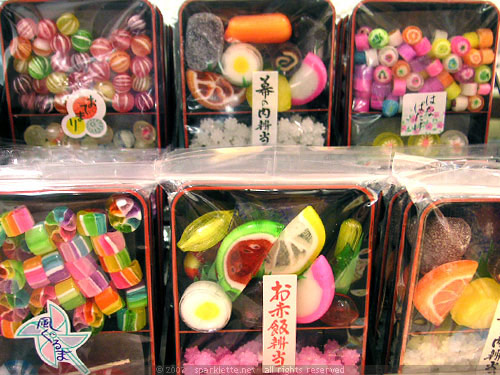 Then it was time to head to our hotel. We had booked our accommodation a month prior to our arrival, and clean forgot that it was within walking distance to Kyoto station! Yay! What convenience!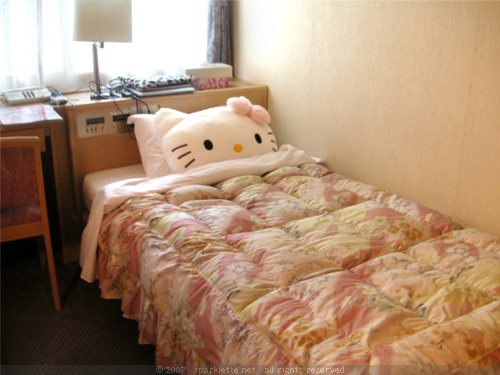 The moment we opened the door to our hotel room, we were pleasantly surprised by how cosy it was! Our beds had beautiful comforters and bedding. My Hello Kitty cushion looked right at home!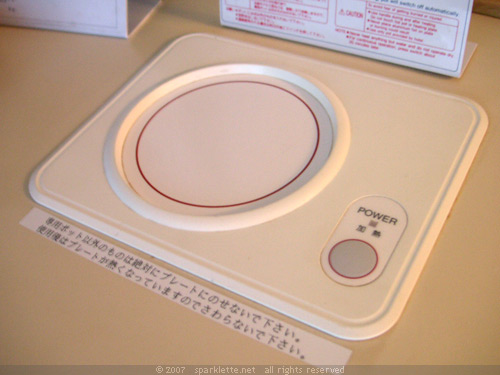 We also found an interesting boiling device in the room; it was built right into the table!
---
By the time we settled down it was already late afternoon. We had just one and a half days in Kyoto – time to hit the streets!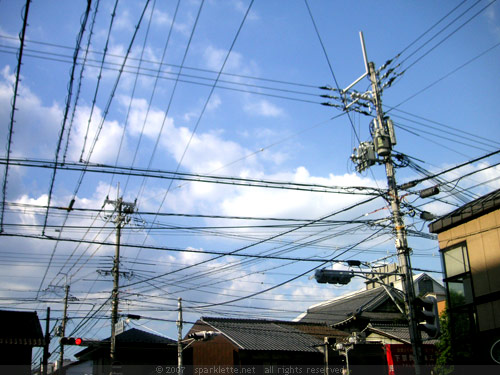 On our way to the hotel earlier I had spotted some wooden houses from afar. Kyoto is formerly the capital of Japan and well-known for having such traditional wooden houses.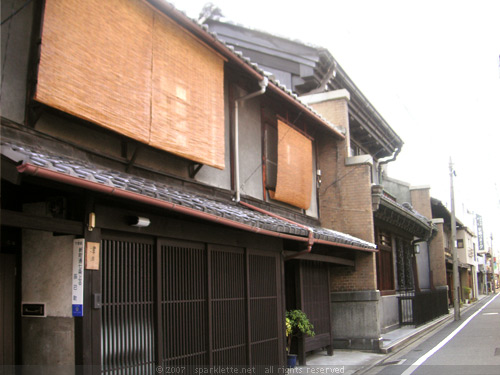 So on one side you get a bustling city scene with tall buildings and busy roads; on the other side you get a peaceful area rich in tradition that looks a completely different world!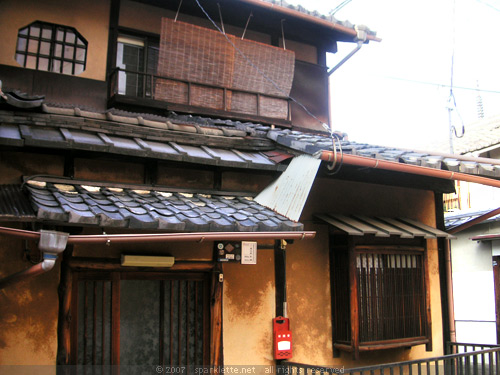 We spent the next half hour walking through the lanes and alleys and admiring the houses!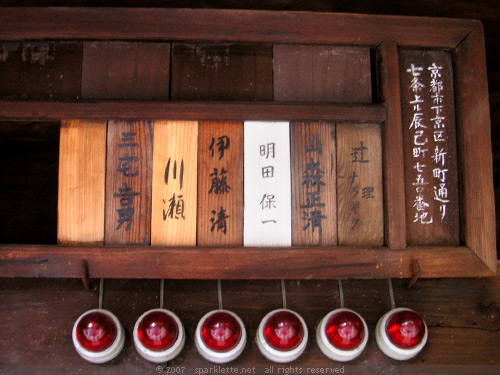 Wooden nameplates outside a door. It seems there were a few people or households living beyond that door.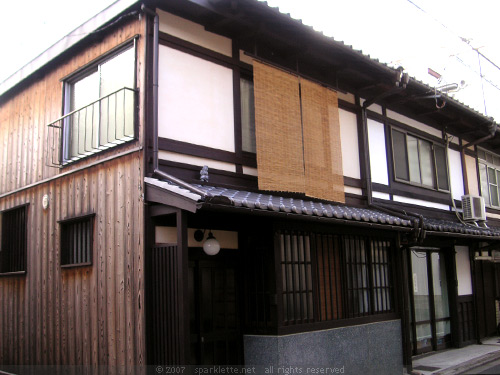 This house looked so quaint!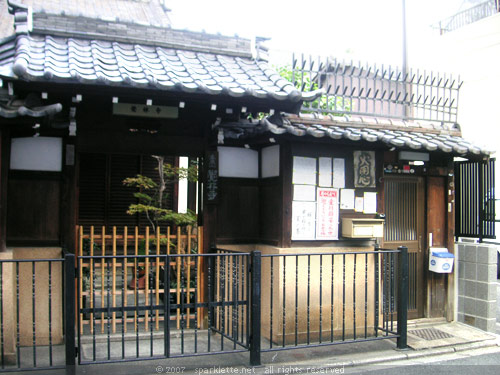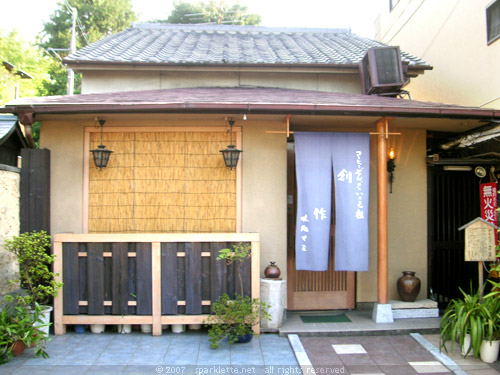 My favourite is this particularly sweet-looking house! It might have been an eatery or something.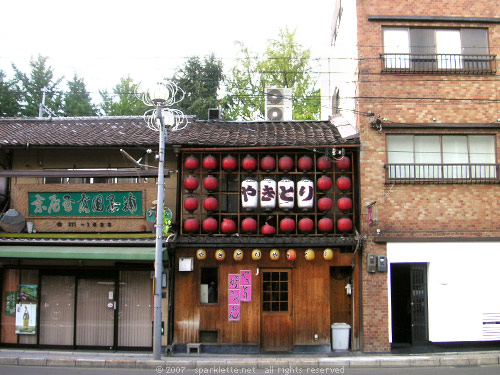 A row of shops lining the streets of Kyoto. They share the same traditional look as well.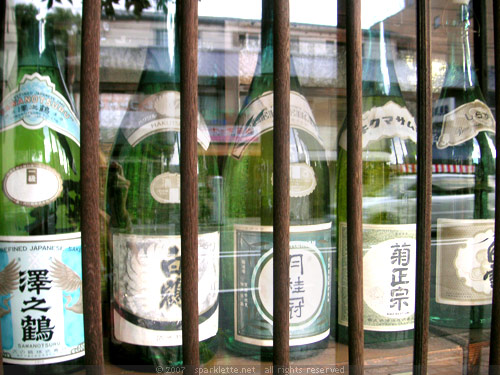 Big-ass bottles. What are they, sake? Shochu?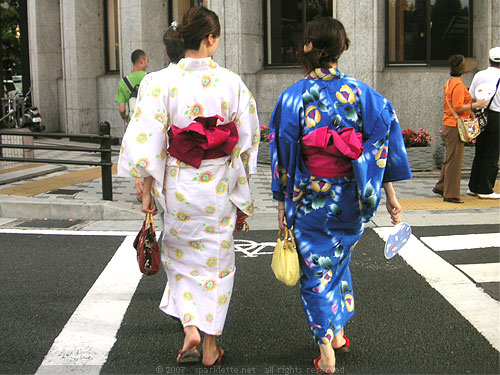 Japanese girls wearing colourful yukata, which is a more casual form of kimono worn during summer. This was a very common sight; people would wear these out on the streets, to the malls, etc.
Kyoto is home to 2000 Buddhist temples and Shinto shrines!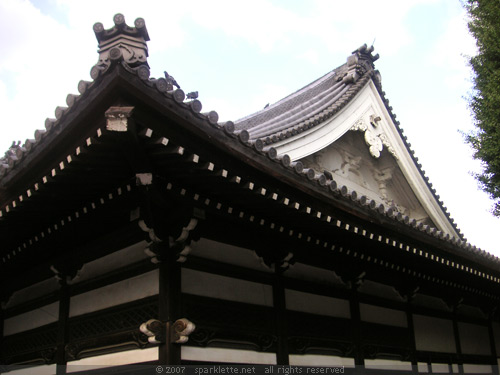 This was the first temple that we visited as it was within walking distance from our hotel.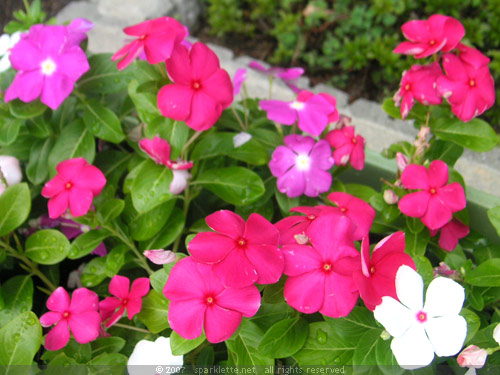 Pretty flowers by the road!
---
Back in Tokyo, our main form of transport was the subway and the occasional indecently-priced cab rides; we never rode the bus once. But here in Kyoto, the bus system was so intuitive and uncomplicated that it became the only form of transport that we used! (this is the

bus route map that we used over the two days, with illustrations and colour coded bus routes!)
Notice anything out of the norm in this photograph below?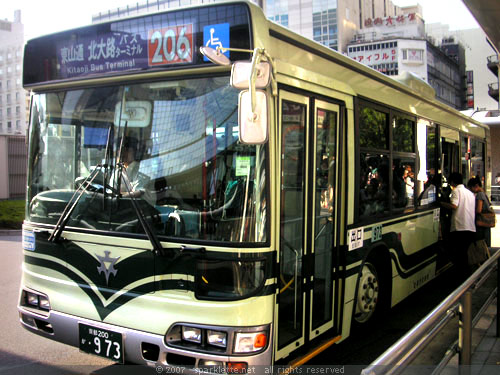 All passengers board the bus at the back and alight at the front!

Regardless of the distance travelled, each bus ride costs ?220 for adults (that's about 3 bucks). Passengers would pay their fares at the front of the bus (where the driver can get a clear view) just before they alight. That explains the unusual arrangement of the bus!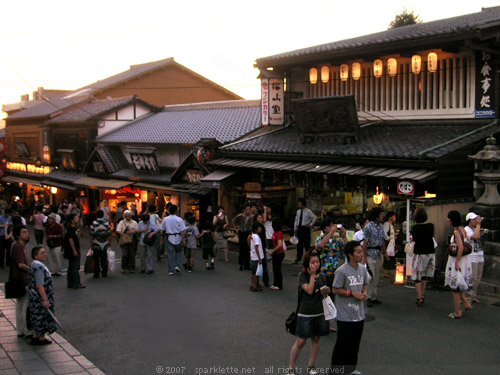 We took the bus to an area called "higashiyama". Our main purpose there was to visit the famous Buddhist temple, kiyomizu-dera, which is a UNESCO World Heritage Site. The temple was located really far off from the main road. We had to take a long walk on kiyomizuzaka, an upward-sloping lane lined with souvenir shops and eateries on both sides.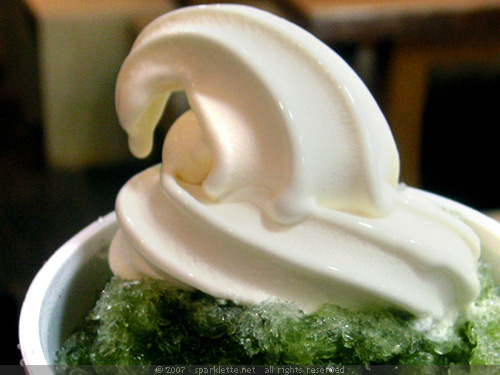 A little shaved ice dessert to send us along our way. When you're in Japan, you have to go for the green tea flavour! And the vanilla ice cream? That's just good sense. (count the number of ice cream in this post! People with the correct answer get to treat me to real ice cream! Haha!)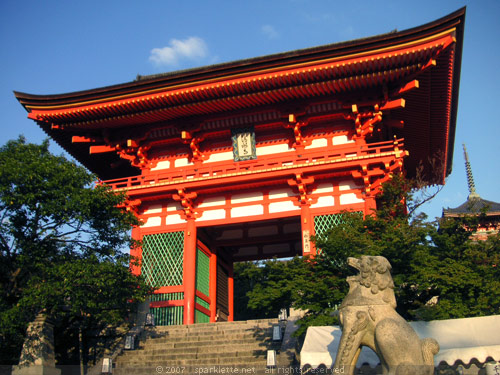 Here we are! The renowned kiyomizu-dera!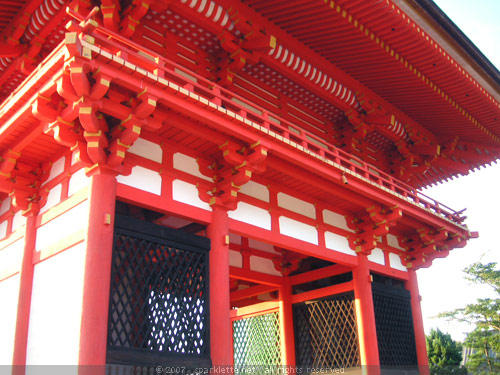 Its intricate red and white main gate.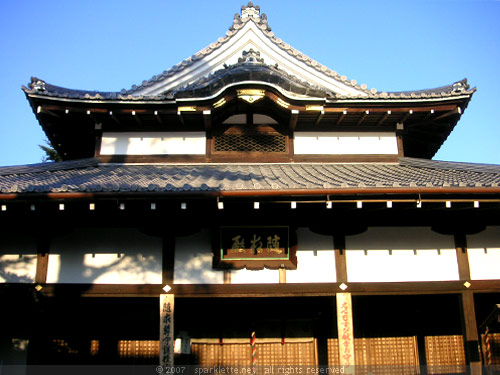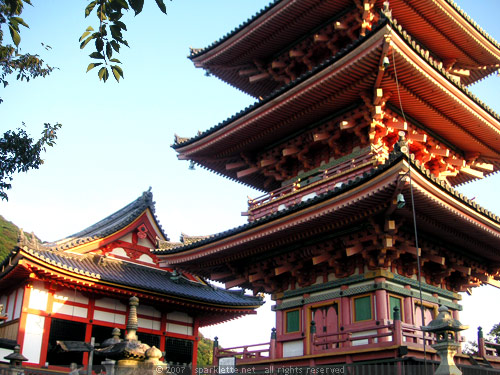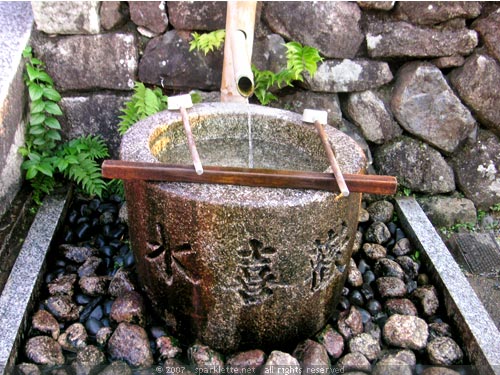 Before entering the main praying area, visitors are supposed to rinse their hands at the purification fountain.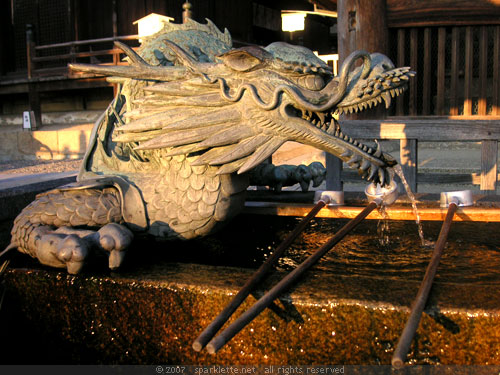 Or here too.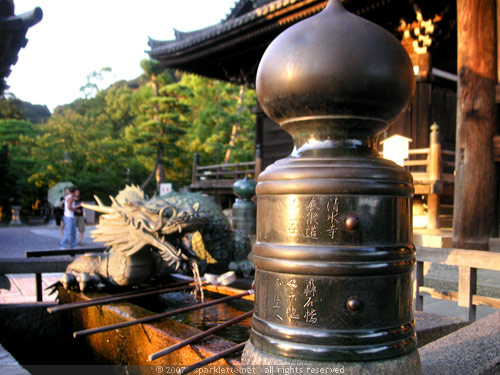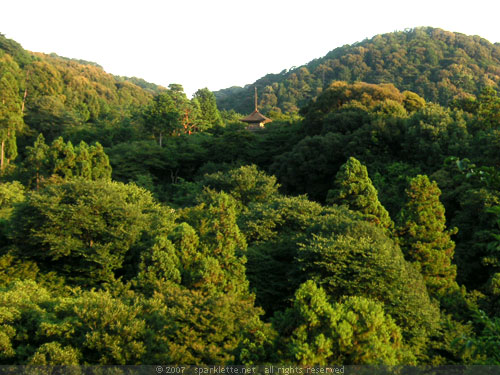 Vast forest beyond the temple. Can you spot the pagoda?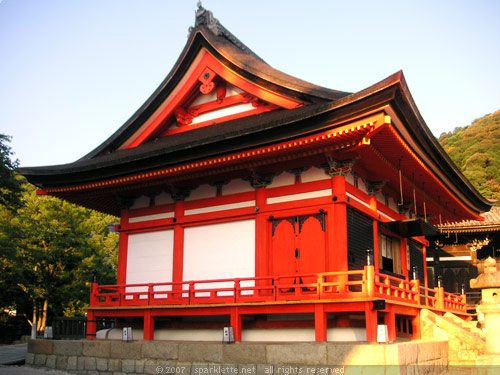 An outdoor stage used for performances, like the one at the Shinto shrine I visited in Day 5. Temples and shrines, they all look the same after a while don't they?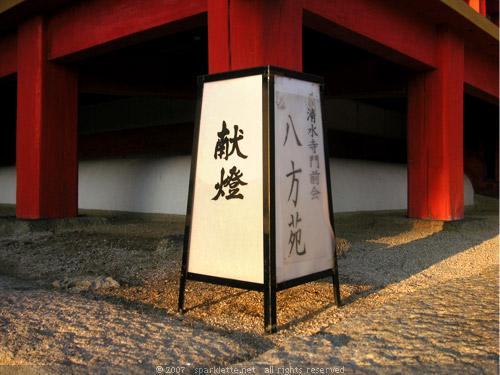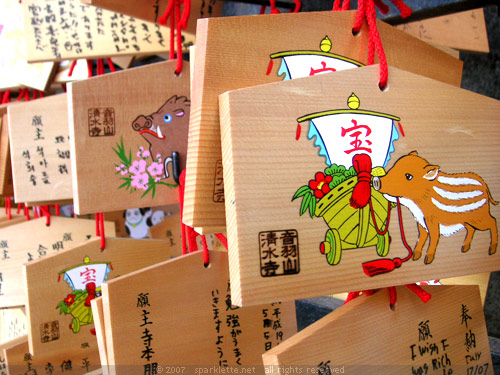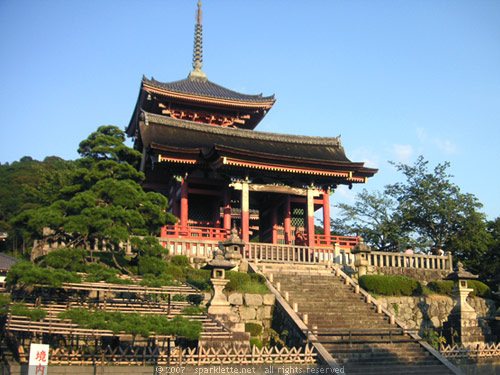 The veranda at the top of this staircase is supported by hundreds of pillars and juts out over the hillside. From here you can enjoy a sweeping view of the entire city of Kyoto!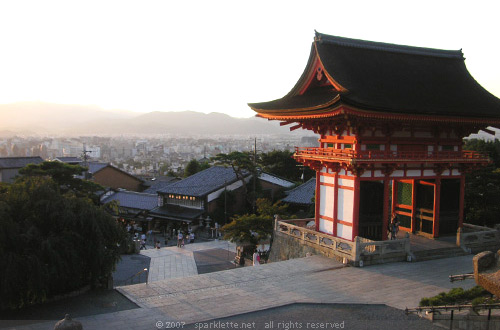 Beautiful!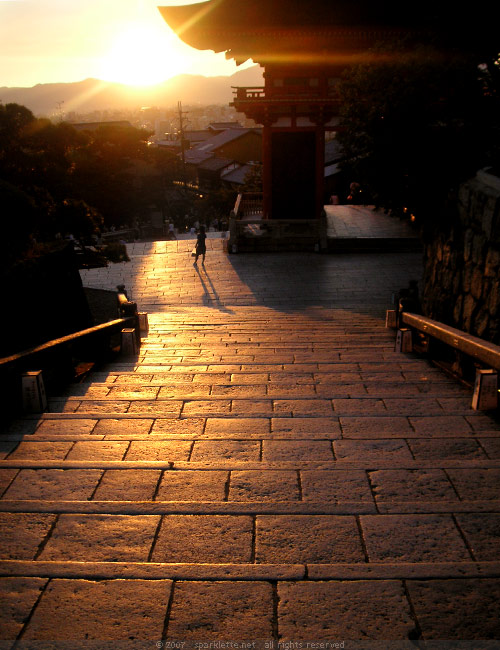 Following the temple visit, we took a stroll down the quaint kiyomizuzaka slope that we passed earlier.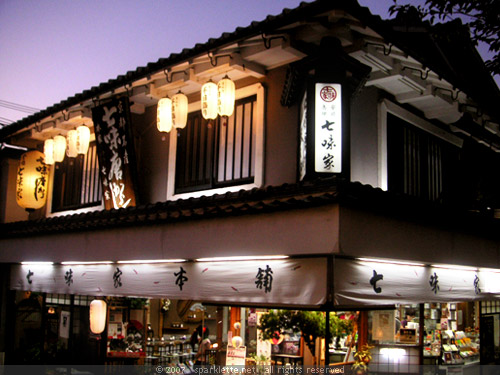 This must be a hot-spot for tourists because there were numerous souvenir shops, each one selling the same stuff as the next.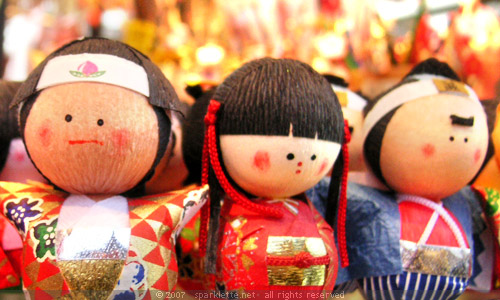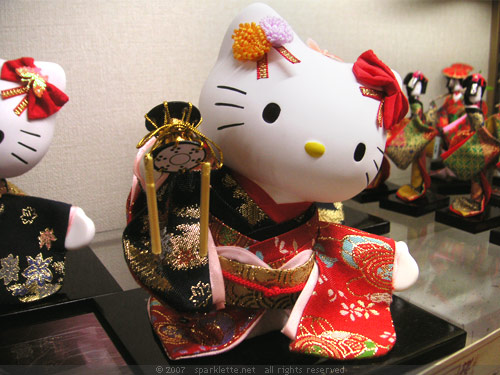 Did I not tell ya? The Japanese are crazy about Hello Kitty!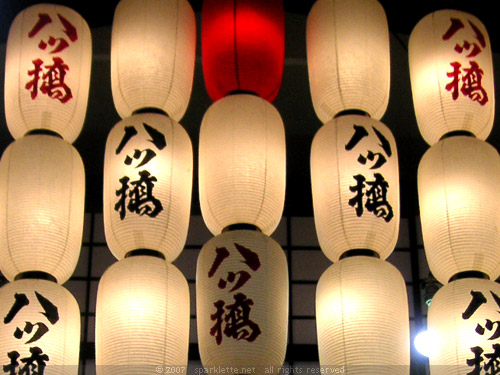 More ice cream! We opted for black sesame and purple bubblegum flavours this time round.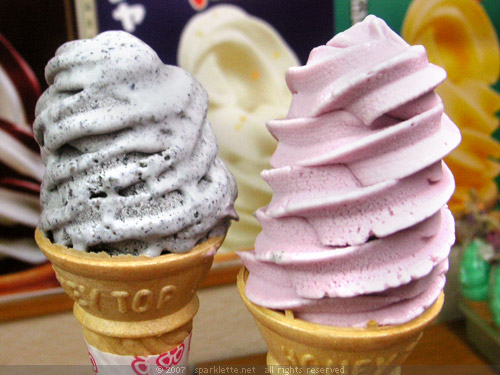 Yummy! I never thought I would like black sesame ice cream (the colour alone has always turned me off)!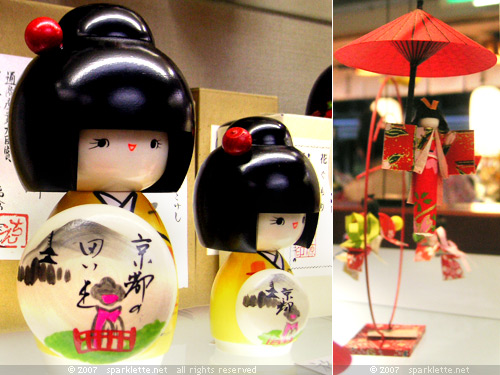 Cute figurines of geishas.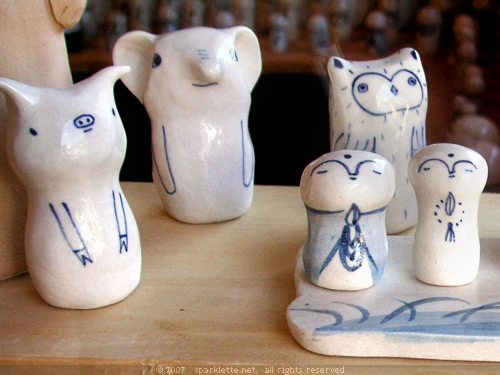 More cute figurines! These were handcrafted porcelain ones of animals!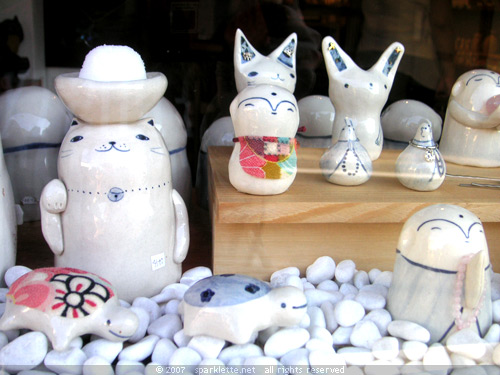 Kawaii!
Remember the cute car we spotted in shibuya back in Tokyo? This is the one:
Well, as luck would have it, we spotted another one of it right there in Kyoto, parked next to a traditional wooden house!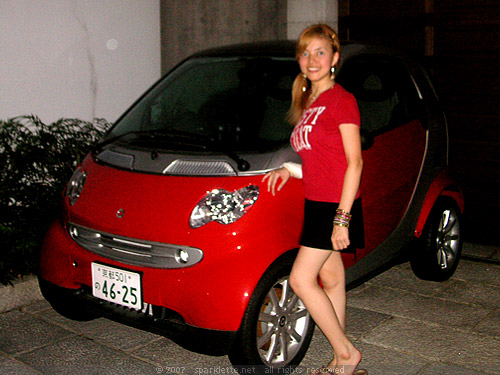 Tee-hee!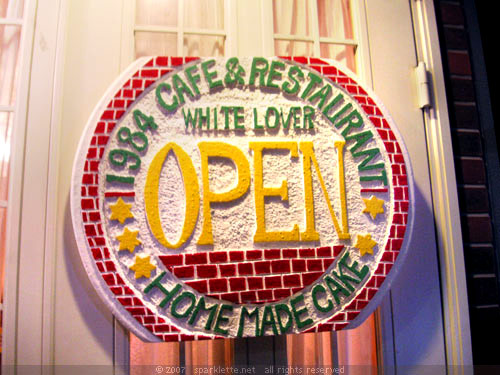 Towards the end of the slope this white-coloured restaurant caught our eye. Many Japanese restaurants have plastic food replicas displayed on the outside that are really useful for people that don't speak Japanese (remember my food ordering process in Day 1?).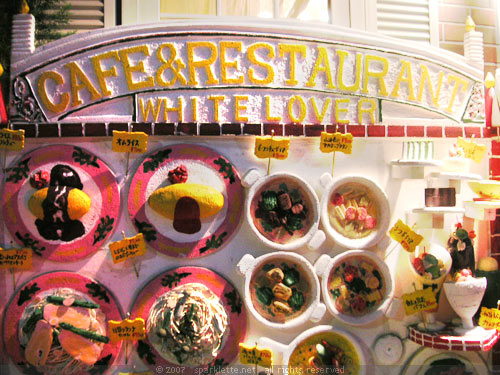 These particular food replicas looked entirely different from the usual plastic ones we saw. They appeared to be hand-painted and made out of clay! For some reason that was enough to attract us to have our dinner there!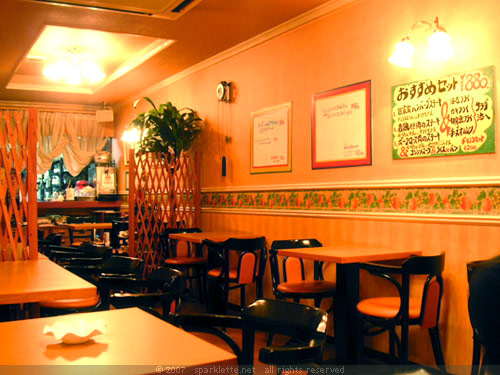 There was no other customer and it continued that way throughout the entire duration of our meal.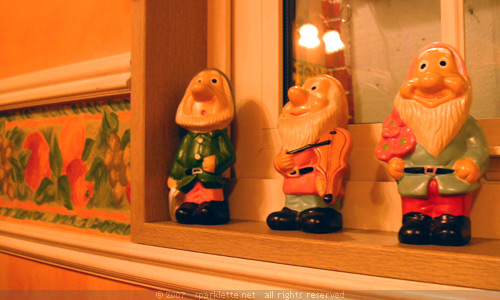 Dwarf figurines by the window.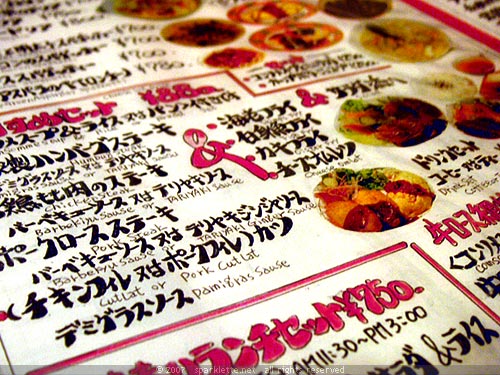 Uniquely-designed menu with text that looked like they had all been painstakingly written.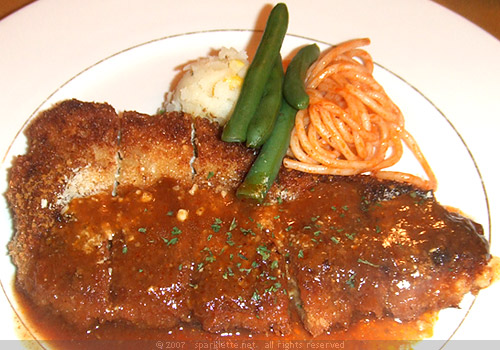 Pork cutlet with a little mound of noodle.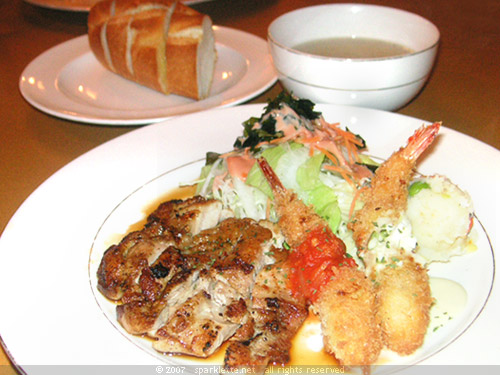 Chicken steak in teriyaki sauce and breaded prawn.
---
Then it was time to head back.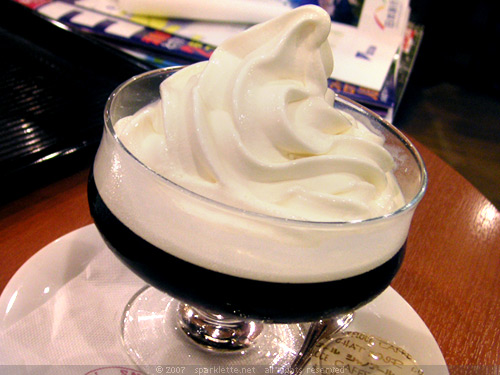 But not before having a little coffee jelly (with ice cream) at caffe veloce, a café near our hotel. Yummy!