This was the last full day I had in Tokyo. The following morning I would be leaving for Kyoto! So, armed with Beni's pro semi-SLR camera, we spent the day doing some final sightseeing.
Our first stop was Marunouchi, an area marked by tall skyscrapers. This is the commercial district of Tokyo, home to the headquarters of the three largest banks in Japan.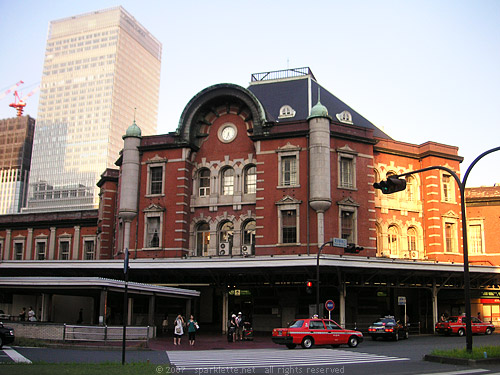 We arrived at Tokyo Station, the main intercity rail terminal in Tokyo. (I would be here again the following morning to take the bullet train to Kyoto.) the station is a landmark building in itself, with the renaissance style redbrick architecture lending it a classic look. It was originally built in 1914 but the current building was reconstructed in 1947.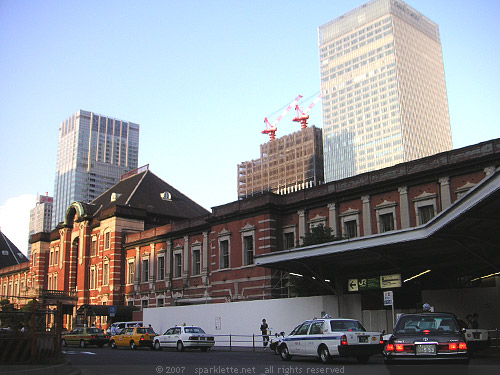 In the pictures above, does anyone else think that the building behind look as though it's not really there? I did a double take when I saw that! The building was so faint it looked almost translucent!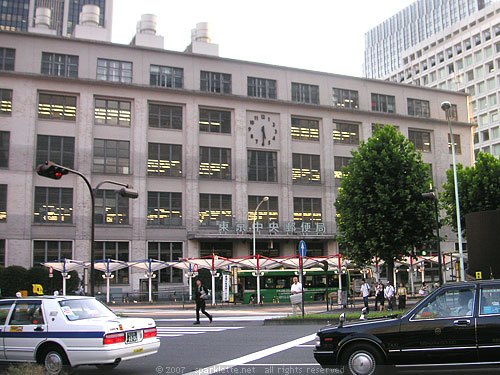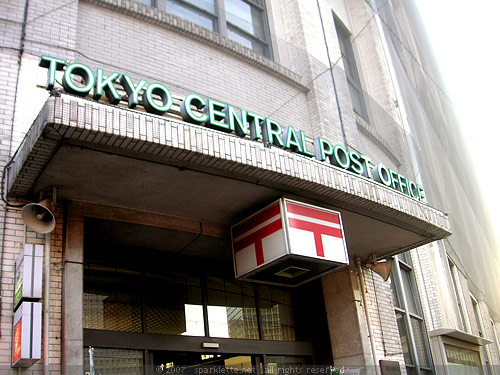 Tokyo central post office, a building that looks really aged.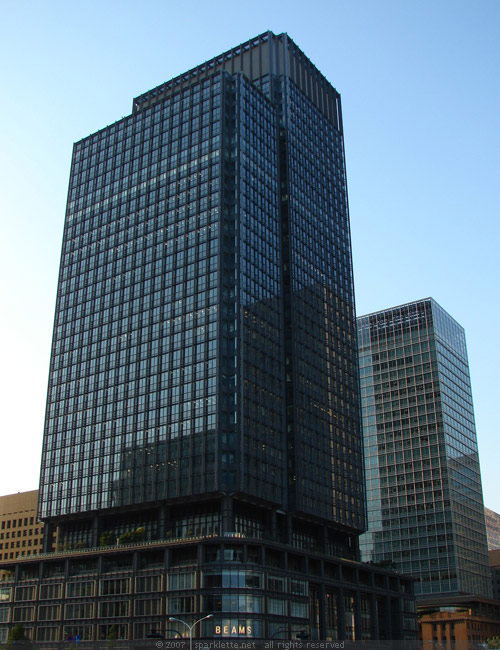 Marunouchi building. Built in 1923, it sits atop the most expensive real estate in Japan, with a land value of ¥21 million per square meter! That's more than a quarter of a million Singapore dollars PER SQUARE METER!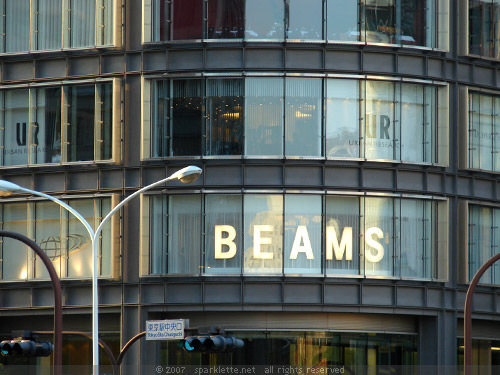 Beams department store on the ground floor.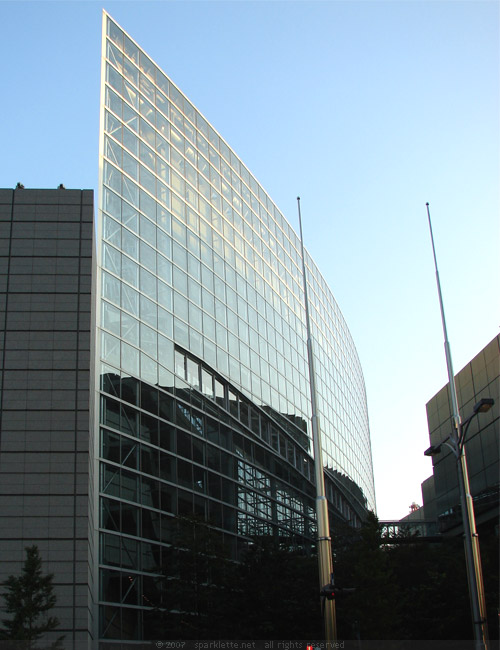 Tokyo international forum with its futuristic glass atrium. This is a venue for exhibitions and concerts, the equivalent of Singapore expo or Esplanade theatre. Back in day 3, we had drinks at a couple of pubs at the building next to it.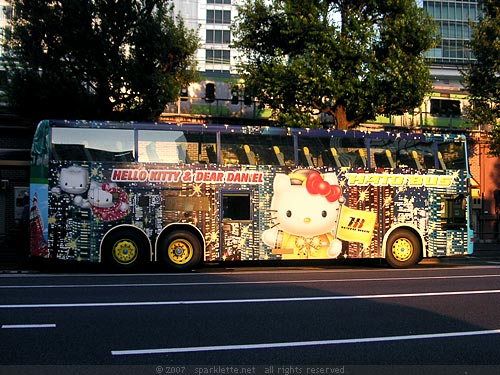 We spotted a Hello Kitty bus too!
---
The expensive shopping district Ginza (visited in day 3) and Marunouchi are within the same vicinity. It is in Ginza where our second stop, the Sony building is situated. Being geeks, we were excited to check out the showrooms in there – all 11 floors of them! There are also a few shops, restaurants and cafés scattered throughout the building.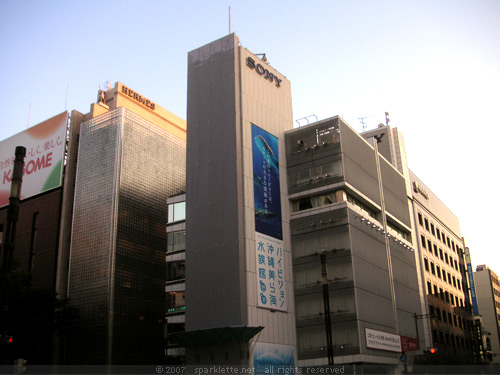 For a building that is showcasing the latest technology, its exterior sure doesn't look impressive!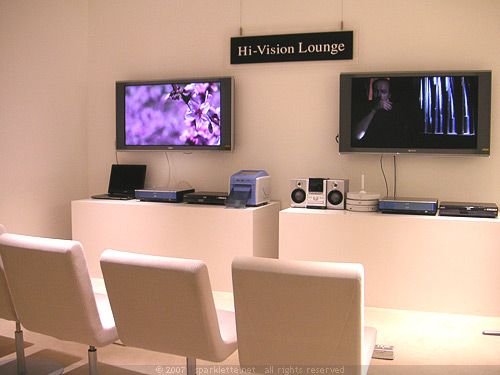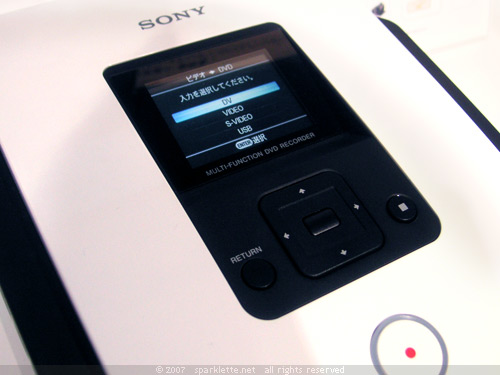 Over here, visitors can get a hands-on of the latest Sony gadgets.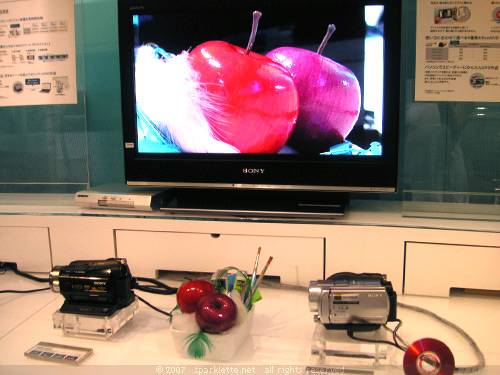 A variety of brightly-coloured objects are placed next to all the video camcorders and cameras.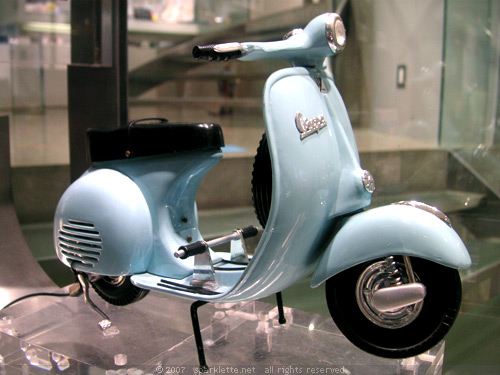 People may test the cameras by shooting these objects.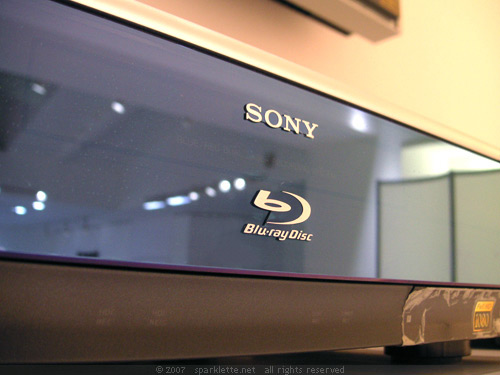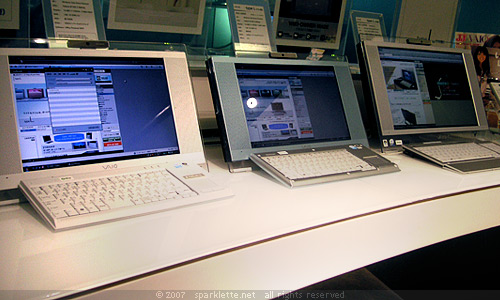 We spent some time playing with all the gadgets here. I think my next compact digital camera might just be a Sony one! My current camera has been with me for more than 2 years and it's time for an upgrade.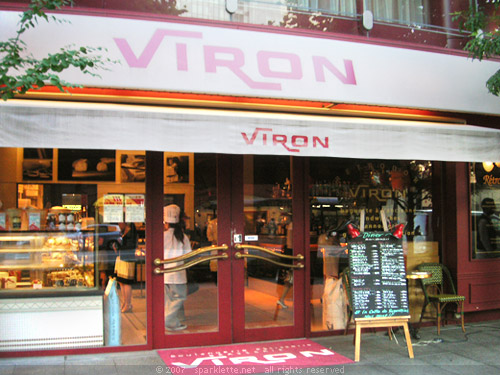 Viron, a café chain. Beni remarked that its name is just a letter away from mine.
Back on the subway, we made our way to our third and final destination for the day – Odaiba. I noticed that certain subway stations had "women only" overhead signs. The information poster below shows why.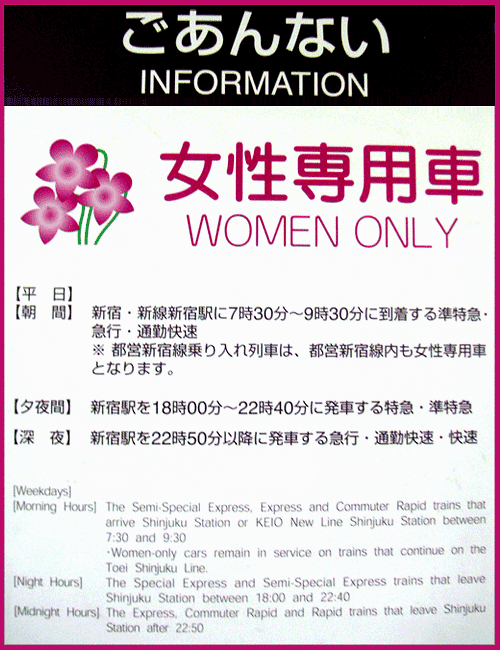 Interestingly, trains on the keio line had women-only cars at certain times of the day. How nice!
---
A fitting place to spend a last night in Tokyo would be in Odaiba, a large artificial island in Tokyo Bay. It was originally constructed in 1853 as a series of fortresses for protection against attacks from the sea. Today, it is a popular multi-entertainment district.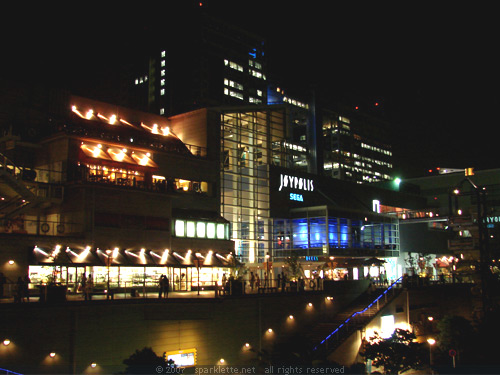 The train service that serves Odaiba is the Yurikamome line. Fares on this route may be more expensive, but riding on it provides passengers with great waterfront views of Tokyo Bay. Trains on this line are unmanned and fully computerised.
To my surprise, at one point the train actually makes a roundabout to run on the Rainbow Bridge itself! Here's a shoddy video of the Rainbow Bridge taken from within the train.
After alighting from the train, we made our way to decks Tokyo beach shopping mall.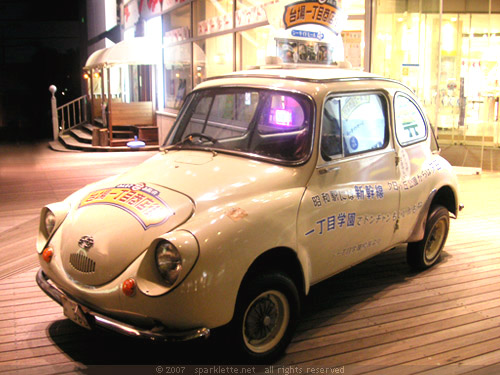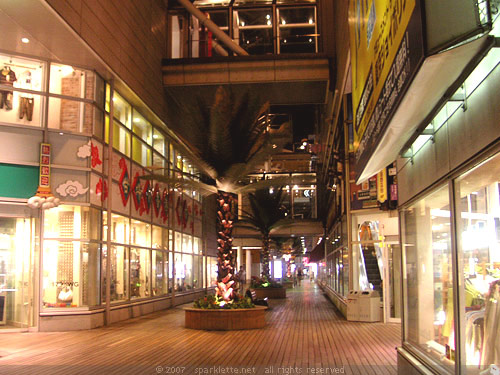 Decks is a large shopping and entertainment complex with a tropical beach theme. And for good reason too. A wooden deck occupies the entire length of the sea-facing side of the building as well as the adjacent aquacity shopping mall. People can walk along the deck and enjoy a great view of the sea. CVV Shop Forum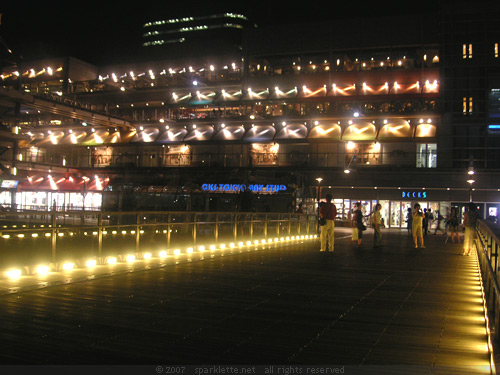 It was over here where we got to take in the beautiful view of the Rainbow Bridge!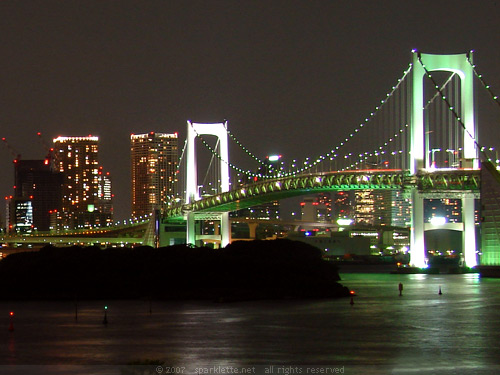 This 570 metre long suspension bridge connects Odaiba to the Tokyo waterfront. During the day, the bridge is a gorgeous white colour. At night, it illuminates in three different colours – red, white and green.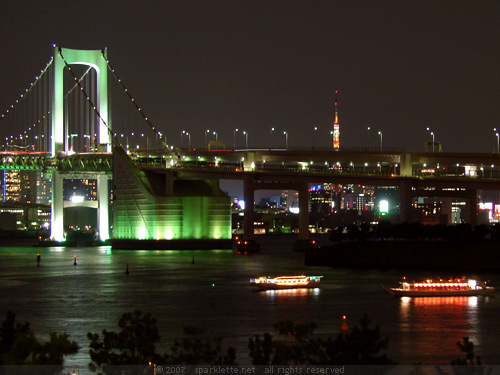 The magnificent Tokyo tower (visited in day 4) is visible too.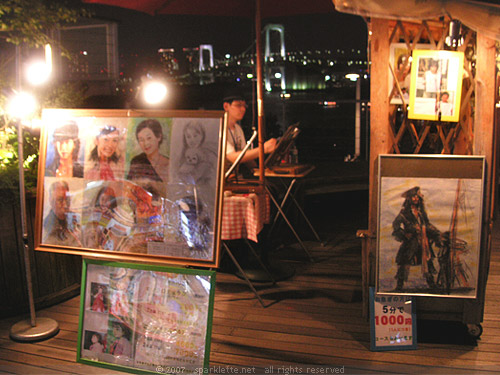 A street artist drawing portraits for sale.
And now here's something we didn't quite expect…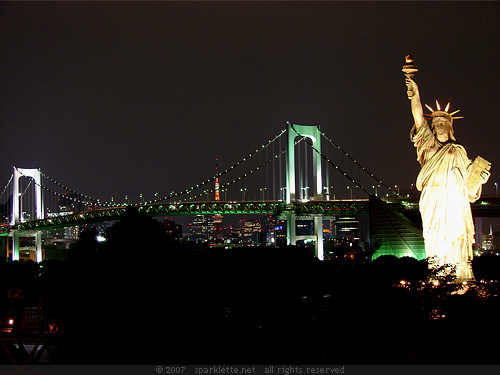 A statue of liberty replica! We had absolutely no idea it was there so it came as a total surprise! Now I feel as though I have visited New York city!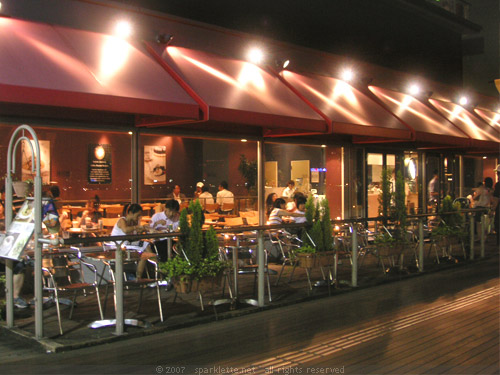 Along the deck are several restaurants and cafés where people can dine while enjoying the sea view.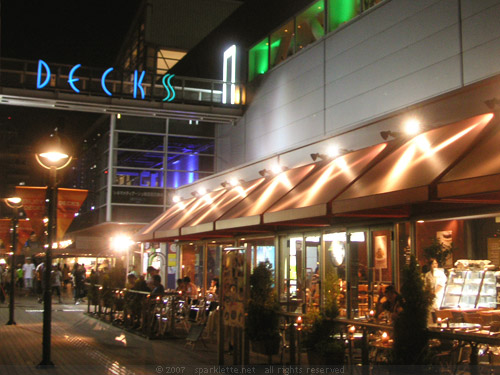 We stopped by longboard café for yummy, yummy, hot and spicy nachos.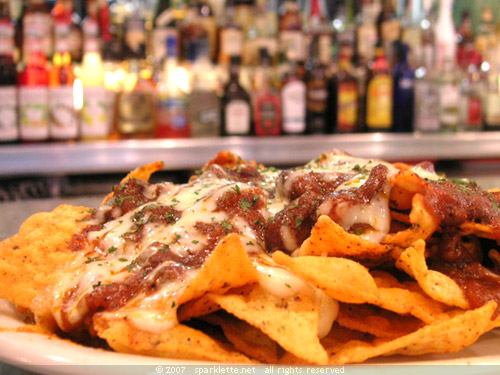 I think that's the first time I managed to have chilli of any kind in Tokyo!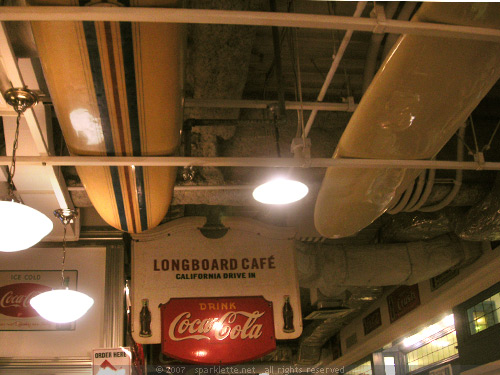 This whole place had a californian beach theme.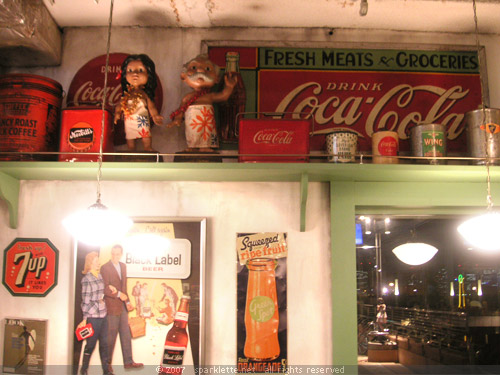 Cute indoor gas station.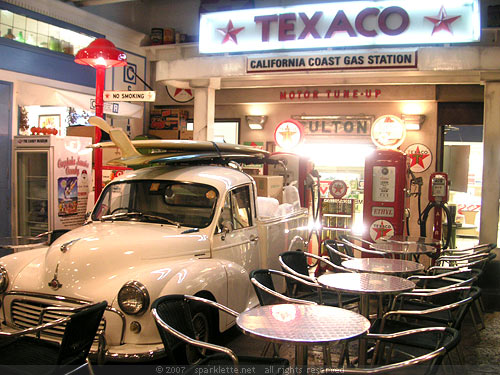 Have you ever seen such pretty toothpicks?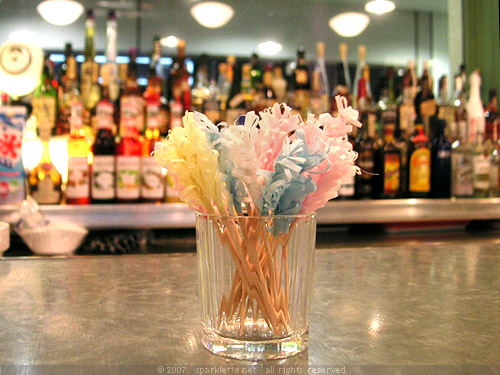 More sightseeing after our little break! Odaiba is a great place for that.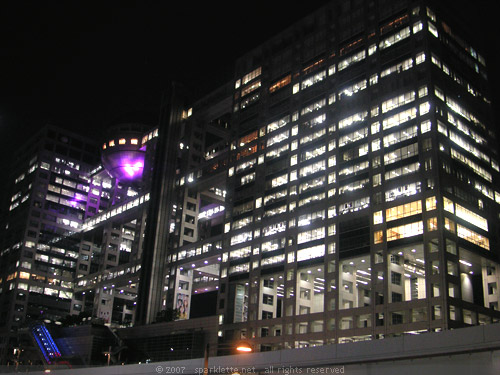 Here's the highly futuristic, yet somewhat bizarre-looking fuji TV headquarters that sits just behind decks and aquacity.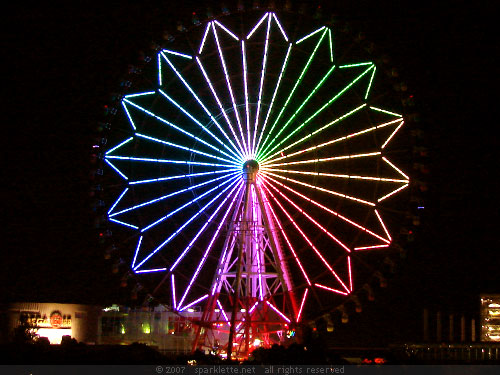 We could also see the giant ferris wheel at palette town in the distance. It stands at a massive 115 metres and is one of the world's largest ferris wheels. As it turns, it lights up in a series of colourful patterns as seen in the following video.
We were contemplating whether to take a ride on the ferris wheel. We didn't because it was getting really late! It was just as well; I found out much later that the rides had already stopped for the day.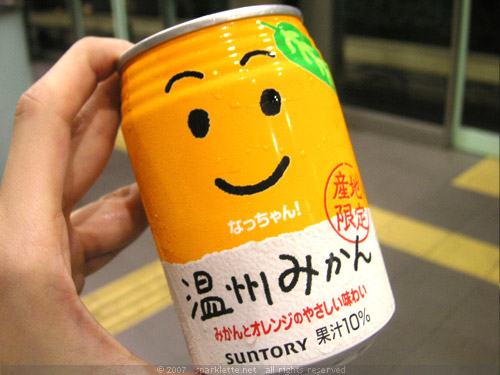 One last drink before we call it a night. This time I had healthy, healthy orange juice instead of the usual beer. I got it only because the drink can looked so cheerful and appealing!
Next stop: Kyoto!