Day 2 was a day of mostly eating. Woke up at about 10am and went over to my relatives' place for a breakfast of laksa. One of my aunts had cooked a huge pot of laksa and brought it over early in the morning.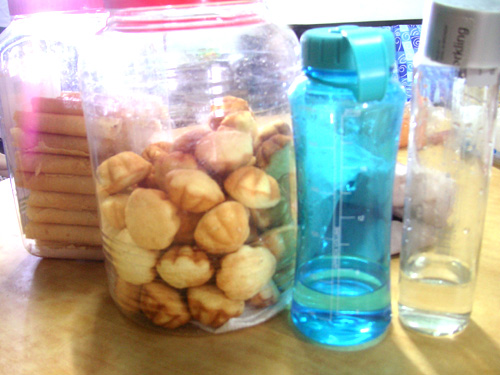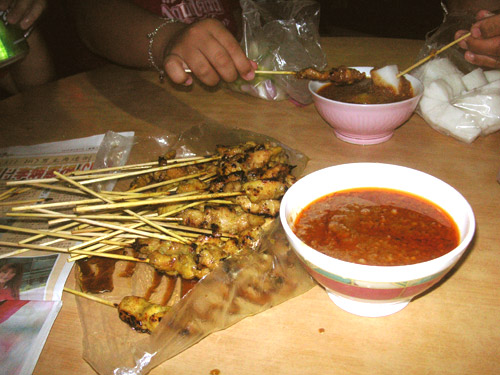 We ate satay too. I had nothing to do after that so I went for a walk at the seaside. Too bad the tide was low at that time and my hope for a nice beach with sandy shores wasn't fulfilled. There was quite a bit of stones and rocks and debris around.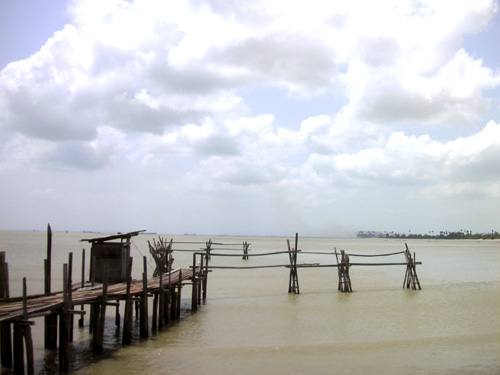 At 12 noon, it was bloody hot and sunny and no one was there, except for this elderly man who was picking stuff up. He seemed very old and alone. I learned from my cousins later that his son had died just last October.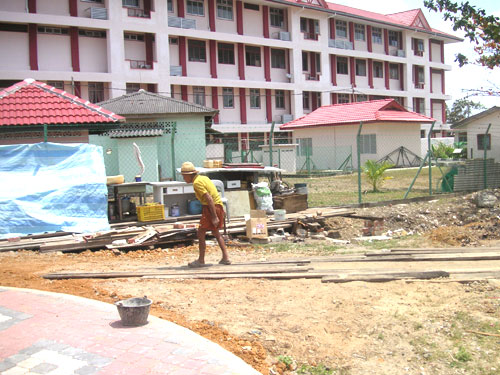 Taking advantage of the low tide, I went looking for seashells. There weren't any nice ones lying around, and those I found were really tiny. I think the really nice shells can only be found in the deeper waters. The ones that get washed up the shores tend to be small and and mostly broken.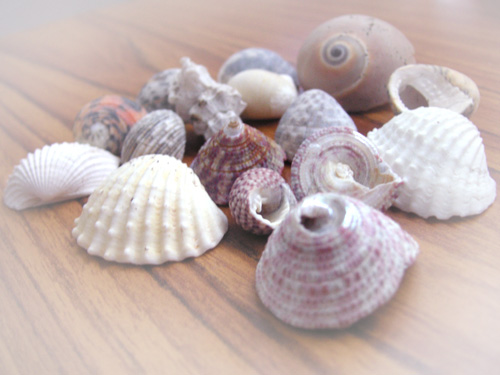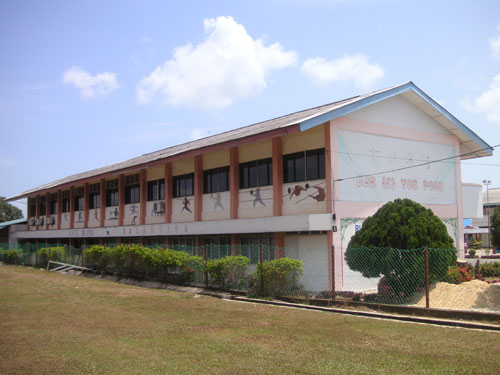 Opposite my relatives' place was a small primary school. I think every kid in the town goes to that school; it's the only school I have seen in the town so far. The school had a large field with tracks drawn on it. How lucky for those schools in Singapore that have actual running tracks!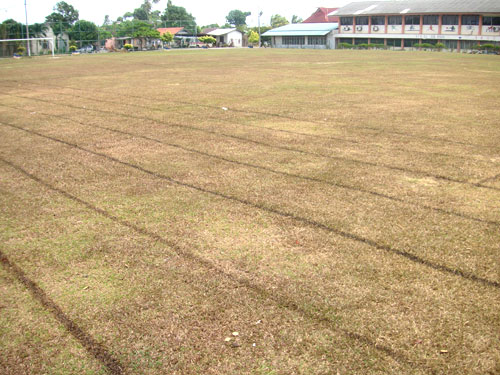 If you look at the school building, you would notice that parts of its roof have been mended. The damage was the result of a tornado that happened many years ago. I was probably about six and happened to be visiting when the tornado came. The school was located right in front of the sea, and I guess that's where the tornado came from.
I actually saw the tornado whipping up parts of the roof into the sky, leaving a hole in the roof after that. Luckily it wasn't a school day that day. The tornado even passed directly above us and I remember seeing its long thin shape in the sky. The report came out in the Singapore newspapers the next day. Pengerang is very close to Singapore, so don't ever assume that natural disasters can't happen here.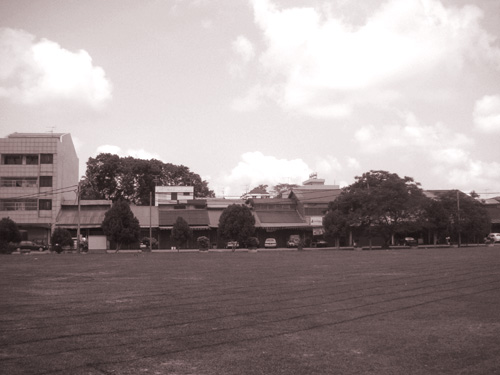 Found my boss roland and cousin-in-law David having a drink in the coffee shop nearby. And I had a mug of the carlsberg too. Honestly I hate the taste of beer and I wonder why men like it so much.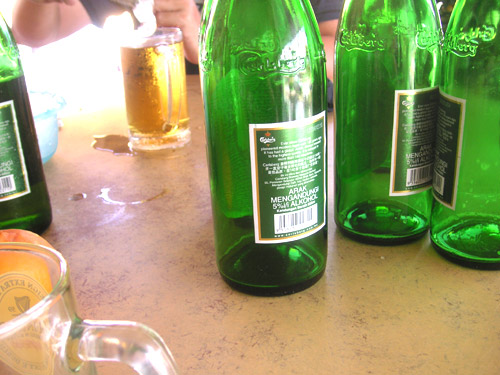 Had steamboat for dinner, and decided to go to the seaside again. It was evening and people were playing soccer at the field. They play there every evening with a full kit and linesmen and all. It looked quite official.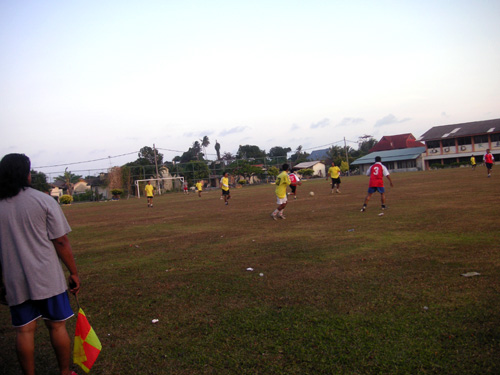 It was sunset at that time and I was hoping for a high tide. But alas! Low tide again! What's up with these beaches? Otherwise with the nice waves washing up the debris-free shores, plus the sunset, plus the coconut trees, it would all have been picture perfect.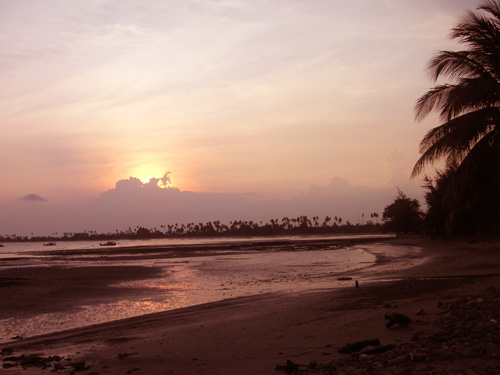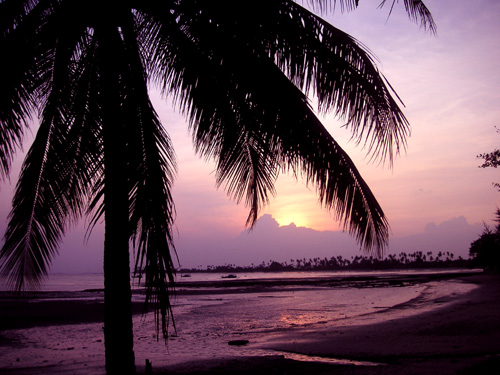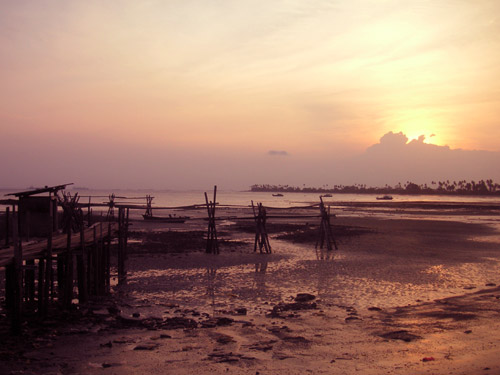 Later on, someone decided it would be cool to turn off the water supply, so my cousins came over to our hotel room to bathe. Here's my 13 year old cousin chewing gum. Isn't he handsome for his age? He has a dimple in one cheek too.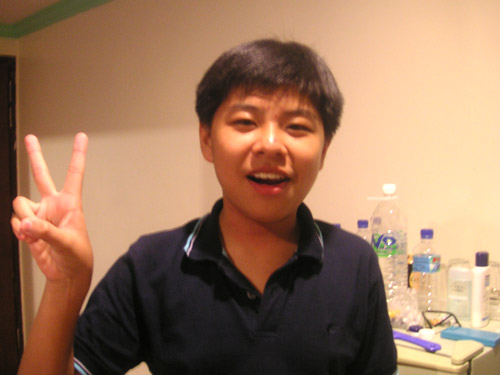 This is another cousin who's already four years old, but still looks like a baby. The moment I asked him to pose for a picture, he got into a fight with his elder brother which was hilarious.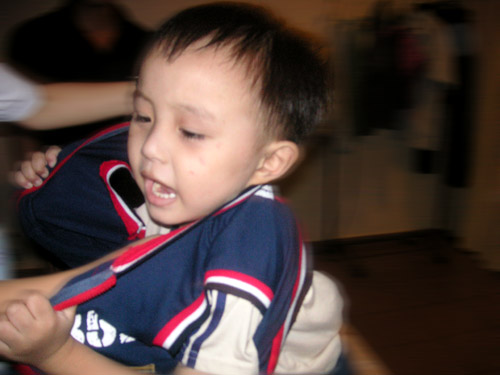 VICTORY!!!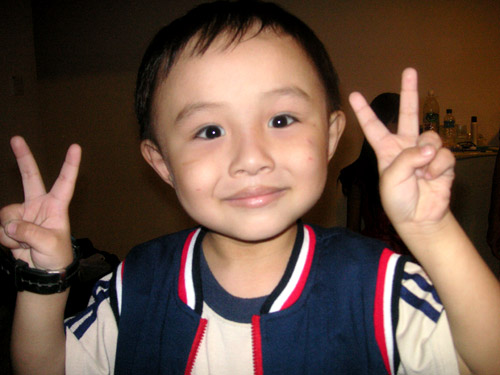 Below is his elder brother chewing on a banana. Only when I got home and opened the picture in photoshop did I notice the orb at his eyebrow. They always say that when orbs appear in photos, it means that spirits are lingering around when the photo was taken, with each orb signifying each spirit. Don't know if that's true, but I'm glad I only noticed it when I got home. So far no orb has appeared in my photos yet, except for this one. Maybe it's just a trick of light or something.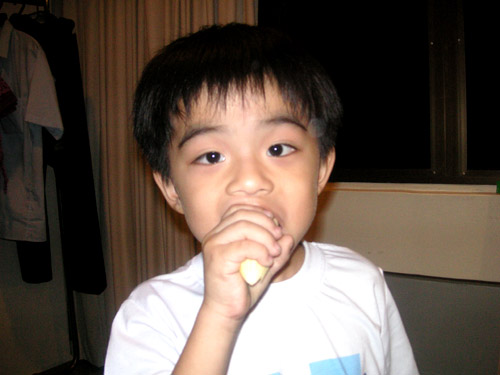 It was our last night in Pengerang as we had decided to cut short our trip and return home the following day. My brother and I went down to the roadside hawker to get satay and ramly burgers for supper.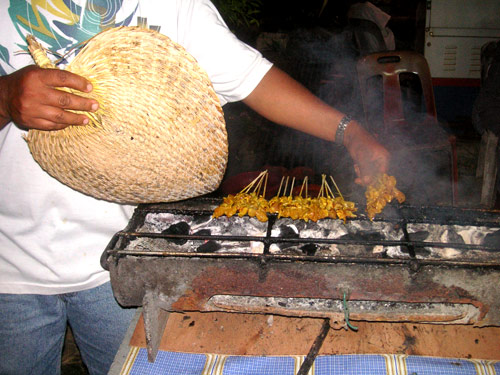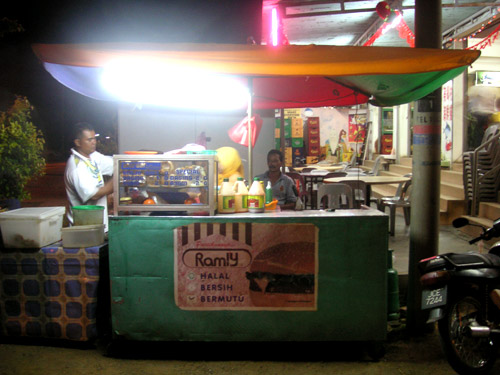 That's my brother waiting for our food.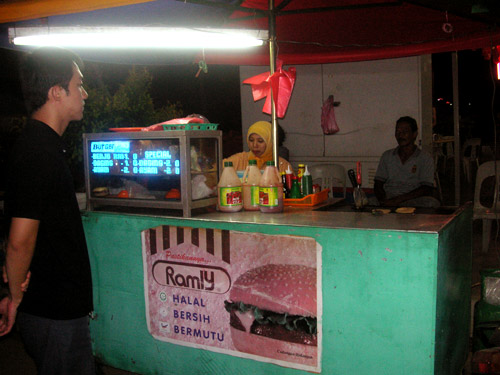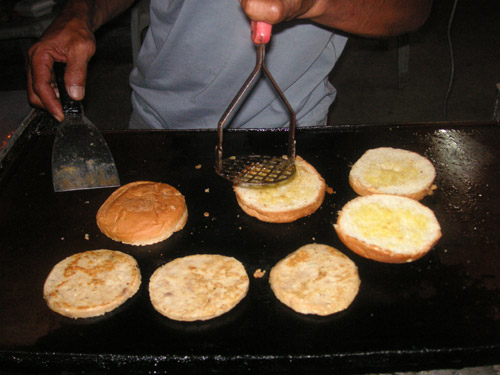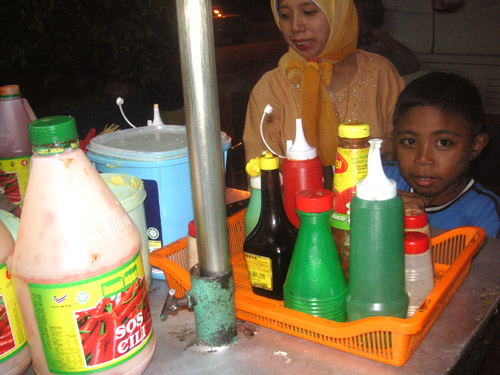 See the amount of sauces they use? That's one reason why the pirated ramly burgers in Singapore suck so much. They don't seem to use as many seasonings for their burgers.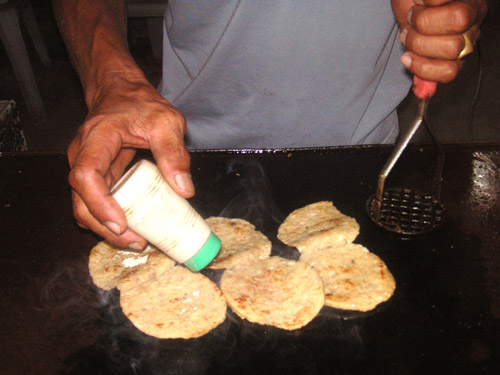 (the burger seller must have been annoyed to have the camera flash in his eyes so many times.)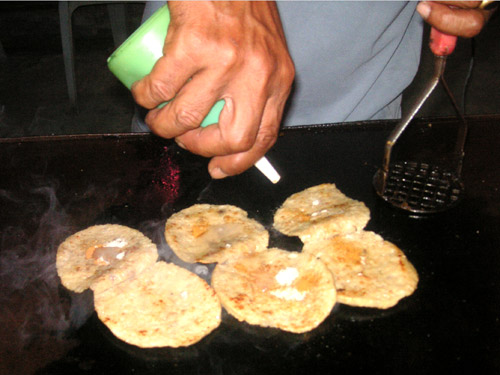 After some waiting, we got our prize.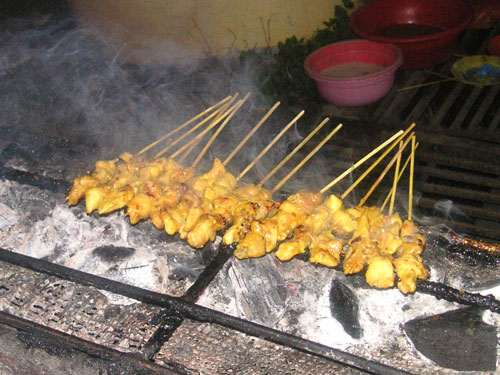 20 sticks of chicken satay for 7 ringgit (that's less than half its price in Singapore)…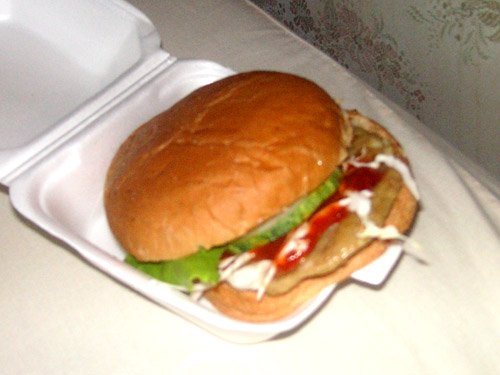 And the yummilicious ramly burger (what every burger should taste like). And it's only 2 ringgit each (again less than half its price in Singapore)!
So that's it for our last night in Pengerang.