When was the last time you took a break? As a mouse potato who works full-time in front of a computer, the last time I truly had time to relax was during that idyllic trip to Chiang Mai. Thankfully, our favourite hotel Hotel Re! has rolled out a series of attractive staycation packages – great for some much-needed R&R.
For a truly relaxing stay, opt for the Re!Treat package that includes:
Luxurious 1 night stay in Deluxe room
Buffet breakfast for two
45-minute full-body massage for two at Re!Fresh Wellness Centre
Complimentary early check in and late check out (subject to availability)
Complimentary wireless internet access
Complimentary local calls
Complimentary mini bar
Deluxe Room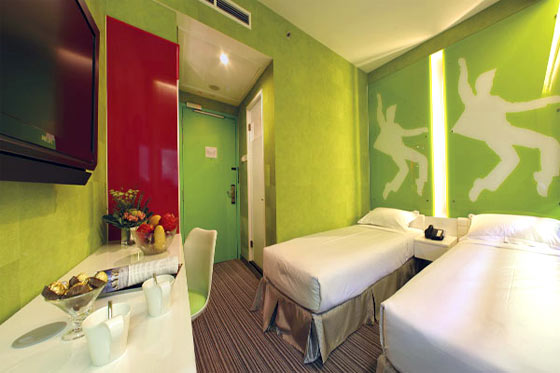 One of the unique features of the Hotel Re! rooms is that each one is brightly coloured, featuring the silhouettes of iconic stars from the 60s and 70s, such as Elvis Presley, Marilyn Monroe and John Travolta in Saturday Night Fever.
The room is clean and modern, with a nice 42-inch LCD TV and decent cable channels. If you have a thing for nature and greenery, the hotel is perched on Pearl's Hill and the room windows overlook the Pearl's Hill City Park, which is a popular spot for joggers and trekkers.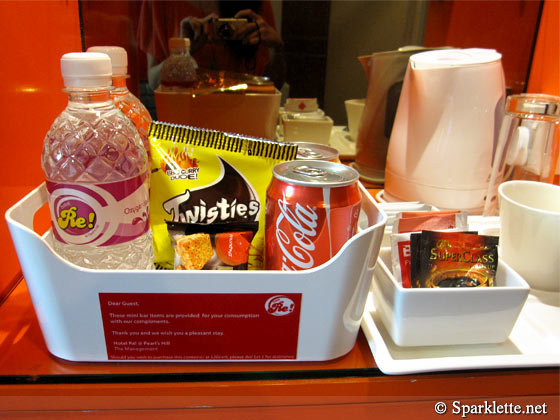 The complimentary mini bar offers the usual bottled water, instant coffee and tea. Extra brownie points for including free snacks like Twisties, biscuits, assorted nuts and canned drinks. These are replenished, or should I say re!plenished, daily.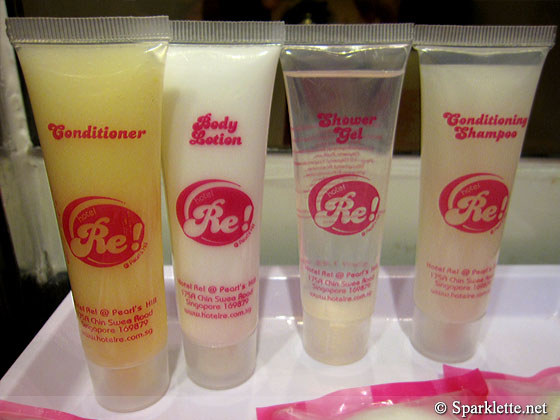 I like these little tubes of shampoo, conditioner, bath gel and body lotion. The other bathroom amenities you get are toothbrushes and toothpastes, cotton buds, shower cap, soap, cotton pad and even an emery board for your nails.
Massage
If your room package includes full-body massages, these will take place at the hotel's wellness centre. It is a cosy little place that also provides services like manicures, pedicures, facials and oil massages.

Under the good hands of Hazel the masseuse, I enjoyed a very relaxing full-body pressure point massage. After the 45-minute long session, I'm seriously considering taking up a long term massage plan with the hotel! This coming from someone that has never been a fan of massages; my past massage experiences only caused me pain and hence more anxiety. But after this particular massage, I had a good night's sleep and for days after that, felt like all tension had been relieved from my body. Is this what a really good massage feels like? Feel free to share your massage stories!
Candlelight Dinner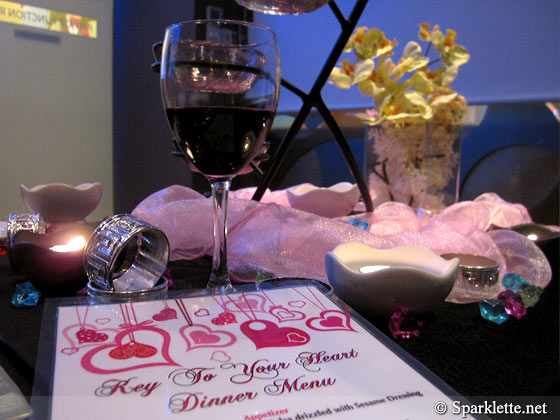 Key to Your Heart candlelight dinner
S$88++ (included in Re!Treat room package)
Menu
Apart from the massages, the other highlight of our stay is the candlelight dinner at Re!Fill, the hotel's flagship restaurant.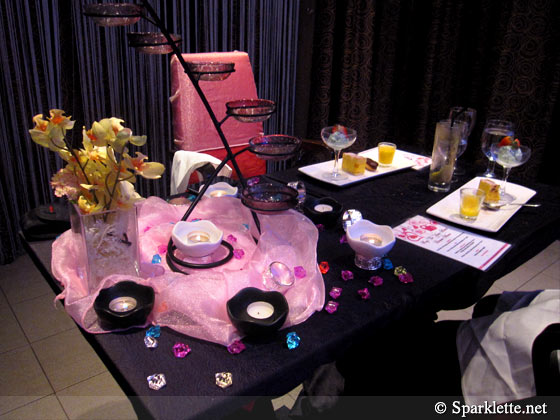 This is an actual candlelight dinner, decked out in a very pretty table setting with multiple tealight candles, pink fabric and flowers. The best part is that you have an entire room to yourselves! Definitely a memorable experience where both the food and the ambience may be savoured to the fullest. If you would like to treat that special someone to a 4-course dinner, the Key to Your Heart candlelight dinner is available outside of the room package for S$88++.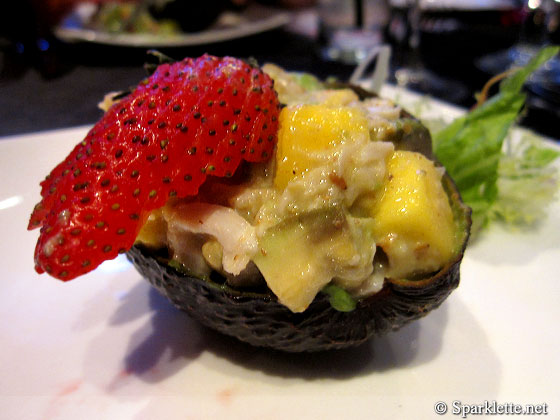 Crab fellutin with mango avocado salsa





You start with the excellent crab fellutin with mango avocado salsa, presented in half an avocado. Oodles of sweet crabmeat enhanced with tangy mango cubes and embellished with sesame dressing, this is one of the most delicious things I have had in my mouth in a long while.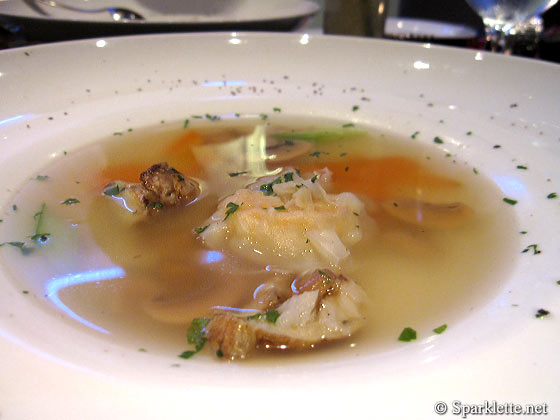 Essence chicken with ravioli and medallion of crayfish





The soup is less impressive, though still passable. The ravioli wrapping around a prawn reminds one of prawn wonton. The crayfish is a little tough from being cooked for too long – a pity. Having said that, the soup is rich and flavourful from the essence of chicken and shellfish.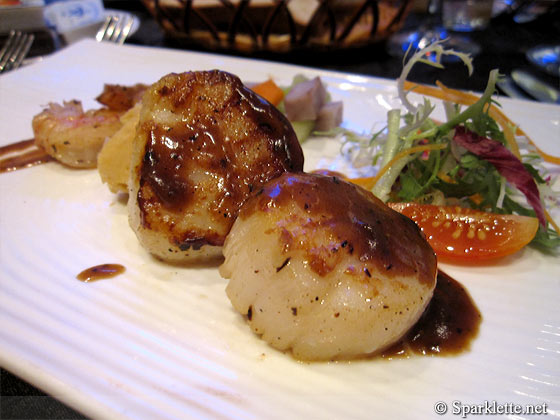 Grilled US scallop, prawn with black pepper sauce





Next, you move on to the grilled scallops and prawns. These ample-sized offerings are drizzled in an invigorating black pepper sauce and served with chickpea mash and vegetables.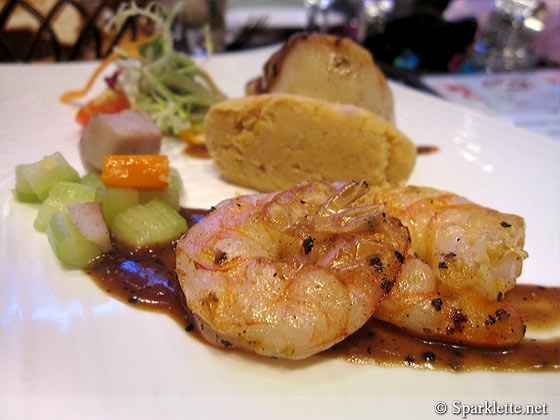 What a treat for seafood fans!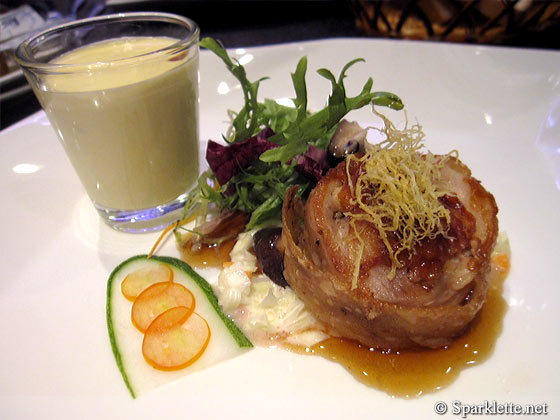 Chicken cordon bleu stuffed with turkey ham





The second part of the main course is the chicken cordon bleu that is stuffed with turkey ham. I like that the melted cheese on the side comes in a little shot-glass so you can have as much or as little of it as you wish.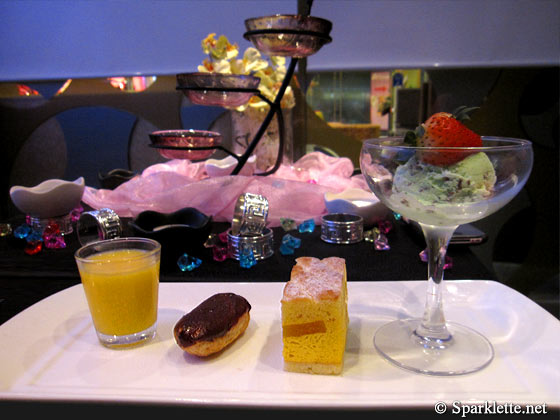 Temptation Delight





Be sure to leave room for desserts. This is none other than the restaurant's popular Temptation Delight, a quartet of petite-sized bites. On this day, we are treated to fruit pudding, éclair, cake and mint chocolate chip ice cream.
Buffet Breakfast
For breakfast, the buffet spread features fares like salad, fried rice, fried omelette, chicken sausages, meat buns, French fries, juices, coffee and tea.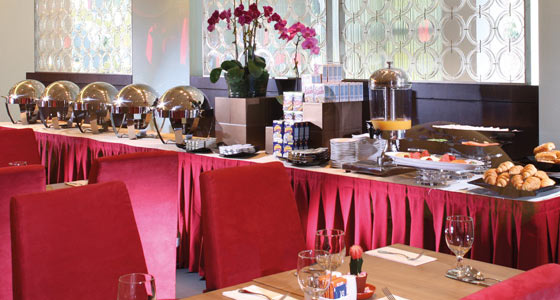 Hotel Re! Staycations
Apart from the immensely relaxing Re!Treat package, there are four other themed stays that include various treats such as cable car rides, a fun-filled day at Sentosa and sightseeing river tours.
So should you be planning to visit Singapore or pamper yourself with a weekend stay, you can take full advantage of these packages. All activities are already arranged for you, so all you really need to do is show up and have fun.
As is common in the travel industry, we were provided with complimentary accommodation for the purpose of reviewing the service. While it has not influenced this review, Sparklette Magazine believes in full disclosure of all potential conflicts of interest.
Have Your Say!
What is your most memorable hotel staycation? Share with us in the comments!
Hotel Re!
175A Chin Swee Road
Singapore 169879
Tel: +65 6827 8228 |
Book online