Popular retro-themed hotel, Hotel Re!, recently revamped its menu at flagship restaurant, Re!Fill. In place of the previous set meals is a much wider selection of international dishes including pastas, burgers, Asian and western dishes, local delights and desserts.
As much as I love the daily themed set meals that were available at the restaurant from day one, the new menu boasts a far better variety in terms of cuisines and dishes. Whether you're in the mood for a hearty steak, a healthful salad or a satisfying hor fun, you will have no problem finding a dish that suits your palate.
And boy, are the portions generous.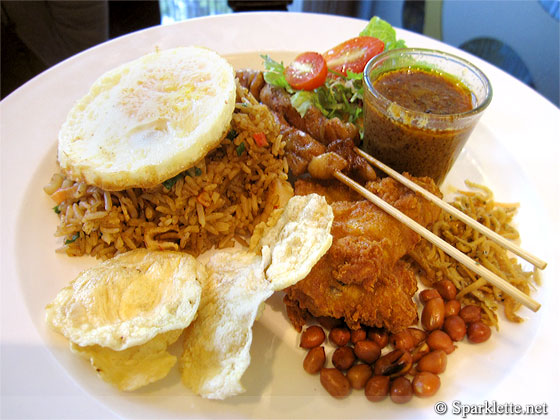 Nasi Goreng "Istimewa"
S$13.80++





The Nasi Goreng "Istimewa" would appeal to anyone that loves nasi lemak or satay – it gives you the best of both worlds! The impressive food galore of Indonesian spicy fried rice with a fried chicken wing, fried egg, roasted peanuts, prawn crackers, ikan bills and chicken satay is served with a shot-glass of peanut gravy.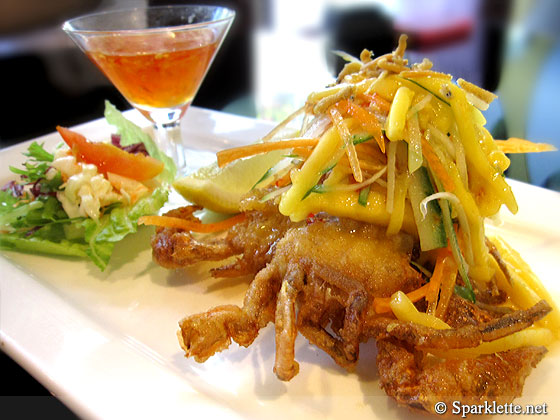 Crispy tempura soft shell crab
S$11.80++





Another satisfying number is the crispy tempura soft shell crab. On paper, the mishmash combo of shredded mango, green papaya and carrot with two deep fried soft shell crabs seems like an unlikely pairing. Fusion may be a dirty word, but it all tastes pretty good together, especially with the Thai sweet chilli sauce.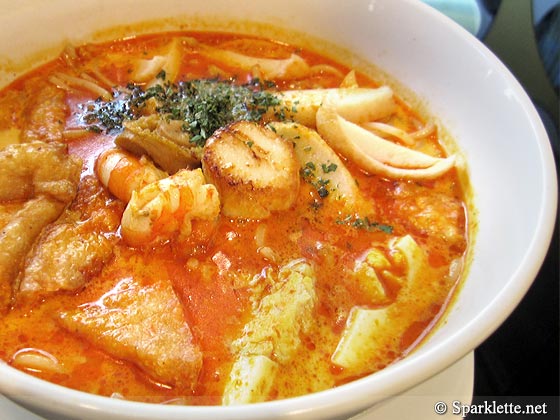 Abalone seafood laksa
S$18.80++





One of the best-selling items here is the abalone seafood laksa, and it's not hard to see why. The laksa arrives in a huge bowl, chock-full of abalone, prawns, scallops and rice noodles. The 1-for-1 laksa promotion with certain credit cards doesn't hurt either. My only gripe is that the gravy isn't as thick and fragrant as I would like, especially having grown accustomed to what I personally find is the best laksa in town.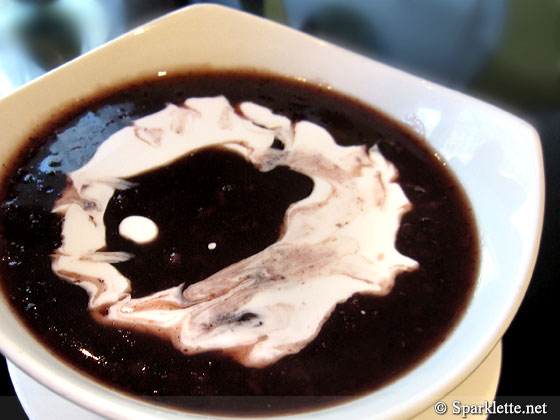 Black glutinous rice dessert
S$4.80++





The Asian dessert of the day offers a touch of nostalgia. On this day, black glutinous rice dessert is served, prettily drizzled with coconut milk. The natural sweetness and pandan fragrance is heavenly.
Have Your Say!
Know any other hidden gems? Share with us in the comments!
Re!Fill
Hotel Re! @ Pearl's Hill
175A Chin Swee Road
Singapore 169879
Tel: +65 6827 8226 |
Website
Service:





Opening hours: 7am – 11pm daily