Every Chinese New Year, special events are held to celebrate this important festival. In Singapore, there is the Chinatown street market, Chingay Parade or River Hong Bao. One other popular event is the annual Sentosa Flowers show.
At this springtime event, you get to enjoy a kaleidoscope of rare flower species imported from all over the world.
Sprawling an area of 5 hectares at Imbiah Lookout, the flower extravaganza is showcased in various zones, with each zone subtly sporting its own theme.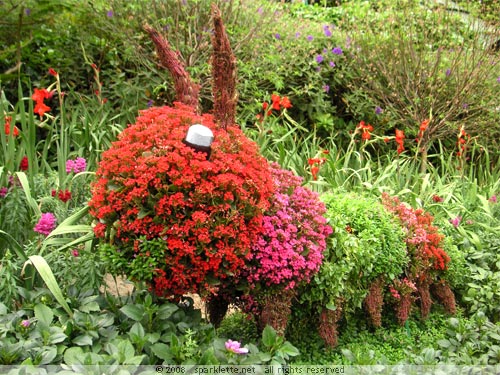 In Learning Journey, the lifespan of a butterfly is presented using flowering plants that have been painstakingly cut and pruned into the shapes of caterpillars and butterflies. The caterpillar even bobs its head!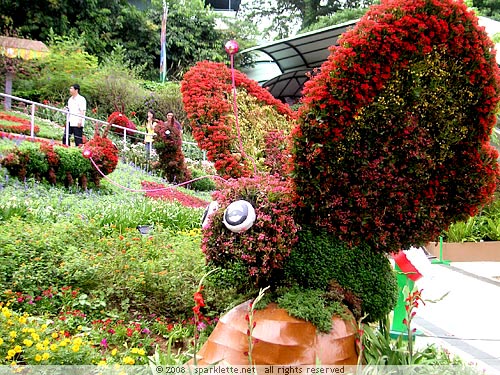 Is it just me, or does the butterfly kinda resemble a bee? In my impression, butterflies have slimmer bodies!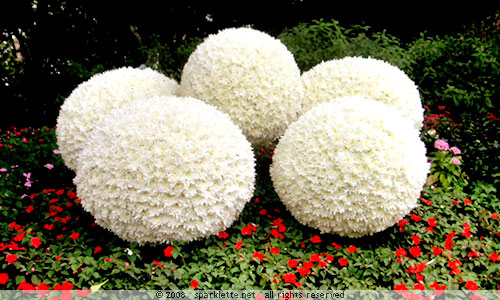 This large flower has been constructed from several smaller flowers, like big round pompoms! I think they look cute!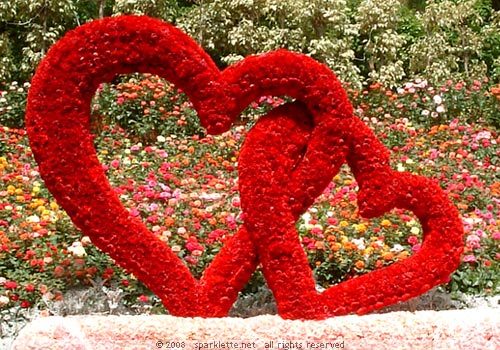 To celebrate Valentine's Day, which is usually around the same time as Chinese New Year, predesignated photography spots have been set up in the Language of Love zone. Boy, are these hot! Long queues would form at spots such as the red hearts above, with eager couples waiting their turn to get a romantic shot in front of the floral display.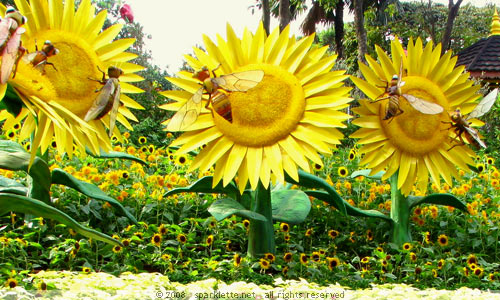 Besides flowers, props are also used to enhance the presentation. From afar, these gigantic sunflowers (complete with giant bumblebees!) can be seen sprouting from the bed of regular-sized sunflowers.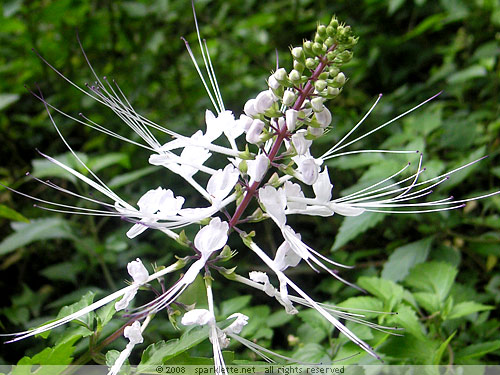 I'm not quite sure what it is. But this white flowering plant looks pretty unique to me. It reminds me of cotton wool.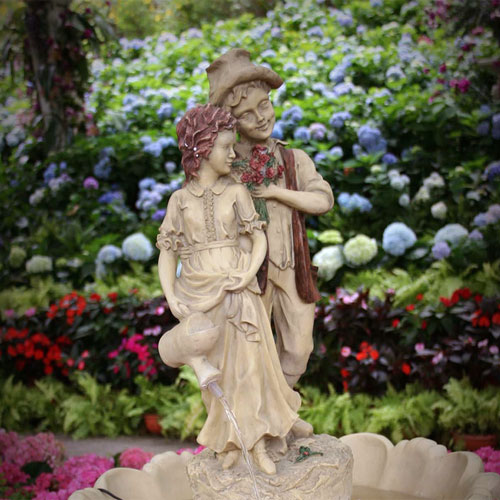 Photo by Jaslinewong
I absolutely love, love, love this cute clay fountain of a little boy and girl couple. They look so innocent and sweet!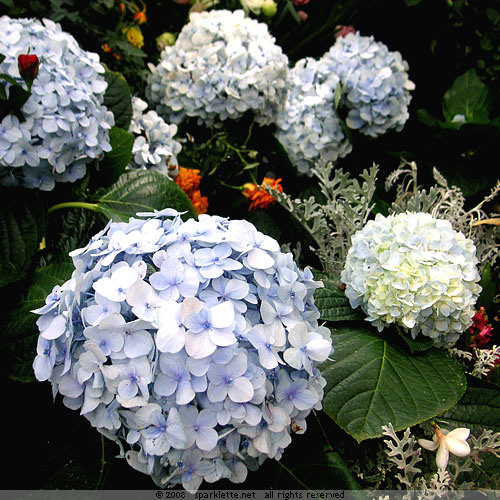 We don't often get to see blues in flowers, do we?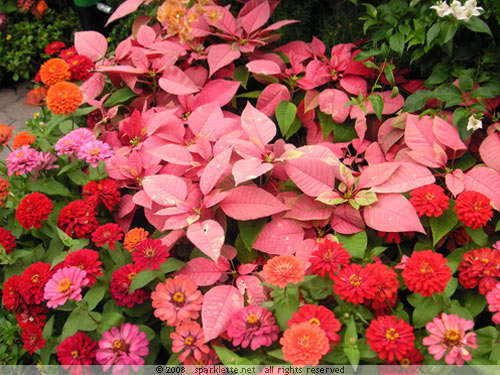 I know that leaves sometimes appear in colours other than green. But ones that are completely pink? These I have never seen! They look even prettier than the flowers!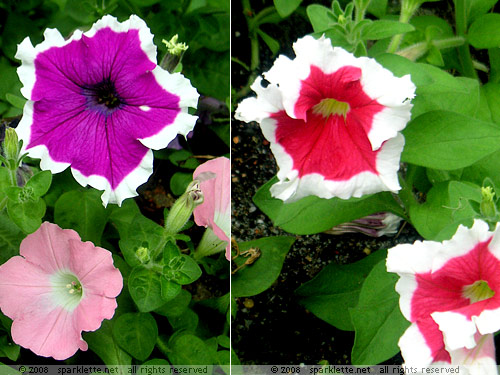 Aren't these morning glories unusual with their white edges? Kind of like lace!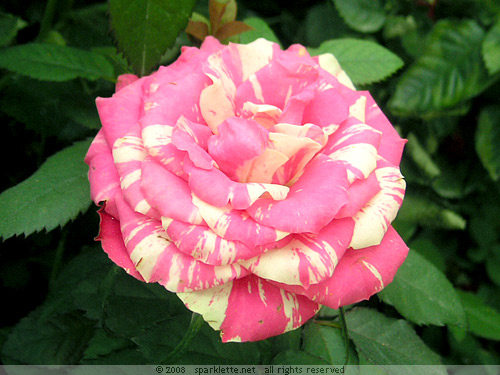 These "tie-dyed" roses sure look unique! I think they are some sort of a hybrid species.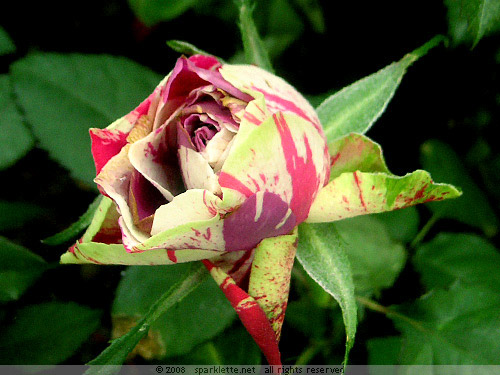 A rose by any other name would smell as sweet. I have never seen a rose like that!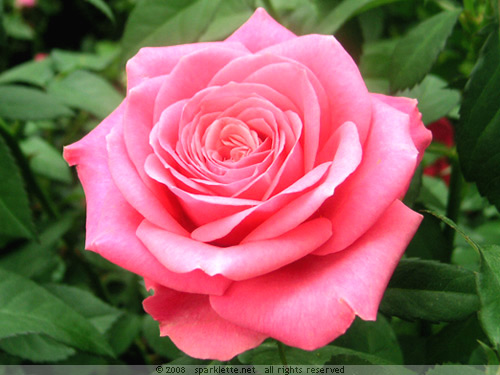 If you ask me, I still prefer the regular red or pink rose, though not as much as my most favourite flower…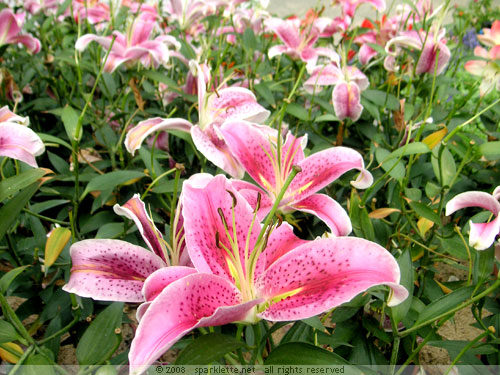 …the exotic pink lily! It was such a joy, seeing these lilies growing in abundance right in front of me! Before Sentosa Flowers, I had only seen them in bouquets.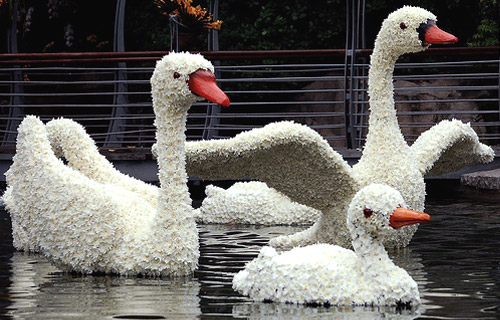 Photo by De Novo
At the fountain area, swans and ducks made from flowers froli as visitors snap away with glee with their cameras.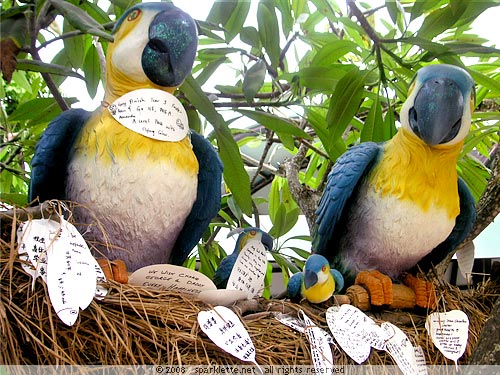 Visitors can also purchase leaf-shaped cards where they would pen their words and attach them to trees.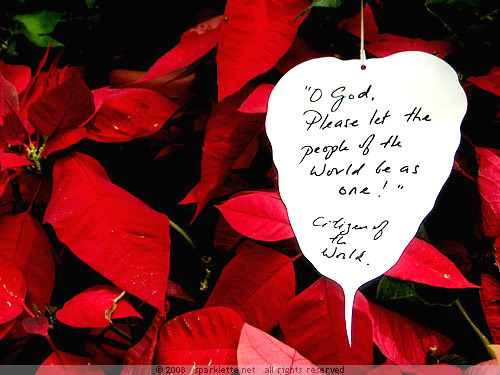 Amongst the hundreds of messages of wishes and dedications to that special someone, this particular message of peace stood out for me.

Photo by eydren1982
Even moving away from the Imbiah area, giant floral displays can still be seen towering into the sky. This colourful display featuring the Chinese character, Chun (spring), is particularly eye-catching due to its majestic height. It stands more than 2.5 metres tall!
In so many amazing ways, flowers can be transformed into interesting works of art when creativity is put to use!
I am already looking forward to next year's Sentosa Flowers!