If you are looking for a memorable dining experience in Bangkok, head to 11 Gallery in Sukhumvit.
The moment you enter the restaurant, it is as though you have walked through the gateway to old world Thailand. The waitress, clad in traditional Thai clothing with the sabai (shoulder cloth) ushers you in. You have the choice of outdoor seating amongst greenery, or indoor at the old wooden houses.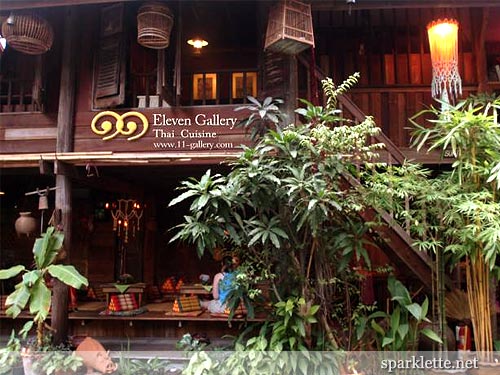 For the latter, you dine barefoot at a double-story gallery building and make yourself comfortable with the triangle pillows. (I learned how to use those pillows at Jim Thompson House.) If you prefer to keep your shoes on, there is also a little wooden house further down that provides a homely ambience.
The decor is done in generic Thai style. Simple wooden furniture, antiquities, and sensual lighting all around, perfect for an intimate dining experience with loved ones.
We quickly order some wine, curries and spicy dishes. 20 minutes later, our food arrives in a pinto, the traditional tiffin container that stacks dishes in separate tiers. The accompanying rice is served in banana leaves topped with a purple orchid.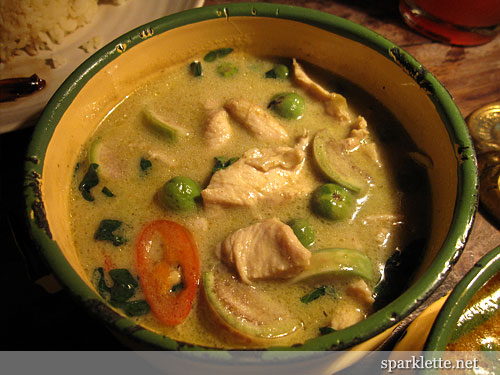 Green curry chicken
120baht
Rating:





The spicy green curry is simmered in coconut milk with pea eggplant and sweet basil leaves. With the first taste of it, it feels as though time has stood still, and that phrase takes on a whole new meaning at a place like this.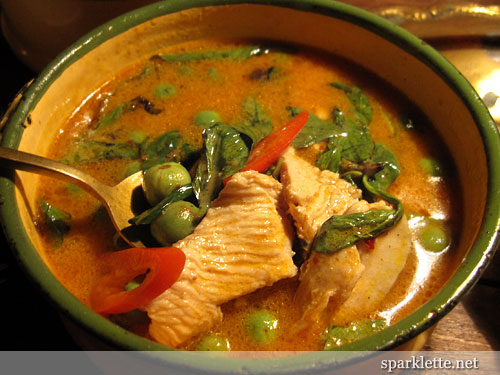 Red curry chicken
130baht
Rating:





I would also recommend the red curry, which may not be as delicious as its green counterpart, is still extremely gratifying to a curry-craving soul. The servings here are smallish, and I find myself slurping up every last bit of both curries in delight.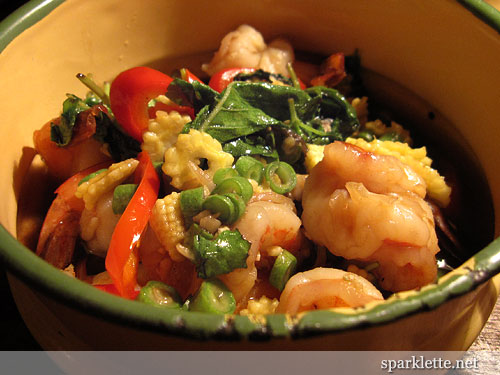 Shrimp with chilli and basil
145baht
Rating:





Our seafood item for the night is stir-fried shrimp with chilli and basil leaves. The dish comprises a few juicy, fresh prawns in a soy-based sauce. It is not terrific and I have tasted better.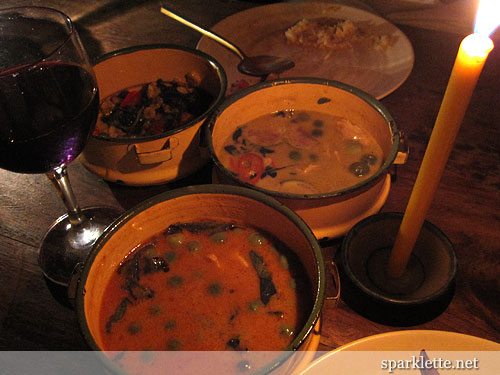 Halfway through the meal, the power goes out, and restores itself some moments later. But during the blackout, the staff calmly lights up some candles and we have ourselves a candlelit dinner! This is truly a meal from the past. furniture disposal atlanta
The restaurant oozes the mystical charm of an old world Thailand. Finding the place gets a little tricky though. It is situated on a sidelane that runs parallel to Sukhumvit Soi 11. Just look for Ambassador Hotel; the restaurant is directly opposite its main entrance.
11 Gallery
1/34 Sukhumvit Soi 11
Bangkok, Thailand

Nearest BTS/MRT: BTS Nana
Tel: +66 02 651 2672 |
Website
Service:





10am-1am daily