Siam Square is an area that appeals to tourists and locals alike with its eclectic mix of shops and boutiques that sell local designer-label apparel. When it comes to chow time, aside from the big players like the Bangkok Hard Rock Café, you can also choose from small café-restaurants like Koko.
Koko is a Thai eatery that caters to vegan palates, with a sprinkling of meat dishes.
Most importantly, they have Thai curries. Well, once you have set your mind to slurping down a bowl of curry with the lovely flavours of sweet basil and lemongrass and lime leaves, it's hard to put that thought away.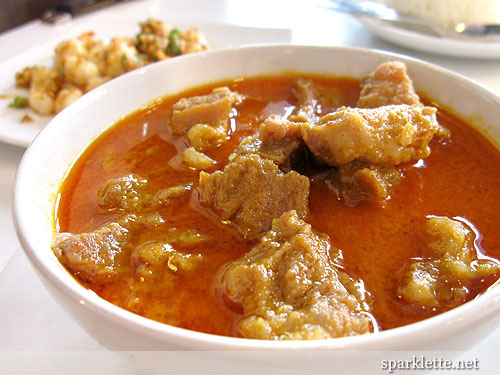 Sweet curry pork
95baht
Rating:





Many Thai restaurants offer you a choice of meat for the curries. Over here, however, it seems that only pork curry is available on the limited English menu. But that alone is enough to curb the curry craving. It goes wonderfully with steamed white rice (15baht).
The bowl of piping hot flavourful curry arrives with chunky pieces of tender pork flesh. Rather than being chilli hot, Thai curries are more about a harmonious blending of sweet and slightly sour flavours, tamed with coconut milk and sugar. The whole dish is sinfully satisfying, even if not very good for the heart.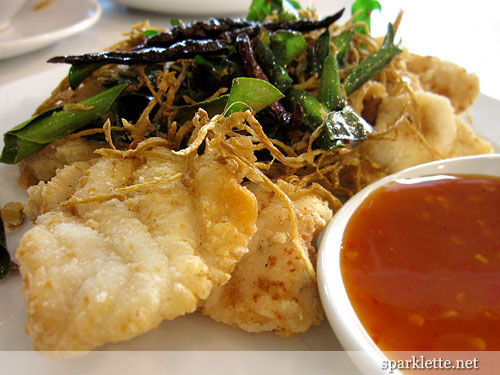 Deep fried fish with sweet and sour sauce
170baht
Rating:





Another Thai delight is any deep-fried item with "sweet and sour sauce". This, in the local context, simply refers to the famous Thai sweet chilli sauce.
The fish, in this case, is totally bland. I mean lacking in any flavour, the kind that my Mom has promised to cook for our kitten Snowy many times. They must be very confident about their sauce, I thought.
And well, the sauce does help a lot. What was originally flavourless turns out to be palatable after all.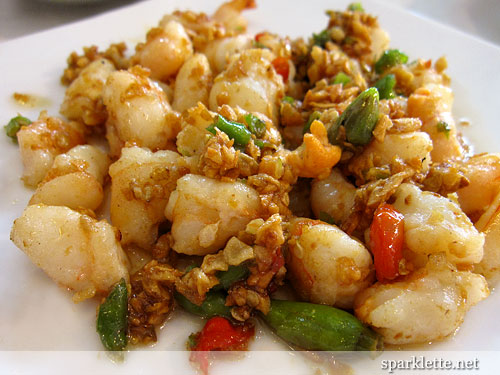 Chili fried shrimp
190baht
Rating:





The fried shrimp with chilli certainly offers more of a kick. The crunchy pieces of shrimp with the combination of sweet, spicy and garlicky flavours make for a wonderful sensation on the palate.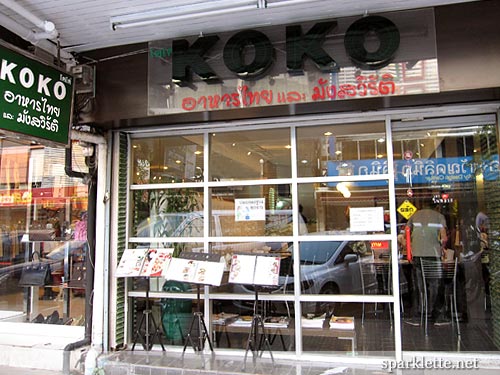 The prices here are steeper than that of most other Thai restaurants. Take for example the fish and shrimp. Similar dishes cost the same at Lerk Thai in Singapore.
Koko
262/2 Siam Square Soi 3, Rama 1 Road
Bangkok, Thailand

Nearest BTS/MRT: BTS Siam
Tel: +66 02 658 4094
11am-9pm daily