People always seem surprised when they find out my trip in Bangkok lasts seven days. They tend to think that seven days is too long. But right now, I suspect I may have to extend my trip because there is so much more to do and so little time left. I'm seriously beginning to fall in love with Bangkok.
I went to Chatuchak Weekend Market today. They have all kinds of things there, such as clothes, accessories, food, household stuff, toys, pets, you name it. There are supposedly 20,000 over stalls open on weekends, and it's really no exaggeration. It's impossible to visit every stall because there are just too many, and it's almost like a maze. To avoid getting lost, I took pictures along the way to set up a "picture trail". So that when it's time to leave, I could just follow the pictures and backtrack.
For now I would just let the pictures do the talking.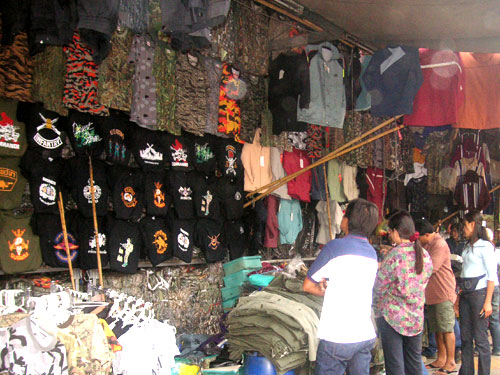 Different brands of caps such as roxy and von dutch were available in several colours and designs.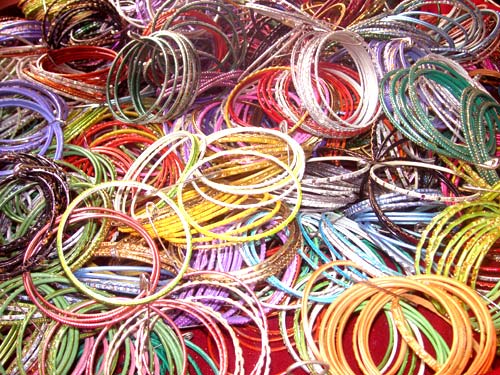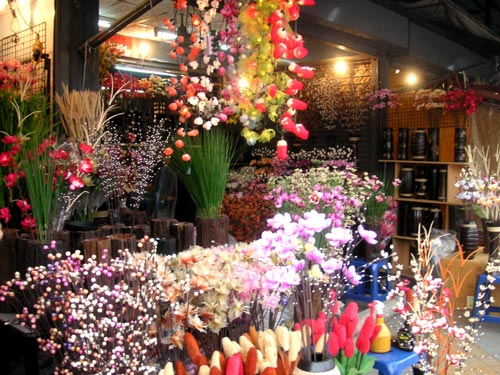 Those were fake plastic fruits…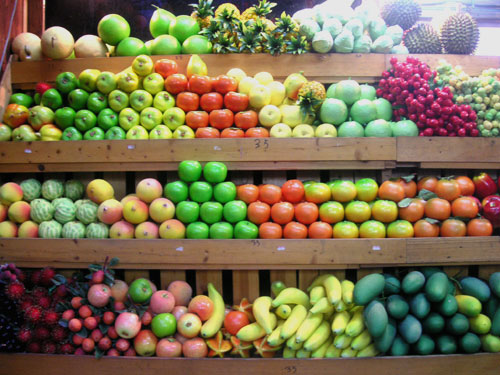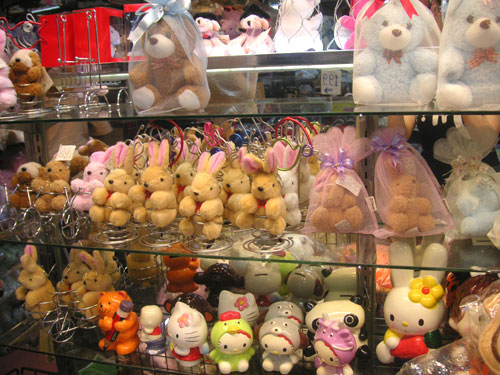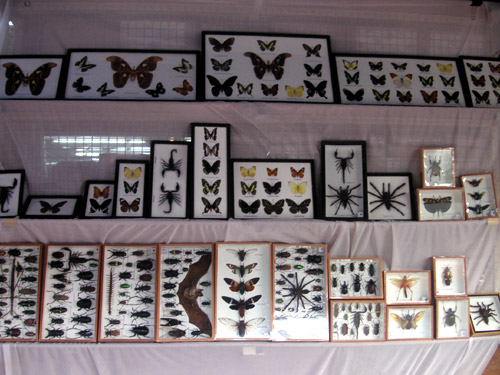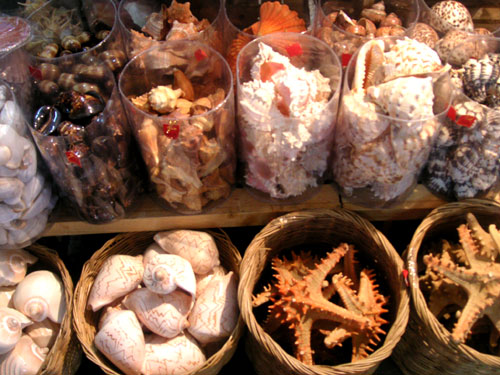 Cute doggie wearing an orange striped shirt!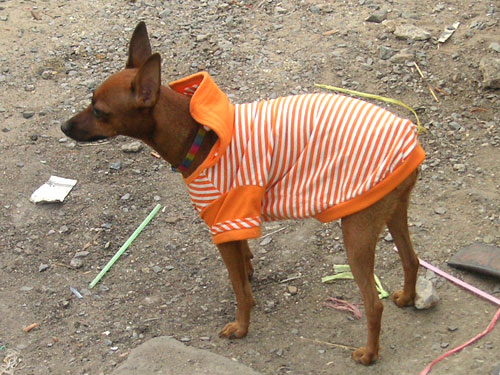 There were many pets for sale too. Too bad I couldn't bring one back to Singapore. The puppies were about two months old each and some of them were really tiny! Most of them had to sleep.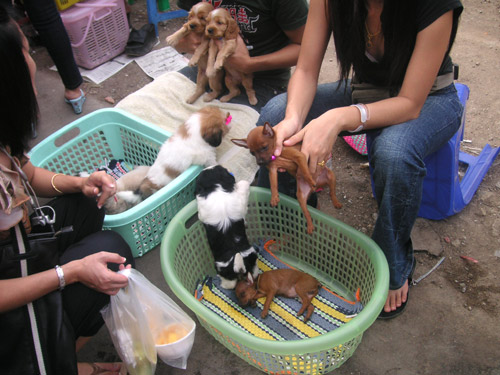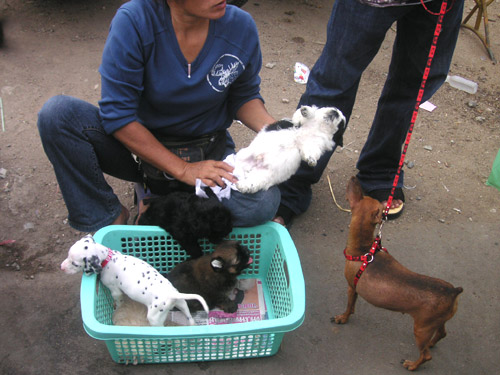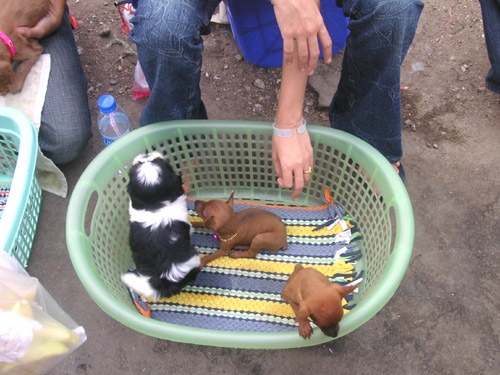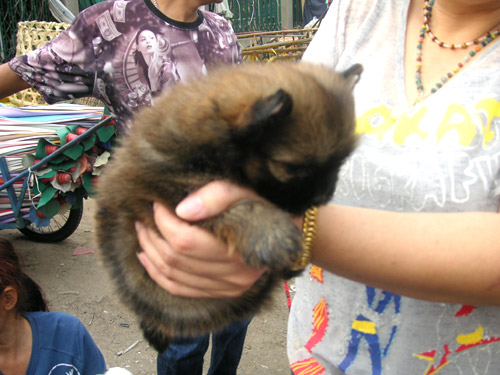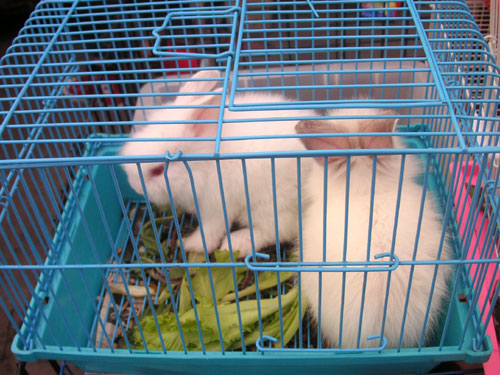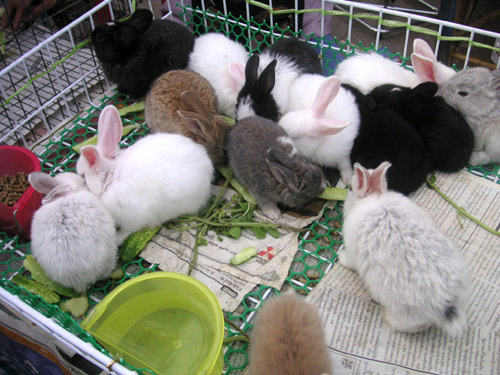 My favourite, kitties! They weren't common at all at Chatuchak. I only saw one kitten-seller today as opposed to all the puppy-sellers.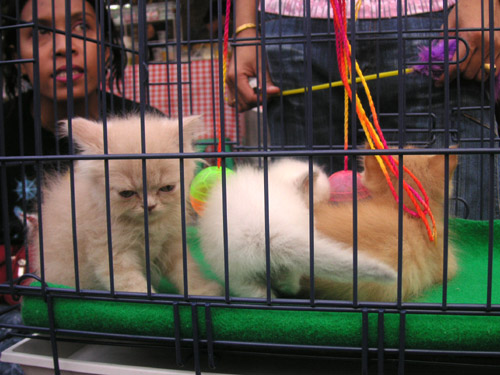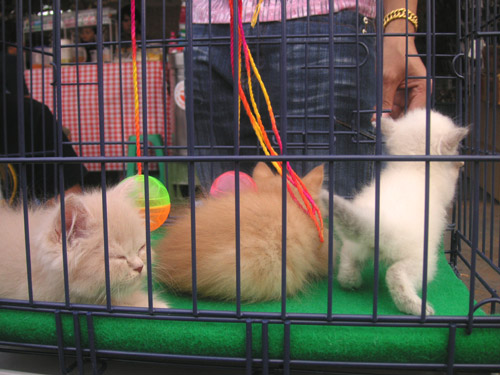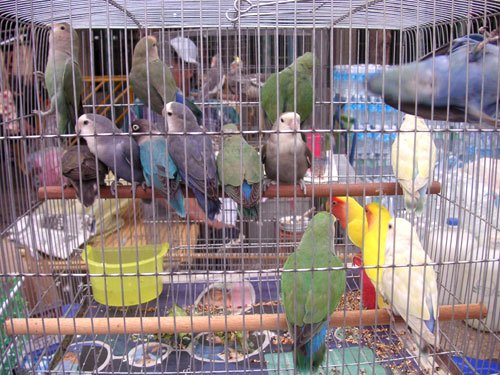 At times, there were also people performing to get money.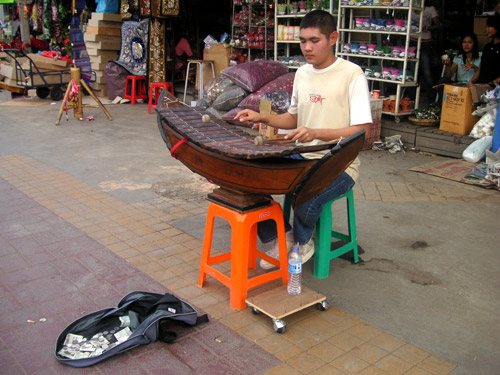 This band, in particular, was quite hip. They wore cowboy hats and their tunes were upbeat and catchy. Many people were crowding round them.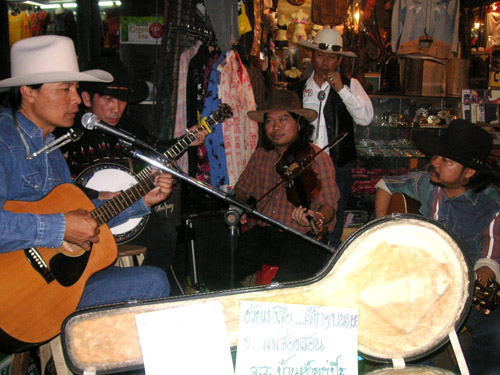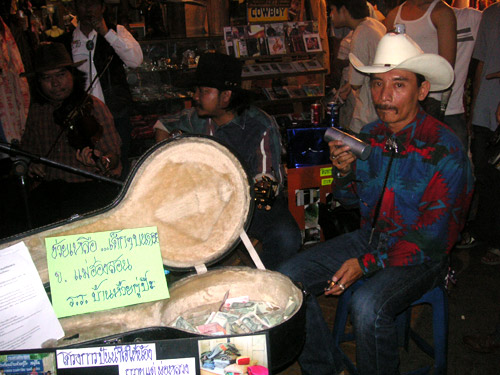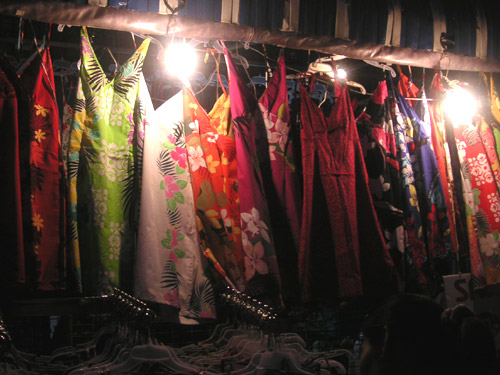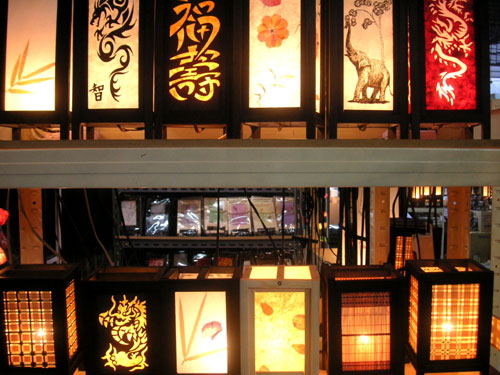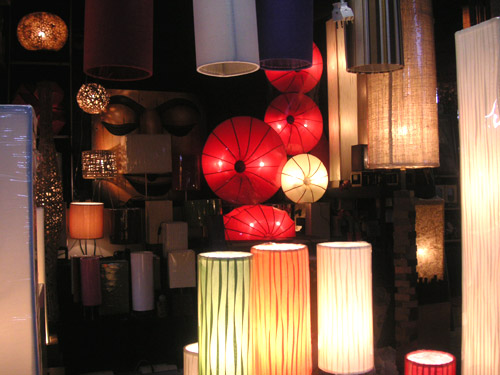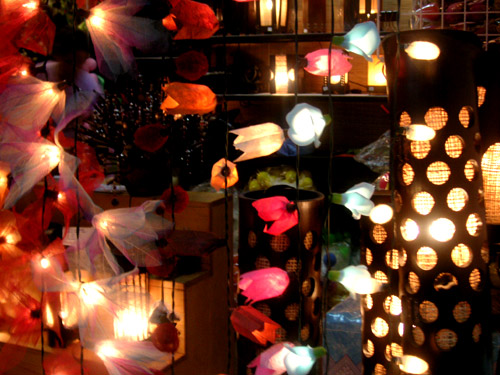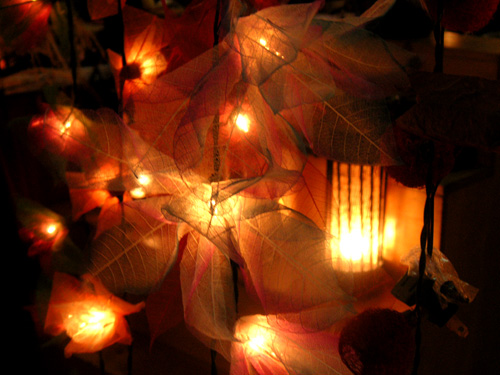 Different kinds of food and drinks were available too. The most common ones were the food skewers and coffee stalls.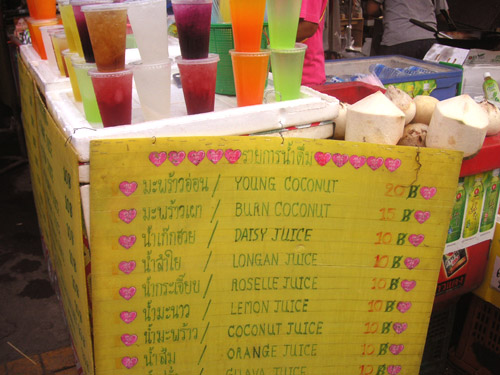 The cups of green drinks looked really nice and I was quite tempted to get one. But I didn't know what it was…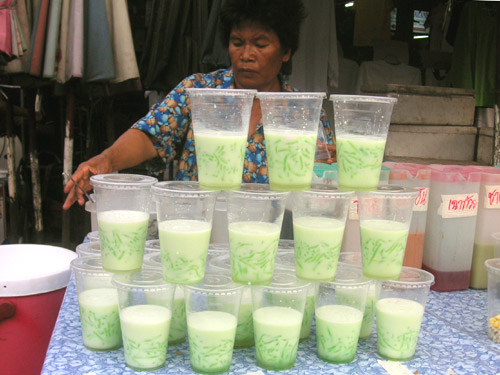 So I got a coconut drink instead for 10 baht. Cheap!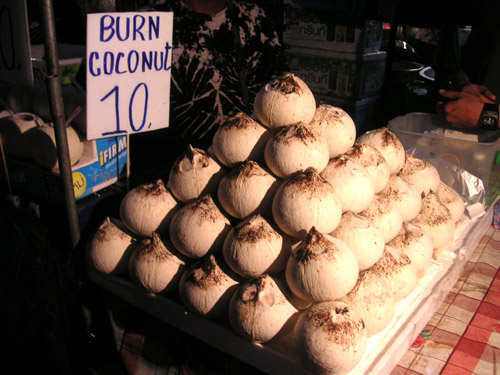 Dinner's two plain waffles.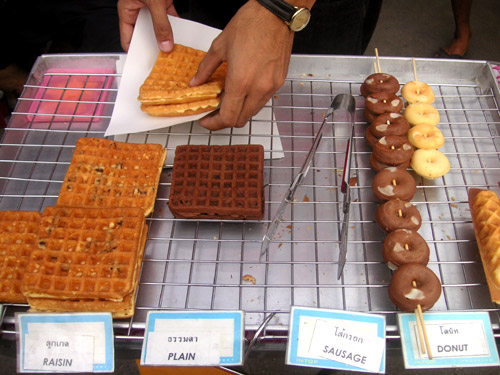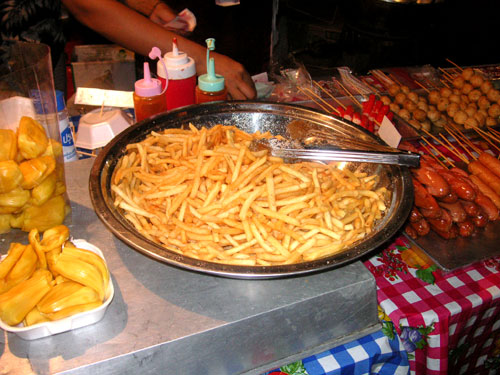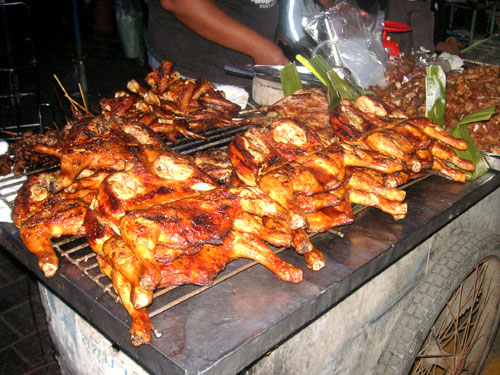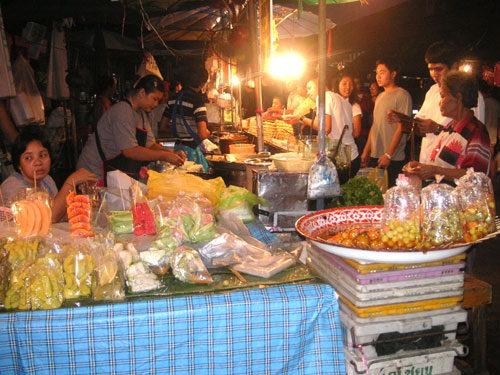 By 6:30pm, the sky was dark and all the stalls were either closed or closing. I would probably have to go again later to do a little more shopping. But look what I found outside Chatuchak.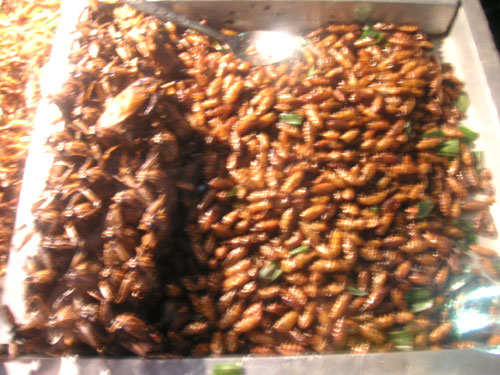 In case you didn't see through the blurred image, those were fried insects and worms. Ya know, before I came to Bangkok, I had in mind to eat such exotic food. But after seeing it right in front of me just now, I couldn't even fathom the thought of putting the little worm or bug into my mouth. But there were people who were buying and eating it as though it was a regular snack.
So at the end of my trip to Chatuchak, I only bought these…
Bangles! I love bangles! And bought four sets of those for 50 baht each. In Singapore, the crazy people sell it at about ten dollars for a set like that.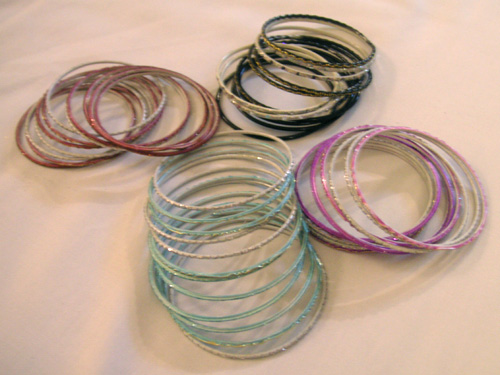 Colourful scrungies, 10 baht each. Again, a real steal!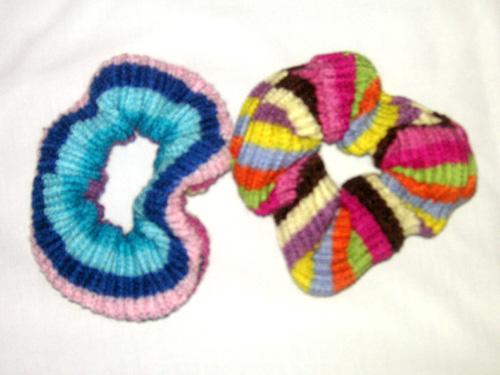 Last but not least, a pair of casual lavender pants.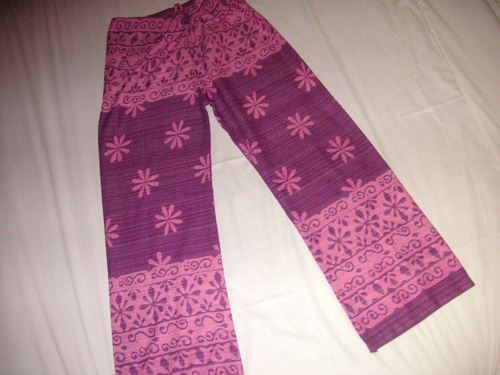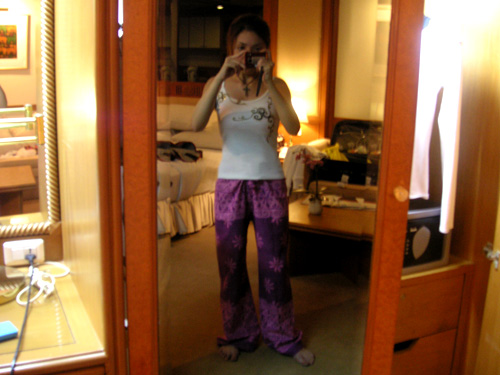 Found it pretty weird that the cars were in those positions near Chatuchak Weekend Market.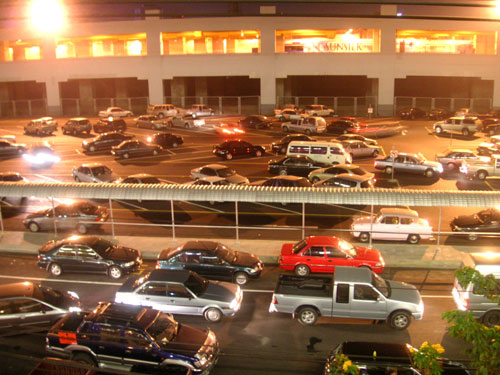 As it was still early for me, I decided to linger for a little while at the Pratunam area near my hotel. I found a handsome looking dog along the way. On second look, I thought it's the same dog that was sitting on the stone table in front of the creepy bungalow I took a picture of yesterday.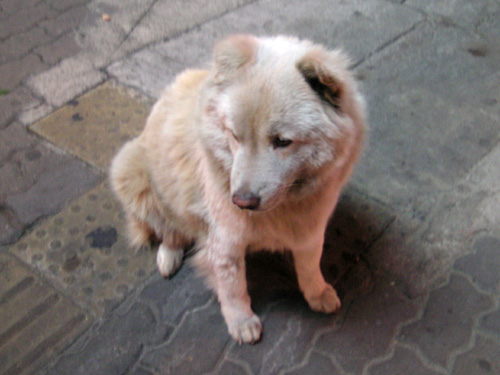 Walking on, I got a little shock when I saw a baby elephant! He was totally adorable though. The guy sold me a packet of banana, I think, for 20 baht and I fed it to the baby elephant. But I had to do it slowly so that the caucasian guy who was helping me take a picture could get a good shot. But the elephant was totally impatient! He kept using his trunk to get the banana out of the plastic bag! At first I was wondering why he was so greedy, until it occurred to me that he's probably starved or something. The owners probably don't feed it at all, but sell bananas to tourists to feed it.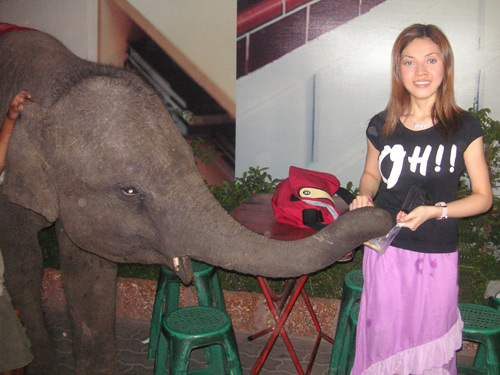 Went to Central World plaza (formerly world trade centre). From the exterior, it looked pretty big. It had an isetan department store and a cineplex. Wanted to watch ocean's twelve there cos the ticket was only 120 baht, but changed my mind.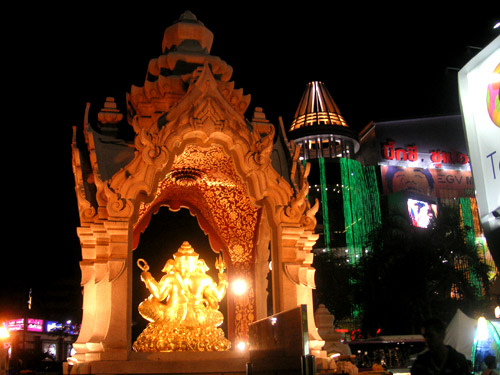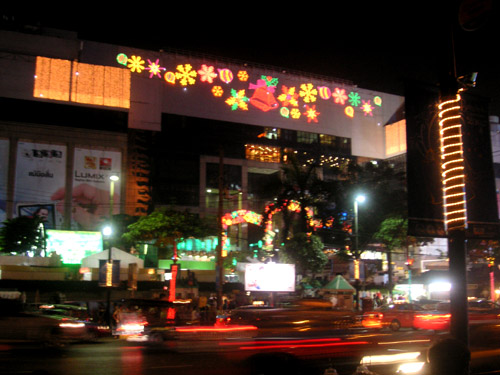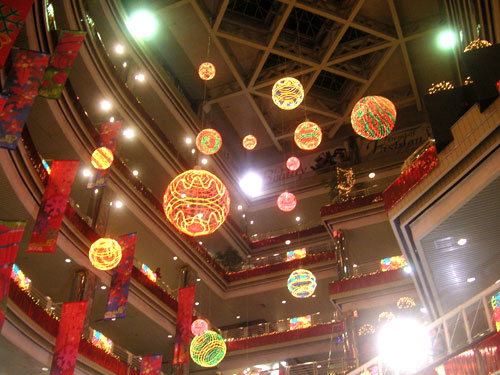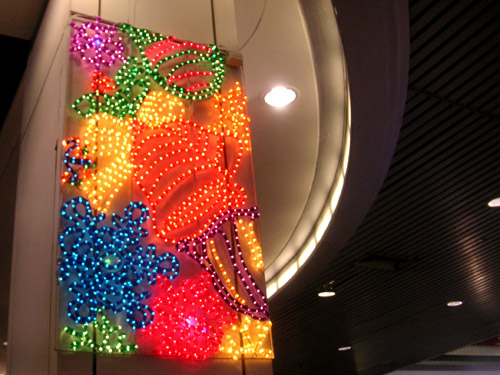 It's the English Premier League night and in front of Central World plaza, there was one or a few big screens showing the match between everton and liverpool. The huge area was separated into three or four sections. Each section had several food and beer stalls and people were sitting around watching the match or the live band playing.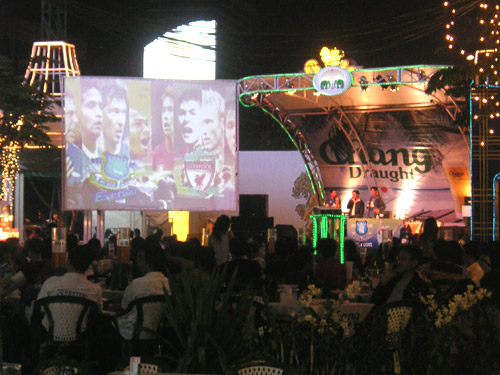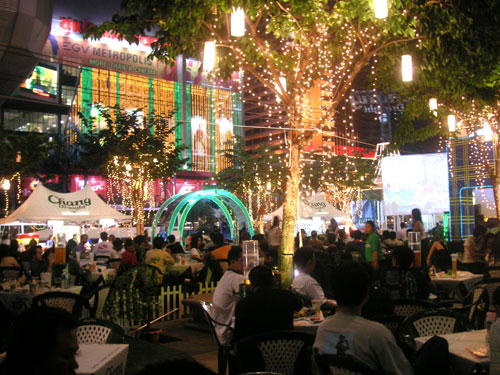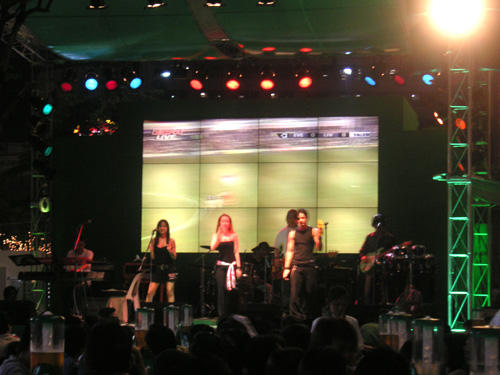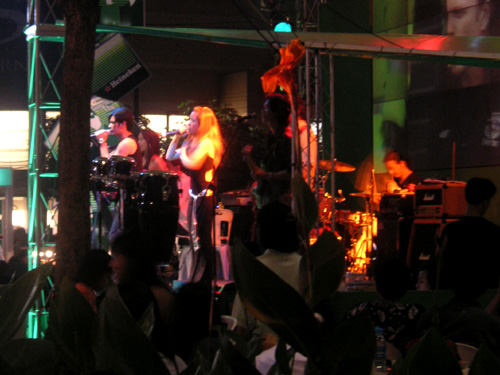 Every section had its own live band playing. And they were singing hip English songs such as "i will survive". Further away along the road, many people were selling their stuff on mats. So even though the shops were already closed by that time, shoppers could still shop to their hearts' content.
Many of the Thais seem to be very devout Buddhists. I get a lot of them asking me if I was a Buddhist too. Also, shrines for worship could be found very frequently in the city. At Central World plaza alone, there were two shrines, with a guy selling joss sticks nearby.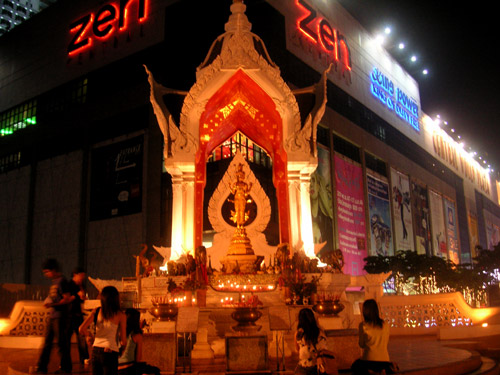 Across the road was gaysorn plaza, yet another famous shopping mall in Bangkok. I think I must have looked lost, because the security guard came up to me and asked if I was looking for the BTS station. Bangkok is seriously a tourist-friendly country, other than the fact that most of the locals can't speak English. In Singapore, I doubt anyone would give two hoots if a tourist looked lost.
Outside gaysorn plaza, there was a portrait painting service. I had always wanted to get a portrait of myself done. They charged 300 baht for black and white, and 500 baht for colour. I got a coloured portrait done and boy, was it tiring to sit there for about an hour looking in the same direction. But the artist was considerate and gave me a few one-minute breaks in between. The portrait didn't turn out very nice, and he must have shared the same sentiment too because he charged me 100 baht less at the end. And I promptly lost the portrait later on.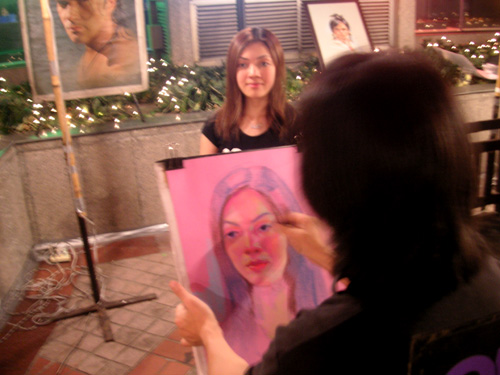 Decided to go have supper at the satay stall I saw yesterday. Along the way, there were many more roadside stalls selling interesting stuff, such as these very creative 3D pop-up cards.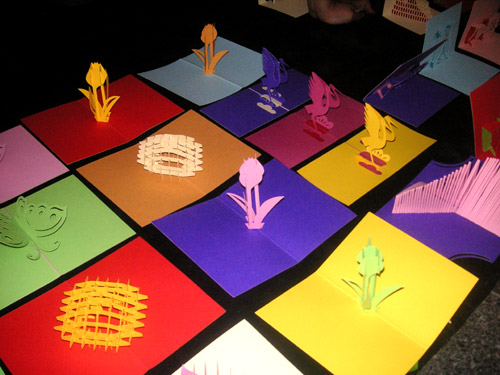 I also bought three cute mini-books from a bookstall for 100 baht. They were really tiny, measuring only about 8cm by 6cm. There's a book on angels, another one on Christmas traditions and the third one's "women's wit and wisdom". The Christmas traditions one in particular was my favourite, because every page had pop-up pictures!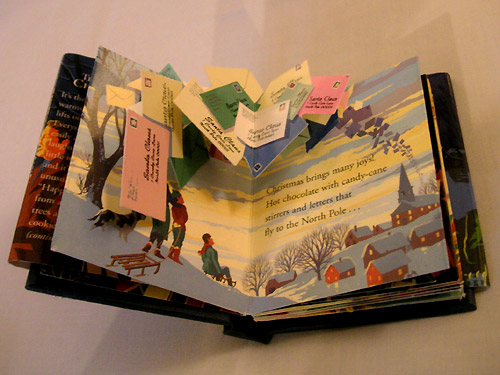 I got new clothes too! They were designed by the seller's sister, and looked pretty unique.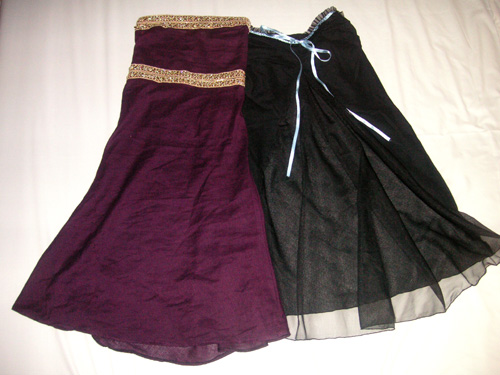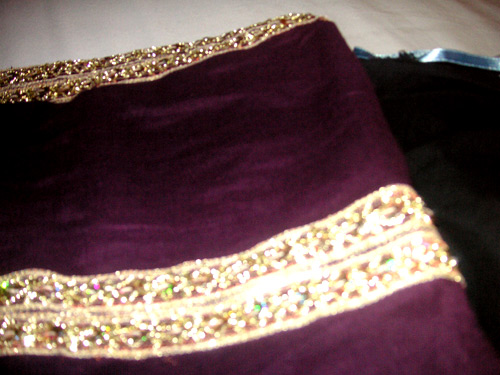 They could be worn either as dresstops…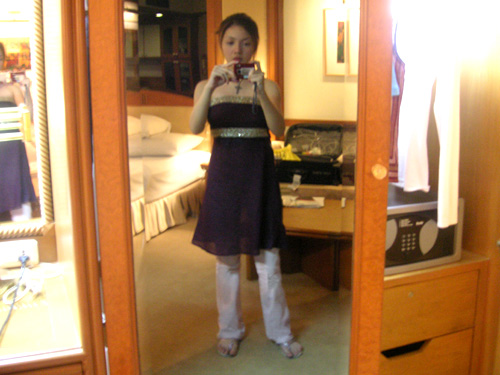 Or as tube dresses…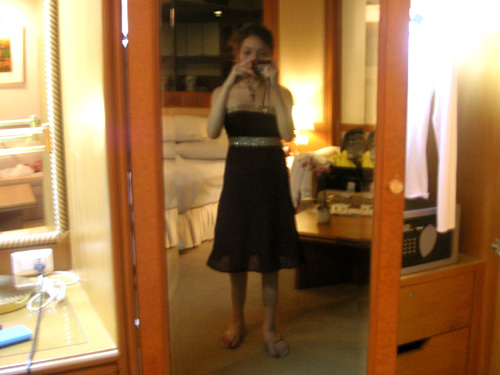 Very nice! I like! When I was packing for this trip, I had half the mind to pack only one or two sets of clothes for my week-long trip because I predicted I would be buying clothes here anyway. I was right! I love these Thai-designed clothes because most of them have an ethnic feel to them. In Singapore, clothes imported from Thailand are always sold at much higher prices.
Finally, I reached the satay stall and as it turned out, it was all pork, no chicken. The satay sauce wasn't peanut gravy, but tasted a little sour. It was very nice still. And the best part was that it was all freaking cheap. 30 baht for 10 sticks, a-third the price in Singapore. The meat was less oily too. Come to think of it, the food in Thailand seemed to be mostly non-oily or have little oil. No wonder I hardly saw any overweight Thais these few days.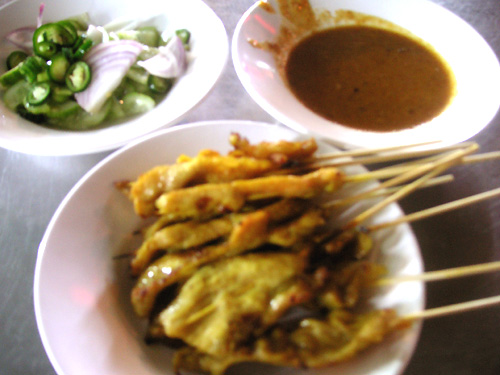 All right that's all. Yet another fun and smooth-sailing day. People were again nothing but wonderful to me. And I am about to run out of money too. Later on I should be heading to Chatuchak again, and hopefully do some sight-seeing.