Gosh, I can't believe I have to leave Bangkok in two days' time. I have already gotten so used to living in my serviced apartment, walking to the BTS station to take the skytrain, exploring the city by myself, taking pictures wherever I go, talking to random strangers, etc etc etc! But today, I saw the ugly side of Bangkok.
Tuk-tuk drivers. NEVER agree when they approach you to drive you to your destination. Chances are they would drive you off to a jewellery store where you would waste your already very limited time browsing through the boring jewellery so that they could earn commission and free gasoline from the store.
How they operate is usually like this: the tuk-tuk driver spots a tourist. He then approaches the tourist asking where he wants to go. The tourist names a place called XXX. The driver would then suggest going to another place called YYY before driving him to XXX, claiming YYY is a great place. But in actual fact, it's only because the jewellery store lies along the route to YYY. And he doesn't mention the jewellery place until he has already driven you off. Usually, he would offer a very cheap fare of 20 baht which you would find hard to resist.
And that's what happened to me today. The last time I came to Bangkok with my mum, the same thing happened too. Anyway, I ran into this tuk-tuk driver outside the temple, Wat traitmit (golden Buddha), and he asked where I was going. I said I was planning to go to the Grand Palace. And he suggested taking me to the Golden Mount, another temple, before going to Grand Palace. I hesitated because Grand Palace would be closed at 3:30pm and I didn't think I had time. But he said since it was Sunday, Grand Palace would close at a later time. So I agreed because I didn't know the area very well, and it would be good if someone drove me around. I went into Wat traitmit first. He said he would wait for me to finish taking my pictures, then take me to the Golden Mount.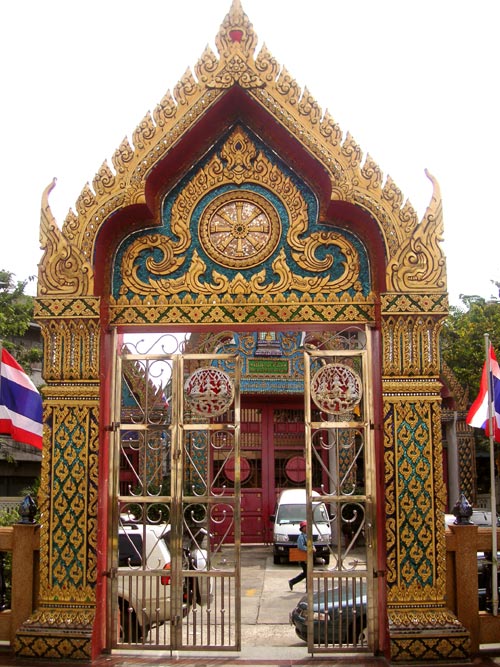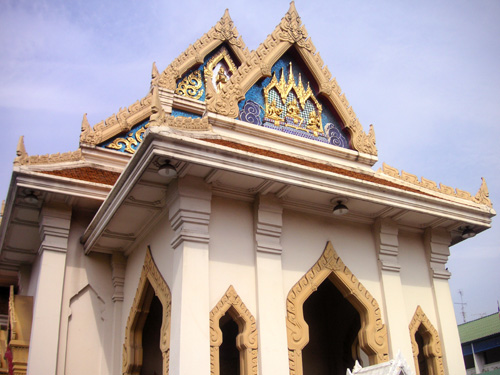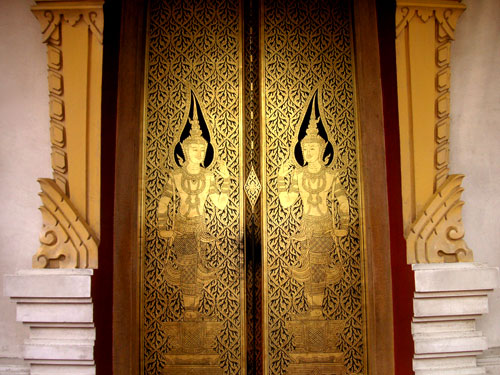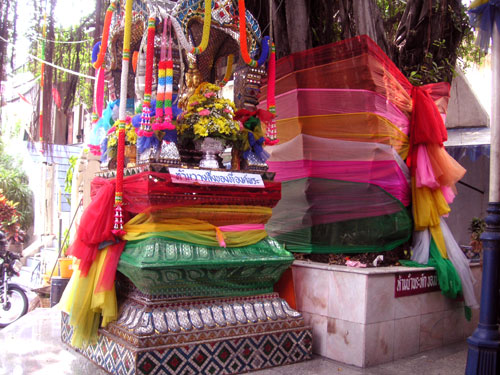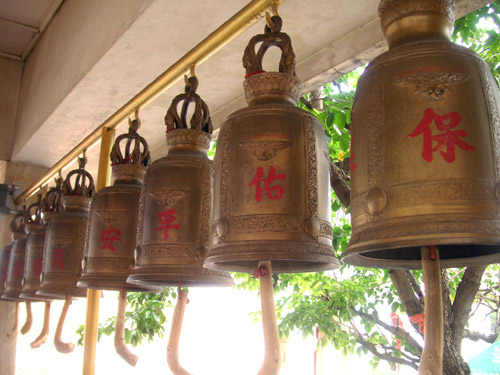 Wat traitmit is famous for its golden Buddha statue. It is made from pure solid gold, weighs five tons and is more than 700 years old.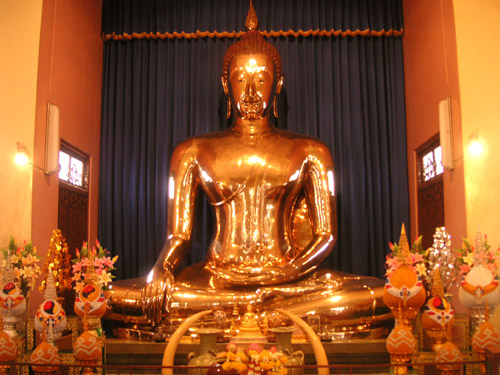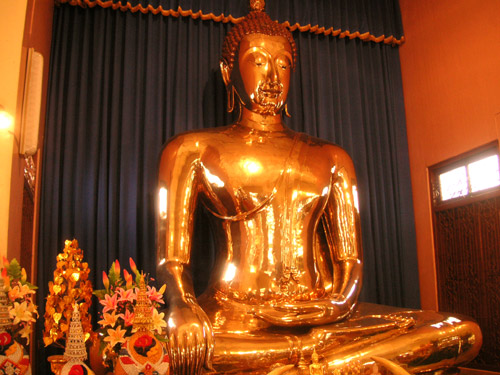 These statues looked quite creepy. There were people praying and pasting gold plasters onto the statues.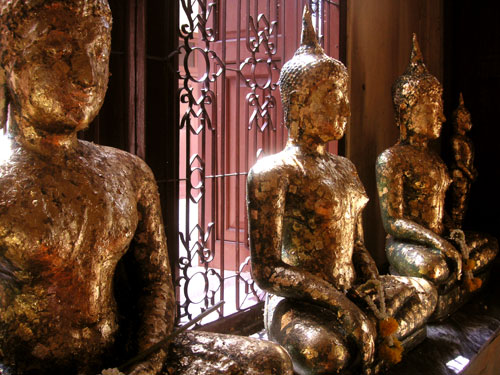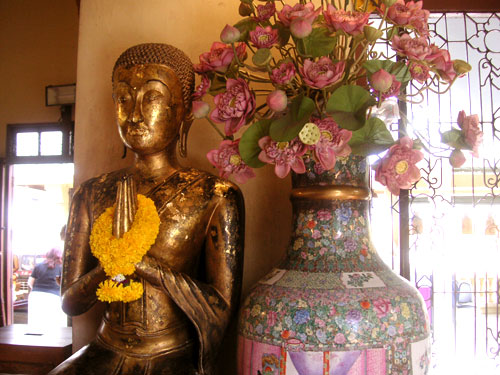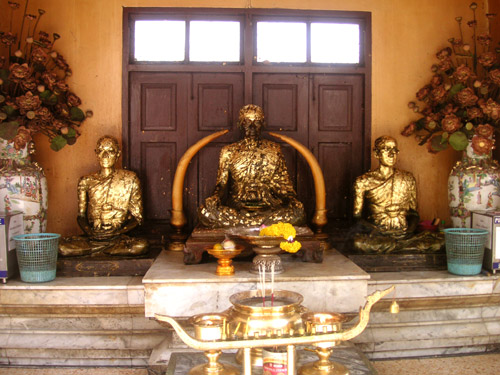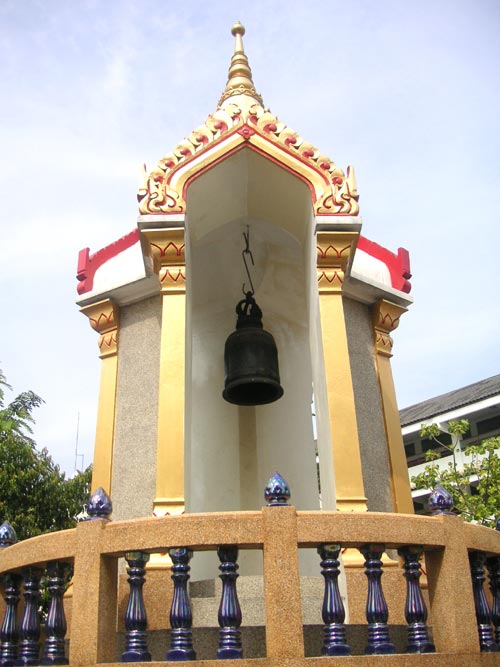 It was a pretty small temple so there wasn't much to explore. There was also not much unique architecture. After that, the tuk-tuk driver drove me to the stupid jewellery store instead of the Golden Mount where he promised. I had my lunch there of something called kuey-tiao, which was nothing special.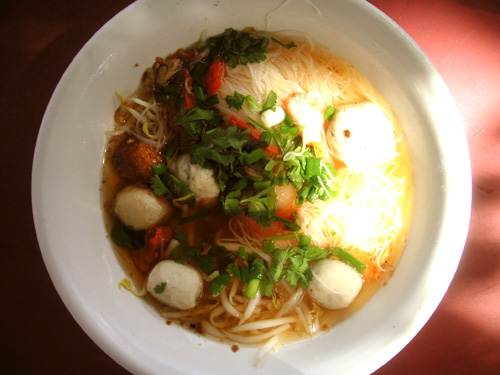 Finally, he drove me to the Golden Mount. Along the way, he had the cheek to say that he would take me to another jewellery store. What a nerve! And I told him NO.
Golden mount was a very well-designed and beautiful temple.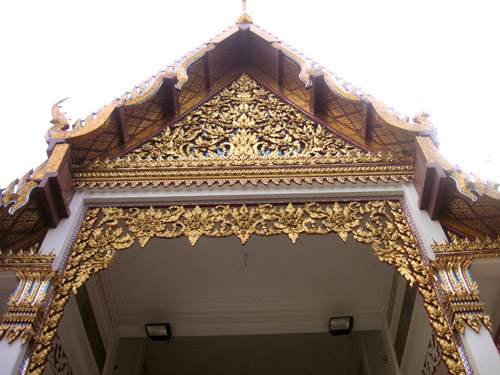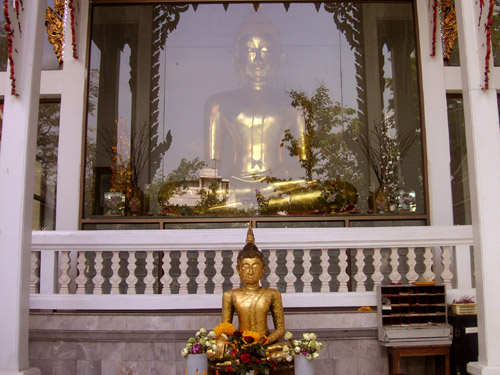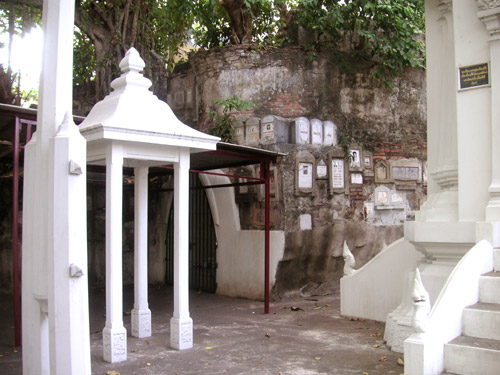 Pictures of very dead people gave me the creeps. I was all alone there and wondered if I should even have taken these pictures. Some of the people must have died a long time ago because their pictures were missing.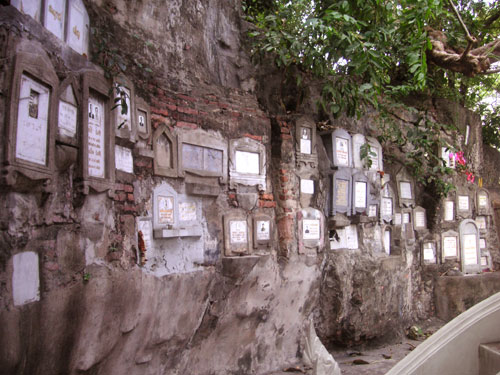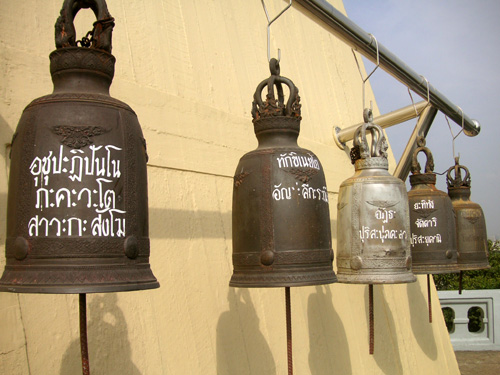 Stairs that go on forever to take visitors and worshipers to the main part of the temple.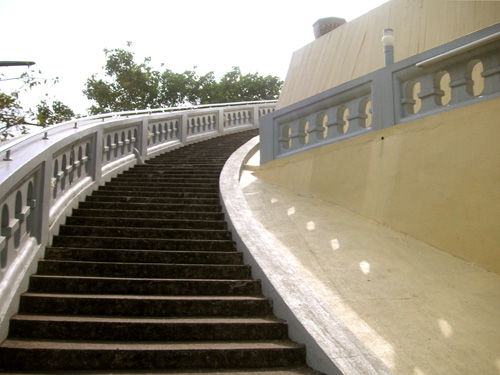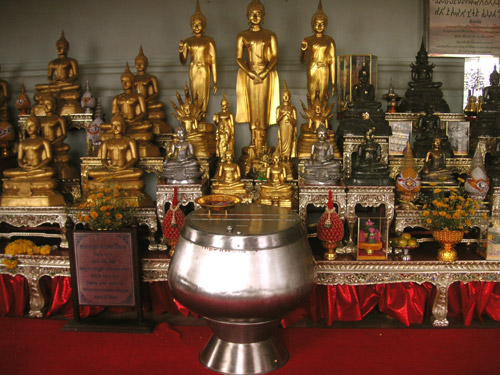 This is a small and cramped circular room where people can go in and pray.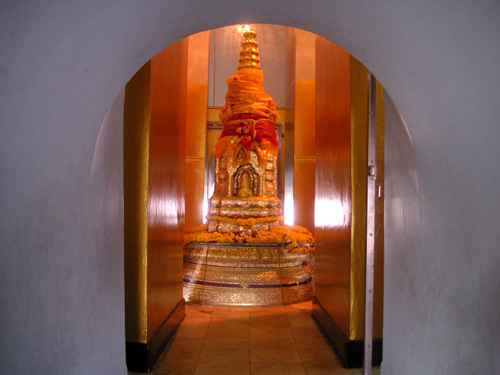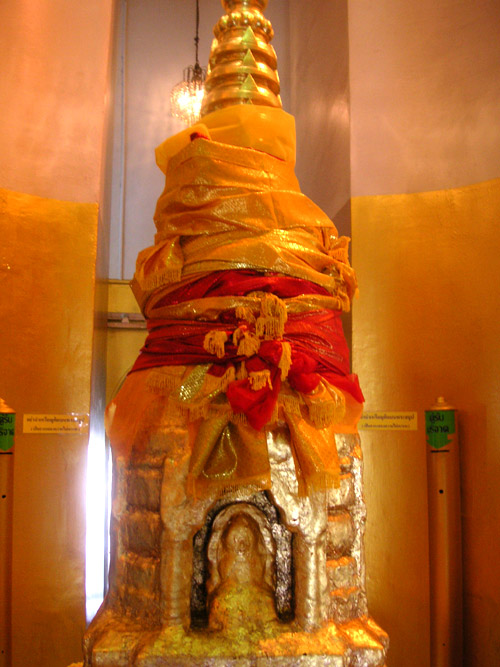 The lady in red was shaking the divine lots where eventually, one would fall out and the monk would tell her what it meant. The monk actually beckoned to me to do the same, but I didn't because I doubted that he could speak English.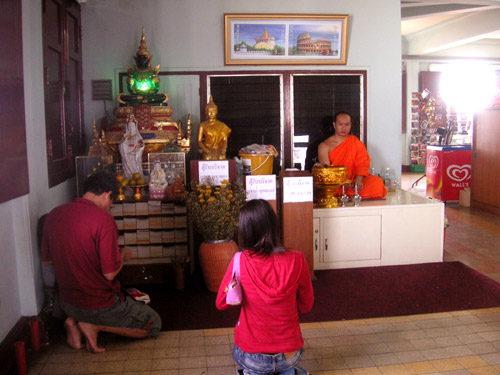 The very narrow stairway that leads to the rooftop. It was so narrow that people would have to climb in single-file.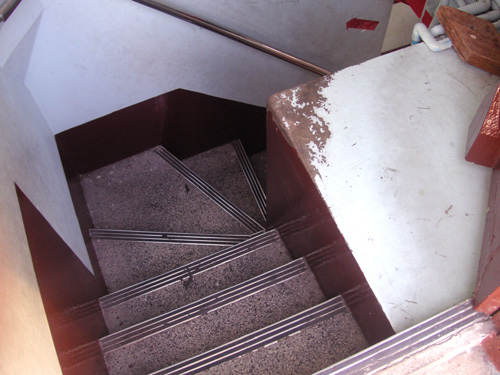 The beautiful golden tower that gives the Golden Mount its name. When I saw it, I knew that coming this far was worth it.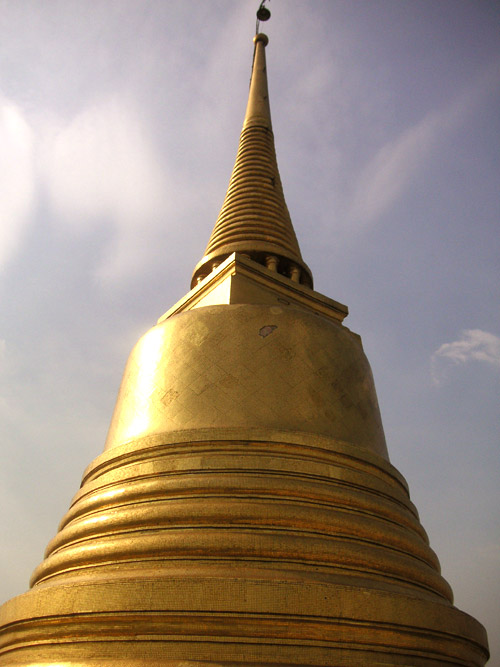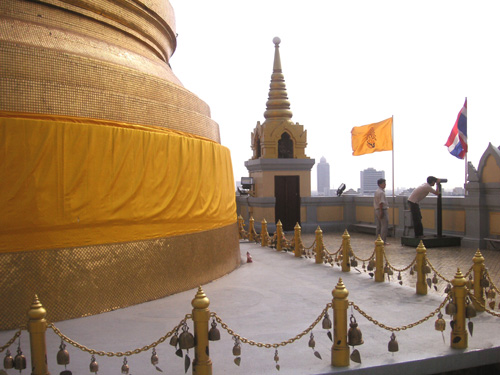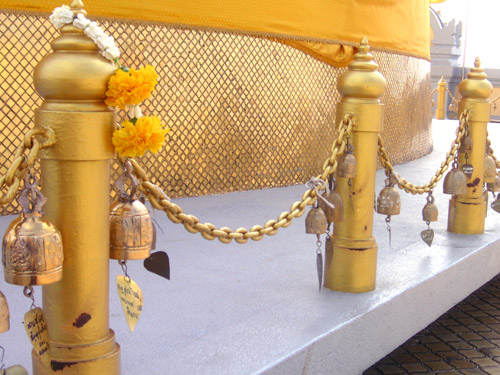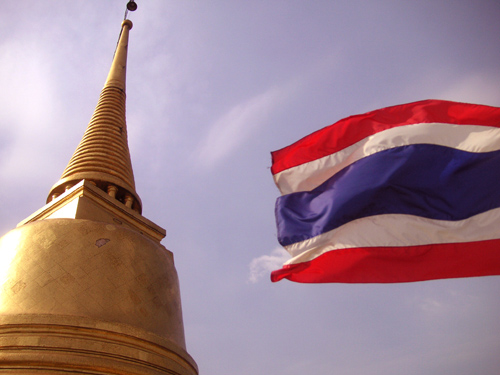 People could get a great view of the city from the rooftop. The structure in the centre is the rama VIII bridge.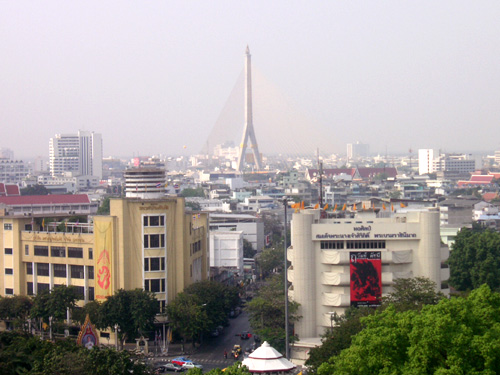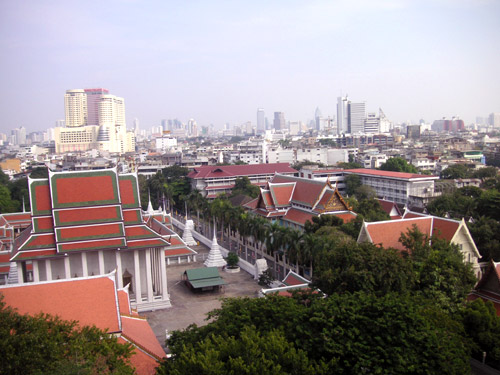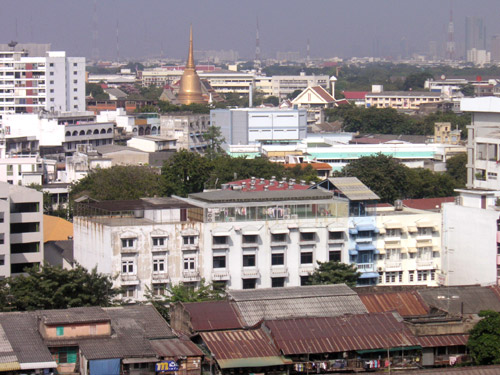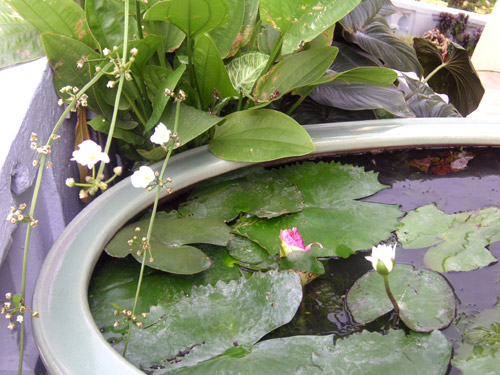 There were postcards on sale at the temple too.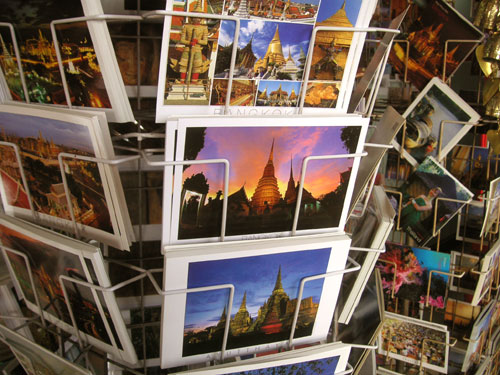 I spent a long time taking pictures at the temple. The golden tower was really beautiful. I managed to ditch the tuk-tuk driver too. But I was in trouble then, because I didn't know the area and there was no skytrain or subway station nearby. My maps couldn't do good because they were in English, whereas roadsigns and building names in Thailand were all written in Thai.
Luckily, these two nice Thai ladies who were also at the temple noticed me and offered to drive me to my next destination since it was along their way. People in Thailand are so nice. All I had to do was look lost, and help would come along.
They dropped me off at Democracy Monument. I first saw it on my first day in Bangkok, when the taxi was driving me to my apartment from the airport. It stood out as a very beautiful structure in the middle of the busy Bangkok traffic, but I had no idea what it was then. From the sidenotes on my map, it says the Democracy Monument is the emblem of change in ruling system from absolute monarchy to democracy in 1932. So that's a bit of Thai history for ya.
Bangkok is a beautiful city. Even the flowers along the road look so pretty!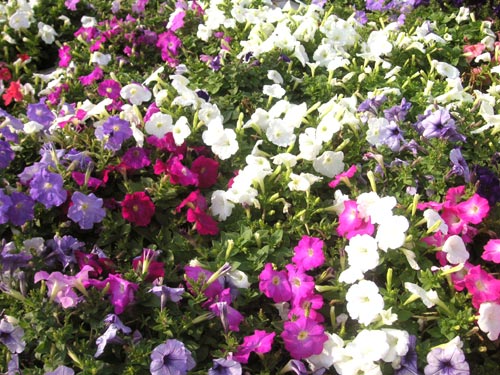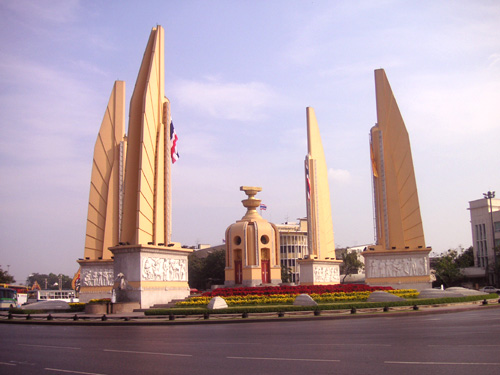 As the monument was right in the middle of the road junction, and there was no zebra crossing or traffic lights leading to it, I had to brave the busy traffic to get to it. So do appreciate the pictures!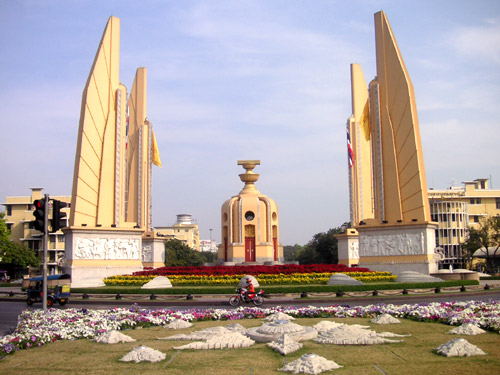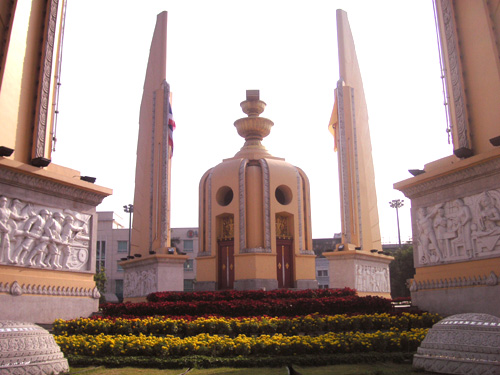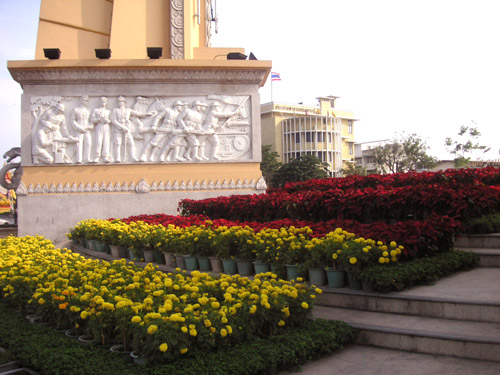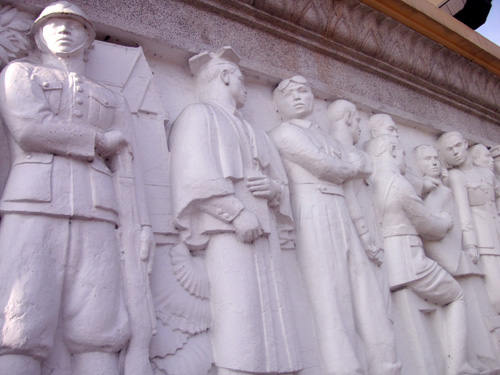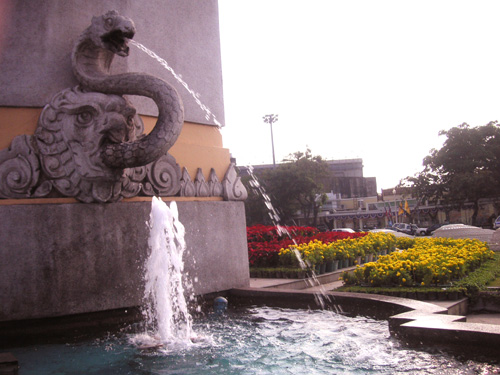 Next, I headed towards the Giant Swing. Had some trouble locating it. But in Bangkok, they have traffic wardens like one every ten metres or something, so I had all the help I needed. Not too sure what exactly the Giant Swing was used for other than to look nice. Apparently, it was used during some ceremony in the past.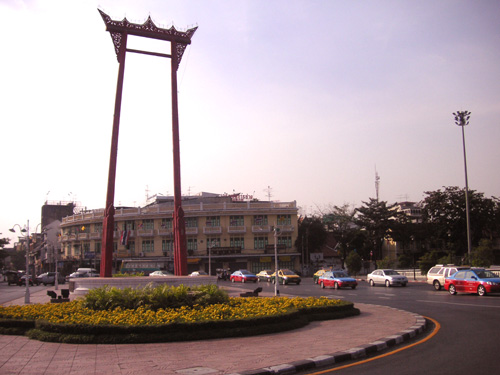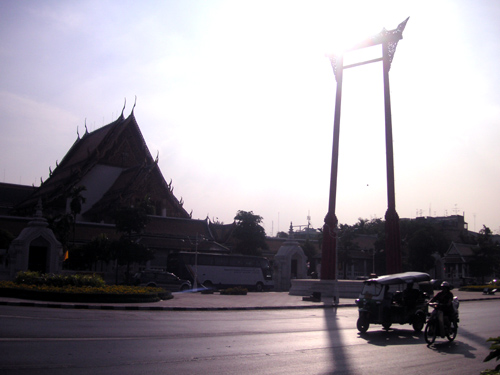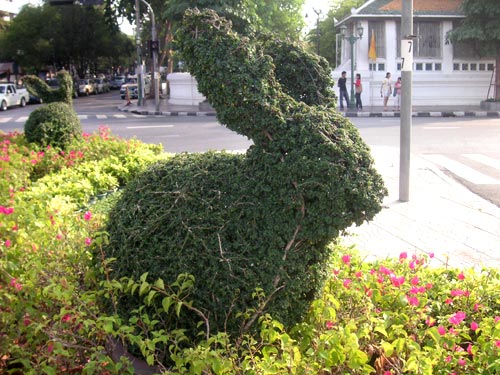 It would look much better if the pictures were taken at night. Opposite the Giant Swing, there was this huge building which I think was a police station. In front of it was a huge area where groups of people could be seen exercising or practising some stuff.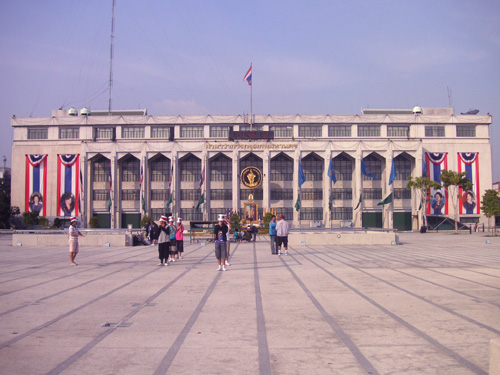 Finally, I headed for the Grand Palace. Not a single available cab passed me by, so I had no choice but to flag for a tuk-tuk. I'm pretty sure I was overcharged when he charged me 50 baht because the distance covered wasn't that far. The Grand Palace looked really, well, grand when seen from the outside. But unfortunately when I went there at 4pm, it was already closed. Which means the stupid tuk-tuk driver from earlier had lied to me when he said it closed at later hours on Sundays. What a son of a bitch.
But it didn't actually matter since I wasn't dressed properly for the palace, and wouldn't be allowed entry anyway. They have extremely strict rules for attire, such as no sleeveless clothes, nothing semi-transparent, no sandals or slippers, no shorts, no jeans, blah blah. So I would have to return there another time.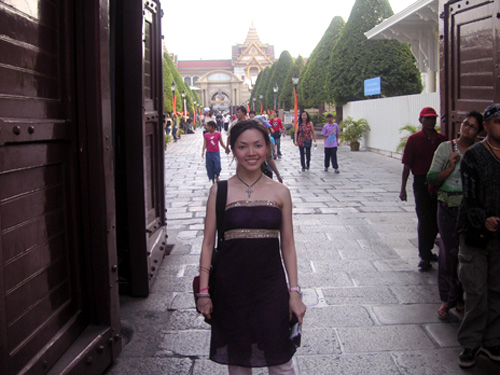 Out of nowhere, a few people whom I didn't know requested to have their pictures taken with me on separate occasions. Whoa! Totally didn't see that one coming. I think they were Thais or something. Extremely friendly people. I don't think that would ever happen to me in Singapore.
Wanted to go to the Chatuchak Weekend Market again, which was in a totally different part of Bangkok. So I decided to take the riverboat and then walk to the nearest MRT station. As I was running short of time, I hired a tuk-tuk to take me to the riverboat station. The driver said it would be 50 baht. Immediately I knew he was trying to rip me off because I know it wouldn't be that far. I got a little pissed, and he immediately said 20 baht. I agreed, and as it turned out, it was just a 200-metre drive down the same road. And for that, he had wanted to charge me 50 baht. What an asshole. I really can't stand some of these tuk-tuk drivers. Why can't they just make an honest living instead of trying to take advantage of tourists? That's why today's the first time during this trip that I had taken the tuk-tuk. Whenever possible, I would either walk, take the skytrain or ride the subway.
So to those people who would be going to Bangkok in future, NEVER ride the tuk-tuk. Maybe just that one time if it's on your checklist of things to do in Bangkok. But that's it. It doesn't matter how fun or cool it looks in that pierce brosnan visa card commercial, because it's not. It's extremely unhealthy. During the ride, you would see the tuk-tuk driver putting on the facial mask to protect himself while leaving you to breathe in all the polluted air from the traffic. Take the cab for goodness sake. Don't be afraid to be rude when approached. Most people try to be polite, and become victimised in the end.
The riverboat ride cost 8 baht for me. I realised it was actually a rather practical form of transport too. At first I thought it's only for tourists, but there were many Thais using it as well. During each stop, passengers would board or alight from the boat. So at times, the boat could get really crowded. The sights along the river would be a highlight of the boatride.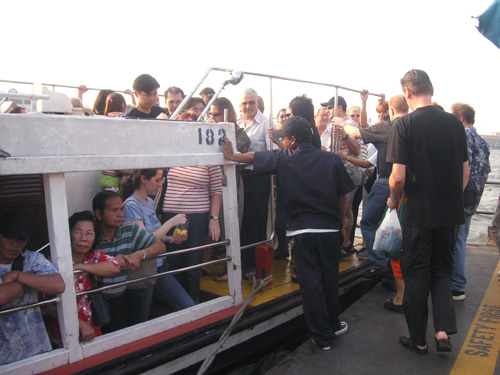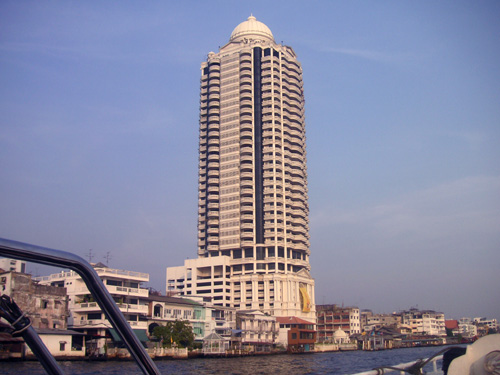 I alighted at the river city station and tried to make my way to the Lumpinee MRT station. It was a bloody long way but I refused to take the tuk-tuk. Many tuk-tuk drivers called out to me along the way, but I ignored them completely. I shall seriously boycott all tuk-tuks from now. Eventually I passed by Chinatown and decided not to go to Chatuchak anymore.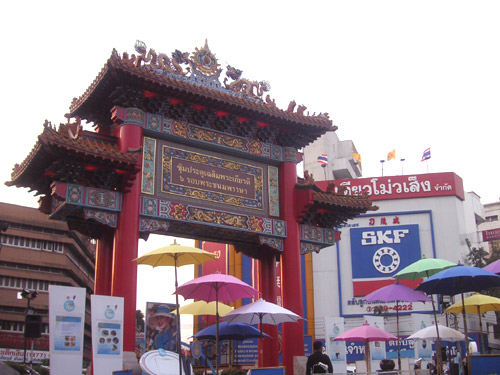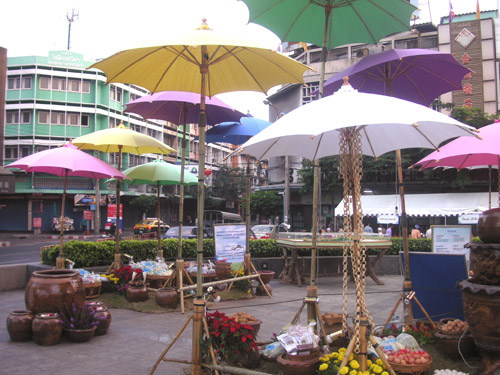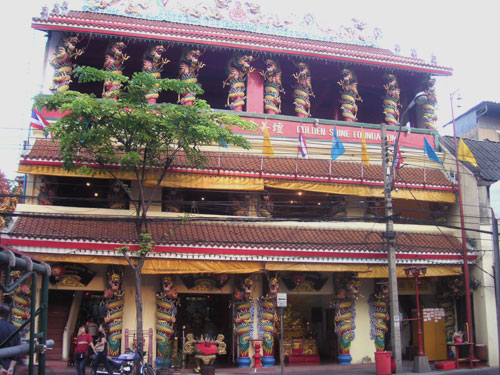 This is a temple at Chinatown…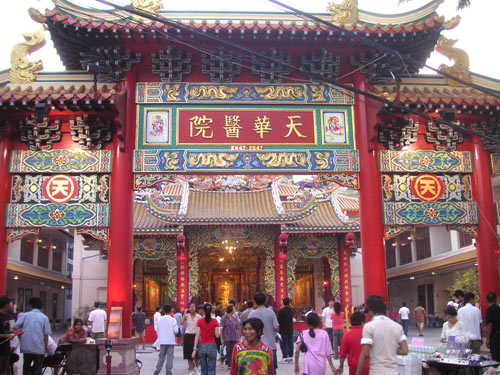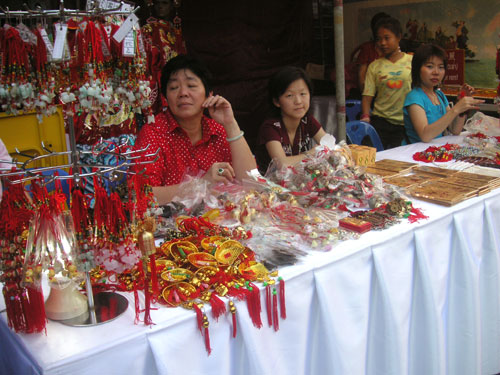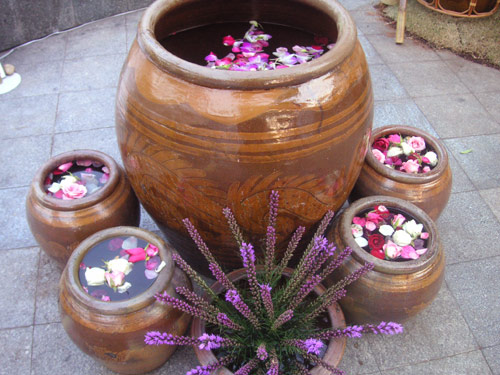 It was mostly foodstalls at Chinatown, although not all the food was authentic Chinese food.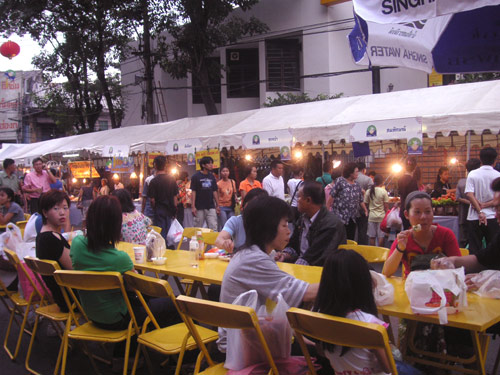 Fried fish chunks that looked yummy, but didn't taste that good.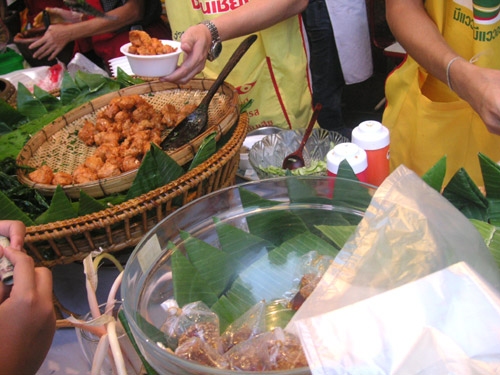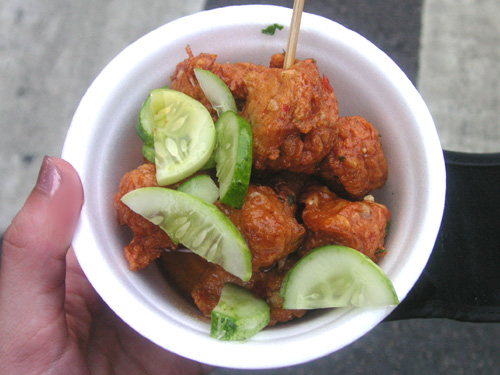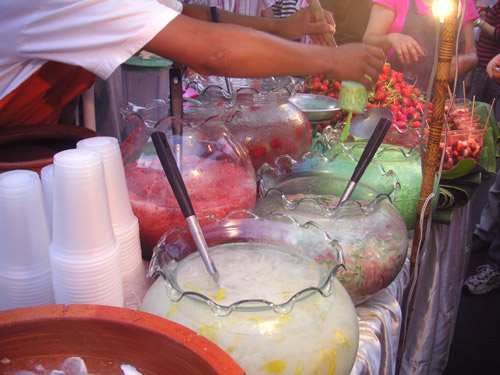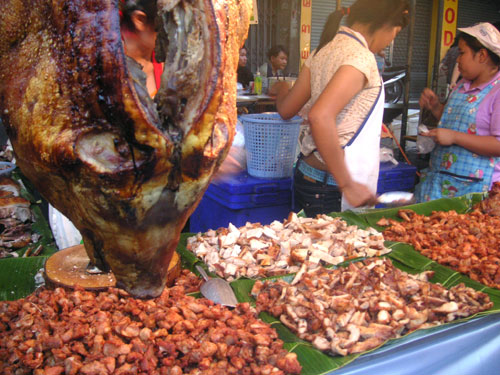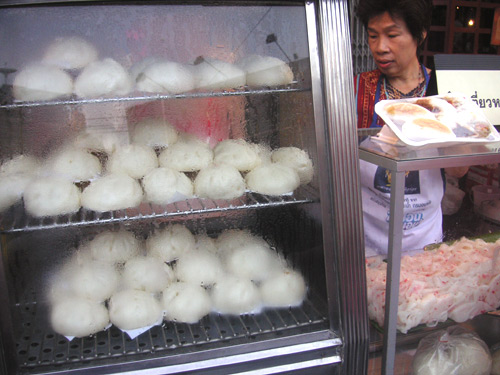 Fried ice cream! I ordered a couple for myself, and that's when my camera ran out of battery. I couldn't understand why since I charged it to the fullest before I came out, and I didn't even use the flash for the whole day.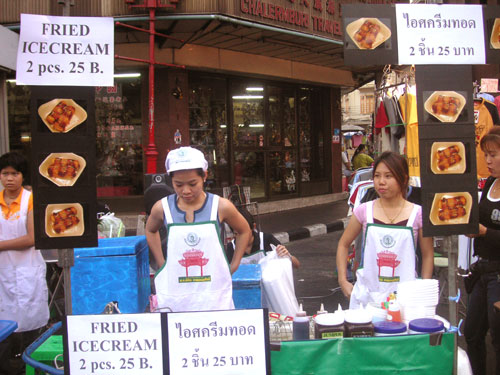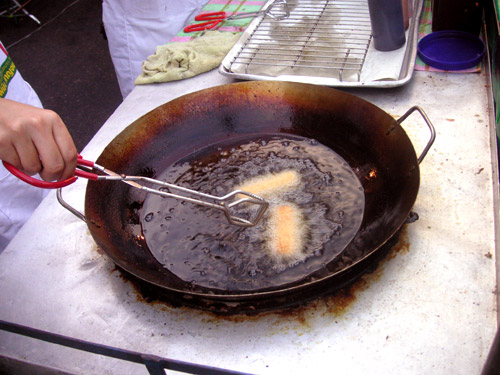 Along the way, someone started talking to me and I found out that he was a fellow Singaporean working in Bangkok. He wasn't very interesting to talk to, or rather I was in my antisocial mood. So eventually, I managed to lose him in the crowd.
Bought 20 pieces of louk-chup at Chinatown, at 1 baht each. Very cute looking pieces of miniature fruit that taste sweet. Would try to bring them back to Singapore.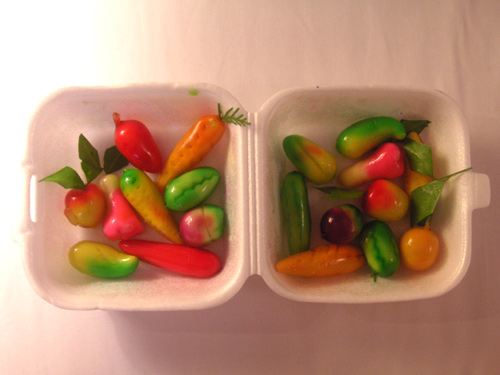 After Chinatown, I had some time left so I went to the Suan Lum Night Bazaar at another area. It was a smaller, nicer-looking and more expensive version of Chatuchak. And it opens only at night. The only things I got from there were four beaded bracelets at 120 baht each. Tong was right when he told me that Suan Lum was an expensive place that only tourists would visit.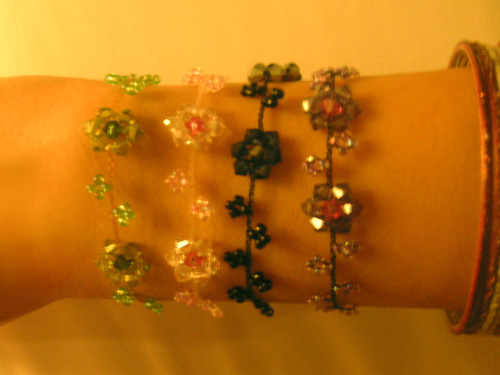 So that's it for the day. Didn't accomplish my goal of entering the Grand Palace, thanks to an asshole. Today I shall be heading out of Bangkok. I would be going to the province of Ayutthaya. It's about 76 kilometres North of Bangkok. Would be taking a train there from Hua Lamphong railway station. I probably won't be sleeping at all because I hope to catch an early train there.