The day started off with me ignoring the alarm clock and waking up late. Had planned to go to Ayutthaya for the day. But when I got to the Hua Lamphong train station, it was already after noon. And if I caught the two-hour train ride to Ayutthaya anyway, it would be about 4pm on arrival while most of the temples and ruins closed at 5pm. Not much exploring left to do.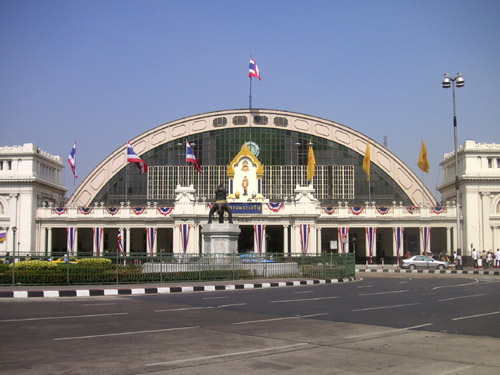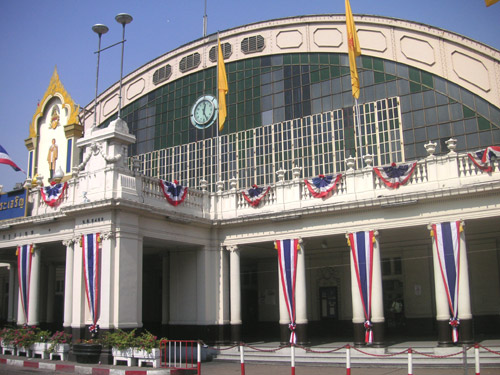 Something really unpleasant happened after that, and I shan't elaborate here. Let's just say I was lucky to have a very narrow escape, but the experience haunted me for the rest of the trip.
Anyway after that I decided to take a cab to the Grand Palace, since I missed it the previous day. Some very nice and helpful Thais helped me find a cab driver when they saw that I had some trouble flagging for an available cab. Did I mention the Thais are (generally) wonderful people?
It's a good idea to sit in the front seat when taking a cab in Bangkok. The drivers tend to be very friendly people, and even though they may not speak much English, they still try their best to answer your questions about Bangkok, and point out sights along the way. But they may also offer to take you around an area for a lump sum of money. I would reject such offers mostly, since I was intent on travelling around on my own.
The driver who drove me to Grand Palace was in particular a very funny and jovial guy. We had a lot of laughs along the way. He also said that he was already 32 years old but had no girlfriend because women in Thailand tend to look down on cab drivers. Probably true since I had also heard from another caucasian man that Thai women love money a lot. And in Bangkok, I saw ALOT of caucasian men with Thai girlfriends.
When we got to the Grand Palace, a guy who spoke to me the previous day was standing at the entrance again. He recognised me and commented that what I wore was appropriate for the Grand Palace. And with that, I entered the palace with confidence.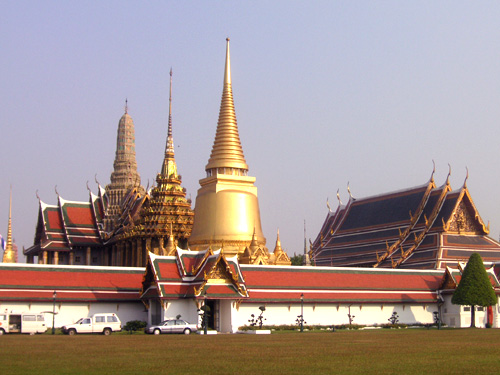 Notice that the structures all have pointed tops. The trees there had been trimmed to look alike, and had pointed tops too! I thought that was extremely cute of the Thai people. A monk could be seen teaching a group of school children under one of those cute trees. I liked the way they were sitting precisely in the shade of the tree's canopy. Cute!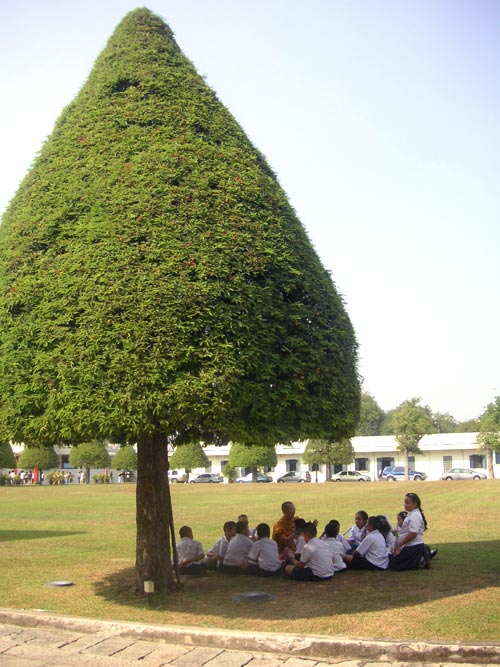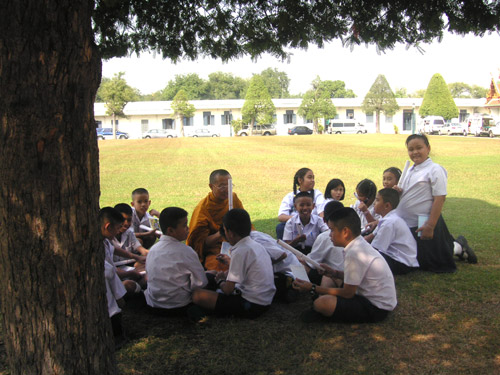 It cost 100 baht for the admission fee into the palace, more expensive than the normal 20 to 30 baht to enter temples. Finally entering the Grand Palace, I was totally captivated by the beauty of the place. I quickly saw why many proclaim this to be the most beautiful place in Thailand.
The structures and monuments were all shiny and gold, and very majestic looking. They don't appear to look big in the pictures, but were actually huge… At least ten storeys high for each. Keep in mind that the pictures you see are of structures finished in the year 1782. The people didn't have as advanced tools but were still able to come up with such masterpieces of work.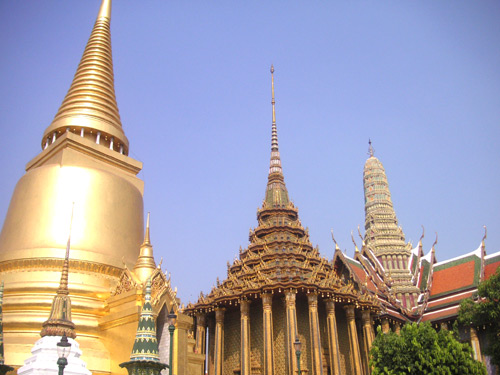 Below, the building on the right is the royal monastery of the emerald Buddha. It houses a Buddha image carved from jade actually, which was first discovered in the year 1434. A ceremony officiated by the king is held three times a year to let the emerald Buddha wear different outfits according to the season, summer, rainy season or winter. Cute! Unfortunately I wasn't allowed to take pictures.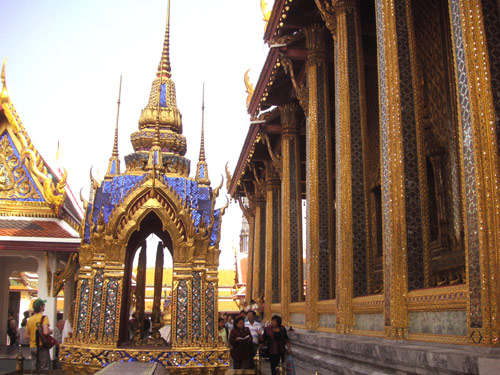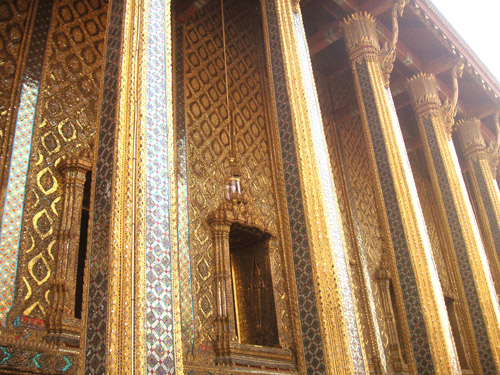 You can see the fine artwork and intrinsic design of the monastery, built by people in the 18th century.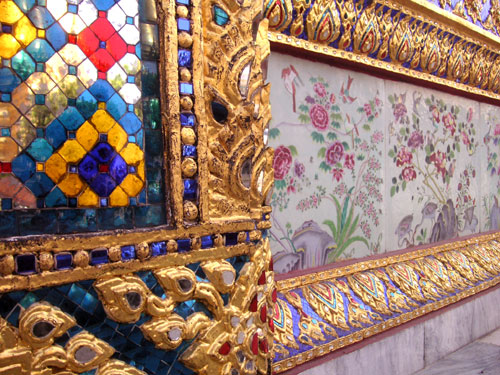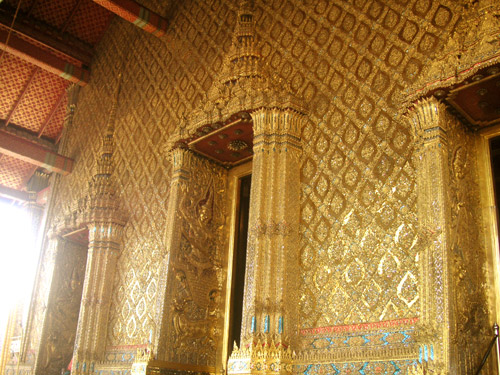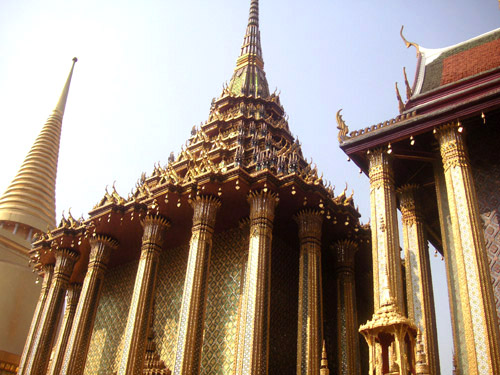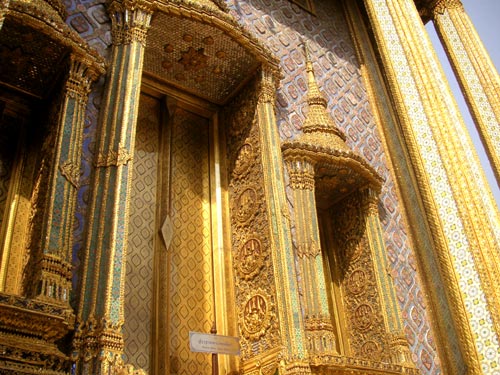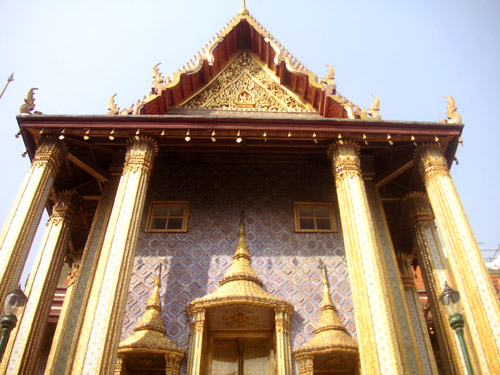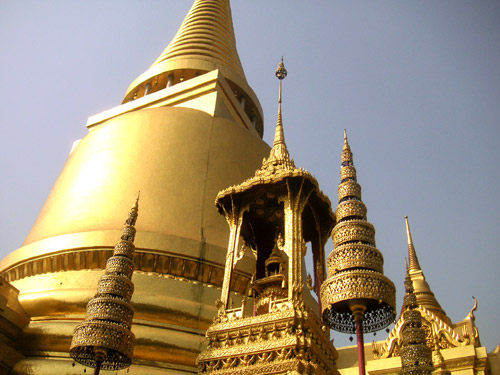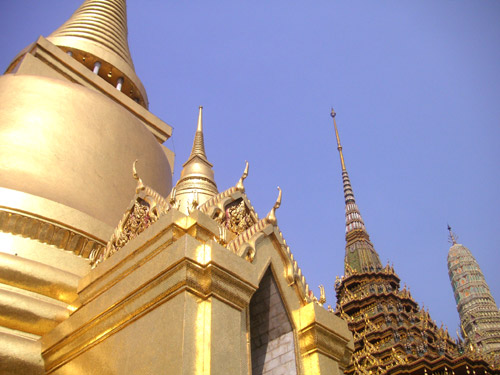 Golden mosaic tiles form the side of the golden chedi.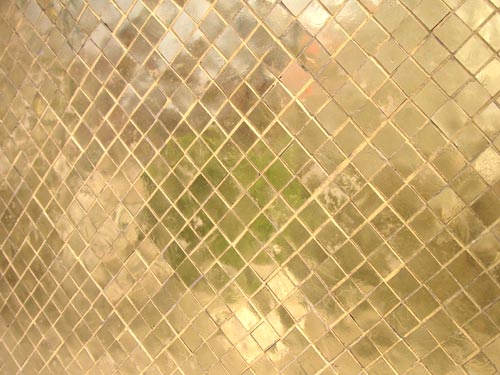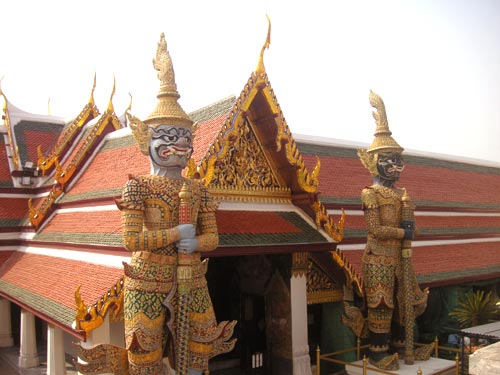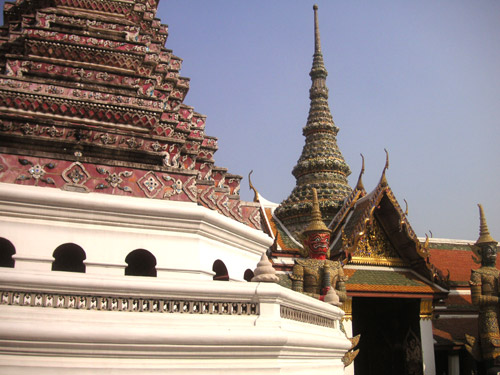 This is a model of the Grand Palace carved in stone.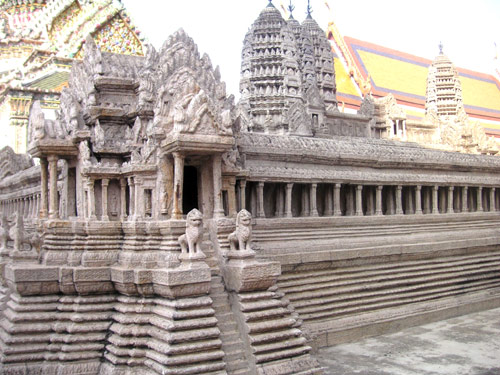 Highly detailed architectural features.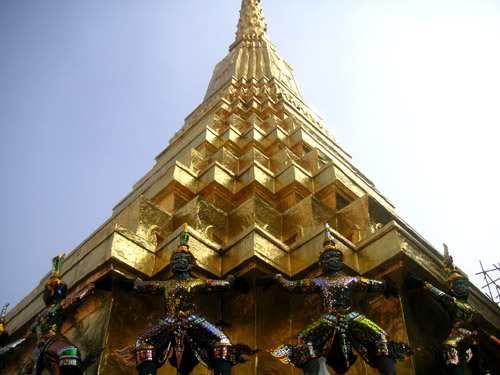 These are the royal galleries. The walls are decorated with paintings made in the 18th century, and since then have been restored several times.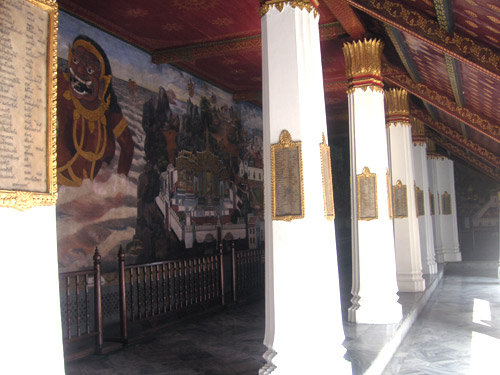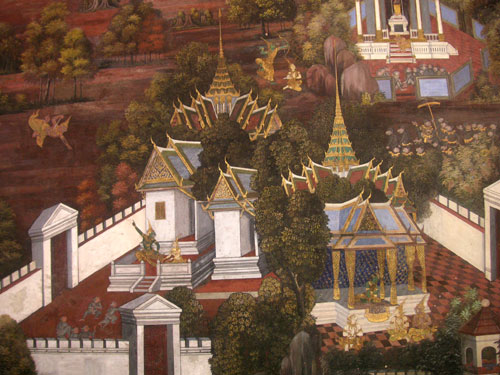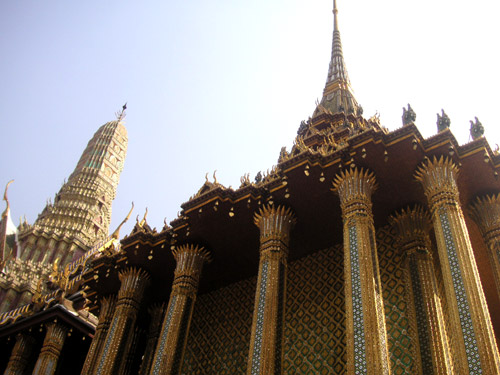 I sneaked a shot of this monk from behind his back.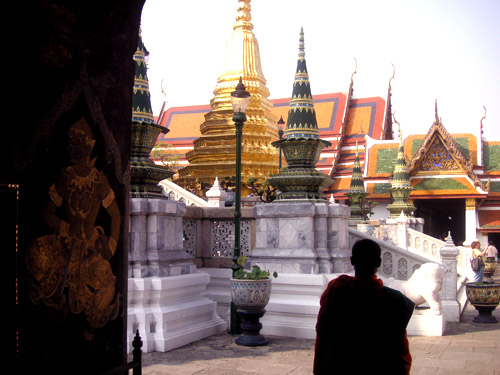 The Grand Palace complex.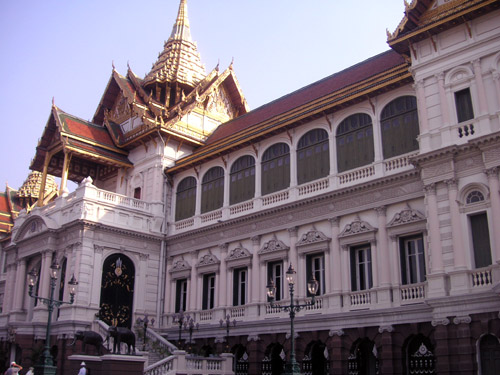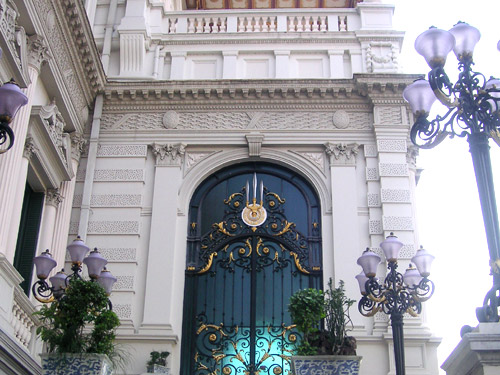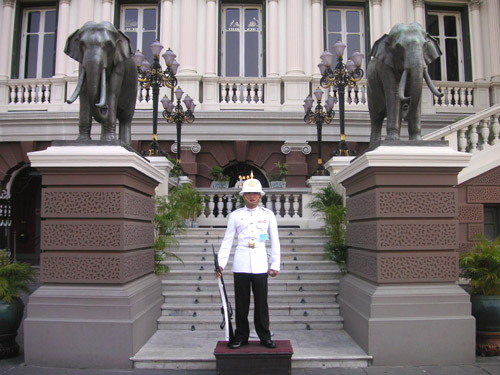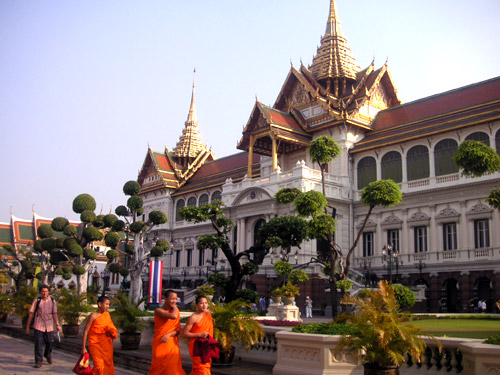 The time came too soon for me to leave, as the place closed at 3:30pm. I then made my way to Wat Po. Unless otherwise stated, I made all my journeys on foot throughout the entire trip, and it's been quite tedious at times especially in the hot afternoon sun. But I'm actually thankful for the fact that this time of the year, it doesn't rain at all in Bangkok. Which is why you would hardly see any clouds in my pictures, only clear blue skies.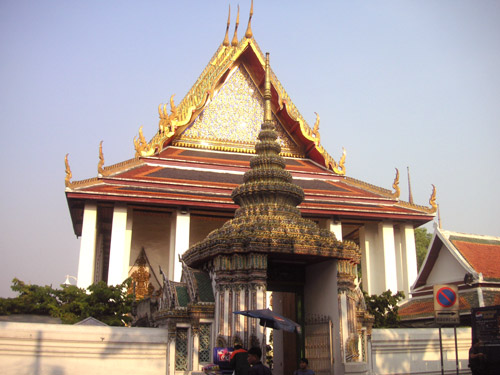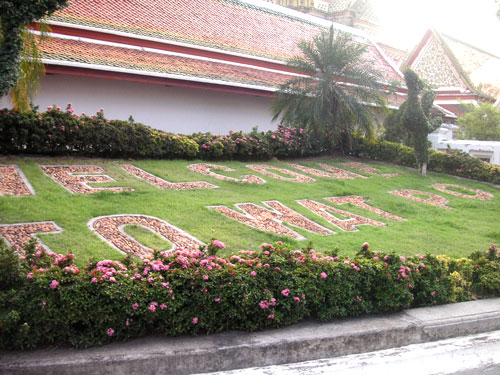 Wat Po is famous for its Reclining Buddha. The gold-plated budhha image is seen resting on its side and measures 46 metres long and 15 metres high. The Buddha looks very happy and relaxed in my opinion.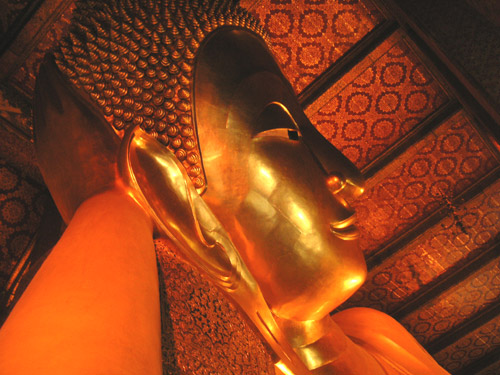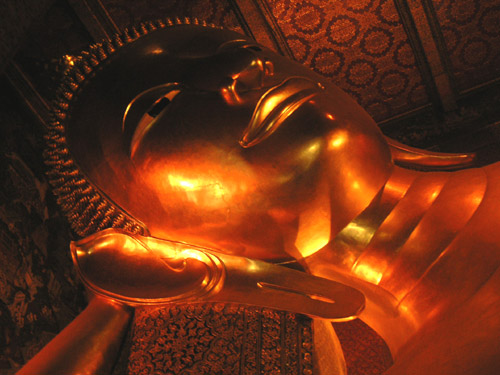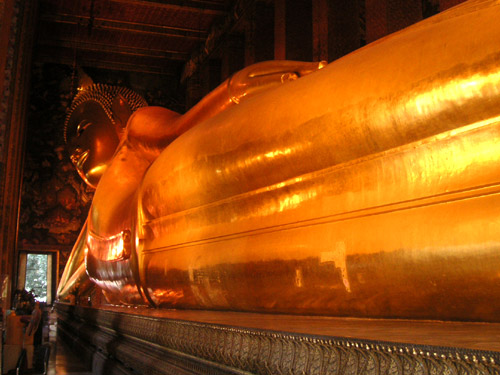 Along the side of the Buddha was a long chain of black metal buckets. People could be seen walking along, tossing coins into each and every bucket until the very last one.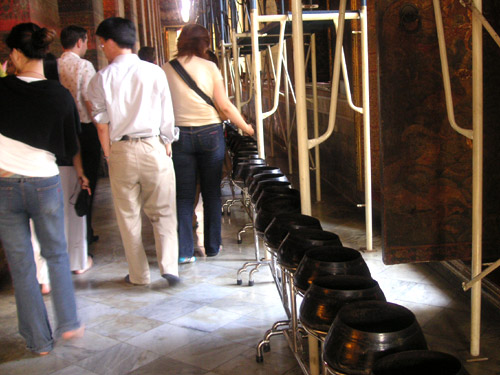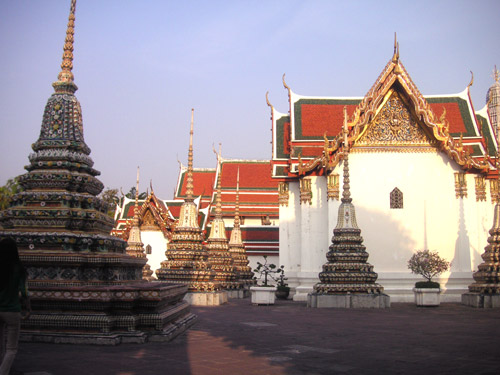 Well that's about it. My camera ran out of battery AGAIN. But I had fulfilled my goals for the day, that's to visit the royal palace and see the Reclining Buddha at Wat Po. So I was still a happy girl. Found some skinny cats at the temple though. They looked extremely weak and hungry.
Took a taxi back to my apartment. The driver was again, another jolly funny person. He was very adorable too in his way of speaking. I asked him about the Baiyoke Sky Hotel near my apartment which I saw a lot of, be it from my balcony, or walking along the streets. He said I could actually go up to the hotel myself to have a good view of the city. I was excited because at 88 storeys, Baiyoke Sky Hotel was the tallest building in Thailand. So I went back to my apartment, got my camera charged, and made my way to the hotel.
View of Baiyoke Sky Hotel from my balcony…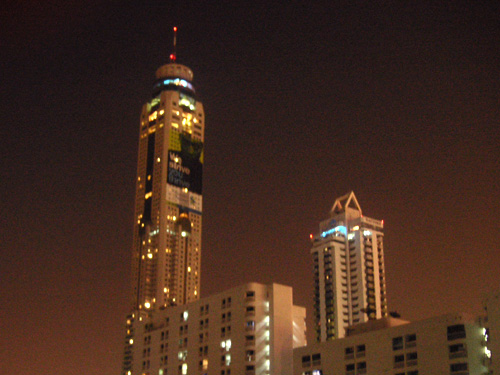 As I could see the hotel from my place, I figured I could make my way there on foot. I walked through a maze of dark alleys and walkways for a quick shortcut. That's when I realised how safe Bangkok was. Because even when those alleys seemed deserted and no one was using them, I was very surprised to see the odd security guard here and there. So I never felt like I was in any real danger at any time.
At Baiyoke Sky Hotel, I had to take a lift up to the lobby where I paid 120 baht for a ticket to go up to the observation deck. There were two places in the hotel where I could get a real panoramic view of the city, one on the 77th storey and the other on the 84th storey.
I got to the 77th storey first, where there was a scale model of the hotel.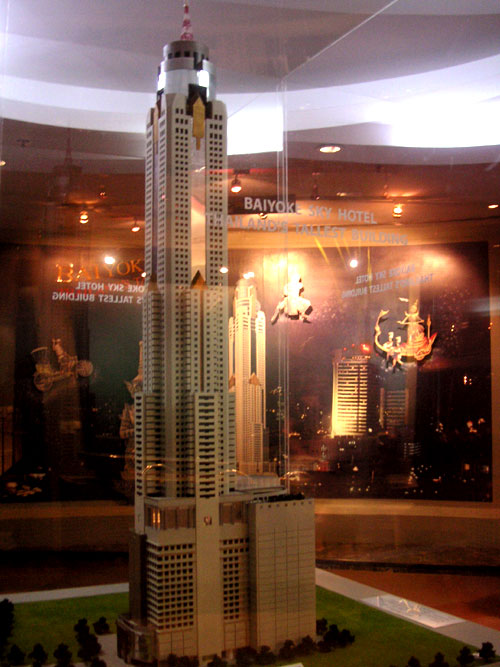 They had huge glass windows all around the entire floor.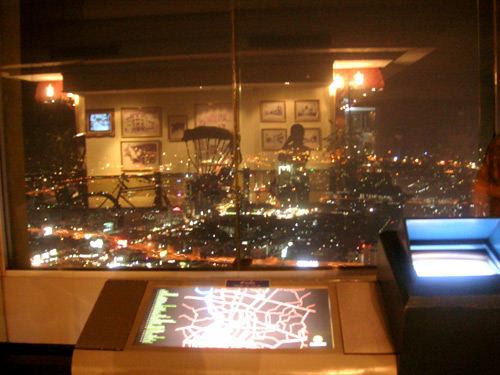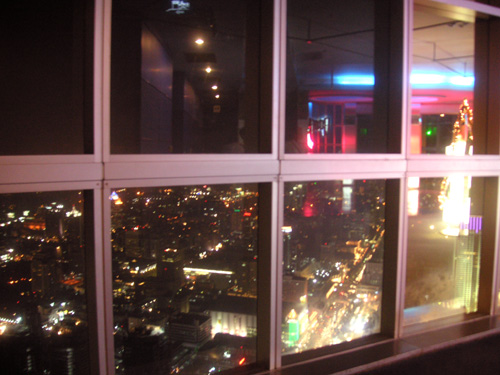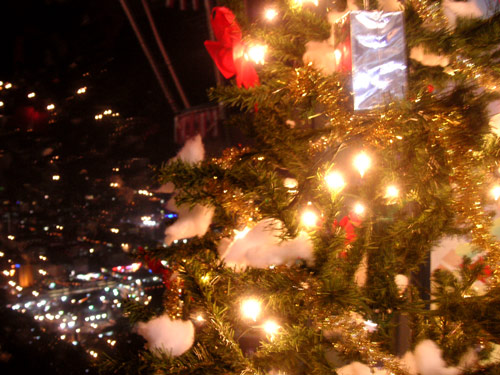 I had a really good view of the Bangkok city at night. Beautiful. I had always loved city lights.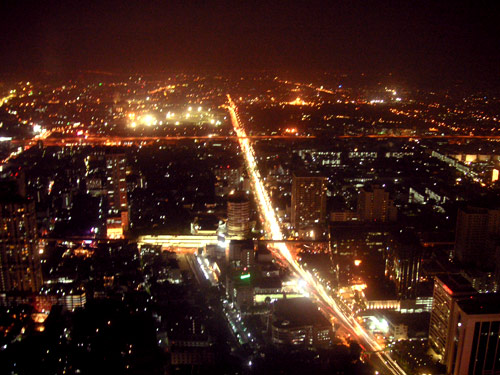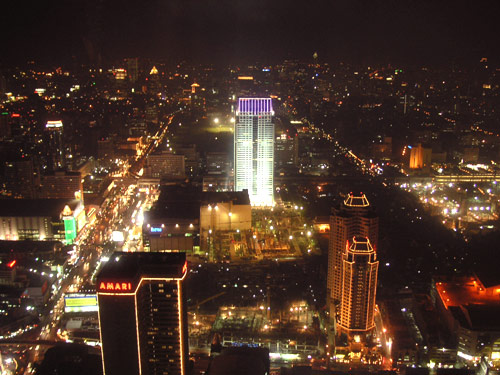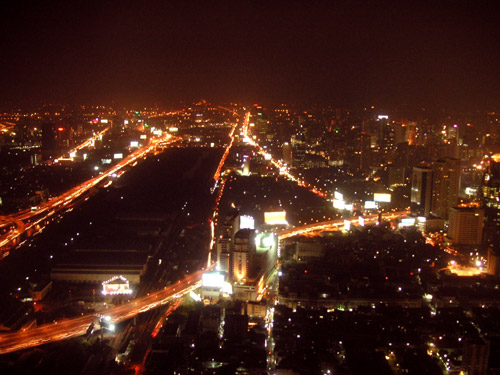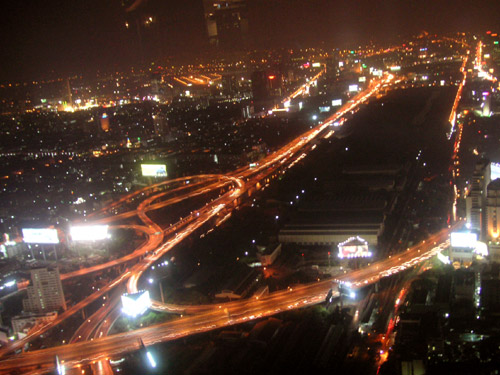 But that's not the real deal. I went up to the 83rd level, and then took the staircase up to the highest accessible level of the building, the 84th storey. The stairway had an outer space theme to it, perhaps to signify that it was so high up as though it was in outer space.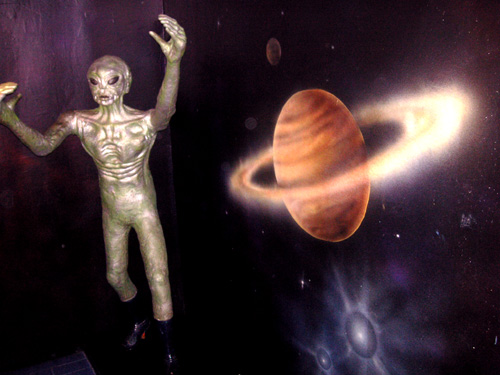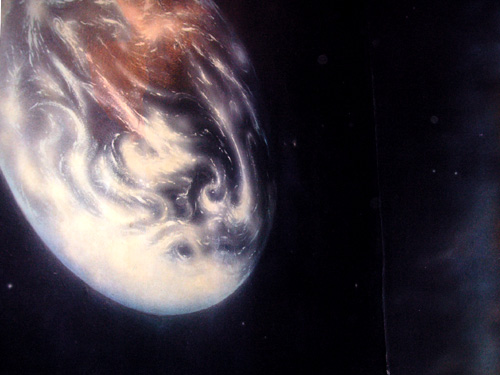 So I finally got to the roof deck. It had a revolving platform that was moving rather fast. People could just stand in one spot to get a view of the city from every angle.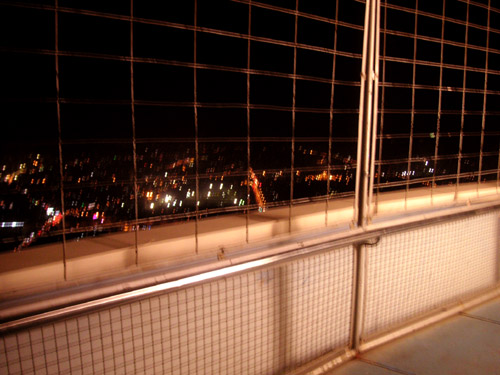 It was fantastic. The roof deck was open air and I could totally feel the night wind blowing in my face. It got really cold too but was totally worth it. I had an unobscured view of the highways, the tallest buildings around, the colourful lights, and even my own apartment building. I even recorded the whole view of the city into a movie file. It takes approximately seven minutes for the platform to revolve through one complete round. Standing at 84 storeys with the wind blowing on my body, I had the whole world at my feet. It was surreal.
After that, I went back to the 83rd floor and paid a visit to the bar there. It was called the roof top bar and music, and I wanted to see the difference between it and the new Asia bar in Singapore. For a weekday night, there weren't that many people there.
The place was very dark and totally non-sleazy. The laser lights around gave the place a funky atmosphere. There was a deejay playing and patrons were very well-behaved. The place was definitely on a higher class than the new Asia bar or (now defunct) embargo we have in Singapore.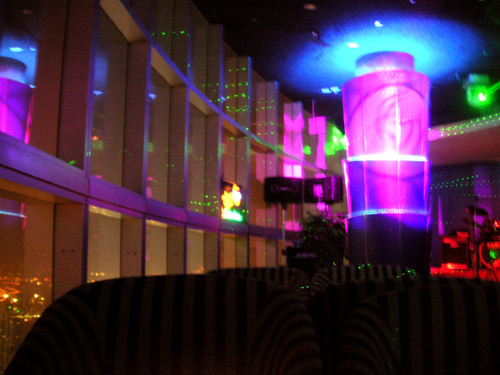 I got a nice cozy seat right by the window. Again, a fabulous 83rd-storey view of the city below me.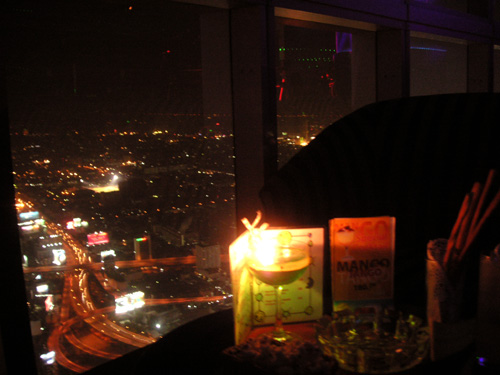 Ordered snacks and drinks, although I was careful not to get anything alcoholic since I had to go back to my apartment by myself late at night. Before the actual food came, they served complimentary popcorn and breadsticks to keep people occupied. The manager was an extremely friendly and nice guy. He would come over to chat with me, and I would notice he took extra care of me probably because I was a solo foreigner there.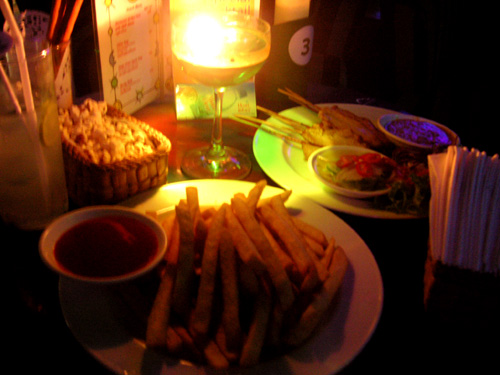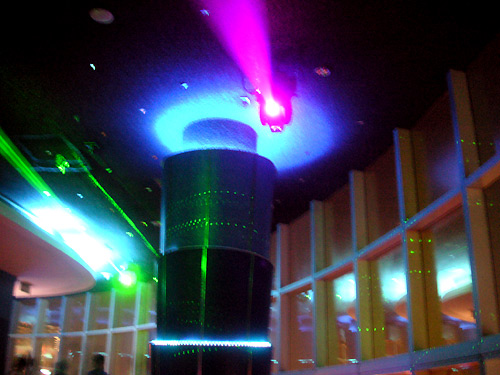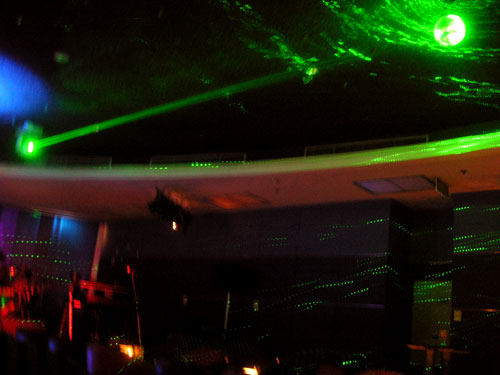 There was a live band where people could do song requests. The manager handed me a pen and a slip of paper but I had no idea what to request because I thought they might not know the song(s).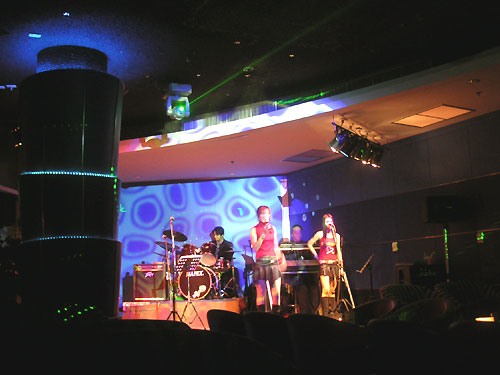 Finally I had to go. And I was surrounded by the manager and his staff, in a friendly way of course. I told them it was my second time in Bangkok, how much I loved the city, how beautiful it was, and totally meant it. Not too sure whether they understood everything I said, because the manager looked blank at times. But I could also see that he liked me a lot. He gave me his card, and asked me to pay them a visit again the following night, because I said it would be my last night in Bangkok.
Okay, so the food at the roof top bar and music wasn't fantastic, but the people certainly were. I was treated like a princess, and would most certainly return there if I had a chance to visit Bangkok again. Probably even stay at Baiyoke Sky Hotel!
I came down to earth again. Along the way back to my apartment, I popped by the 7-eleven and bought ice cream!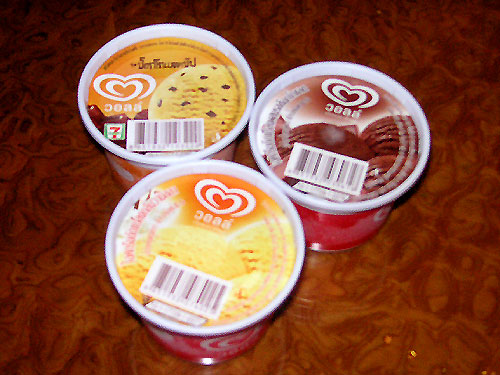 As well as ice cream cake from Swensen's!
It was a way to keep myself up at night because I hoped to catch the first train to Ayutthaya at 5:50am. Wasn't planning to sleep. I knew if I slept, I would definitely not wake up on time. It was my last day in Thailand, and my last chance to visit Ayutthaya. I couldn't afford any mistake. I just HAD to go to Ayutthaya.