when we first arrived at the Bangkok suvarnabhumi international airport, I was marveled by the vast difference it was from the rundown don muang airport. At that time though, we were in a rush to start exploring the city, eager travellers that we were, and didn't linger.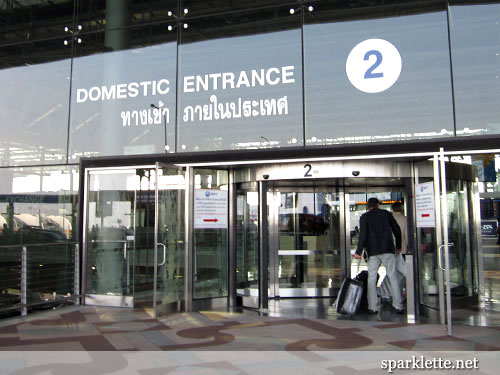 Now that we were leaving (boy, do 8 days whiz right past!), we got to spend a bit of time here and grab some quick bites before our flight. You know that feeling when you're waiting for your flight home after a vacation. It's kind of bittersweet.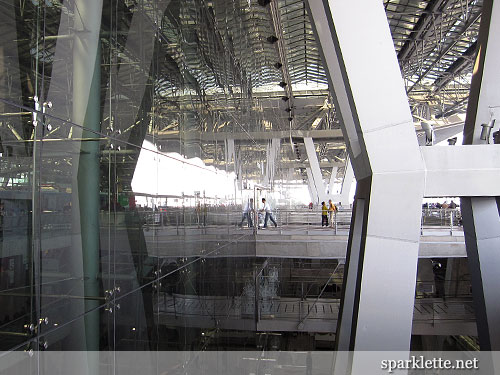 The airport is practically made out of glass, like our Changi T3!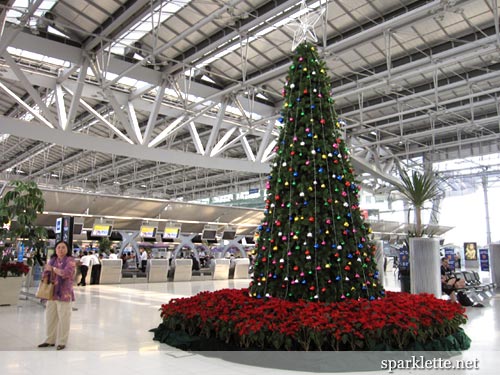 Even in mid January, Christmas trees are still abundant in the city of Bangkok. No one's complaining though. They are cheery :)
There is a whole row of nice restaurants at the terminal. But we didn't have much of a choice, left with pittance having spent all our money on shopping. Fortunately, we're in Bangkok! A couple of hundred baht can still buy a 3-course meal for two.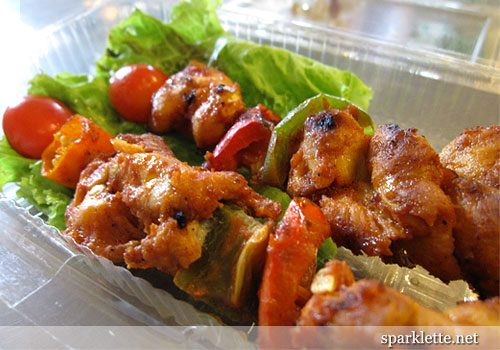 Starters: two skewers of chicken kebab. These were awesome! I sank my teeth into them, expecting to tear into dry and tough chicken flesh, and was surprised at how tender and succulent the meat was. Yummy!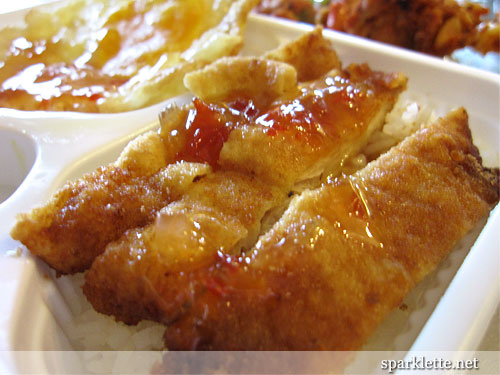 Main course: crispy chicken rice. The sweet chilli sauce was great.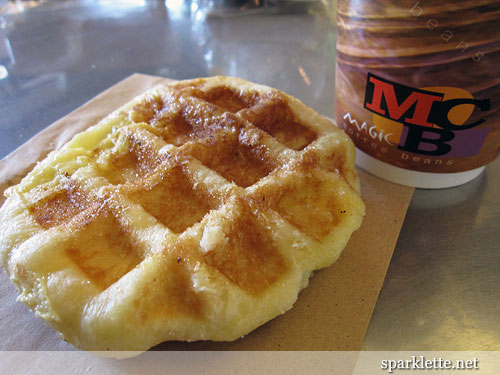 Dessert: a couple of vanilla cream waffles. Bonus drink: a piping hot cup of Blue Mountain coffee. And we're all set!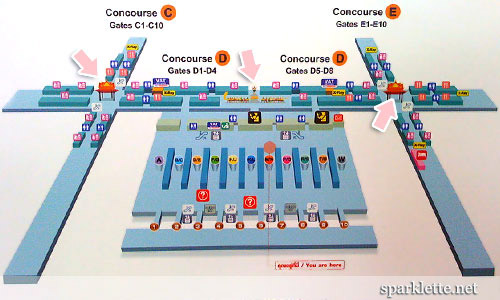 Looking at the map of the airport terminal, I noticed a few cute icons on the floor plan. Look where the pink arrows are pointing. One red pavilion on either side and what appears to be a dragonboat in the middle. How unusual! So we set out to find these.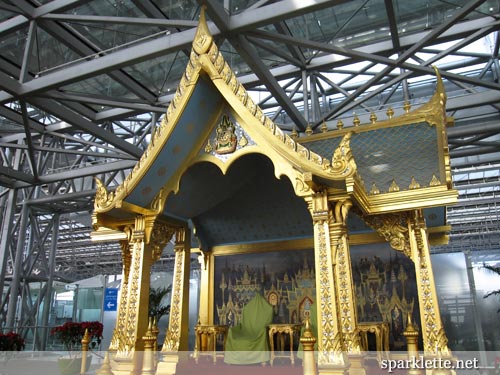 The first pavilion that we stumbled upon had a roof in blue and gold. Nope, this isn't the one from the map.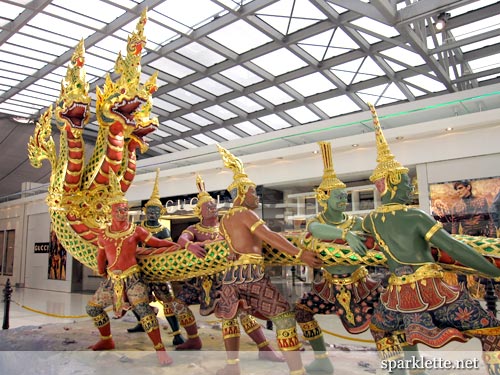 There's our dragon!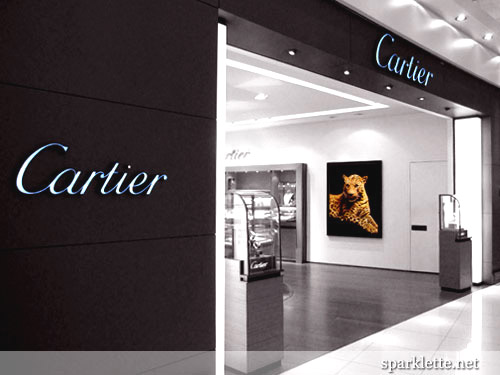 As with every major airport, the duty-free zone has designer boutiques like burberry, cartier and chanel.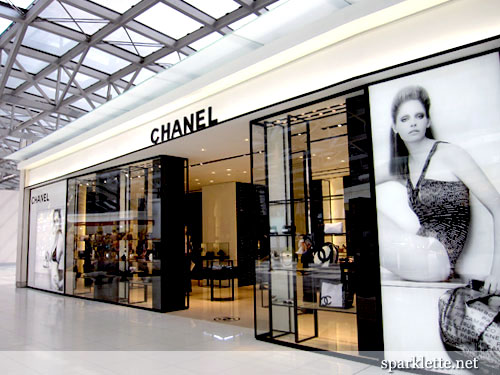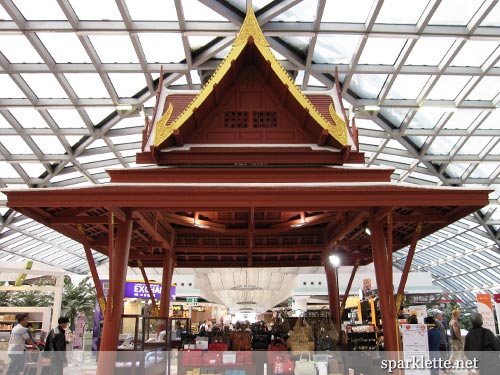 Ta-da! The red pavilion from the map! It's also a shop that sells stuff to the tourists.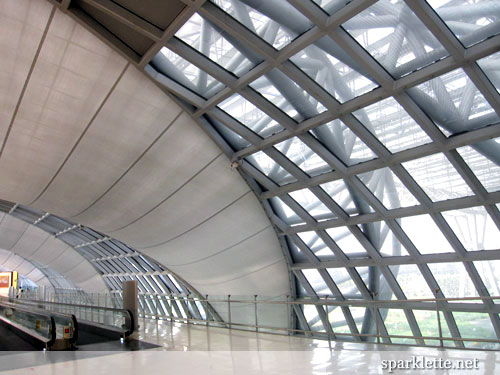 There's a certain futuristic and clinical feel to the airport. It seems pretty cold especially when few people are around. Or maybe I just felt sad to be leaving.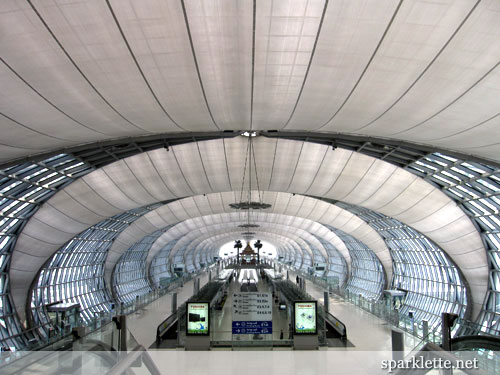 Notice the symmetrical arch-shaped design, a defining characteristic of the airport.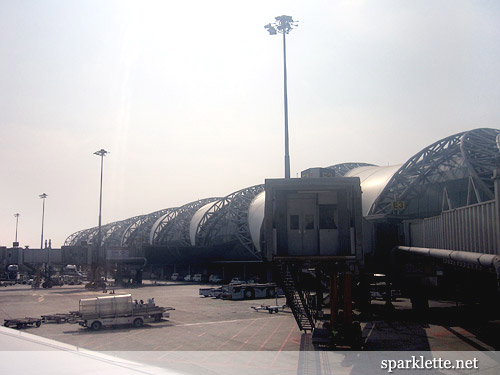 One last look at the airport from the plane. This is the only exterior shot that I managed to get that has most of the terminal in it. And thus began our flight back to the lion city. Home sweet home!