We had planned the entire day's activities down to a tee! In the day, we would explore the sights along the Chao Phraya River. At night, we would take a dinner cruise whilst admiring the city lights! Doesn't that sound wonderful?
The bustling river runs through Bangkok and several other cities, with river taxis providing an important mode of transport for both locals and tourists alike. After travelling around on taxis and skytrains for the past days, it was refreshing to be commuting on boats for a change :)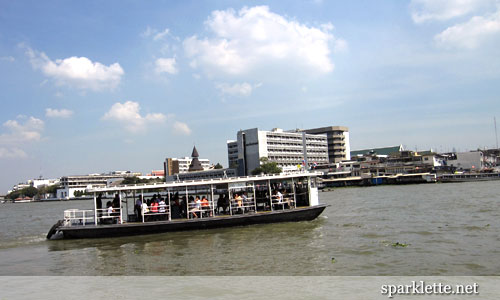 A few types of boats ply the river. This "airy" and open kind is probably the cheapest. A boat ride from one bank of the river to the other costs just 3 baht!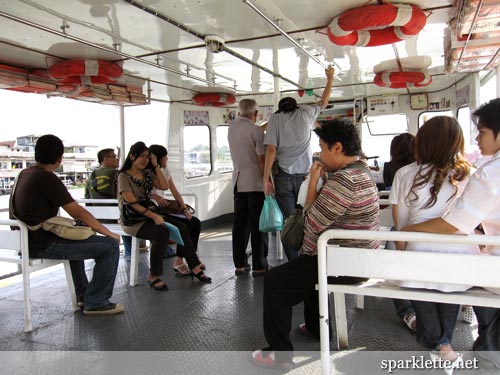 With very few seats on board, people usually end up standing around and holding on to the hand rails. It took us to our first destination of the day: Siriraj Hospital, the oldest hospital in Thailand.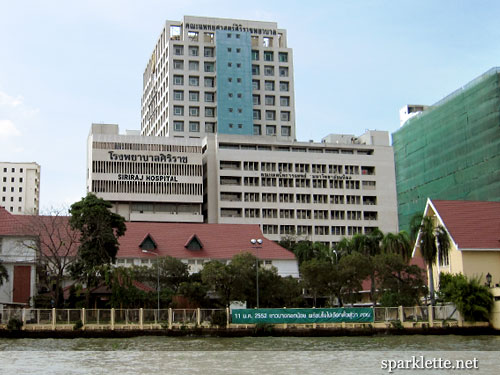 If you're wondering why the heck we're visiting an old hospital on our vacation, this particular hospital houses six small museums. The one we're looking for in particular is the forensic museum that showcases various states of human death with actual… Specimens. As far as curiosity goes, we were pretty psyched up about visiting the museum.
(For obvious reasons, photography isn't allowed here. I did manage to sneak a few photos with the intention of displaying them on this blog. Ultimately, I've decided not to. It makes me feel too uncomfortable.)
The exhibition area wasn't huge. Picture a large room with fluorescent lighting, row after row of glass cabinets with jars of preserved body parts and organs, and that very heavy and gloomy hospital atmosphere. The entrance corridor is lined with photos of people that died from hangings, being mashed in machinery, cut wrists, etc. It was all very depressing.
The saddest sight, though, has got to be the jars of dead babies and fetuses, including some very well-developed ones. One particular jar had an infant that died from drowning. We noticed that someone had left a couple of sweets by its side.
There is also an entire section dedicated to executed criminals (rapist murderers and the likes) with their mummified corpses.
Obviously, the experience wasn't a pleasant one, but I can't deny that it was an eyeopener. For those of you that are curious to see exactly what the exhibits look like, here's a 360 degree view within the exhibition.
Forensic Museum
Siriraj Hospital
2 Prannok Road
Bangkoknoi
Bangkok 10700
Thailand

Tel: +66 2419 7000 (ext. 6363/6440)
www.si.mahidol.ac.th
Nearest pier: Wang Lang
Opening hours: 9am – 4pm (Closed on Sundays)
Admission: 40 baht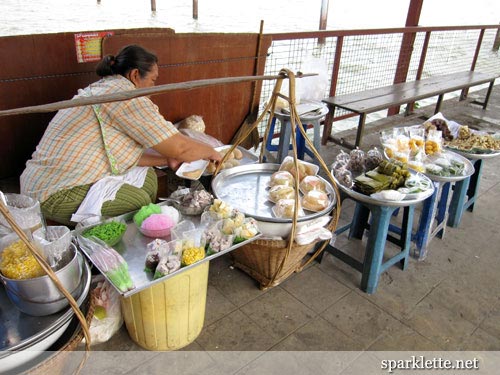 You would think that a visit like that would take the appetite out of anyone. But my stomach was rumbling after that. Street hawkers like this were aplenty, but it was at a cosy little restaurant where we had our meal.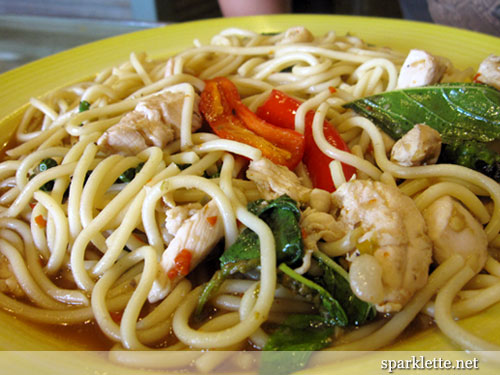 A colourful plate of chicken pasta!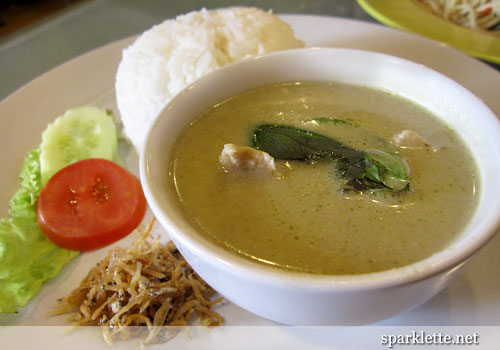 I'm a big fan of Thai green curry, although the only version I've had was from Lerk Thai. I thought the green curry in Thailand would probably taste different. It was actually very similar to Lerk Thai's. I guess Lerk Thai does serve authentic Thai food!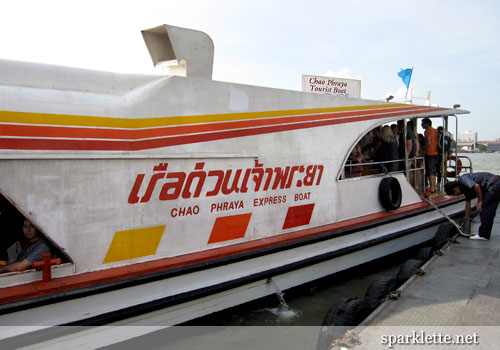 Our next destination was the beautiful temple of Wat Arun. This time round, we had to take a different type of river taxi, the Chao Phraya express boat.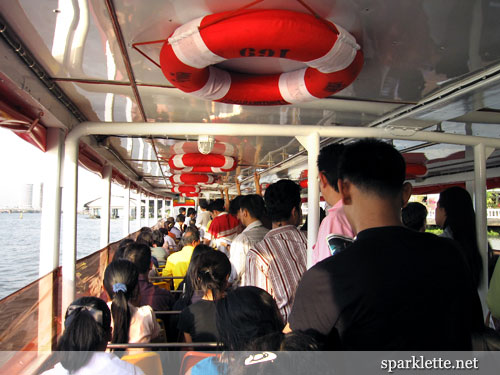 Look how crowded it is! The boat is much bigger than the one before and has more seats too.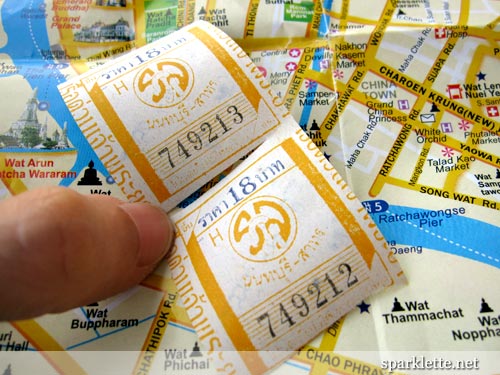 Even on a boat with passengers almost smashed together, there was someone going around to inspect everyone's ticket.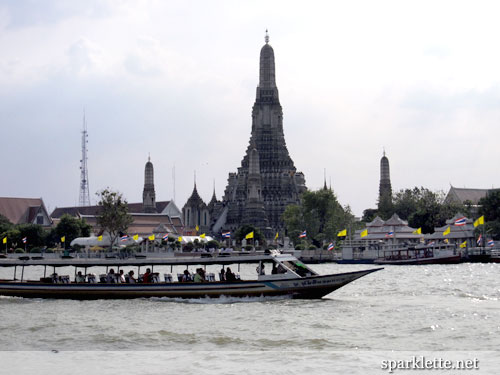 From the boat, we saw the silhouette of Wat Arun.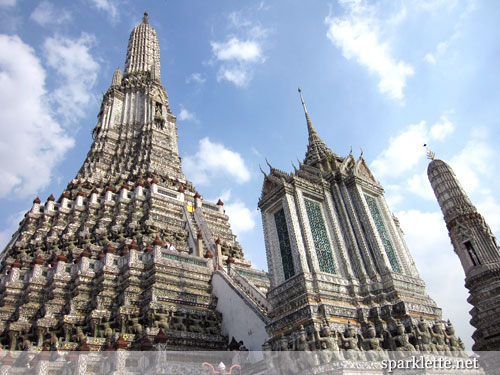 And finally, we arrived at the Temple of Dawn!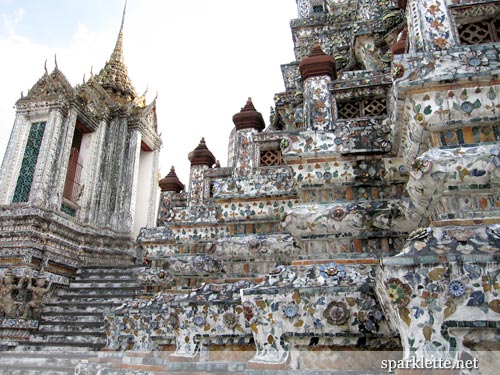 The prangs are decorated with thousands of multicoloured porcelain pieces and must have looked magnificent in the temple's heyday.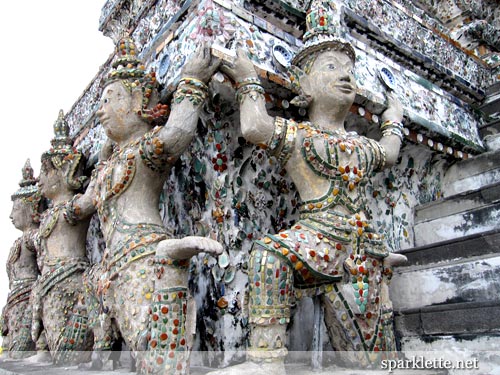 This was my second time to the temple. I made my first visit in 2005, though my memories of it are fuzzy at best.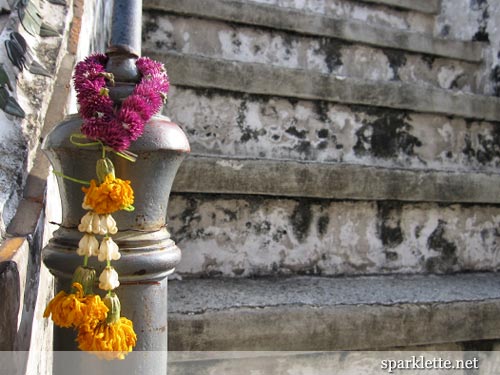 What I do remember vividly are the very steep and scary steps leading up the 80-meter-tall main prang. Not only are the steps narrow, with a width of less than 20 centimeters, each one is easily a foot tall! Aren't people shorter in the past? They must have had found those steps even more challenging!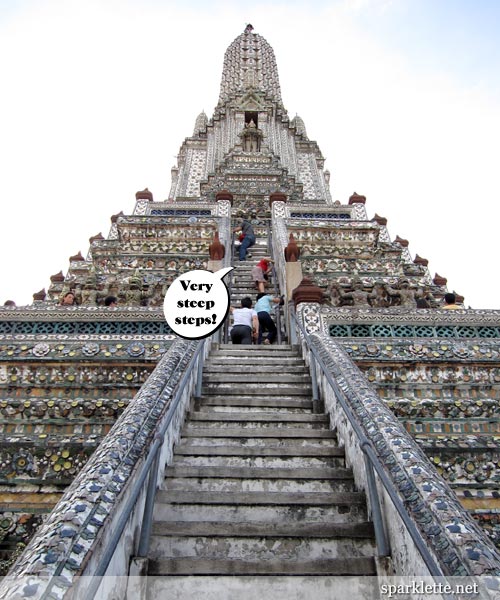 Just watch these people struggling up the stairs! I, for one, was terrified! A very narrow landing separates the two flights of stairs. So if anyone was unfortunate enough to trip over, he would probably tumble all the way down!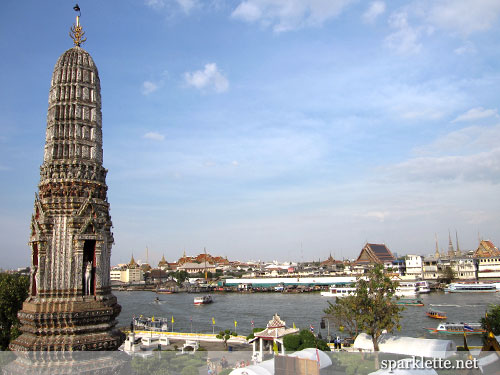 After braving those killer steps, we reached the balcony where we got a panoramic view of the Chao Phraya River and the surrounding sights. Can you spot the Grand Palace in the distance?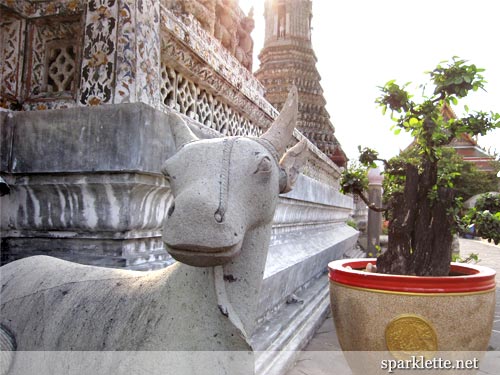 Well, that's it for the Temple of Dawn!
Wat Arun
34 Arun Amarin Road
Kwang Wat Arun, Khet
Bangkok Yai
Bangkok 10320
Thailand

www.watarun.org
Nearest pier: Tha Tien
Opening hours: 7:30am – 5:30pm daily
Admission: 50 baht
We made our way to the river once more to pamper ourselves with a sumptuous dinner on a cruise. That seems a perfect way to end the day, does it not?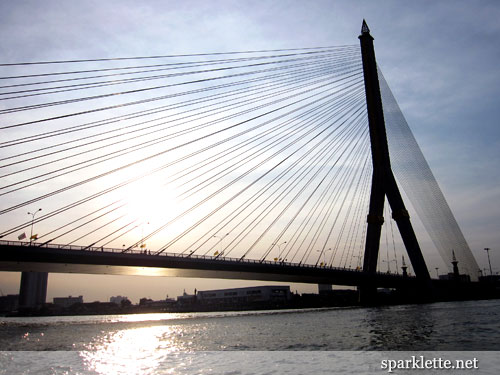 One advantage of cruising along the river is that you get to see many landmarks and bridges, such as the rama VIII bridge. This is a beautiful single tower asymmetrical cable-stayed bridge, easily my most favourite bridge at the Chao Phraya River.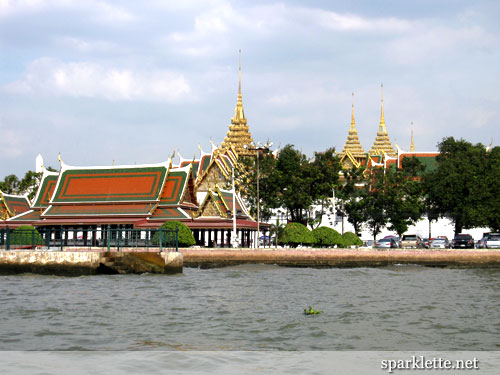 And that's the Grand Palace.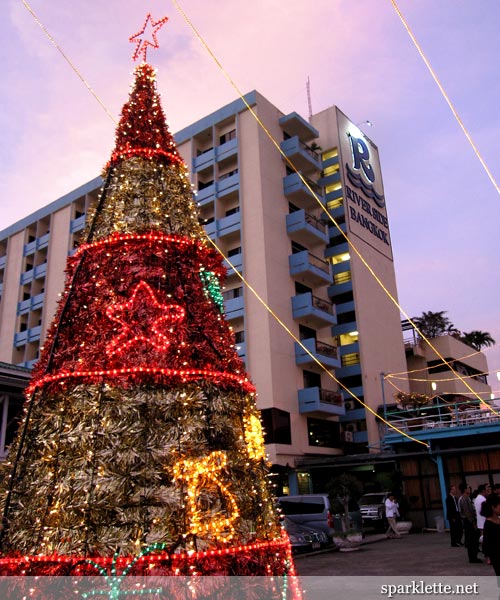 Of the many dinner cruises available, most are buffets that typically cost a bomb. We picked riverside Bangkok as they offer Thai/chinese ala carte dishes at very reasonable prices.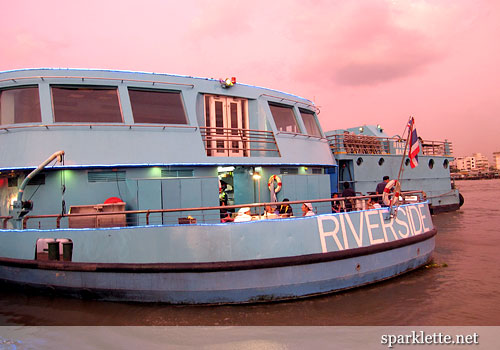 The cruise is a baby blue double-decker, possibly the biggest passenger boat on the river. It sails off at 8pm, making a trip up and down the river before disembarking at 10:30. That gives diners a nice 2.5 hours on board.
(and no, I did not digitally change the colour. The sky was really that gorgeous shade of pink!)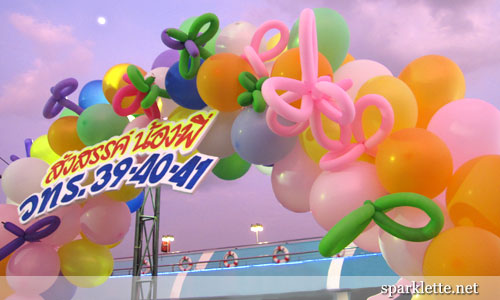 A colourful balloon arch welcomes people on board. At times the staff would offer to take pictures of passengers standing underneath those balloons.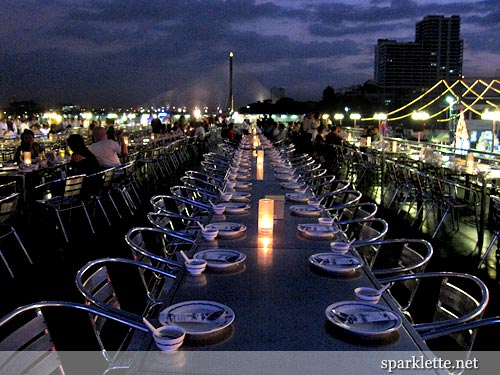 Both indoor and alfresco dining are available. Seats for the alfresco area are the first to run out so it's better to make your reservations fast! We neglected to make advance reservations and sat indoors instead.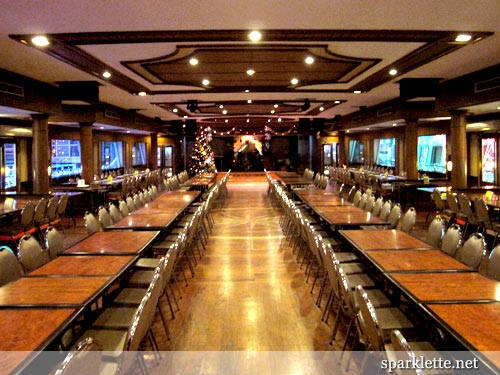 A live band entertains the diners on the stage, which transforms into a disco dance floor during the later part of the night.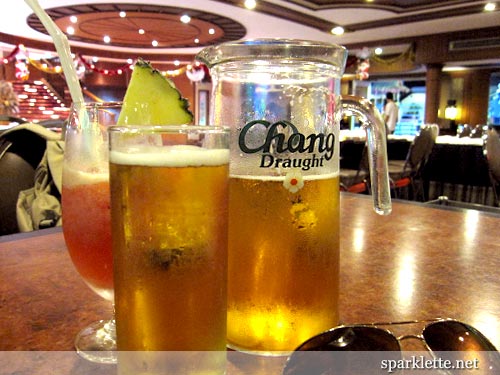 Our first chang beer!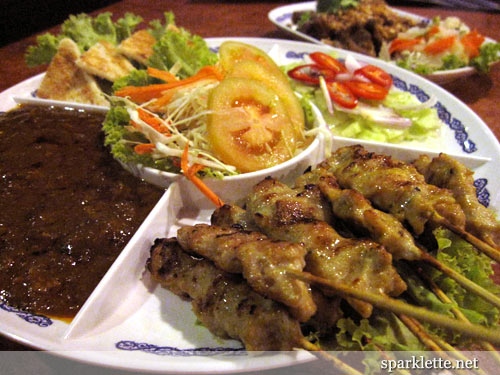 For starters, we ordered my favourite chicken satay. The gravy is quite similar to the satay peanut gravy in Singapore.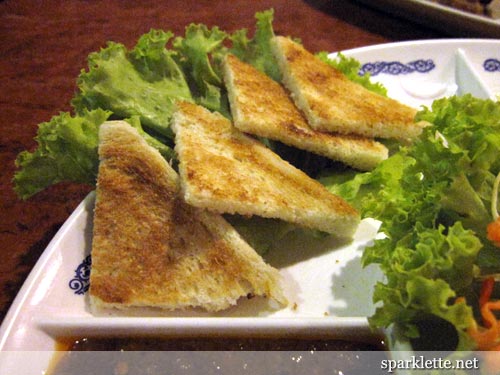 What's different is that slices of toasted bread are served instead of the lontong (rice cakes) that we are familiar with.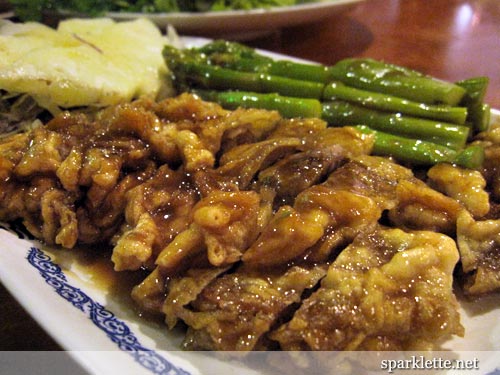 A surprise find on the extensive menu was the roasted duck in coffee sauce. It reminds me of the delicious coffee pork ribs at Tung Lok zhou's kitchen. Sure enough, there's the same delicious coffee aroma, although I would have enjoyed it better if it was chicken.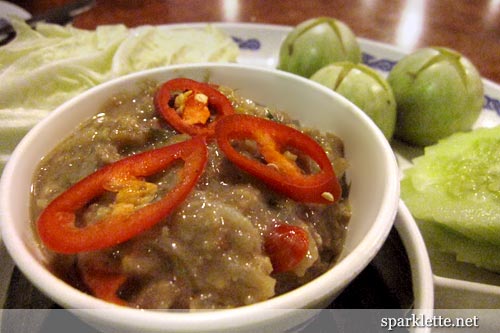 I thought the shrimp in coconut cream would be something like the one at mustard, where the prawns are served in a whole coconut. (coconuts are all over Bangkok!) I felt a tinge of disappointment when it came in a small bowl. Still, the shrimp tasted great – sweet and creamy with a touch of spice. Yum.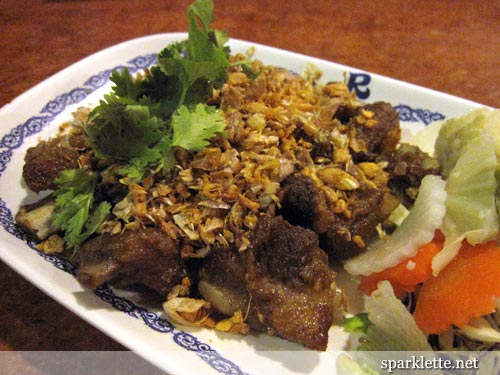 The fried pork ribs were dry and stiff – not good. It convinced me that ribs are never meant to be fried.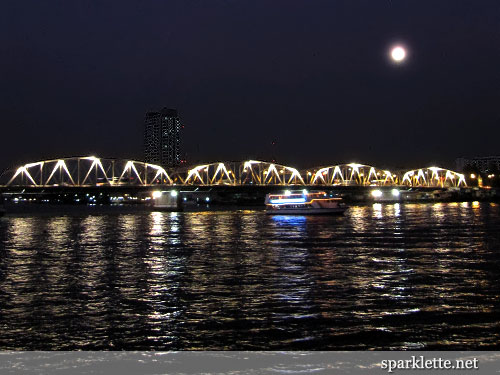 But anyhow, the main cool thing about being on a dinner cruise is that you get an ever-changing scenic view. You can stand by the railing and feel the breeze in your hair. You can even fly like jack and rose if you wish.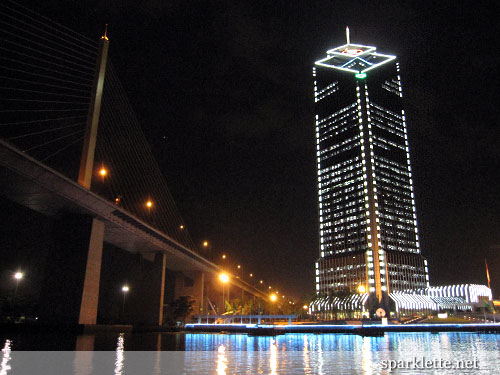 There are easily a dozen bridges stretching across the river banks, and each time the cruise passed underneath one, all on board would erupt in cheers just for the heck of it :)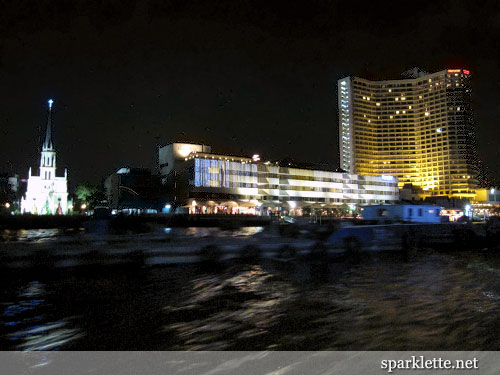 Bangkok is not exactly a dense skyscraper city. You don't really get to see the grandeur of a brightly lit skyline unlike other urban cities.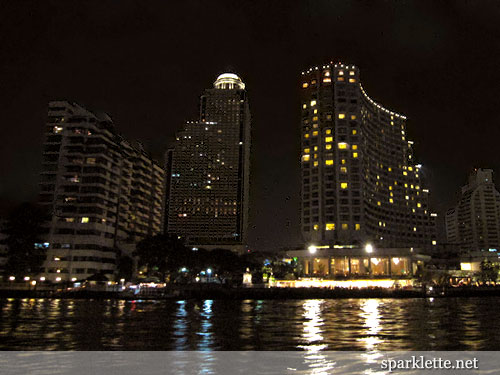 We did spot the golden dome of the state tower. It felt surreal to see it from so far away when we were just there the night before, having a couple of drinks at Sirocco the rooftop bar.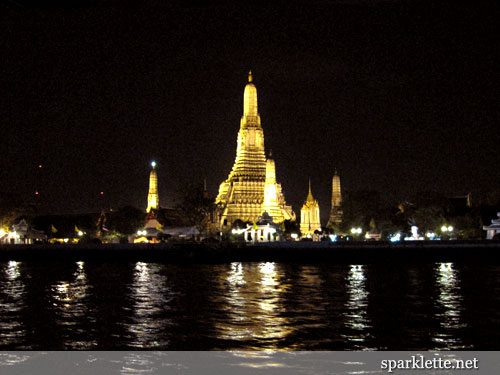 All sites for betting in Nigeria , you can find on the site greenbet.ng
That's the Temple of Dawn again. It looks magnificent even at night.
Riverside Bangkok
195 Ratchawithi Road
Bangkok 10700
Thailand

Tel: +66 2883 1588
Nearest pier: Krung Thon Bridge
Dinner hours: 8pm – 10:30pm
Admission: 120 baht
Once again, this was a thoroughly enjoyable and rewarding day. All the places we visited are on the West bank of the river. There was a mild scare when none of the taxis we flagged down were willing to take us back to our hotel in the main land of Bangkok and it was getting pretty late by then. But eventually one did agree. Phew!