Sa wat dii kha! I am blogging live from Chiang Mai, a former capital of Thailand. While I am not new to Thailand, having visited Bangkok several times,this is my first time in the largest city of northern Thailand.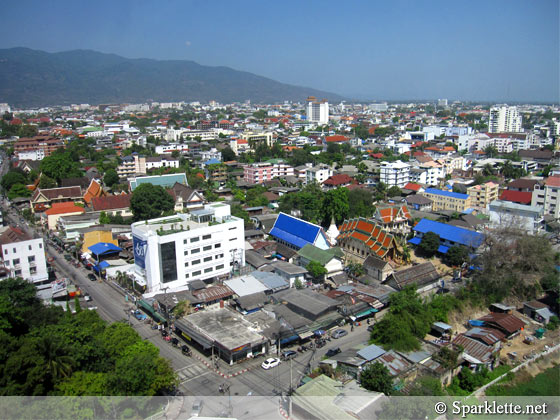 View from my 17th floor hotel room at Centara Duangtawan Hotel
This trip is sponsored by Lenovo. Thanks to the powerful Lenovo IdeaPad V470 laptop computer, I can quickly process all the photos that I have taken and write this post from Thailand. Over the next few days, you would get to see some of the interesting sights and eats within the city of Chiang Mai.
Getting internet access here is easy enough; many restaurants and cafés, even bars, provide free WiFi.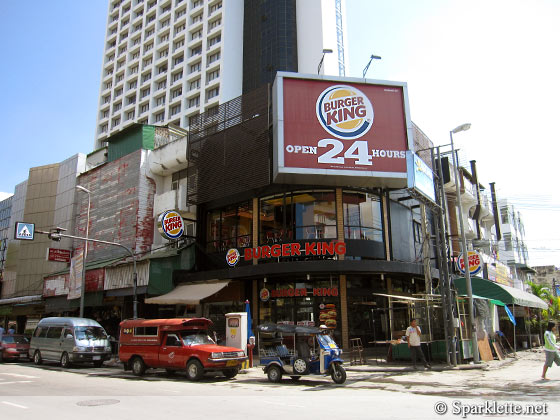 The air here is distinctly a few degrees cooler than in Bangkok. When you're walking along the streets before noon or late in the evening, it feels as though there's a perpetual gentle breeze blowing at you! It gets slightly chilly at night, too.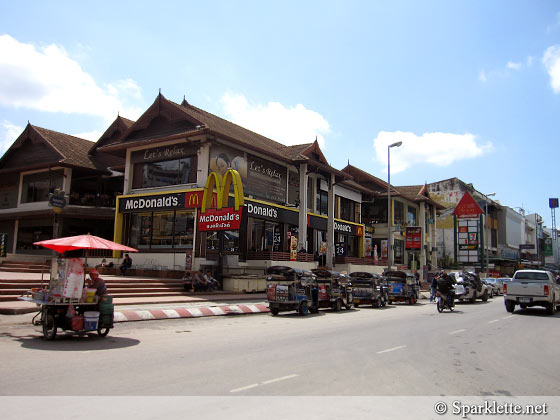 We are staying at the Centara Duangtawan Hotel, located at the popular Night Bazaar area. Every morning when we get out, we would pass by familiar brands like Burger King, McDonald's and Starbucks.
While many people find that the pace of life here is slower than bustling Bangkok, that's not necessarily true; just try crossing the road at any junction. Even if you're at a zebra crossing when the light is in your favour, you may find yourself having a hard time getting across with the traffic whizzing past and no one slowing down. Often, we have to make a mad dash and hope for the best.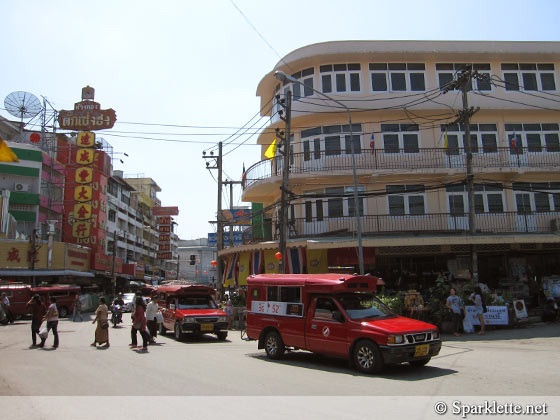 Tuk-tuks are a common mode of transportation around here, and so is the songthaeaw, or what the locals refer to as the "red cab". This is a modified pick-up truck with a roof and two rows of seats at the back.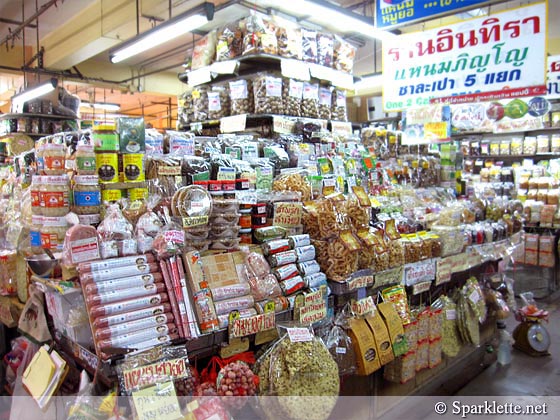 Located near the Night Bazaar is the Warorot Market, an indoor marketplace with stalls closely packed together. Many local produce can be bought at a bargain here, but it's certainly not as colourful or eclectic as the Sunday Walking Street Market or Night Bazaar.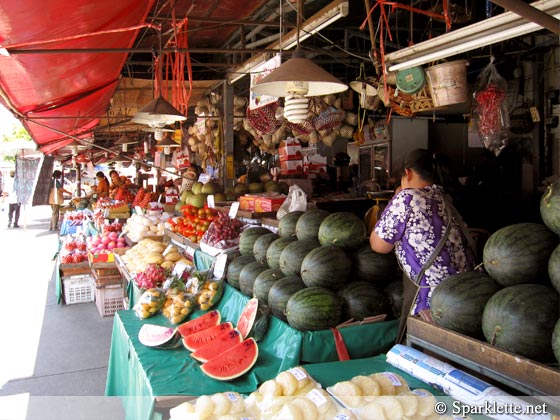 Stalls along the streets sell fruits at rock-bottom prices. Now, here's an interesting one: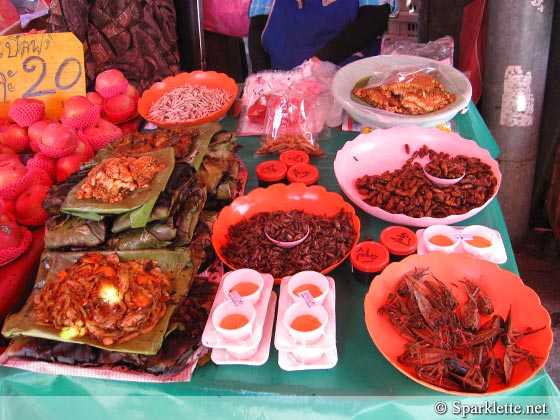 See what these are? Try not to barf.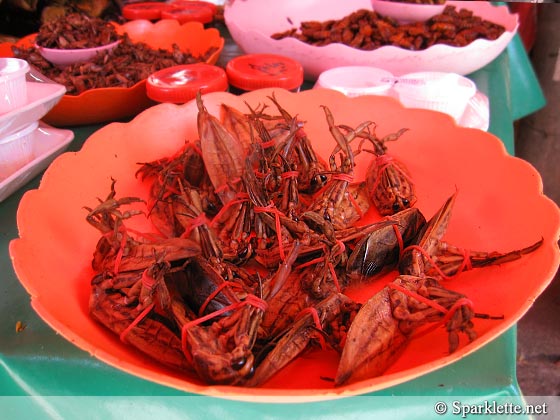 I've seen street vendors selling fried insects in Bangkok. But it's the first time I'm seeing bugs this big. Look at the size of those grasshoppers (or are they praying mantises)! There would be no food review, all right? I had a hard time just getting close to take a picture! There were even flies hovering over these dead, crispy insects.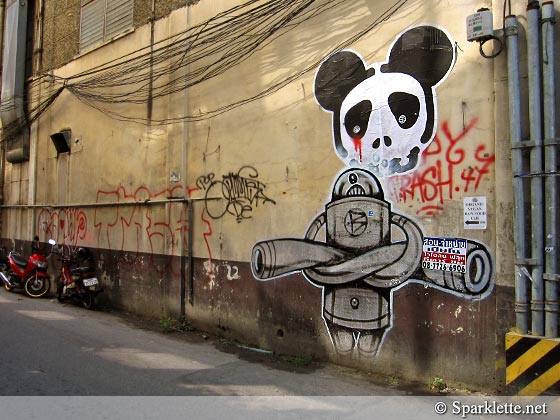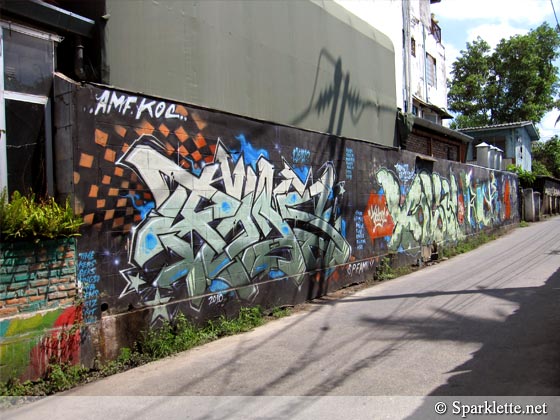 Sometimes, colourful graffiti can be seen on the walls along the soi (small side streets).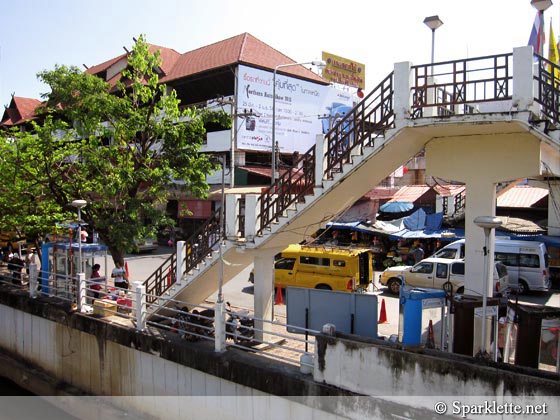 The Mae Ping River is one of the two main contributary streams of Chao Phraya River which runs through Bangkok.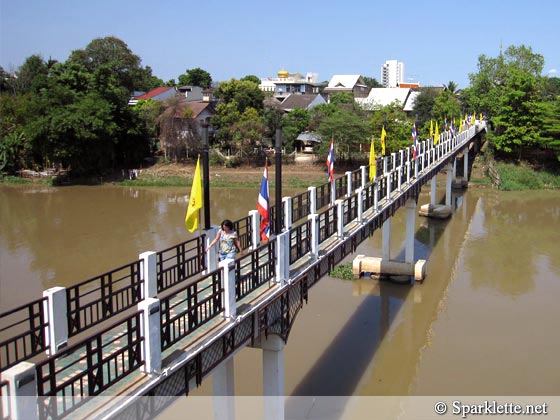 Several bridges are built across Ping River, so vehicles and pedestrians can easily get across. The riverbanks are lined by many restaurants and bars, and the occasional sight of people fishing from the murky water.
That's all for now for a quick introduction to the typical street scenes in Chiang Mai. Excuse me as I head out to the Sunday Walking Street Market. Do check back here soon for more scenes and food reviews from the cultural city of Chiang Mai!
Have Your Say!
What are the must-see places and restaurants in Chiang Mai? Let us know in the comments!