Ah… The Dallas trip. That's my maiden visit to the land of opportunity and I'm one hundred percent sure it wouldn't be my last. I loved almost everything about the place! The people! The stores! The buildings! The TV channels! The weather! And best of all, the food! I'm pretty convinced you can't find any food there that doesn't taste good. At least, we didn't find any.
But the flight halfway across the globe sure wasn't an easy one. We had to take a seven-hour flight to Tokyo before making a thirteen-hour connecting flight from there. That was a killer! Unless you could afford business class seats of course.
Compared to American airlines, the Japan airlines flight was a joyride. The service was great, the movies were interesting, and the food was simply awesome!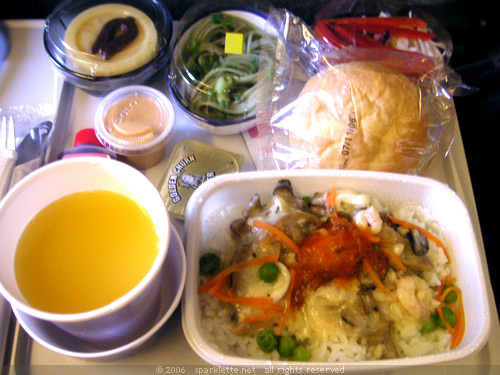 Lunch was seafood ragout with steamed rice, which was delicious. Best of all, it came with some sort of a metal heater to ensure that the food remained warm throughout. Whoa! That's real thoughtful of them!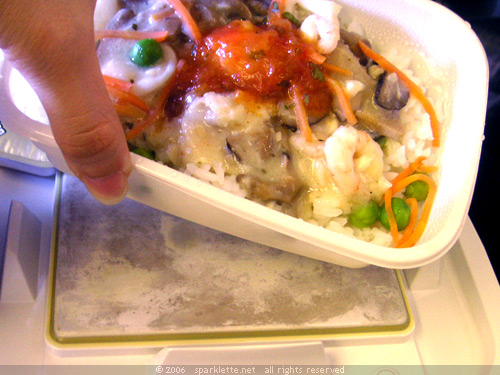 Even the sugar and creamer that came with the coffee were packaged together very nicely. That's Japan airlines for ya. The Japanese certainly pay a lot of attention to detail!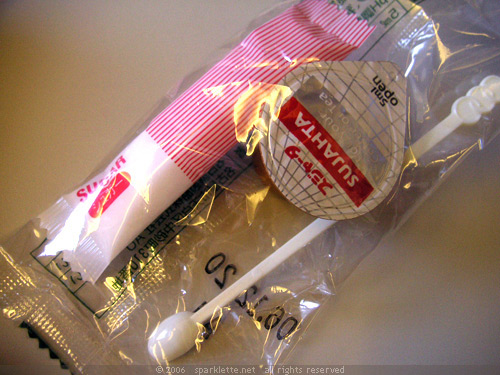 I slept for most of the flight until we were reaching Tokyo. That's when we saw the tip of Mount Fuji peeking through the cloak of clouds! Guess what? From now on I can actually tell people that I've seen Mount Fuji! What a bonus!
At the Tokyo narita international airport, we had to wait a couple of hours to make our connecting flight. There was some time to check out the airport and we spotted a number of interesting vending machines.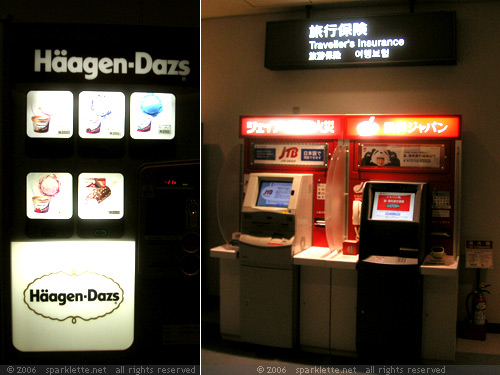 Häagen-dazs ice cream, anyone? And travellers' insurance from a machine! That's something new! Since we were in Japan, we definitely had to get a taste of some authentic Japanese food even for the very brief period that we were there.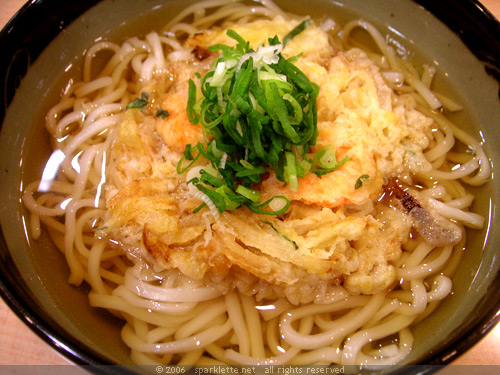 My tempura shrimp udon came in a huge bowl with a really generous serving. The udon was the silkiest and smoothest I ever had – it simply slid down the throat! As I slurped it down greedily, I made a mental note that I'm not going to eat any udon in Singapore anymore.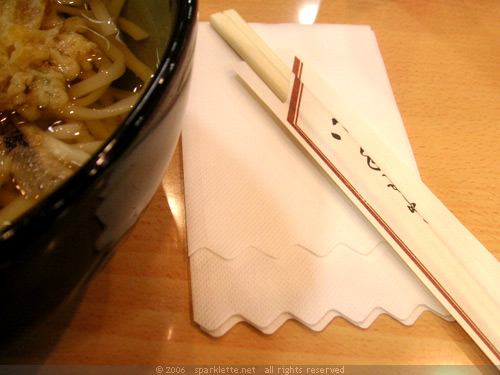 Here's another sign that the Japanese love their things pretty. Even the paper napkins had been cut in a nice zig-zag pattern!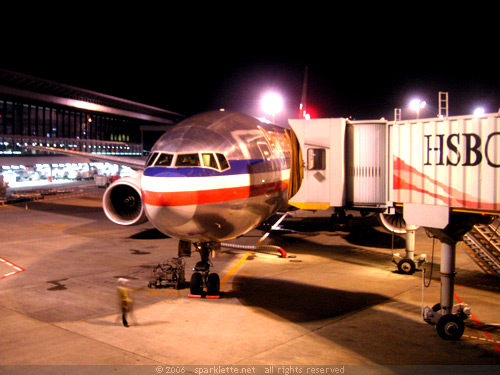 Finally, it's time for the most dreadful flight of a lifetime. Don't get me wrong. I'm so grateful for the opportunity to go to America. But the truth can't be denied – American airlines is horrible! The thirteen-hour flight was a really uncomfortable one with the cramped seats, arranged 2-5-2 so they looked like this:
…
Xx xxxxx xx
Xx xxxxx xx
Xx xxxox xx
Xx xxxxx xx
Xx xxxxx xx
…
With me in the "o". There's barely any leg space and it makes me wonder how an average American can fit in there when Asians already have much difficulty. The poor in-flight service didn't make the flight any more pleasant. Flight attendants were aged 40 and above and looked as though they would rather be some place else. Food and beverages were served grudgingly, and I didn't notice a single smile throughout the entire thirteen-hour flight. Chiara Caselli nudebase.com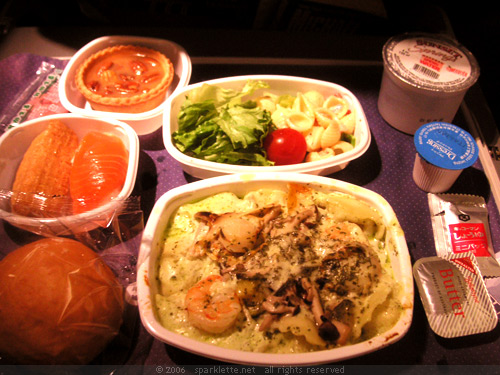 Thankfully the food was decent. I barely slept though, and got really restless at one point. Then I realised I was missing a bear companion. When travelling abroad I always carried a good luck charm in the form of a bear. So I flipped through the in-flight catalogue and got myself a cuddly buckaroo teddy bear! Yay!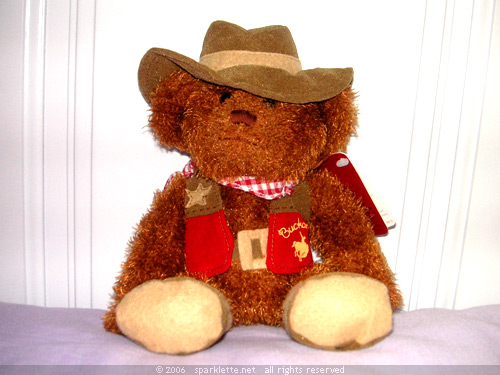 Eventually, we reached Dallas, got the rental car and made our way to the hotel. I thought the flight would never end! It felt like an eternity! Argh!!!
The first thing I noticed about Dallas was of course the cold weather. And the roads, they were wide. It seemed as though everyone owned a car because I rarely saw any cabs or buses on the roads. At one point we even spotted a couple of people in their car wearing cowboy hats! This was Texas after all!
Neon signs and advertisement boards lined either side of the roads, and there were the familiar McDonald's restaurants and target department stores that I only heard of in TV shows.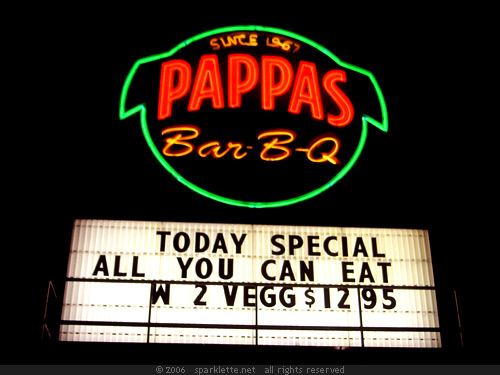 We had barbeque at a restaurant called pappas bar-b-q, since 1967! I absolutely loved the bright neon sign and the huge white signboard that had the daily specials. Do they have someone climbing up ladders to change the words everyday?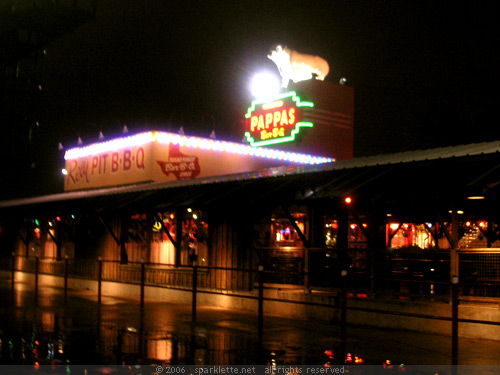 Loved the huge cow too! Do you see it?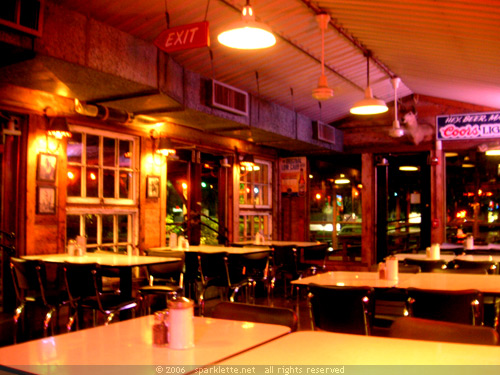 The restaurant was very spacious and the style seemed very classic-texan. In fact I wouldn't be surprised if I spotted any cowboys having their dinner there!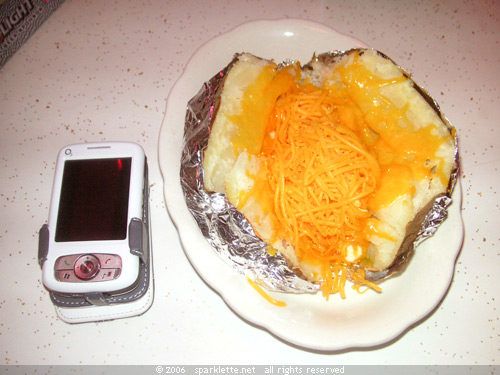 The set meal I ordered consisted of barbecued chicken with potato on the side. I thought it would be whipped potato that comes in one of those little cups, but the potato serving was gargantuan! See how it compares with my phone? It could BE a whole meal on its own! And it was delicious! The guy recommended having cheese on top and it was real good. The Americans really know how to enjoy their food! We took a quick glance around the place and noticed we were the skinniest people around.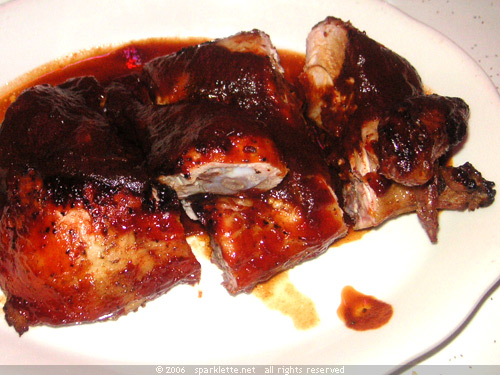 The barbecued chicken was simply awesome! I have no idea how they did it but the sauce was too damn good! I had never tasted anything that even came close! Argh! Take me back to America, please! I wanna have hiro's teleportation powers! (if you watch nbc's latest TV series, heroes, you would know what I'm rambling about. This new series trumps lost any day.)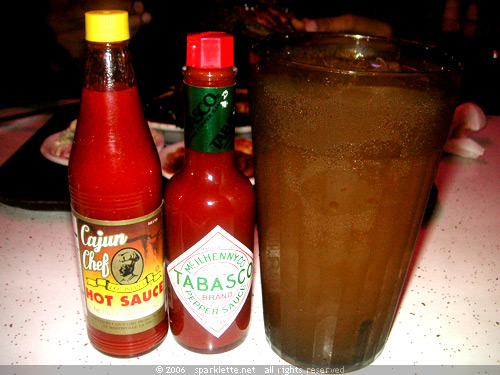 Here's another testament to the generous food portions served in America. The pink lemonade drink that I ordered came in a glass that's as tall as a regular ketchup bottle! I was shocked! It was a regular-sized drink I had, but it's already bigger than the large-sized drinks we have in Singapore! I wonder how a large-sized drink would look like in America.
Back at the hotel, I checked out their vending machine. Something caught my attention. Ding dongs! I read (or heard) about this American snack so many times before but had no idea what it was like! Of course I had to try it for myself.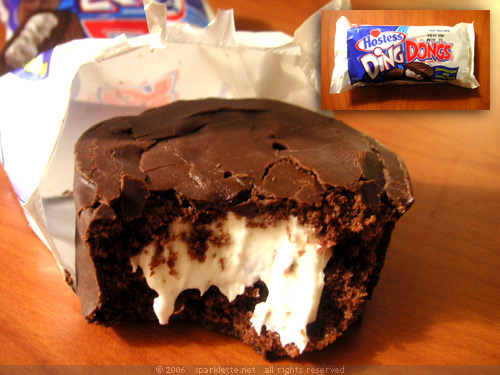 The ding dongs came in a packet of two. Each one was round, about three inches across and one inch in height. It is basically a chocolate cake with white cream oozing out when you bite into it. Mmm… Yummy! Even something that came out of a vending machine could taste so good!
And that was the first night in Dallas. The TV channels at the hotel were great. It meant I could watch shows like Prison Break, lost, South park, heroes, the amazing race first-hand without having to wait a day to download them off the web. Awesome!