If you are planning a trip to Yilan in Taiwan, here are a few minsu (homestays) that you will want to spend a night at.
There are thousands of minsu in Yilan County alone. During our visit to Yilan, the Taiwan Tourism Board arranged for us to stay in a few minsu, each with its own unique theme and flavour. You will soon see why we recommend these minsu; they are filled with cats, hot springs and even an African safari theme!
We found these Yilan minsu on Qiito, which is soon launching a minsu booking service that you can use to conveniently book your accommodation online.
Zheng Hua Geramics Hotsprings
Fans of the iconic hot springs in Yilan County would have a field day at Zheng Hua Geramics Hotsprings minsu. Located in Jiaoxi Township, this minsu boasts of guest rooms with individual hot spring baths!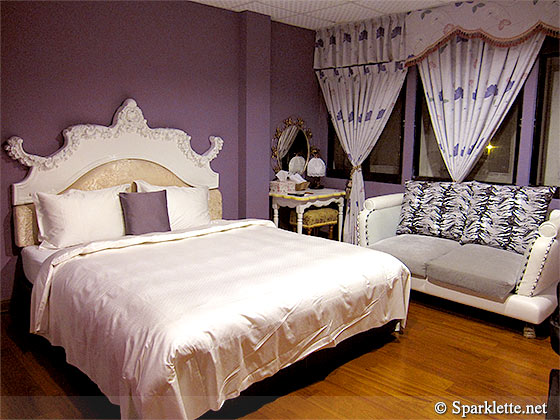 The family that runs the minsu are craftsmen and artists in their own right. You will see their creations in the form of wood carvings and paintings on the walls. Our purple-themed room, for instance, has a beautiful bed with a headboard that is hand-crafted by the father.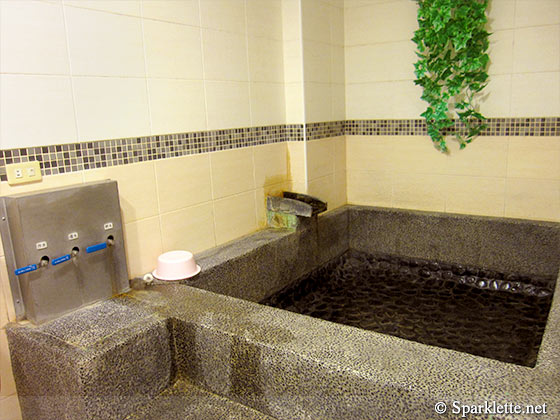 The real gem of the room, however, lies in the bathroom. In place of the usual bathtub is a large hot spring bath, with natural spring water piped up three storeys from the ground! Have fun indulging in a hot spring dip from the privacy of your own room.
As for breakfast, it is a simple affair of congee with side dishes such as egg, fish floss and various home-grown vegetables all prepared by the lady boss herself. We soon find that congee is a common breakfast fare here.
Ilancat Country House
Once you have spent a night at Ilancat Country House, you may find it hard to say goodbye to the furry pals here. This minsu is home to four adorable cats and one tiny chihuahua!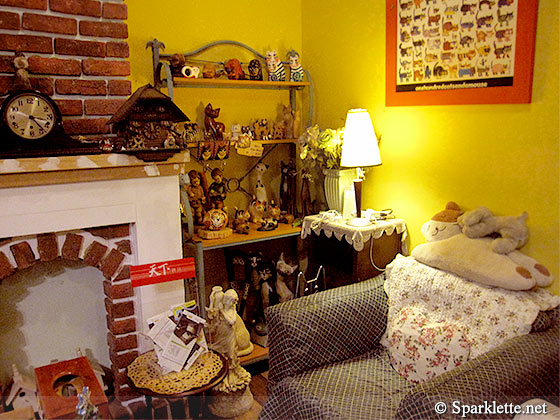 The couple behind the minsu are huge cat lovers, evident from the large number of cat-themed ornaments and posters decorating the living room, stairway and guest rooms.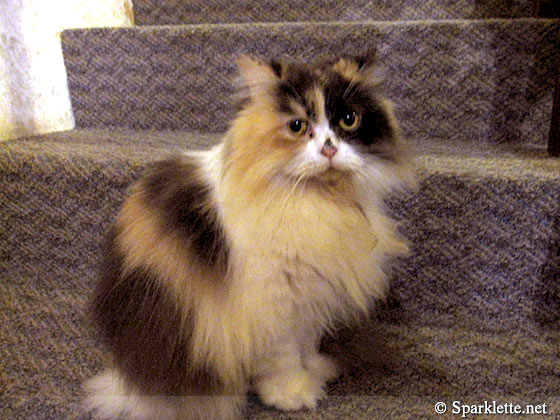 Our favourite feline friend is Huahua, a gorgeous long-haired calico cat with fiery orange eyes. She is the most affectionate kitty I have ever seen! When we returned to the minsu after a night of shopping at Luodong Night Market, she greeted us at the door and practically followed us right into our room!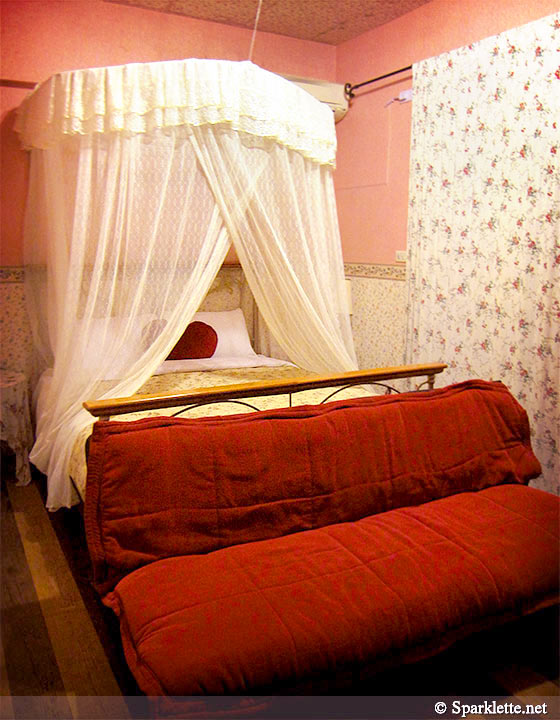 Our Princess double room has a pretty canopy bed, and is equipped with its own balcony, toilet, separate shower room and heating unit for winter. Oh, there's free Wi-Fi internet connectivity here too.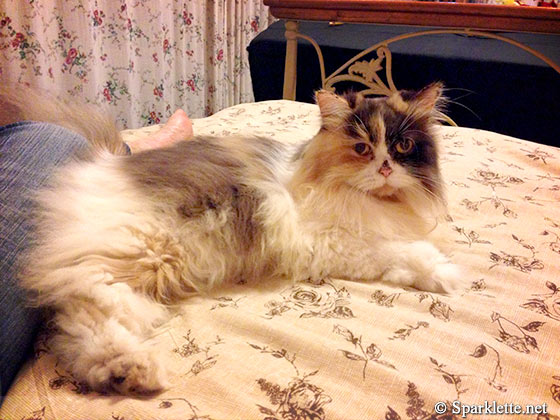 As for Huahua, she spent the entire night sleeping on our sofa after a fair bit of cuddling and kitty massage therapy. (She woke me up at 7am the next morning by climbing into bed and tapping my face with her paw!)
This is the first time we've had a cat, or any animal for that matter, spend a night with us in our accommodation. Oh, how we adore her so!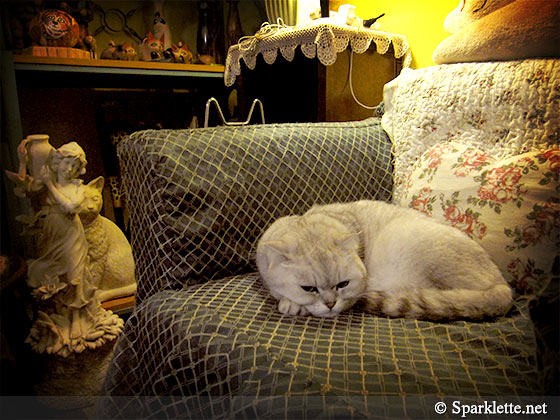 Also meet the Scottish Fold kitty! She doesn't look very impressed does she? The two other kitties at Ilancat Country House are a mother and daughter duo of black Persians.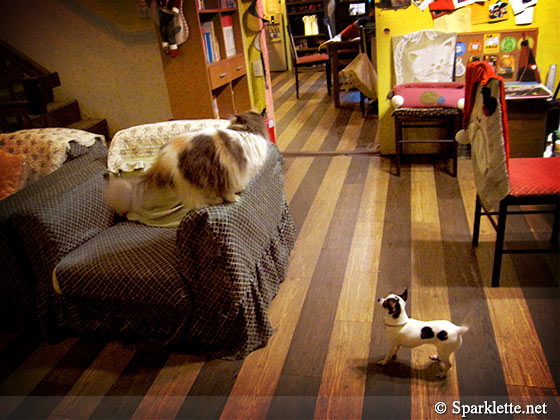 Amongst the cats, Huahua seems to be the only one that enjoys chasing around and playing with the lone dog, Xiaoshan. This playful chihuahua is always scurrying around the living room.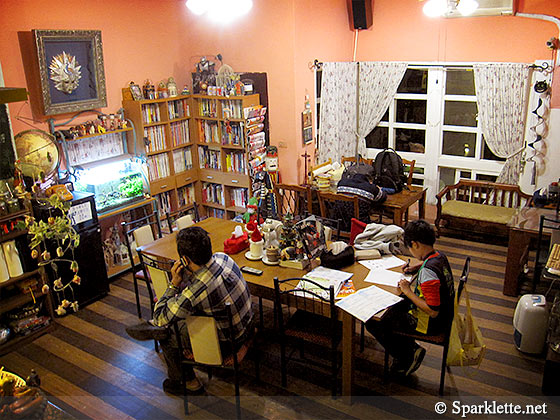 Breakfast at the common area is done western style, with fresh greens, toast, beans and egg.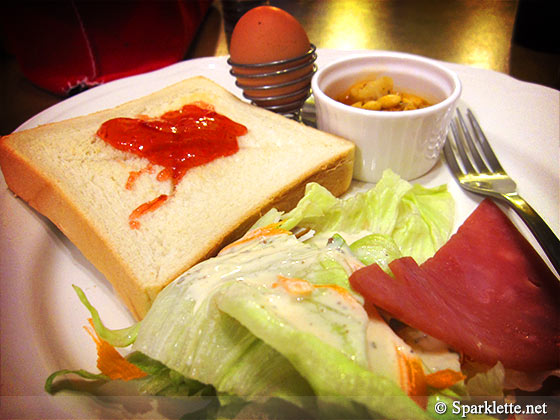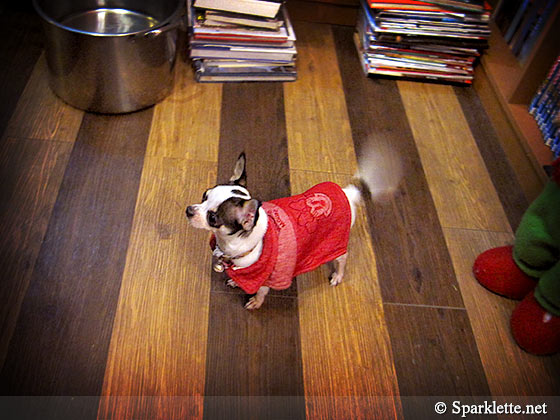 Here's Xiaoshan begging us for a piece of our breakfast… and a photo.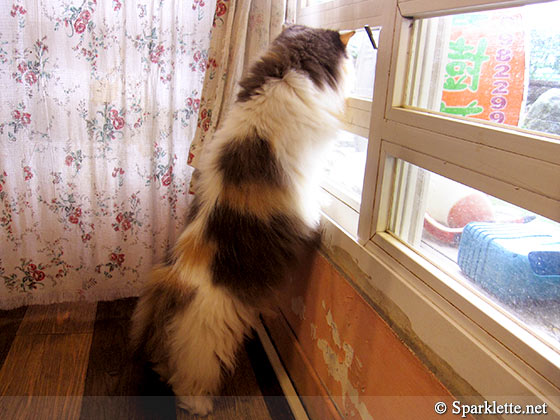 A final goodbye to Huahua before we left.
Ilancat Country House is the perfect homestay for animal lovers. What you will get is a truly memorable night at a highly affordable rate. With so many furry companions, there's never a dull moment! On my next trip to Yilan, I'm definitely staying here again.
The Dew
The most homely, cosy and lavish minsu stay we experienced in Yilan is The Dew. The guest rooms in this homestay are named after the family members who had grown up in these rooms themselves.
If you can afford to splurge a little, go for one of the villas.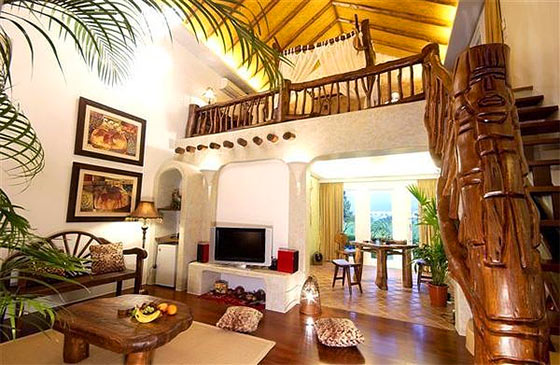 The South Star villa is an African-themed two-storey house. It's certainly built to impressed; the moment we stepped into the villa, we could not help but ooh and ahh!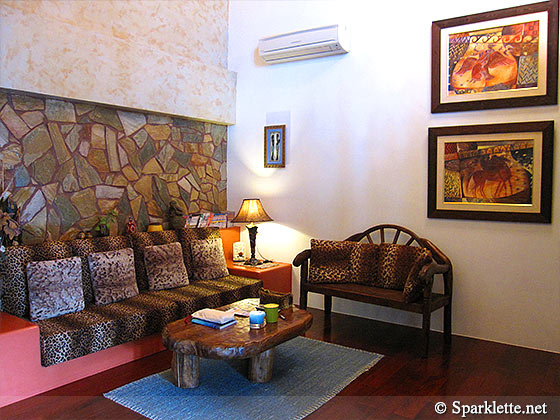 For a moment there, we forgot we're in Yilan and thought we had been transported to a totally different place on earth!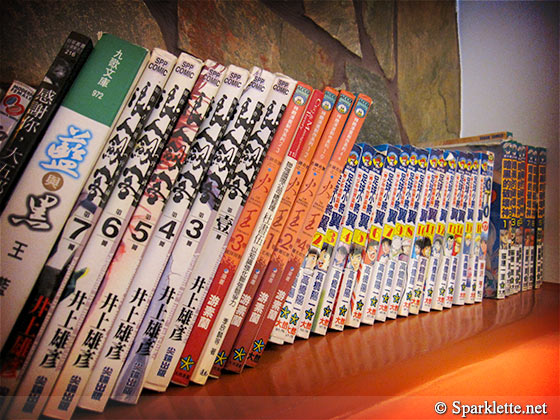 Small touches of detail can be spotted around the villa, from the comic books in the safari-themed living room, to the personal handwritten note for guests.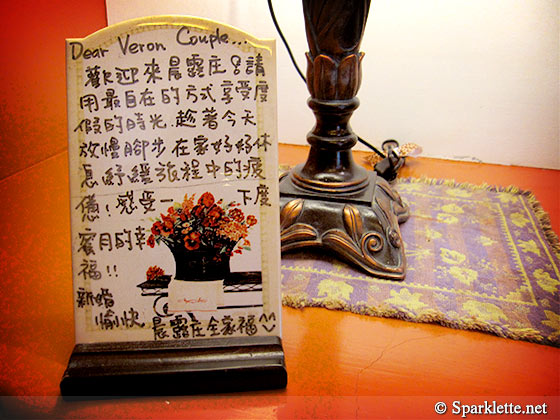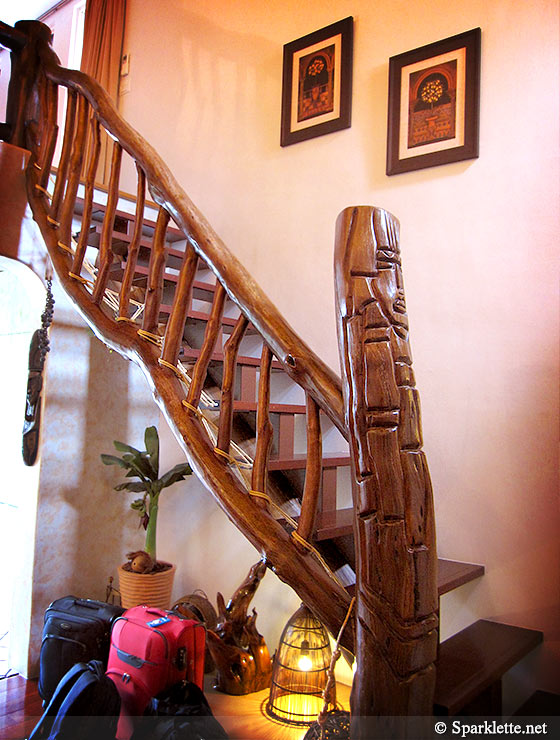 The wooden furniture in the villa are truly one-of-a-kind. This sturdy wooden staircase decorated with a totem, as well as the four-poster canopy bed on the second floor are simply breathtaking!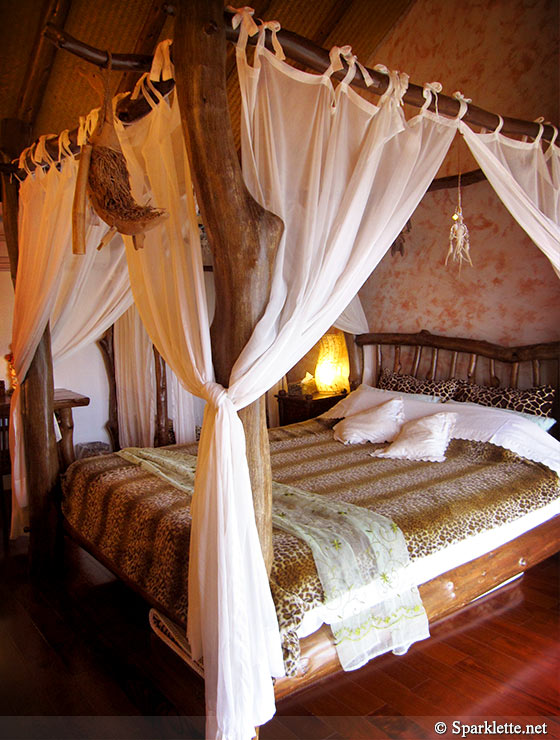 How would you like to sleep in this bed? I was so enamoured that I had to find out where it was bought from. As it turns out, the lady boss had it custom-designed and built.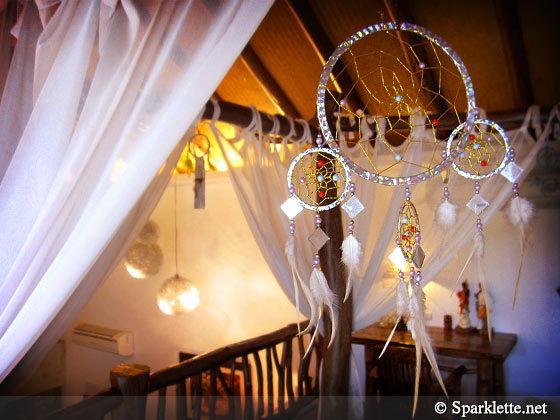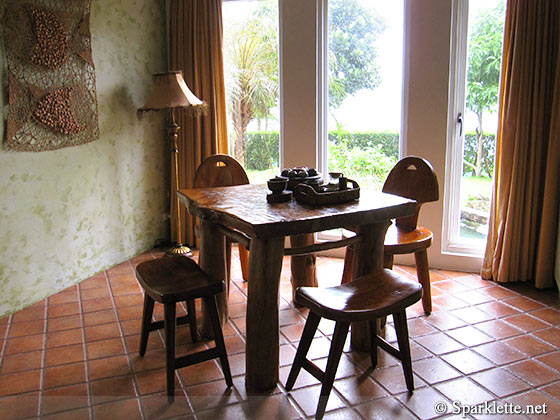 For tea drinkers, the villa is equipped with a tea table with tea-brewing equipment on the spacious first floor. The glass doors open up to a small private garden.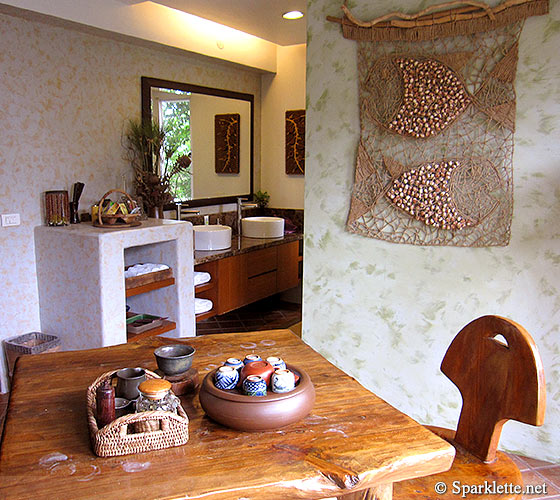 We also noticed that the bathroom amenities provided are high-quality organic products with no toxic chemicals.
Here's the video we recorded around the South Star villa. Take a quick virtual tour and prepared to be wowed!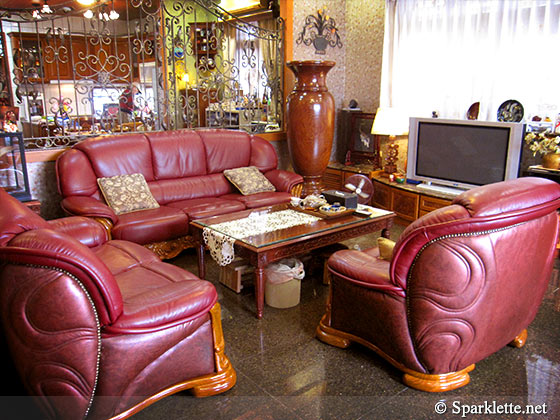 At The Dew, you can mingle with other guests at the common area. The kind owners also generously invited us to sit down for a drink and chat here.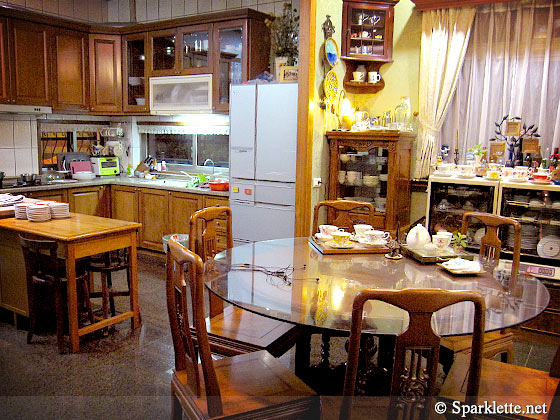 Just wait till you see what a breakfast meal here is like!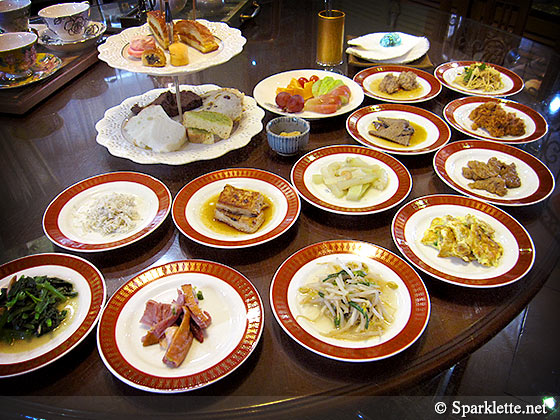 Ta-da! For villa guests, this is the congee breakfast for two with numerous side dishes!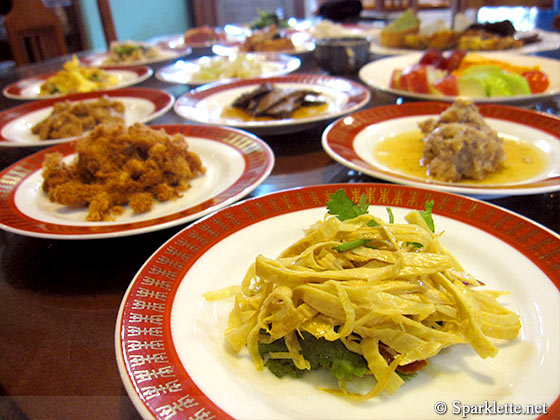 And if you think that is all, there are western style breads and cakes too!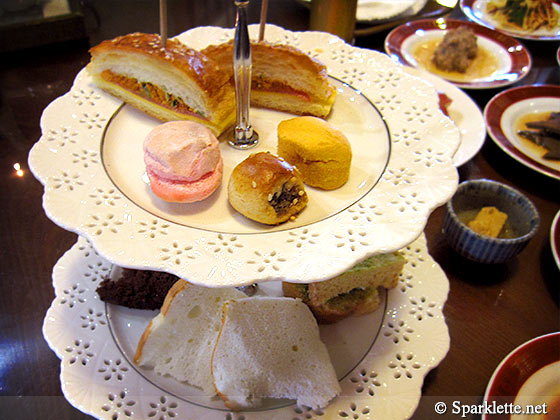 All thanks to the wonderful hospitality displayed by the thoughtful owners, the stay at The Dew has been so comfortable that once you have settled down, you will not want to leave. The villa is well worth its price and just plain awesome. Highly recommended!
Hope you find these minsu recommendations in Yilan useful!
Have Your Say!
What are your experiences with the minsu homestays in Taiwan? Share all your thoughts via Facebook or Twitter or by leaving a comment!