In Taiwan, night markets are popular spots for both locals and foreign visitors alike. In Yilan County, there are two night markets, the bigger and more popular one being Luodong Night Market.
Luodong Night Market is also highly recommended by the travellers at Qiito, so we know we just have to check it out. It did not disappoint and we ended up spending three consecutive nights here, soaking in the atmosphere and trying as much delicious food as we could!
Join us on this virtual food tour of Luodong Night Market to see what the various hits and misses are, the must-tries and what to avoid!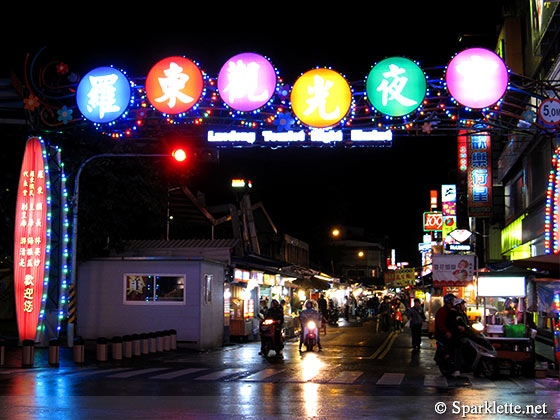 Sprawled around Zhongshan Park, Luodong Night Market is surrounded by Minsheng Road, Gongyuan Road, Minquan Road, and Xingdong Road.
Other than food stalls that ply their trade from 6pm each evening, there are game stalls and general merchandise stalls selling clothing and toys.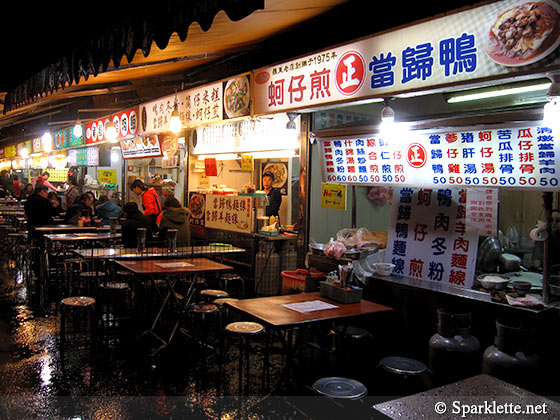 Angelica mutton soup
If you ask amongst the locals or look in travel guidebooks, you will soon learn that one must-try dish at Luodong Night Market is the angelica mutton soup. While there are a number of stalls selling this dish, it's not hard to notice that one particular stall – number 1094 – steals the limelight. Even in the winter rain, people are willing to wait in long lines for their favourite soup.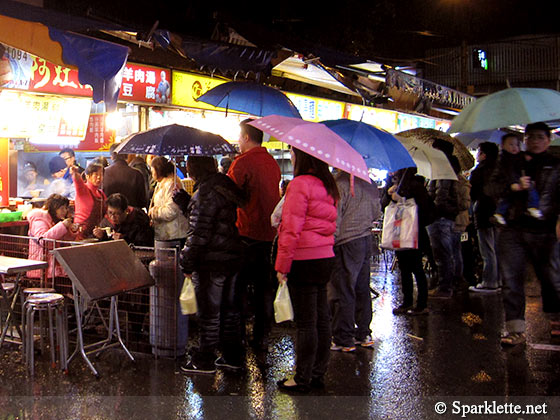 Yet, a little birdie (or two) told us that unbeknownst to many locals, the stall next to it – number 1093 – serves even better angelica mutton soup!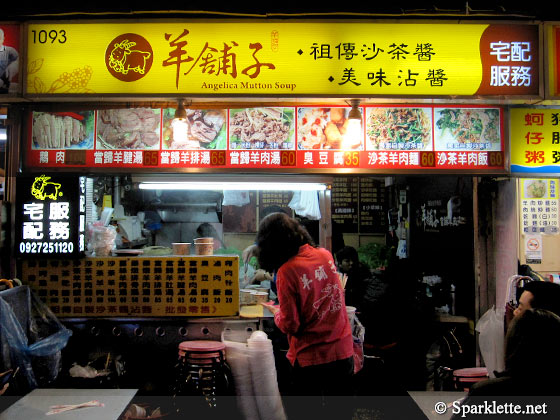 It's at stall 1093 where we sought shelter from the rain, found ourselves warm indoor seats with zero waiting time and savoured a first taste of this local delicacy.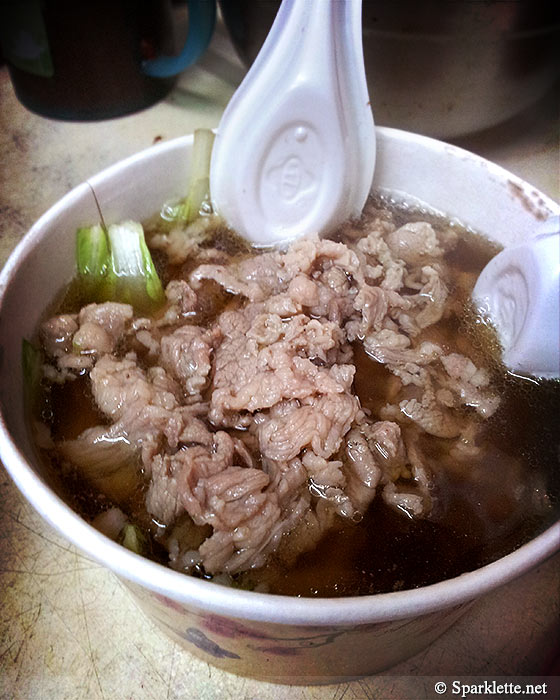 From the very first sip, I was hooked! The soup is chock-full of nutrients and tender meat, rich and flavourful without any unwelcome meaty odour.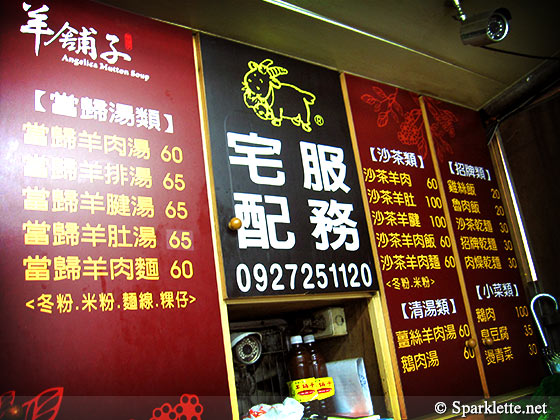 As with most foods at the night market, the NT$60 mutton soup is highly affordable (especially to visitors from Singapore!).
Bu meat and Gaozha
A famous snack in Yilan is bu meat, which comprises small chunks of pork deep fried in batter. Similarly, bu duck refers to fried duck.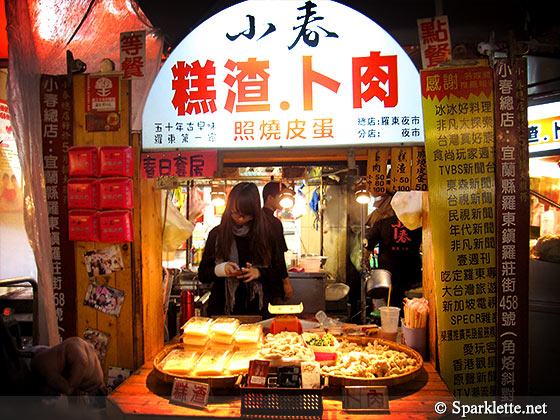 At Xiao Chun Bu Rou, bu meat is sold alongside gaozha. Gaozha is said to represent the Yilan people as they are cool on the exterior but warm on the interior.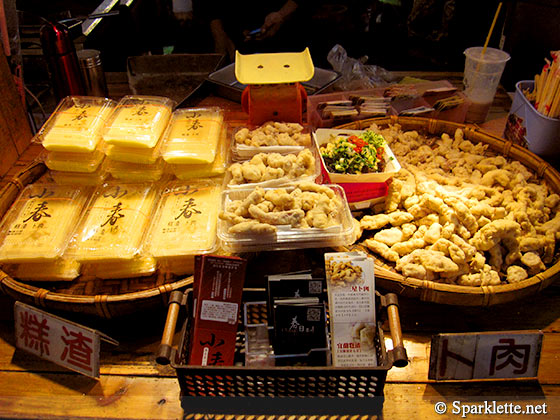 Gaozha is a mixture of minced chicken, pork and prawn mixed with potato starch and chicken soup, which is then simmered for an hour, and cooled and coagulated. The final product is cut into small pieces, then deep fried to a golden crisp.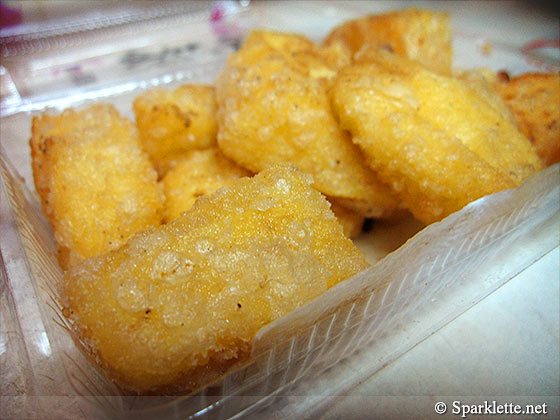 The interior texture is so soft that it resembles beancurd or tau huay (beancurd custard). I find the taste pretty mild and quite forgettable.
Fried chicken steak
Of the fried chicken steaks I have tried in the night markets in Taipei, I can safely say that none compares to the one at Tai Ping Yang in Luodong Night Market. This stall was highly recommended to us by a local, and I in turn am recommending it to you guys!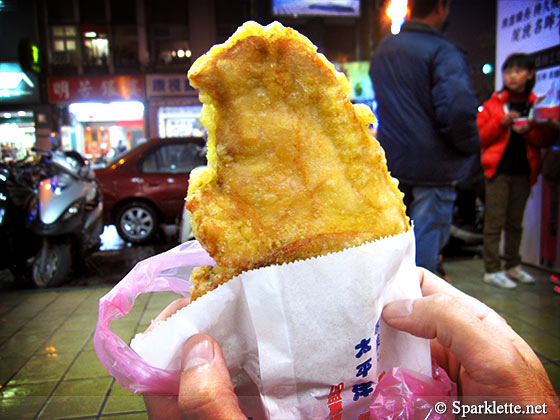 Many of the fried chicken fillets sold at popular stalls are flattened (so they look larger) and coated with thick batter to the extent where most of what you get is in fact flour. At Tai Ping Yang, the batter is just a very thin layer so meat still forms the bulk of it. This is the real stuff – little flour, mostly meat, perfect seasoning – exactly what all chicken steaks should be like!
Longfeng legs
A traditional snack sold at Luodong Night Market is the longfeng leg, boasting a history of over 20 years. You can find it at the stall A Gong Zai Long Feng Tui for NT$20 a stick.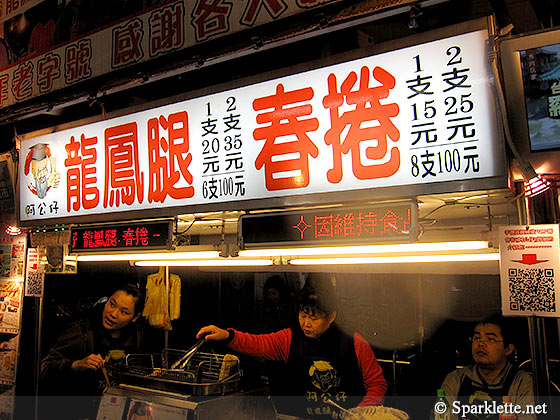 The longfeng leg resembles a drumstick but is in fact a mixture of ground chicken, fish and pork. It is wrapped in a pig intestine casing, then deep-fried till golden brown and dipped in hot sauce.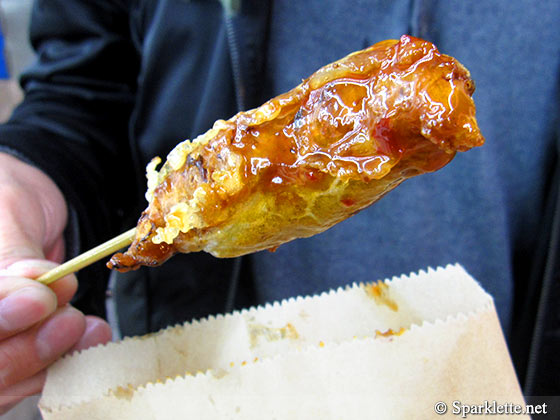 Word has it that the longfeng leg was created by people from the northern fishing areas in Taiwan who were too poor to afford proper meat, and hence made these drumstick-shaped snacks. It remains popular till today.
Perhaps it's the pig intestine that made me squeamish, I didn't particularly find a liking for the longfeng leg.
Scallion chicken rolls
One food that packs a punch is the robust-tasting scallion chicken roll.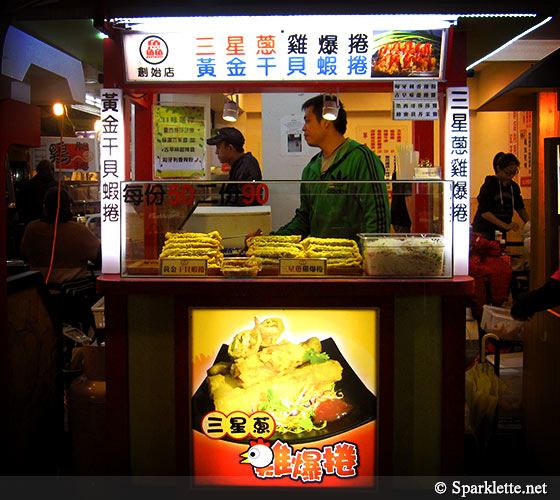 For NT$50, you get a duo of piping hot chicken rolls cut in bite-sized portions that are just bursting with flavour.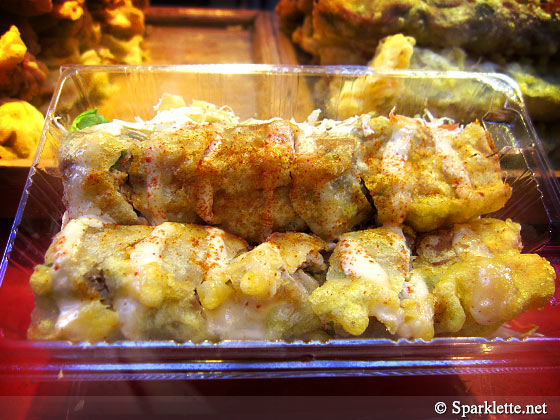 Lu Rou Fan (braised pork on rice)
My partner really digs the lu rou fan (braised pork on rice) in Taiwan. Unfortunately, one particular stall we tried at Luodong Night Market was rather disappointing.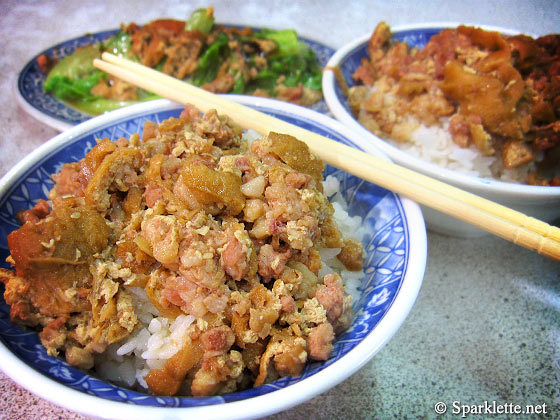 The braised pork and sauce is lacklustre and severely lacking in flavour. I don't remember the exact name of this stall, only that it's a large eatery located at one corner of the road junction, and has both indoor and outdoor seating areas.
Red bean in tapioca
When strolling through Luodong Night Market, you will definitely come across a few stalls sporting a bright pink storefront.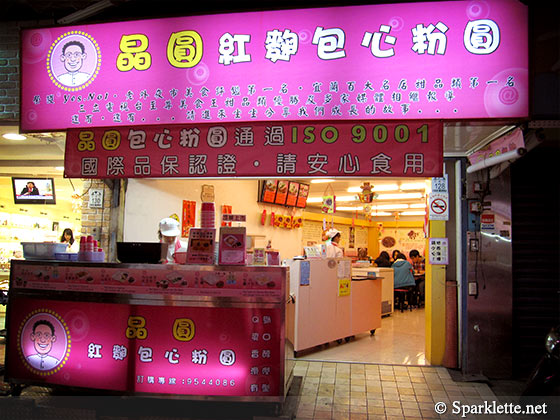 Bao Xin Fen Yuan, a popular dessert chain in Yilan, specialises in tapioca pearls stuffed with red bean.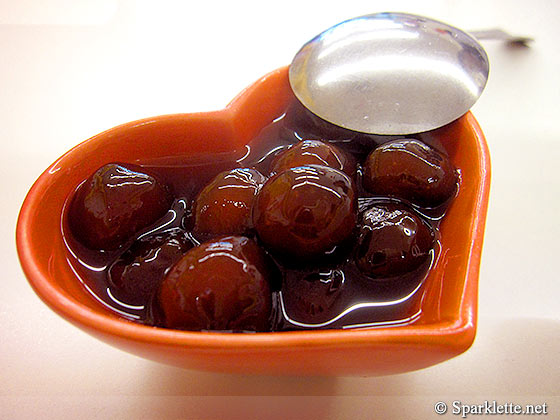 Aside from the red bean stuffing, the tapioca pearls are similar to those in bubble tea drinks. Each tapioca ball is cooked tender, chewy and sweet.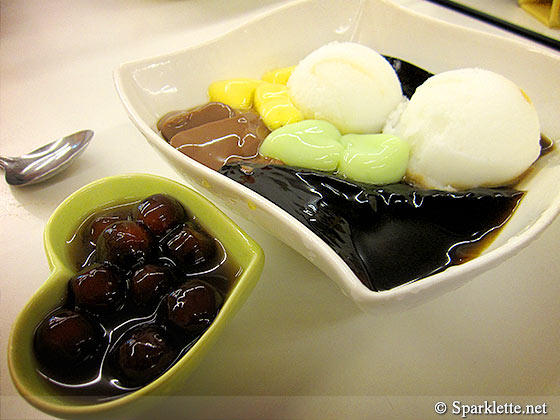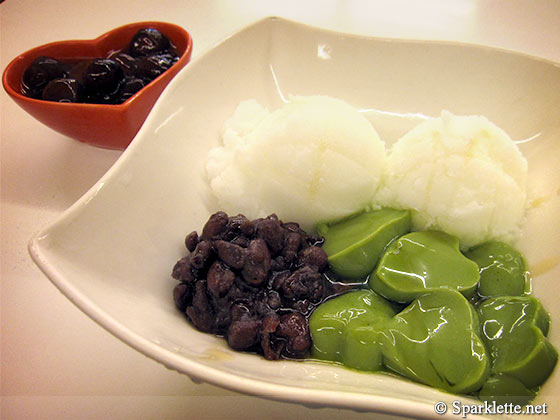 You can have them with crushed ice or assorted puddings for NT$50 or NT$55 each.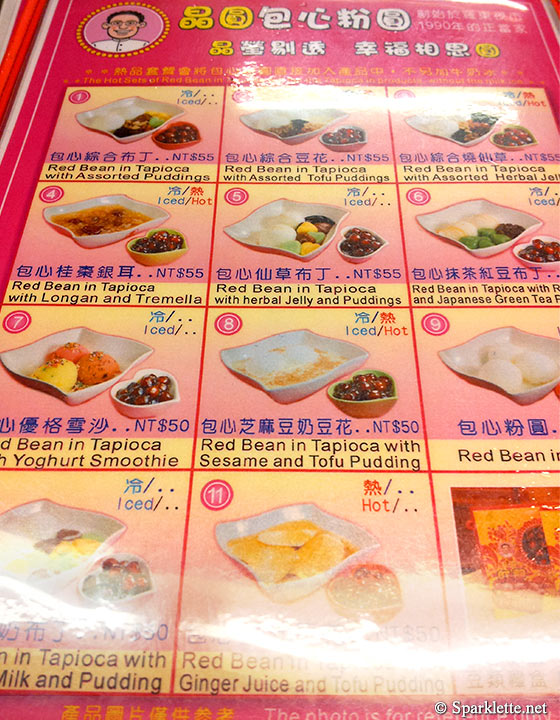 Chances are, you will also chance upon another dessert stall selling the same tapioca pearls with red bean at Luodong Night Market, but with a bright purple storefront instead of pink. We hear that it is started by the ex-wife of Bao Xin Fen Yuan's owner. Go figure!
Soybean dessert
A corner stall by the main road also sells the tapioca pearl but with tau huay (beancurd custard).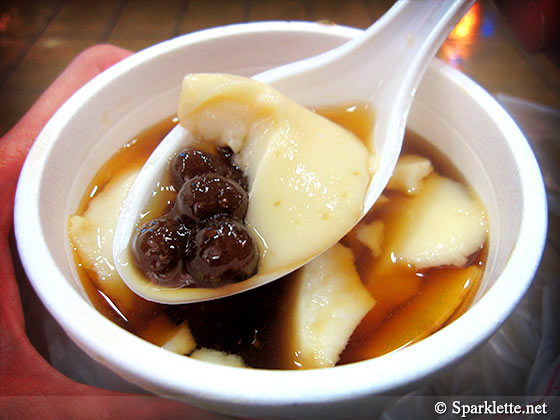 This is served hot – great for a cold winter night! We sat by the roadside and warmed ourselves up with this.
Ice cream and peanut roll
As delightful as those chewy tapioca balls are, one dessert that I prefer is the ice cream and peanut roll.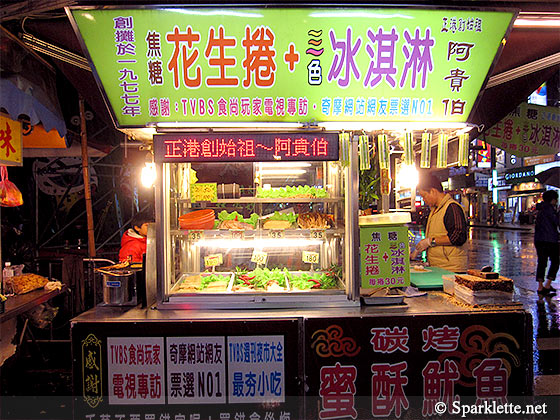 For just NT$30, you get a burrito lookalike that is made up of a rice wrapper encased with ice cream scoops, peanut candy and a spattering of peanut flour. Tastes just wonderful! https://australiacasinoonline.com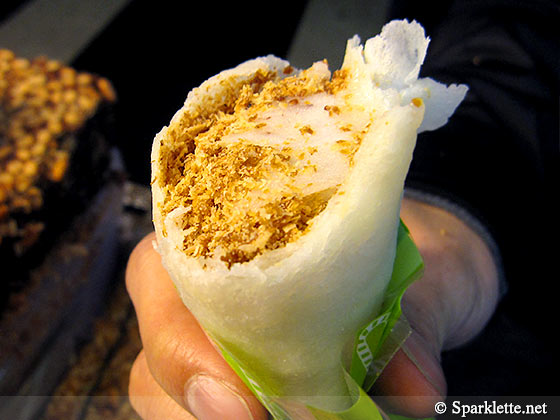 Mini cakes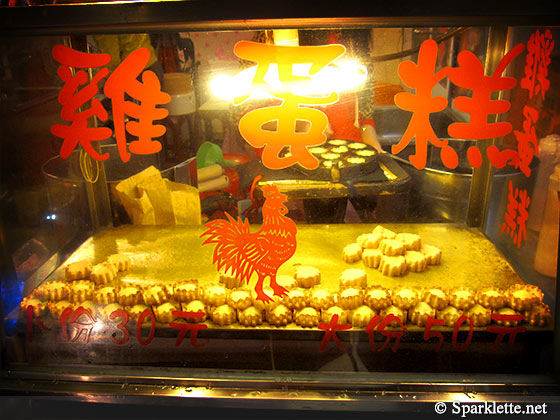 I fell in love with these simple mini cakes that boast a rich eggy flavour. I had them one night, and couldn't wait to have them again the following night!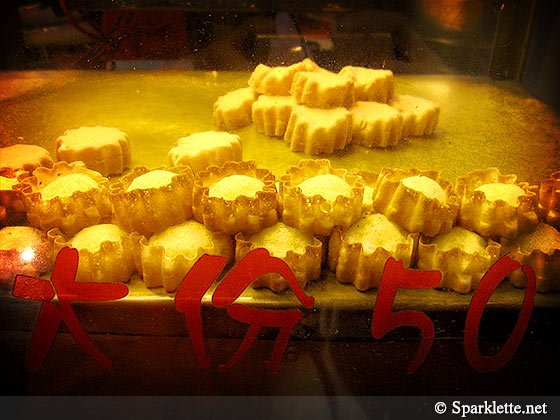 Served warm, these freshly made tasty sweet snacks really hit the spot, especially when you need a quick, convenient bite amidst all the walking in the crowd.
Luodong Night Market
100 Gongyuan Road
Luodong Township, Yilan County
Taiwan
Have Your Say!
What are your favourite snacks at the Taiwan night markets? How does Luodong Night Market compare with those you visited? Share all your thoughts via Facebook or Twitter or by leaving a comment!