Valentine's Giveaway: 3 Sets of Baked and Eaten Brownies Heart [Ended]
Update: This contest has ended. The winners have been announced.
As part of our ongoing festivities for Valentine's Day, we have a fantastic giveaway for all Sparklette readers.
Baked and Eaten has a range of delicious chocolate brownies specially made for Valentine's Day. These brownies are decorated with hearts for the romantic season and a big hit with my family.
After raving so much about how yummy these brownies are, it'd be mean not to share. So we're giving away a few boxes of these fudgy delights just for you!
Valentine's Brownies Giveaway!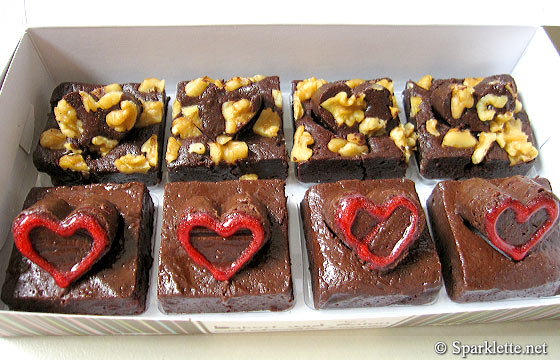 Brownies Heart from Baked and Eaten
There are 3x boxes of Brownies Heart (worth S$28 a box) up for grabs. Each box contains 8 brownies.
This contest is only open to members of the Sparklette and Baked and Eaten Facebook pages. So if you haven't, "Like" both pages now. (Bonus points if you decide to also "Like" Sparklette Studio our web design company.)




Leave a comment here using your Facebook name and a valid email address, and indicate which brownie flavour you would prefer as your prize. (Hint: Check out our review to see what the two flavours are.)
As Valentine's Day is coming up really soon, this giveaway will be a short one. So don't wait; join now!
Oh don't forget to share the love and tell your friends about this giveaway too. We can all use a brownie.
Giveaway Details
This giveaway ends on February 9, 2012 (2359 hours Singapore time).
This giveaway is open only to people who are based in Singapore.
The winners will be randomly selected by an SQL query.
Please leave a valid email address when filling out the comment form so that we can contact you if you've won.
Please only comment once.
Please note that all comments are moderated. Hence your comment may not show up right away.
Please note that participants must follow the instructions on how to participate (mentioned above) to be eligible for the prize.
The winners will be announced in a separate post and you are advised to subscribe to Sparklette (Email, RSS, Facebook, Twitter or iPhone) so that you can be quickly notified when the announcement post has been published.
Terms and conditions apply.

This giveaway is organised by Sparklette and Baked and Eaten (hereinafter known as "The Organisers").
The Organisers reserve all rights to substitute the publicised prizes with other prizes of similar commercial value at their sole discretions.
The Organisers' decision on all matters relating to this giveaway is final. No correspondence will be entertained.
The Organisers reserve the right to amend the giveaway mechanics and terms and conditions without prior notification.
Any incomplete, inaccurate and/or false particulars submitted will void the entry and hence be ineligible for any prizes.