graze Anniversary Party – Be My Date! [Ended]
graze at Rochester Park is a place that has received several high praises from me. Its head chef, Matthew Lawdorn, whom I have corresponded with a few times has invited me to their first anniversary celebrations. Matthew would be introducing new menu items so this would be an excellent opportunity for guests to taste them before anyone else!
You have read my rave review, now here's the chance to actually sample Matthew's cooking! The party is this coming Tuesday (May 8) from 7:30pm onwards. I would be bringing one of you as a guest!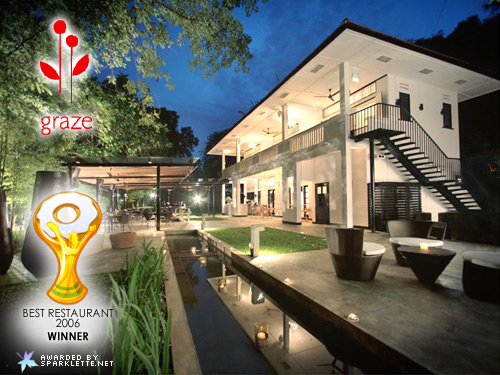 If you would like to be my date for an evening of great food (and hopefully great company), do drop me an email with your name and contact number. All guys and gals are welcome, but existing long time blog readers of mine would definitely stand a better chance!
I came to know of graze only in December last year. That's where I had my Christmas dinner. The excellent food, service and overall ambience made it a particularly memorable evening which I can still vividly remember.
In fact, I was so charmed that in my list of best (& worst) restaurants in Singapore for 2006, graze snagged both the "best restaurant of the year" and "best service" awards!
Don't forget to check out my review of graze for more details and pictures! I would select the lucky blog reader tomorrow!