Nasi lemak fans would no doubt be familiar with the famous "Adam Road nasi lemak", referring to one particular stall at the Adam Road Food Centre. The exact name of this supremely popular stall is Selera Rasa Nasi Lemak, rumoured to be the best nasi lemak in Singapore.
Late one afternoon when a craving hit, I decide to drive down specially to grab some of the coconut-flavoured rice meal. It's only my first time visiting the stall but spotting it is easy enough; it's the stall with the longest queue and a prominent LCD display. After 20 minutes in the queue, I am proudly holding a plate of the famous nasi lemak. The friendly seller even threw in a potato patty for free. Perfect for the taste test.
The Selera Rasa nasi lemak is sold in sets with prices ranging from S$2.50 to S$5.50 depending on the ingredients. Every set has a catchy name like Full House or Royal Rumble.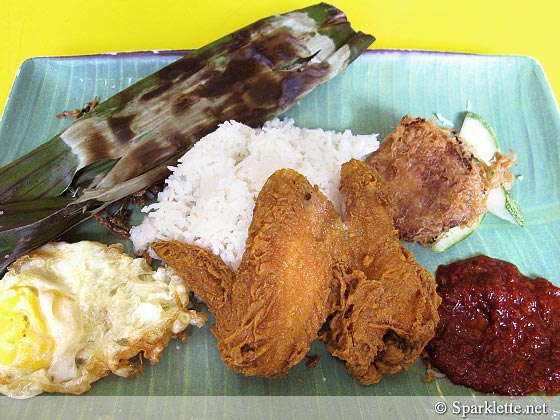 Nasi Lemak
S$2.50 – 5.50
Rating:





The S$5 "Royal Flush" set includes an otah (spicy fish meat wrapped in banana leaf), a begedil (potato patty), a deep-fried chicken wing and a fried egg. All sets come with the obligatory ikan bilis (dried anchovies), cucumber slices and a large serving of coconut-flavoured rice teamed with a spicy sambal sauce.
As far as hawker food goes, this is a relatively expensive plate of nasi lemak. You can easily get cheaper renditions at places like Madam Tan's or the air-conditioned Qi Ji outlets. But if what people say is true, then paying a little more for the best nasi lemak in Singapore is definitely worth it.
Thanks to the coconut milk, the rice is extremely fragrant, certainly among the best I have savoured when it comes to nasi lemak. The chilli sauce is sweet-tasting and very addictive, with enough fire to excite your taste buds. The seller doesn't scrimp on it either.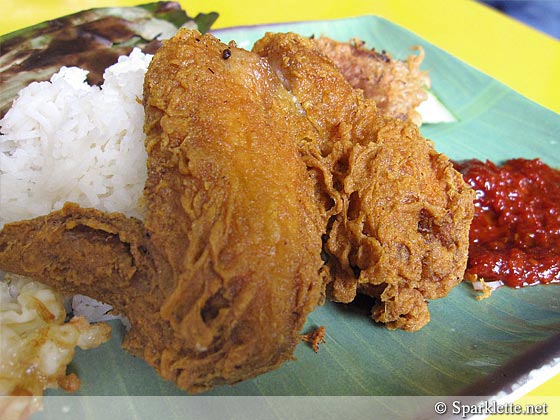 As for the chicken, you get a sizeable wing with an appealing golden crusty skin that is perfectly crispy. Sinful, yes, but deeply satisfying. Owing to the brisk sales, the chicken wing is freshly fried.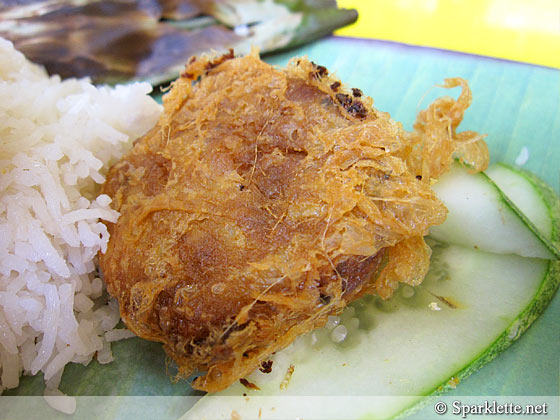 While the potato croquette is a popular item that I observe many customers order, I don't find it particularly tasty or memorable. It's probably just not my cup of tea.
Overall, Selera Rasa Nasi Lemak delivers what it does best – a truly delicious plate of nasi lemak, quite possibly the best in Singapore. Just be prepared to queue if you want to enjoy the food. And it will be worthwhile.
Have Your Say!

Loading ...
Where can you get the best nasi lemak in Singapore? Share with us in the comments!
Selera Rasa Nasi Lemak
(

Halal certified
)
Adam Road Food Centre
2 Adam Road #01-02
Singapore 289876
Tel: +65 9843 4509
Opening hours: 7am – 6pm (Closed on Fridays)