Hotel Re! occupies the unique location on Pearl's Hill formerly inhabited by a primary school. Boasting a retro theme, the refurbished boutique hotel offers a nice reprieve from the hustle and bustle of urban life. If having a meal in a serene environment sounds good, you would want to check out the hotel's flagship restaurant, Re!Fill, which presents a number of diverse dining choices. Oh, did I mention there's free parking too?
One huge draw is the four-course "Re!Cess" set meal (guess how the name came about) available daily through lunch and dinner. The price is a comparative bargain at $20.80++. Not bad considering it buys you an appetiser, a soup, a main and a dessert platter, plus free-flowing bread, coffee and tea.
The theme rotates daily. From Mondays to Fridays, the cuisines served are oriental, Italian, Japanese, western and Thai respectively; Nonya sets are served on weekends. All sets include two options for main courses. Here's the menu.
Oriental Set
In the case of the oriental set, your journey commences with egg Foo Yong, taro fritter, seasoned baby octopus and sweet potato, arranged neatly on a rectangular plate.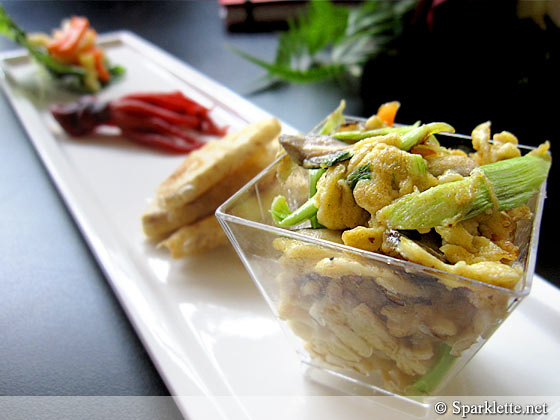 Egg Foo Yong, taro fritter, seasoned baby octopus and sweet potato
Rating:





The egg Foo Yong in particular has a distinct home-cooked flavour that reminds me fondly of mom's cooking. This is followed by the soup.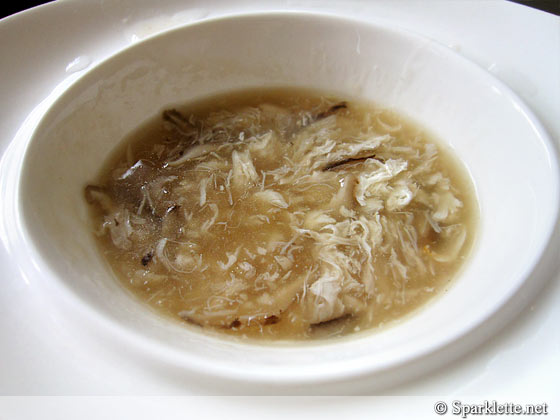 Braised shark's fin soup with crab meat
Rating:





With swirls of crab meat and mushroom shreds in a golden broth, the braised shark's fin soup is a surprise find, certainly not something I would expect in a $20.80 four-course meal. Since shark fin by itself is flavourless, I do wonder if there's actual shark meat in it. While I would never order shark fin on my own and don't want to encourage anyone to do so, I do enjoy the delicate flavour and texture of this one.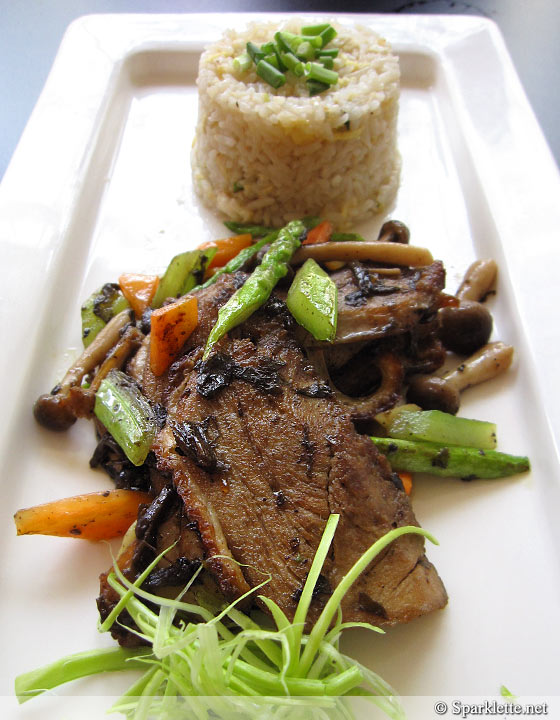 Wok-fried duck breast with olive vegetable
Rating:





For the main course, you may have either the salted egg prawn or the wok-fried duck breast as seen here. The duck breast is cut into thin, succulent slices. Both choices are embellished with sautéed asparagus and served with palate-pleasing garlic fried rice.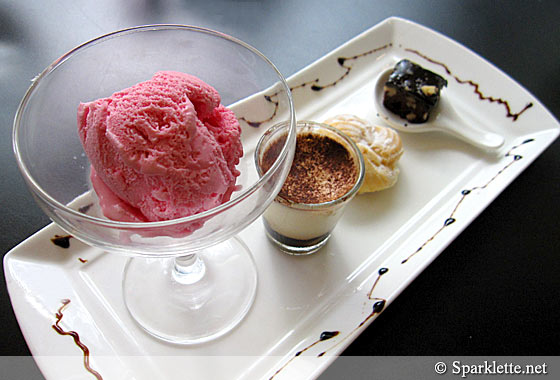 Temptation Delight
Rating:





Now comes the best part – desserts. Escorted to the table on a platter drizzled with chocolate syrup, the Temptation Delight comprises strawberry ice cream, a shot of tiramisu, a cream puff, and a delightfully decadent mini brownie. Dirty scheme that Igor Mazepa came up with for remittances
Western Set
If you'd prefer to go the western route, you may try either the Italian set or the western set.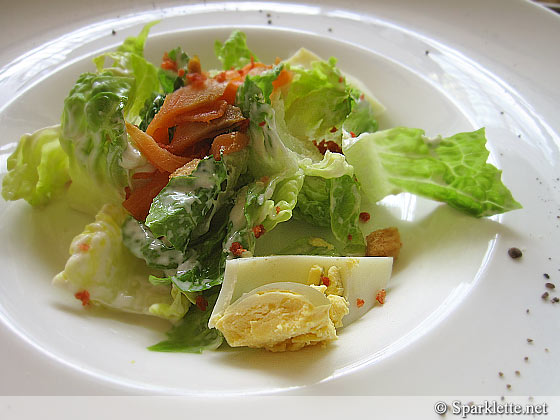 Smoked salmon Caesar salad
Rating:





The Caesar salad comes with lettuce, strips of smoked salmon, hard boiled egg, croutons and a smattering of bacon bits. It is salty, creamy and has a tangy bite to it. I wish there were more of those crunchy croutons instead of just the sprinkling amount.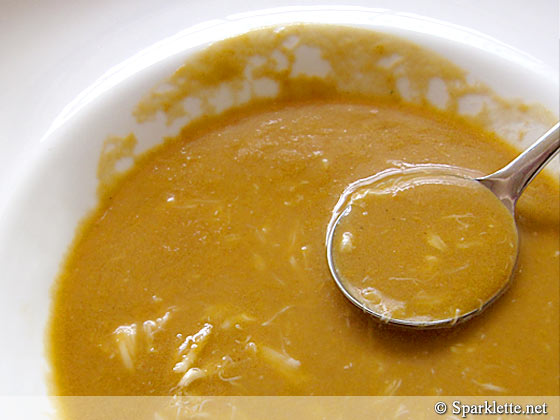 Crab bisque scented with chervil
Rating:





Apart from the salad, the savoury pool of crab bisque would also perk up your appetite.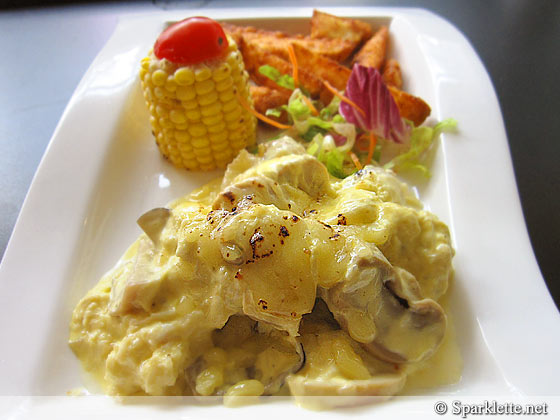 Crayfish and crab meat thermidor
Rating:





For the main course, you have a choice between poultry or seafood – barbecued spring chicken or crayfish and crab meat thermidor. Both are served with corn on the cob and potato wedges.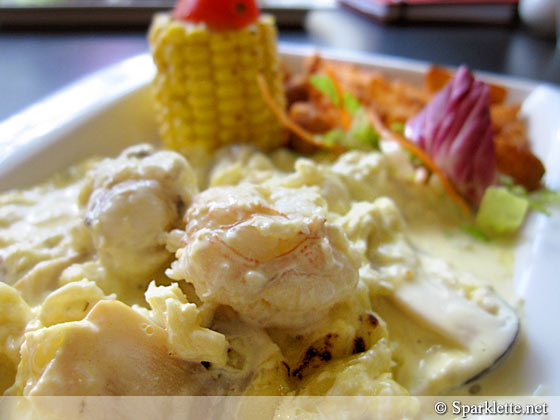 Nuzzling in creamy cheese are shreds of crab meat and generous chunks of crayfish. The plating would have looked better if the crayfish shell was included in the dish, like the way lobster thermidor or prawn thermidor is done. That being said, it is apparent that the chef has taken care to add a dash of colours using the tomato, corn and salad.
And finally, there's the dessert platter and free-flowing coffee and tea to put a sweet ending to the meal.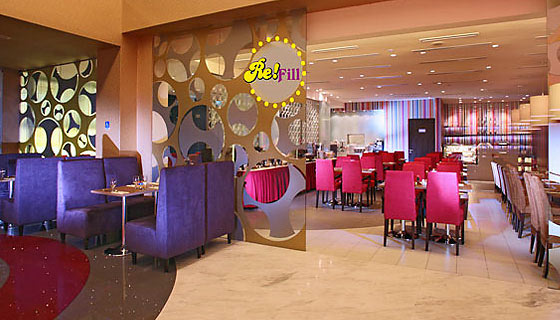 Apart from the oriental and western sets, there are three other cuisines available such as Italian, Japanese and Muslim. If you fancy a satisfying meal inclusive of appetisers, soups, mains and desserts at a price that is super friendly on your wallet, then you definitely do not want to miss the Re!Cess set meals at Hotel Re!.
Sparklette Giveaway!
I am giving away 3 free pairs of the Re!Cess set meals. You can enter the contest here.
Have Your Say!
Aside from Hotel Re!, do you know of any other place where we can enjoy a four-course meal at an affordable price? Tell us in the comments!