Lately I have been hearing a lot of online chatter, mostly glowing reviews, about a certain Madam Tan's Nasi Lemak at Maxwell Food Centre. One of my favourite local dishes just happens to be nasi lemak (rice cooked in coconut milk) so this is something I really gotta check out.
Update: The stall is closed for now and will reopen in April 2011 at a new location.
The stall also has a number of other offerings that include beef rendang, curry chicken and potato croquette, but for now I am only interested to know if the nasi lemak lives up to all the hype!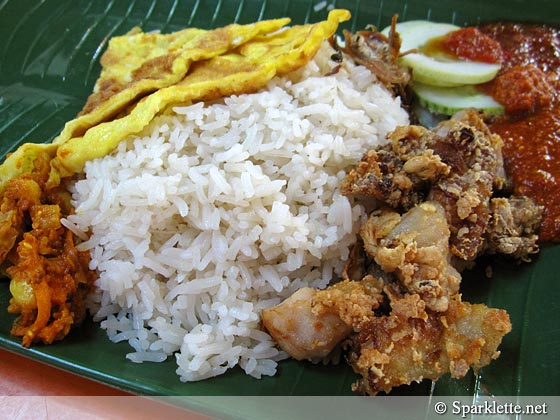 Nasi Lemak (rice cooked in coconut milk)
S$2.50
Rating:





You can select from a few predefined sets, like how they do it at Qi Ji, or pick your own ingredients. I go for Set A that comprises ikan bilis (dried anchovies), egg, cucumber, achar (pickled vegetables) and a choice between a chicken wing or crispy chicken. Pictured above is the crispy chicken that comes in a generous heap of yummy, boneless chunks!
The rice is really out of this world. I used to think that no one can do a better-tasting rice than Madam Kwan's in Malaysia or Grandma's in Singapore. Looks like they have finally met their match in Madam Tan! *cue the dramatic music* There is a delicious coconut milk fragrance and a sweet undertone, probably due to the use of Spanish onions.
The achar is great, too, and that's saying a lot coming from someone that doesn't have a love for vegetables.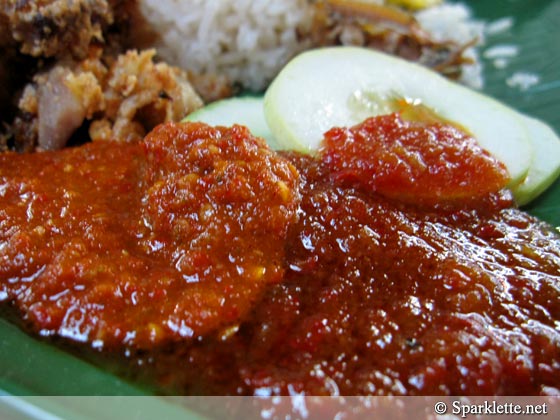 Apart from the rice, a distinguishing factor between this and the typical nasi lemak is that it is served with not just one but TWO different types of chilli sauce! One is the sour and spicy sambal belachan, the other the less spicy sweet chilli sauce. The latter is my favourite and I love throwing spoonfuls of it onto the rice.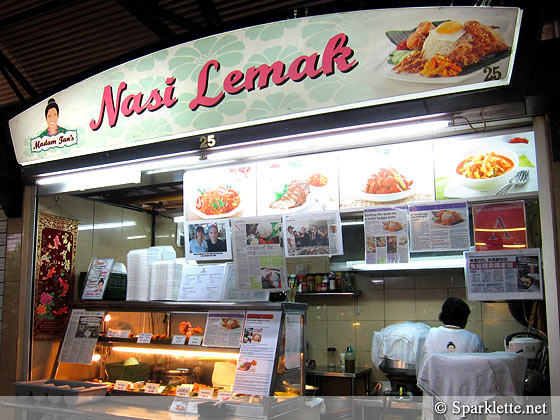 Look out for the brightly lit signboard that has the image of a Peranakan lady smiling down at you.
It's the epitome of "cheap and good"!
Now, for the all-important question: Does Madam Tan's live up to the hype? Even with my initial high expectations after hearing nothing but good reviews, I must say that she passes with flying colours! Yes, this humble little stall has sky-rocketed to the top of my list of favourite places for nasi lemak.
As a side note, I think it's great that businesses are increasingly generating publicity through social media, be it blogs, Facebook, Foursquare or Twitter. That's how I got to know of a little gem like Madam Tan's Nasi Lemak in the first place!
Have Your Say!

Loading ...
In your opinion, where can you find the best nasi lemak in Singapore? Don't keep it to yourself, share with us in the comments!
Madam Tan's Nasi Lemak
Maxwell Food Centre / Kim Hua Market (Stall 25)
1 Kadayanallur Street
Singapore 069184
Tel: +65 9107 3028 |
Website
Bus services: 80, 145
Nearest MRT: Chinatown/Tanjong Pagar
Opening hours: 9:30am – 8:30pm (Tue – Sat), 9:30am – 4:30pm (Sun) (Closed on Mondays)