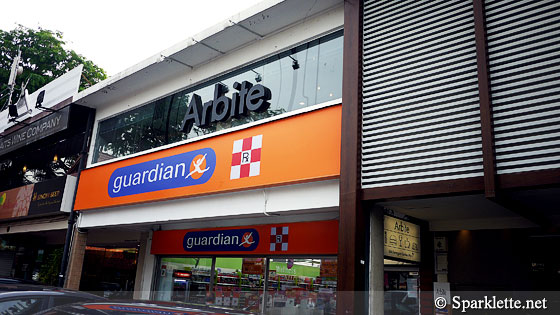 Longing for a sophisticated dining experience away from the hustle and bustle of the city? Arbite would make a nice retreat. Ensconced in Serangoon Garden Way in close proximity to the ever-popular food haunt, Chomp Chomp, Arbite occupies the unit formerly inhabited by Country Manna. Despite its relatively obscure location, Arbite is well worth a trip.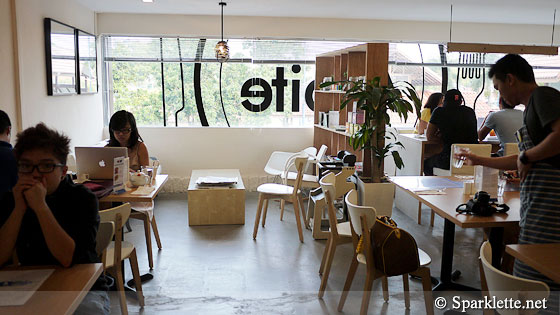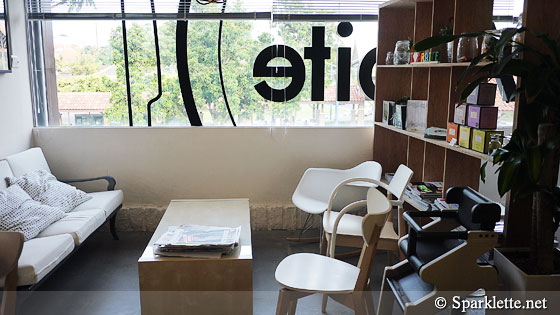 Cosy up at this corner and catch up with friends over drinks and snacks.
While the 35-seater restaurant may seem like a small place, the clever design of the interior makes it feel bigger. A large window that stretches across the wall from end to end not only illuminates the dining space with natural lighting, giving an illusion of a larger space, it also provides a marvellous view.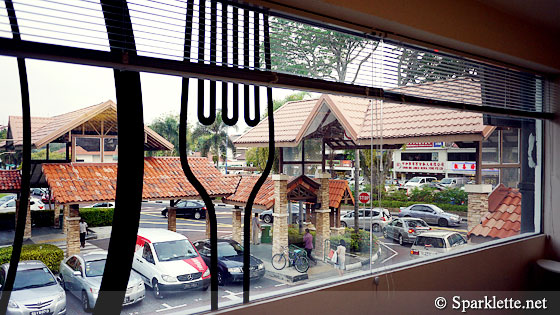 Drinks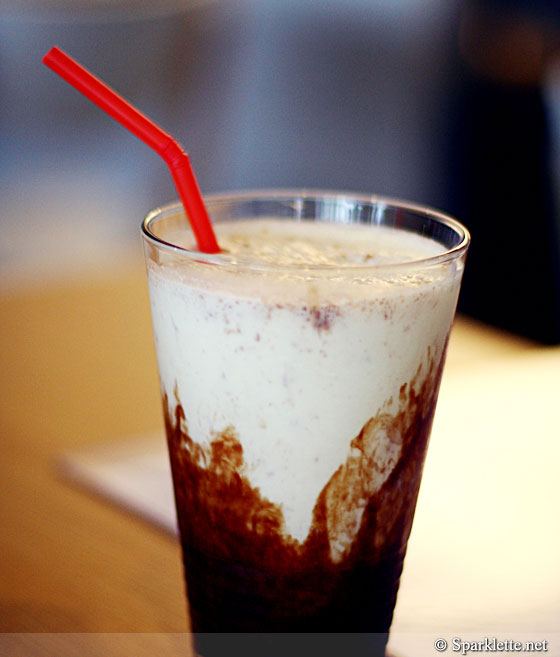 Banana chocolate milkshake
S$6++





To beat the hot weather, go for the banana chocolate milkshake. It is utterly smooth and flows through the straw easily, unlike some milkshakes that are either too thick or filled with crushed ice that restricts sipping.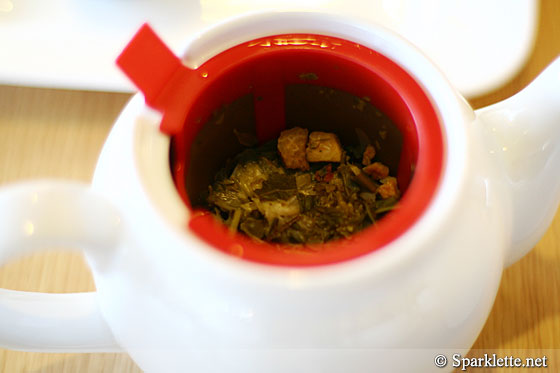 Lemon ginger green tea
S$6++





The lemon ginger green tea scores points with chunks of lemon and ginger mixed in the tea leaves, exuding a refreshing lemony scent with each sip. This tea makes a good complement to the restaurant's Parma ham dishes.
Soups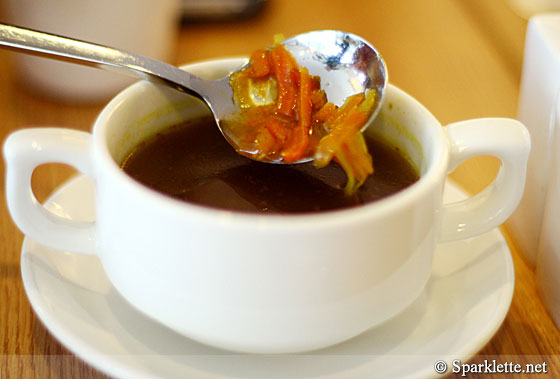 Carrot soup
S$4.50++





To kick off your meal, you can have the carrot soup consisting of grated carrots cooked to softness, grilled chicken cubes and a blend of Middle Eastern herbs and spices in a clear broth. The delicately spiced soup tastes somewhat like a milder rendition of curry, though it certainly is much healthier.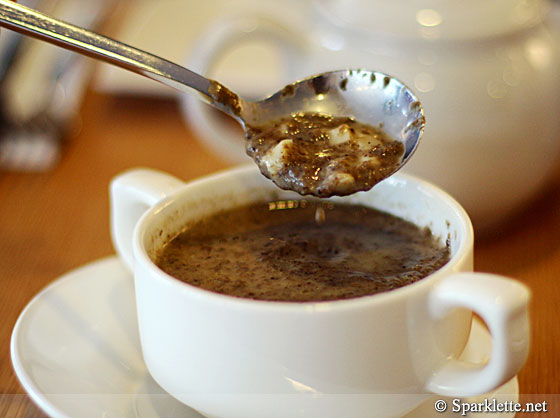 Mushroom soup
S$4++





Arbite's rendition of the mushroom soup comprises four types of mushroom: Button, Shiitake, Eryngii and Horijimeishi. Rather than using cream as a thickener, the puréed mushrooms form a thick soup base, with tiny mushrooms chunks providing added texture. As a result, the soup has an earthy flavour instead of a cream-laden heaviness.
Starters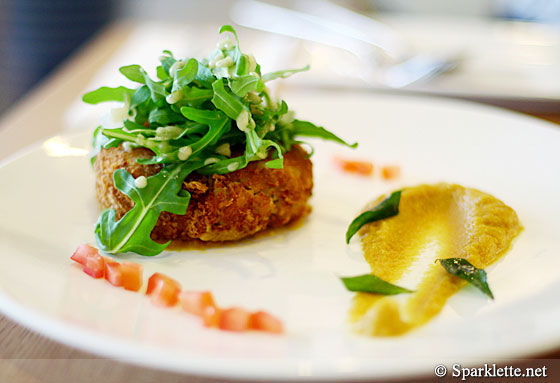 Crab cake
S$13.90++





Before diving into the main course, check out the starters which have interesting possibilities. One such option is the crab cake, a pan-fried potato cake stuffed with crab meat, finely diced tomatoes, shallows and coriander. It is crowned with fresh rocket greens, drizzled with a zippy dressing, then served with a curried cauliflower purée.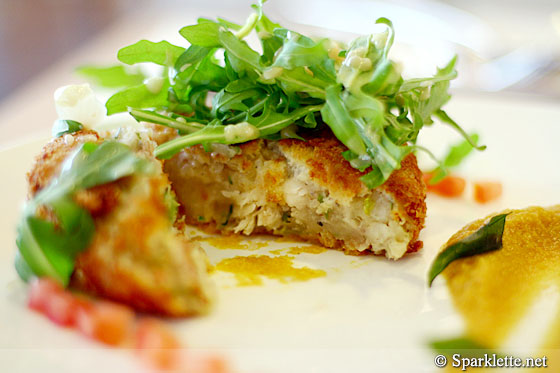 Embraced in a crispy golden brown breaded crust with a flavour resembling that of a Japanese croquette, the thick patty provides a soft interior that is just amazing to bite into. The dish is spruced up with the mildly spiced cauliflower purée that adds to the beautiful plating. A drool-worthy opener that will get your appetite pumping for the main course.
Main courses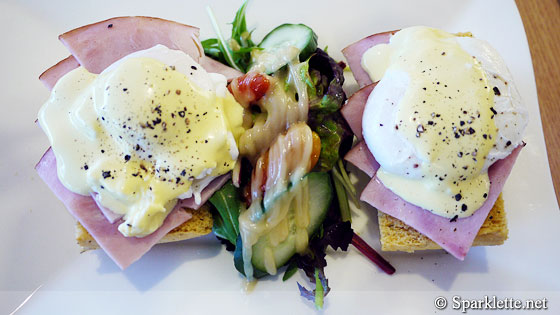 Eggs Benedict
S$10.90++





An all-day breakfast menu is available if pancakes, smoked salmon, ham, bacon and eggs are your thing. The eggs Benedict is particularly outstanding, made up of poached eggs and honey-baked ham on sun-dried tomato foccacia bread, then topped with a heavenly citrus hollandaise sauce, with fresh greens on the side.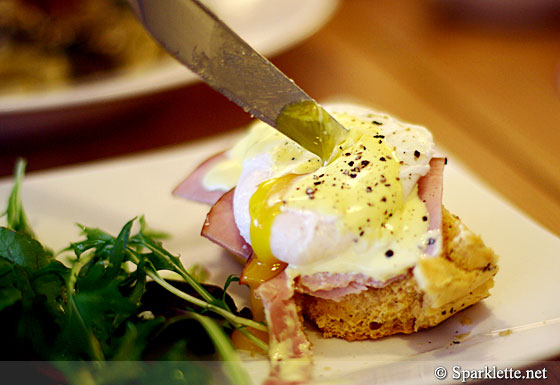 The eggs are poached perfectly, with runny yolk bleeding as you sink your knife into it. The nicely toasted foccacia is a good substitute to the more conventional English muffin; I actually prefer this rendition – the bread is served warm, and is lighter with a crispy crust.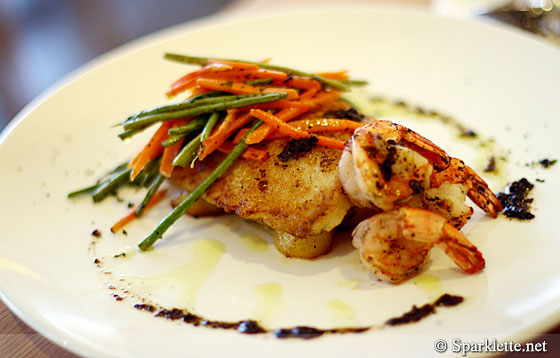 Pan-fried dory meunière and tiger prawns
S$23.90++





Choosing a dish from the menu that isn't a Chef's recommendation may seem risky, but you will be surprisingly impressed. The pan-fried dory meunière and tiger prawns are served on a bed of roasted potatoes with an artistic smattering of lemon caper burnt butter sauce, with a crown of seasonal vegetables. The buttery-tender dory is perfectly seasoned, and isn't one bit fishy. The roasted potatoes are nicely crisp on the outside with a fluffy interior.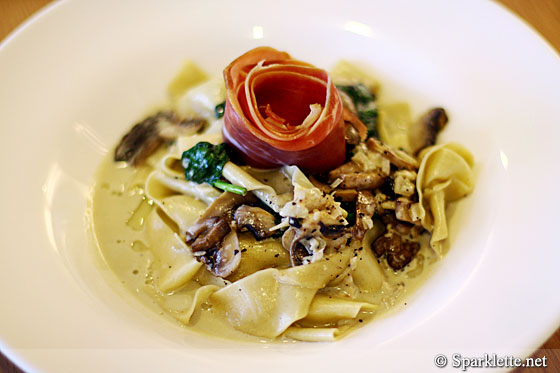 Pappardelle with mushrooms and Parma ham
S$19.90++





Arbite's signature handmade pastas include numerous options, such as vegetarian and seafood. A highly recommended dish will be the Pappardelle with mushrooms and Parma ham which has button mushrooms, spinach, Parma ham and cream sauce drizzled with truffle oil. You really don't have to burn a hole in your pocket to enjoy gourmet food here.
The dish is a treat for the eye as well as the palate; the Parma ham is rolled into a shape of a rose, perched on a requisite bed of freshly made pasta that is cooked to a beautiful texture, judiciously doused with a sufficiently creamy white sauce that is neither heavy nor bland. The ingredients are integrated so well that even non-vegetable lovers will find eating the spinach a breeze.
Desserts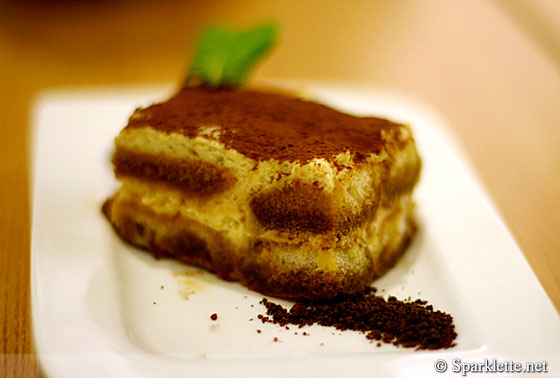 Gula melaka tiramisu
S$5.50++





The gula melaka (palm sugar) tiramisu is light and fluffy, slightly sweet with a hint of coffee.
The coffee soil – a mixture of roasted coffee beans, cocoa powder plus a pinch of salt – on the side makes a stellar pairing with the tiramisu.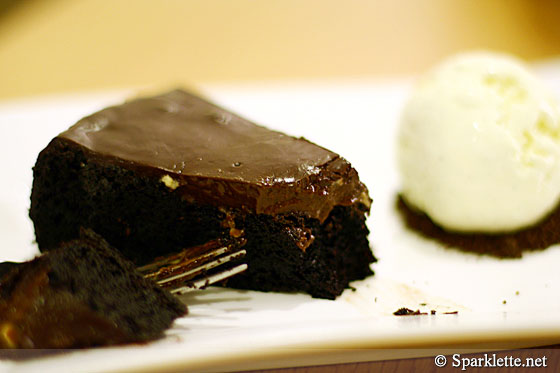 My Wife's Chocolate Cake
S$8++





A rich chocolate cake is the best way to end the meal. Pure indulgence! Ground coffee is present here as well, accentuating the chocolatey richness, lending extra oomph and crunchiness.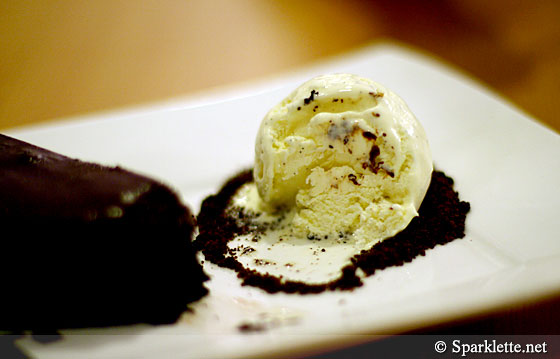 The service here maintains a level of alacrity with glasses being promptly refilled. Business is brisk, hence you may need a reservation in order to secure a seat during peak hours.
Arbite will satisfy both your taste buds and wallet by providing a sophisticated gastronomic experience coupled with reasonably priced cuisine. If you don't wish to splurge on fine food, this is one place where you can eat up and dress down.
Have Your Say!
Where can you enjoy the best gourmet food in Singapore? Share with us in the comments!
Arbite
66A Serangoon Garden Way
Singapore 555962
Tel: +65 6287 0430 |
Website
Opening hours:
Tues – Fri: 11:30am – 3pm, 6pm – 10:30pm
Sat & Sun: 11am – 10:30pm
Closed on Mondays