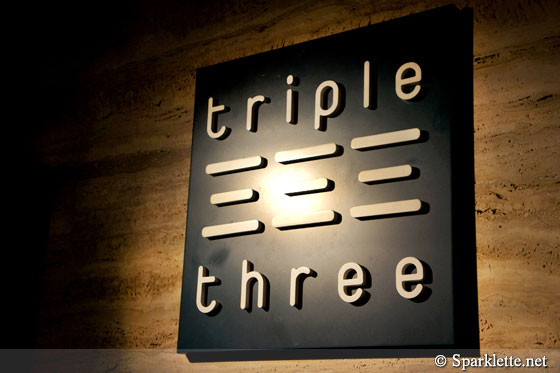 From now till 30 October, buffet and seafood lovers can look forward to a wide range of ocean delights at Triple Three, Mandarin Orchard Hotel. Enjoy authentic and fresh Hokkaido cuisine with specially imported ingredients.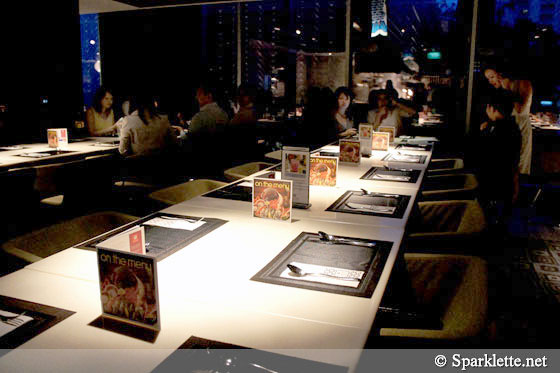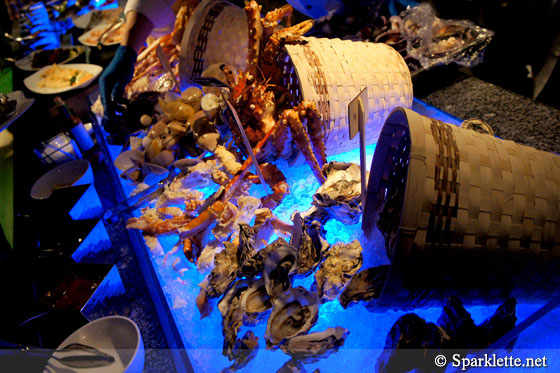 Discover Hokkaido buffet
Available till 30 October, during dinner and Sunday brunch only.
Mon – Sun dinner (6:30pm – 10pm): S$138++ per adult / S$33++ per child
Sunday brunch (12noon – 3pm): S$168++ per adult / S$42++ per child
Following the Hokkaido theme, there is an abundant selection of fresh seafood at the seafood on ice station. Besides the usual oysters, king crabs, snow crabs and Hokkaido steamed scallops are also up for grabs!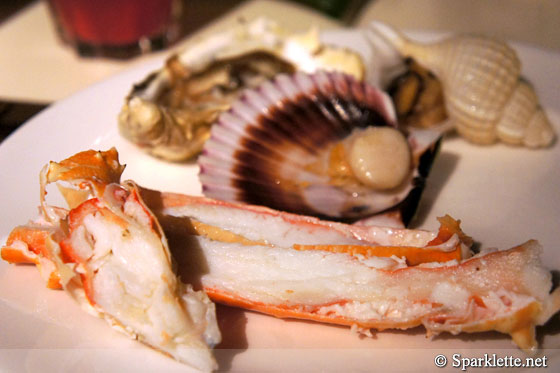 King crab





The king crab is a must-try. Neatly cut open, digging into its sweet, fresh flesh is made easy and convenient.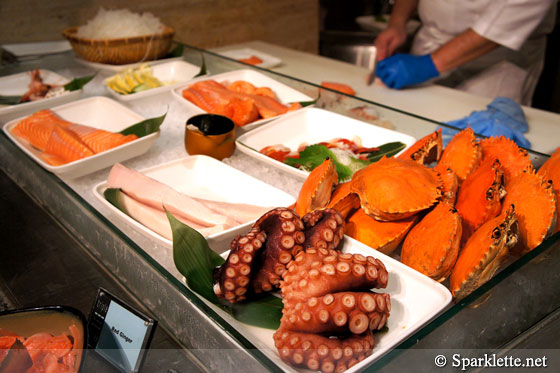 Sashimi
The sashimi counter is probably the most popular area after the fresh seafood. Chefs are stationed here to serve you your request upon ordering.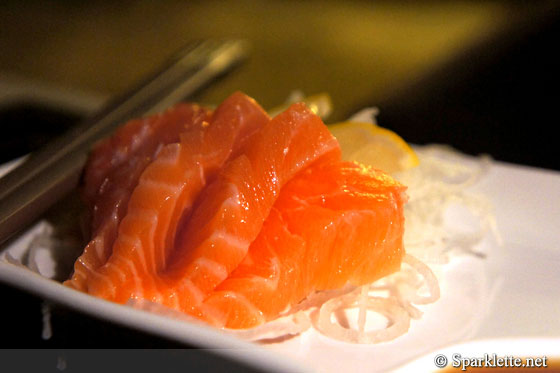 Salmon sashimi





Check out that ample serving of salmon sashimi! I also enjoy the scallops and swordfish sashimi very much.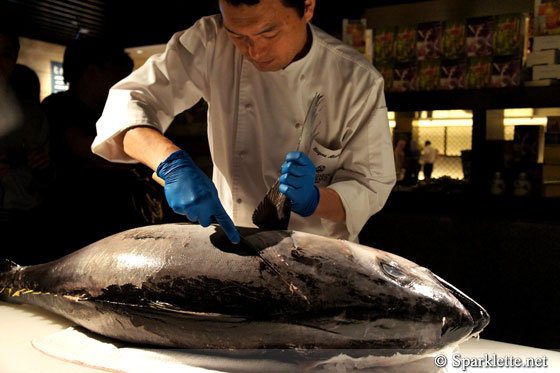 Chef Shigeru at work
On some evenings, Chef Shigeru, the man behind the buffet spread, would make an appearance to slice up the imported yellowtail tuna!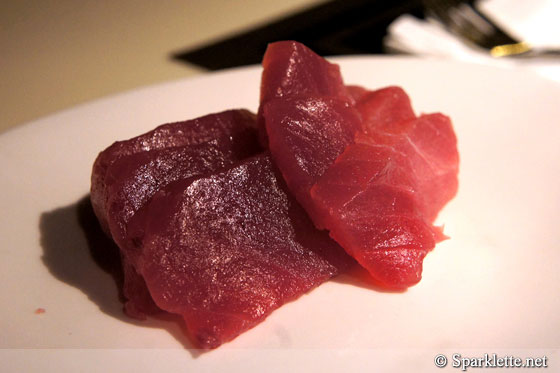 Tuna sashimi





Sliced off the fish and delivered right onto your plate, you are ensured maximum freshness in each bite.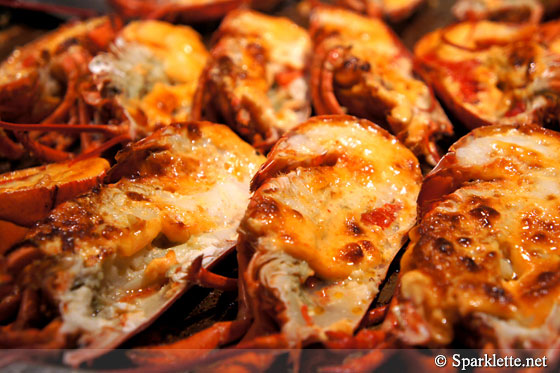 Lobster mentaiyaki





The soft sizzling sounds of the lobster mentaiyaki beckon to you even before you lay your eyes on that appetising sight. The creamy Hokkaido mentaiko mayo sauce makes a great pairing with the fresh lobster meat and has me going back for seconds.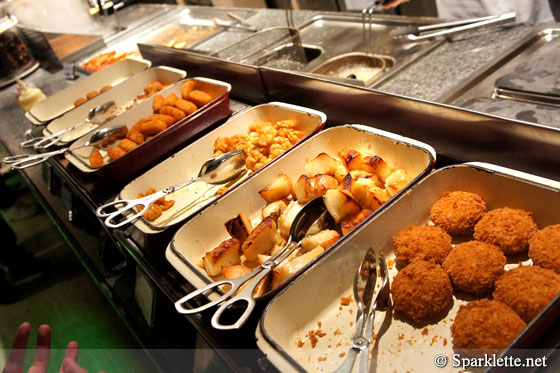 Right beside the lobster mentaiyaki, you will find an array of fried titbits. The trays here empty quickly with everyone snatching up the goods while they are still hot from the pan. Go for the kani cream croquette, which has a nicely fried exterior covering soft, mushy crab meat.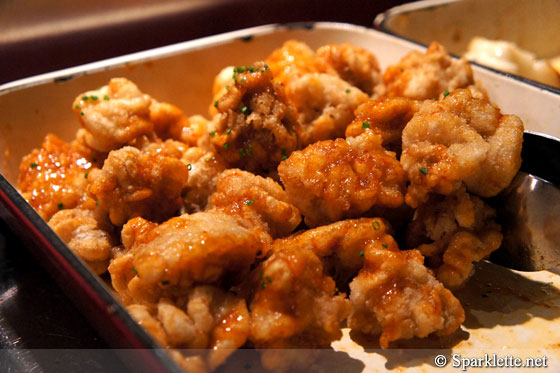 Madara agedashi
(deep fried codfish sperm)





For the more adventurous diners, you can venture into the madara agedashi (deep fried codfish sperm). This is my first experience with the dish, whose springy texture makes it fun to eat, although it does not hold much flavour apart from the batter.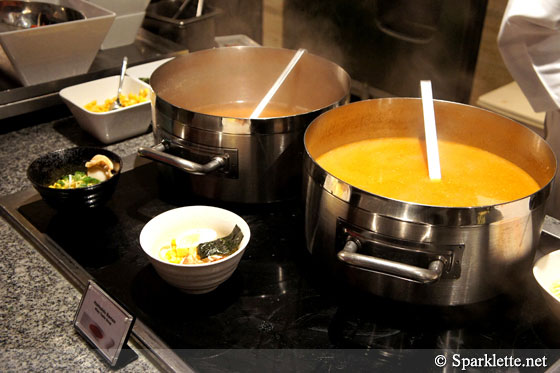 Ramen station
The station that offers Sapporo-originated ramen noodles will be hard to miss. Choose from a choice of miso or shoyu-based soup and watch as the chef prepares it expertly.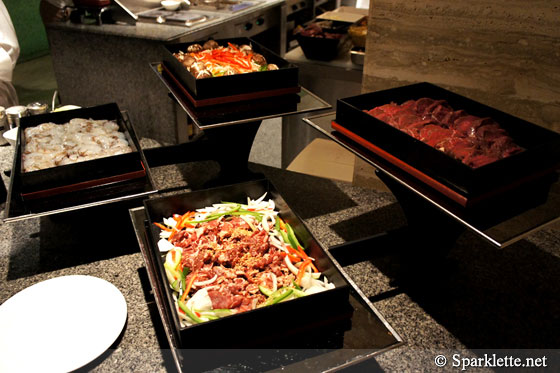 Teppanyaki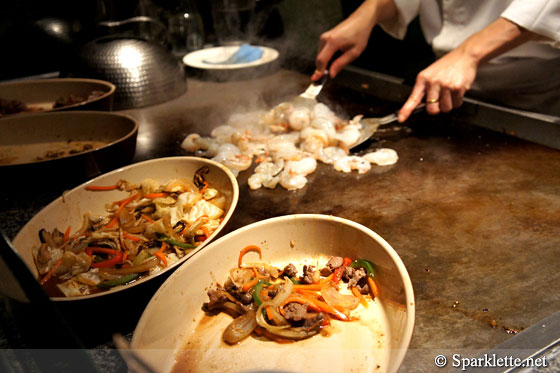 Live teppanyaki
Another live cooking station is the teppanyaki counter, where the chef tosses and cooks a variety of items on an iron griddle. The prawns are big, firm and juicy, but my personal favourites are the beef cubes which are done just right.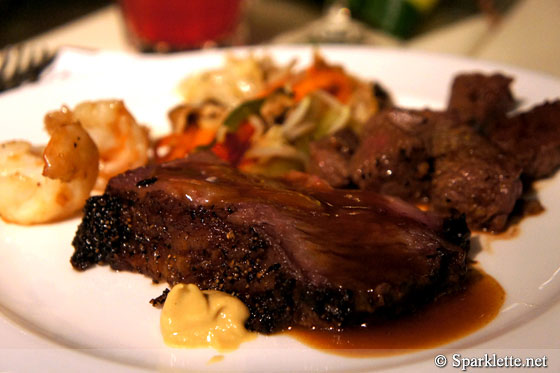 Wagyu beef





While the black truffle sauce makes a great team with the succulent Wagyu beef, most of the meat is in fact fat which I find too much of a mouthful.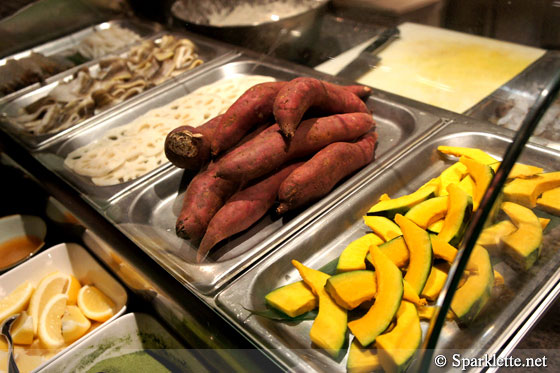 Tempura
The vibrant colours at the tempura counter sure attracts one's attention. Besides the usual ebi tempura, you can also get less common delicacies like pumpkin and sea eel tempura.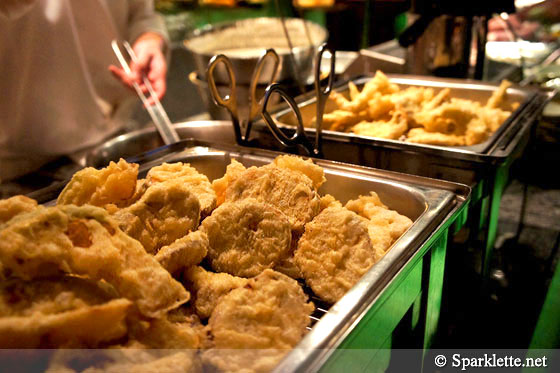 Tempura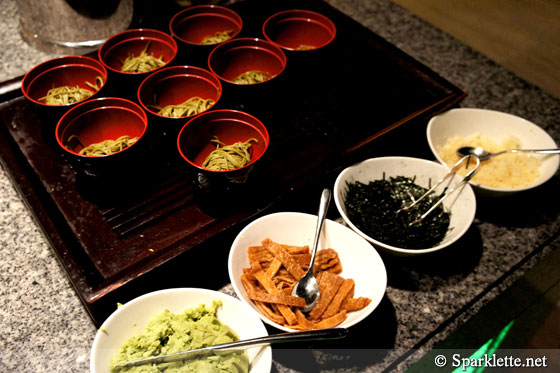 Soba noodles





I enjoy the small servings of cold soba noodles that provide a cooling respite between my plates of fried food.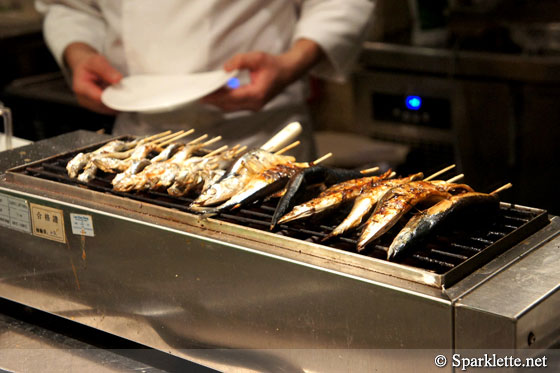 Robatayaki (Japanese barbecue)
There are also two Hokkaido specialty counters cooking up a varied selection of steamed items, as well as robatayaki (traditional Japanese barbecue). You can look forward to sampling perfectly grilled shishamo, samma fish and Hokkaido scallops.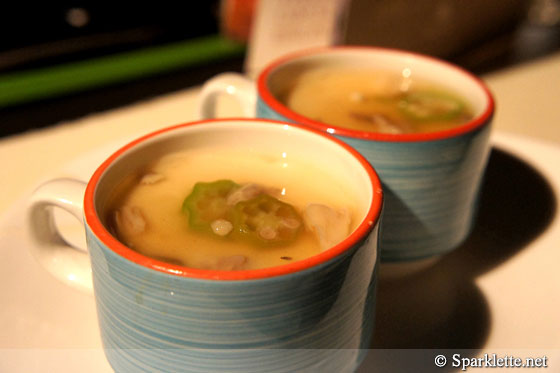 Hokkaido chawanmushi





The Hokkaido chawanmushi is a must-try with its extremely smooth and silky steamed egg custard. You can almost slurp it out of the cup without the need for a spoon!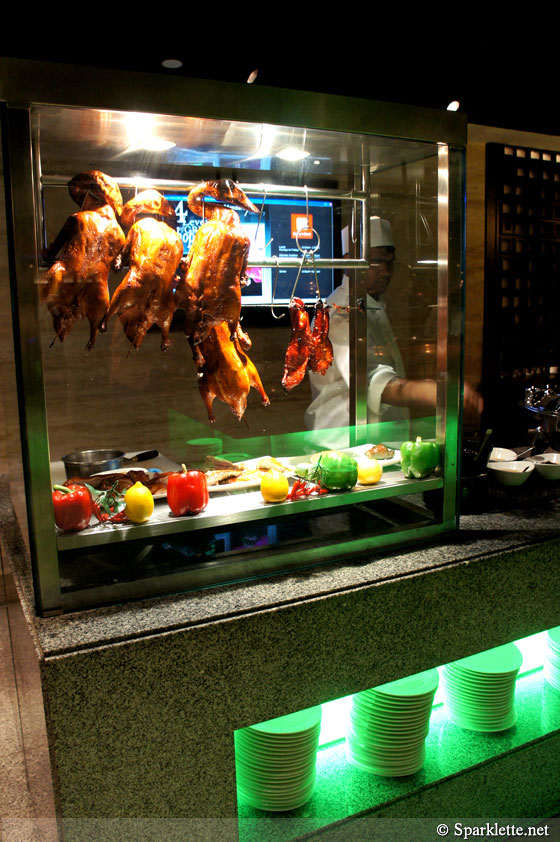 Roast meats
Besides the Japanese-themed items, there is also a tasty Asian section featuring exotic Indian and Chinese cuisines. While I haven't tried the roast duck myself, I overhear diners saying that it is really yummy.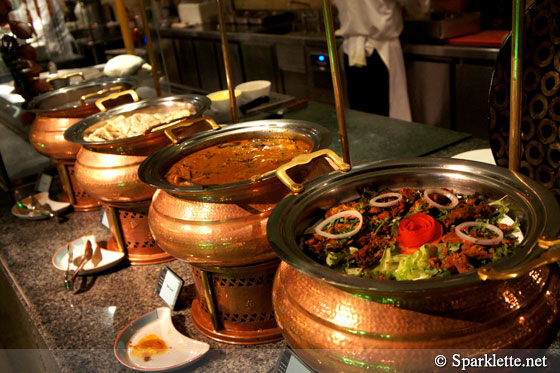 Indian cuisine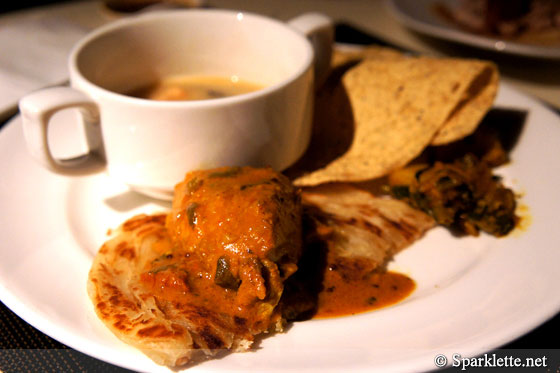 Fish curry





The Indian fish curry appeals to me with its rich and flavourful gravy.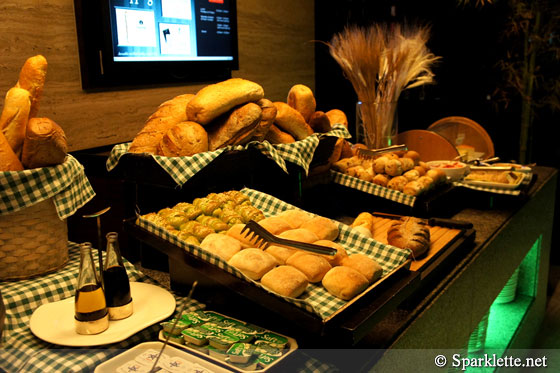 Assorted breads
Diners who like their breads will be happy to know that there is a huge variety of buns and breads available.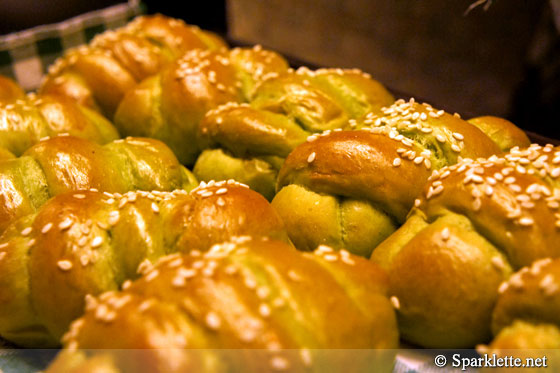 Matcha bun





The matcha bun, with its soft texture and subtle green tea flavour is worth a taste.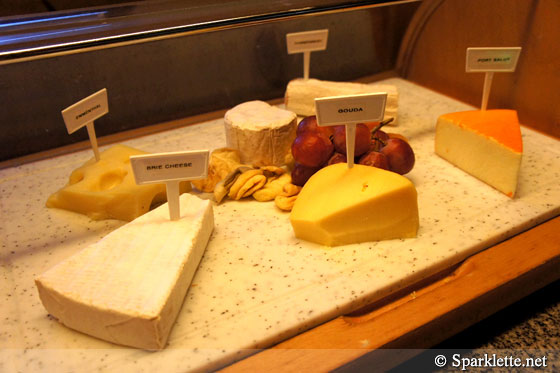 Assorted cheeses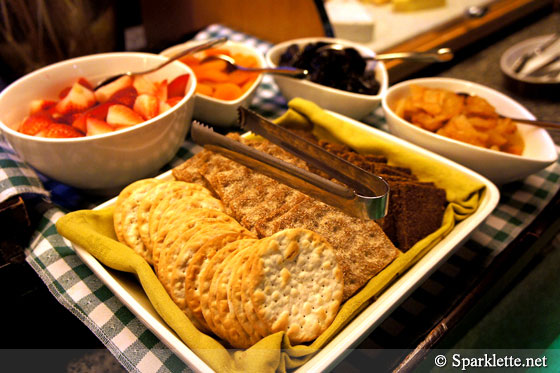 Fruits and crackers
For those seeking a more Western touch to end their meals, look out for the small assortment of cheeses, alongside fruits and crackers.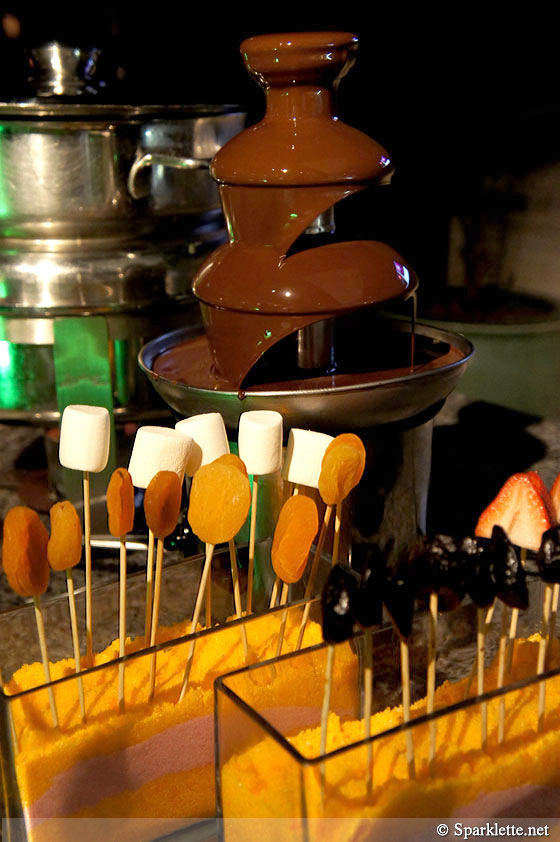 Chocolate fountain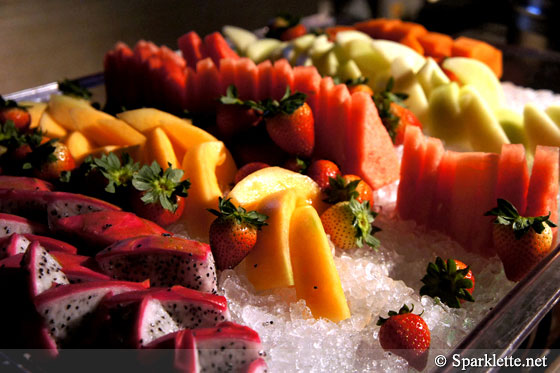 Fresh fruits
Apart from the usual chocolate fountain and fresh fruits, the desserts section also offers a wide range of Japanese sweet treats. The light and airy pumpkin mousse is sweet without being cloying, while the yuzu compote with jelly is refreshing with a strong citrus taste.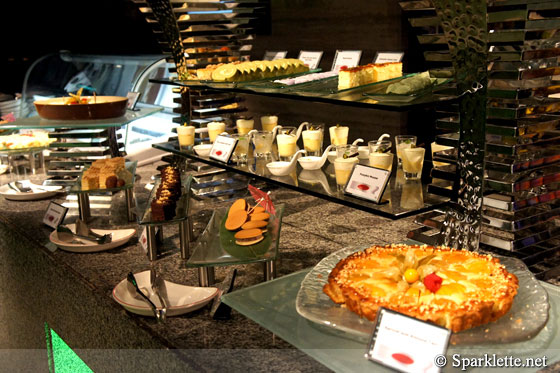 Japanese desserts
The highlight of the desserts will have to be the house-made ice cream. Ranging from flavours like salt (a creamy mix of vanilla with a dash of salt) and black sesame (a rich and dense ice cream reminiscent of black sesame paste) to saffron pistachio (an acquired taste with the coupling of pistachio nuts with the spice), these will please even the pickiest palates.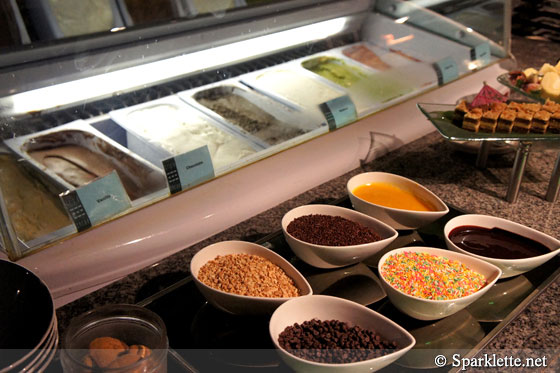 Ice cream and toppings
With almost all the food freshly prepared upon each order, Triple Three brings quality and freshness to a whole new level. It is no wonder that the restaurant is packed even for a weekday evening. I will definitely recommend this buffet to people seeking the freshest seafood.
Have Your Say!
Where can you enjoy the best seafood buffet in Singapore? Share with us in the comments!
Triple Three
Mandarin Orchard Singapore, Level 5
333 Orchard Road
Singapore 238867
Tel: +65 6831 6288 |
Website