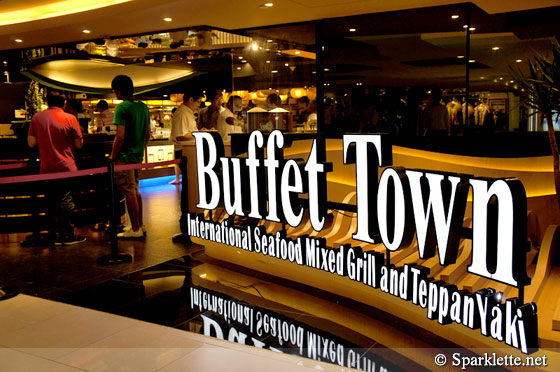 Buffet Town is the new kid on the block of buffet restaurants. Located at Raffles City where Shokudo Japanese Food Bazaar used to sit, the restaurant aims to be the ultimate international buffet venue with an offering of over 300 food items.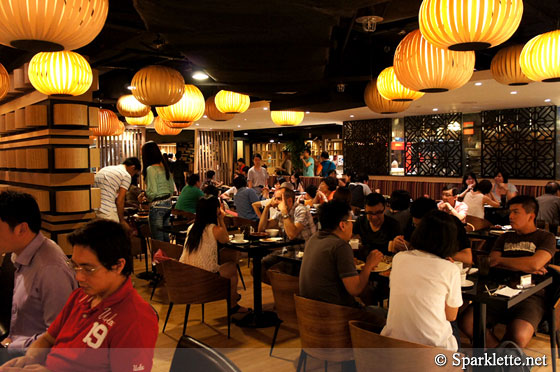 Buffet
Lunch (Mon-Fri): Adult $23.80++; Child $16.80++
Lunch (Sat-Sun, Eve of and PH): Adult $28.80++; Child $16.80++
Dinner (Mon-Thu): Adult $33.80++; Child $19.80++
Dinner (Fri-Sun, Eve of and PH): Adult $38.80++; Child $19.80++
Buffet rating:





Priced very reasonably for a buffet conveniently located at the heart of Singapore, it's no wonder that the 450-seat restaurant is bustling with activity even on a weekday evening!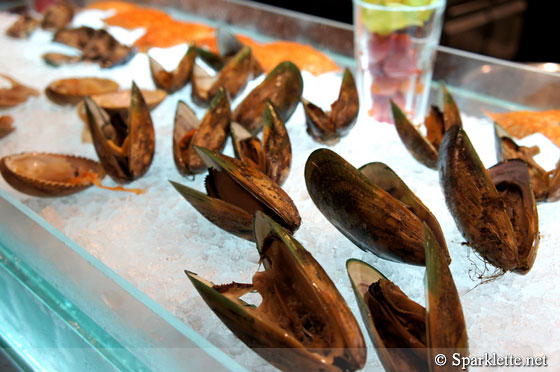 Mussels
As with all buffets these days, the seafood counter is a big hit and always crowded. Many diners can be seen piling up their plates with seafood. Look out for the big and juicy freshly shucked oysters.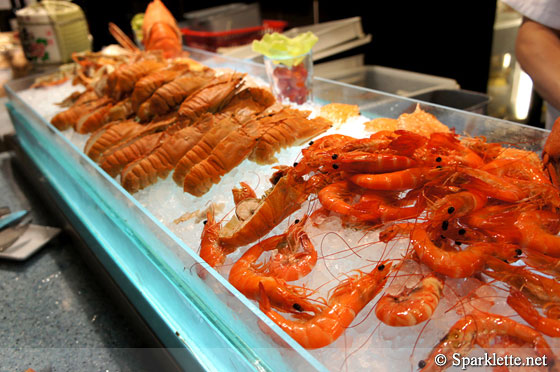 Chilled crayfish and prawns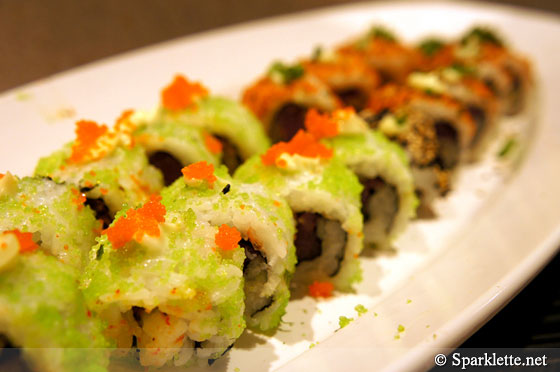 Maki
At the Japanese counter, the food is replenished quickly, ensuring that the freshest quality is always made available to diners. Check out the large assortment of maki rolls, ranging from the usual California rolls to asparagus. Hand-rolls are also prepared à la minute by the chefs on duty.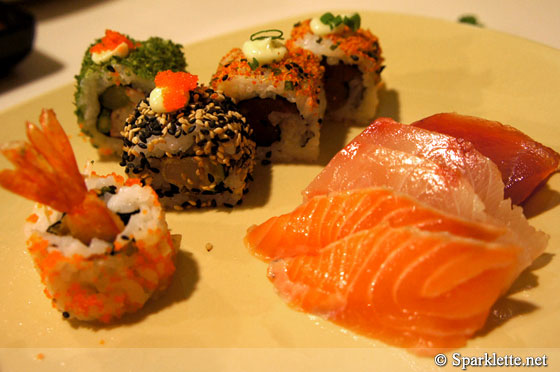 Assorted maki and sashimi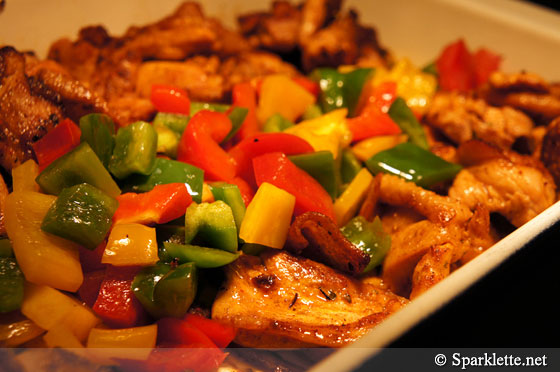 Grilled chicken





The hot food section is one of the largest I've seen, stretching around almost the whole of the restaurant interior. You will not be disappointed with the variety of items, ranging from grilled to deep-fried, and even curries!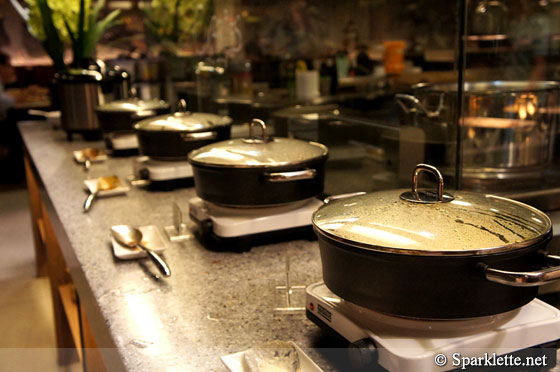 Western stews and curries
Forrest pizza





Boasting a thin crust and a generous serving of ingredients and mozzarella cheese, it's no surprise that the pizzas are snatched up almost as quickly as they are replenished!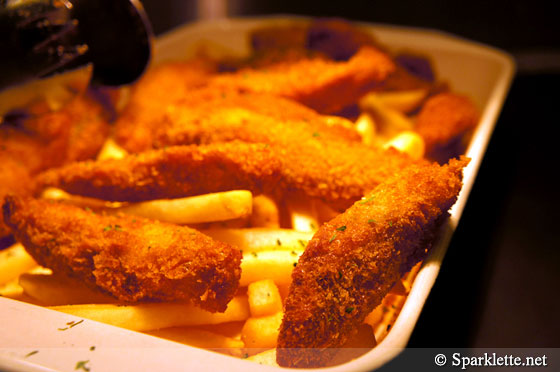 Fish and chips





One of the most important components to a good fish and chips is the breading. The fish and chips served here have just the right crispiness – a pleasant surprise for this commonly overlooked dish.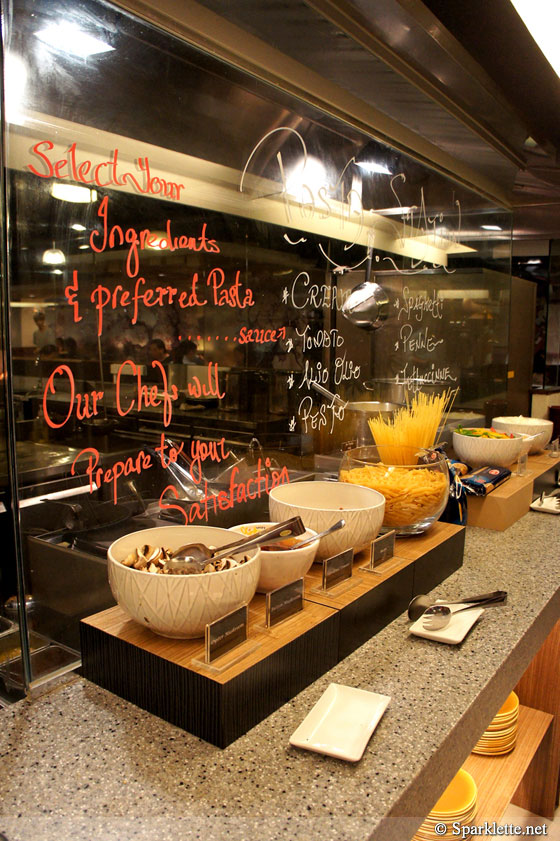 Pasta station
A highlight of Buffet Town is the pasta station where you get to create your very own pasta. Simply choose the ingredients you fancy from choices like seafood, mushrooms and even bacon, then select your preferred pasta and sauce.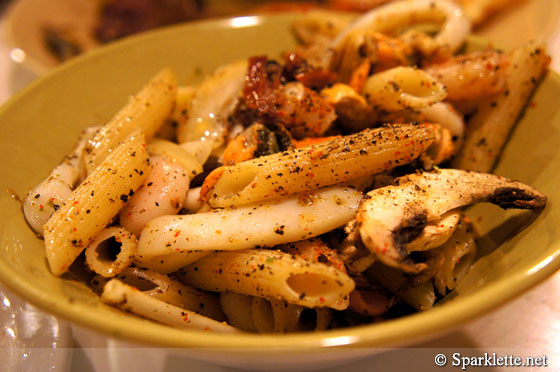 Penne aglio olio





While my penne aglio olio is packed with yummy ingredients, too much black pepper has been used, hence overpowering the dish. I also try a bowl of creamy spaghetti, in which the cream sauce is lacking and prawns are undercooked.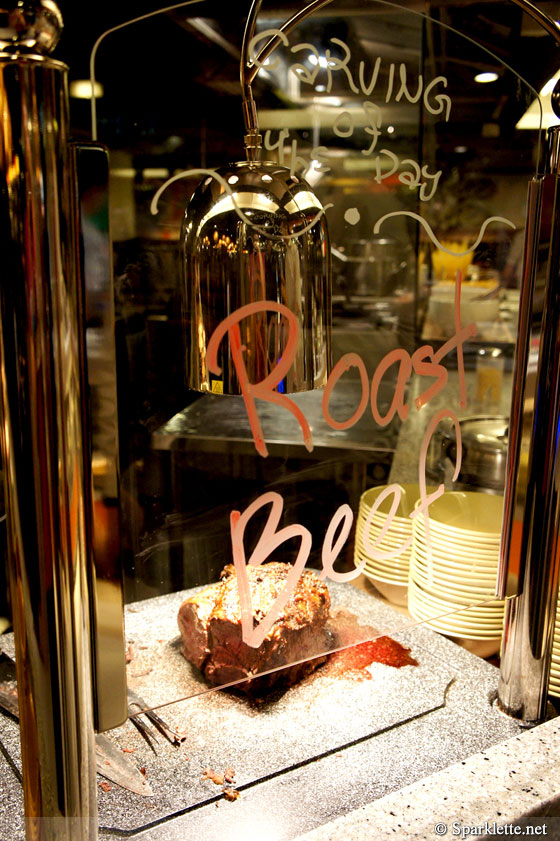 Roast beef





The restaurant has a few main dishes that are refreshed on a regular basis, namely the carving of the day and Chinese herbal soup. I enjoy the roast beef, which is tender and nicely cooked to pink.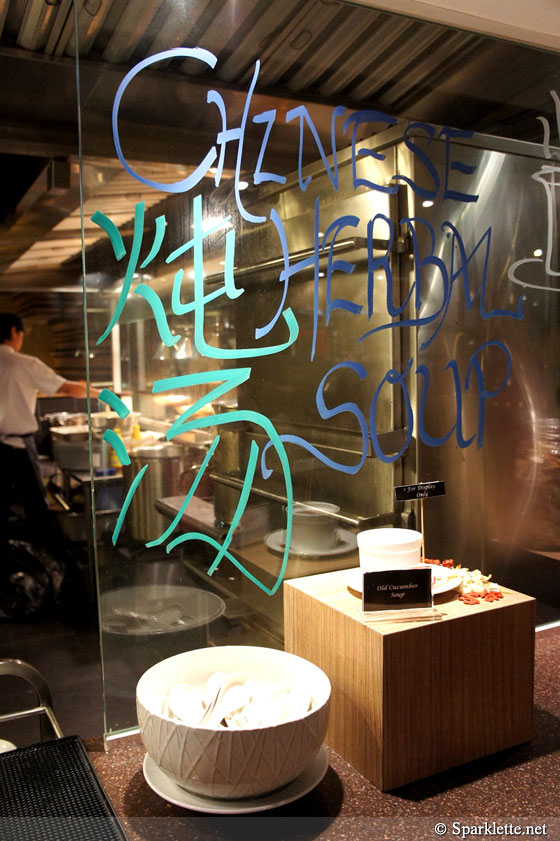 Old cucumber soup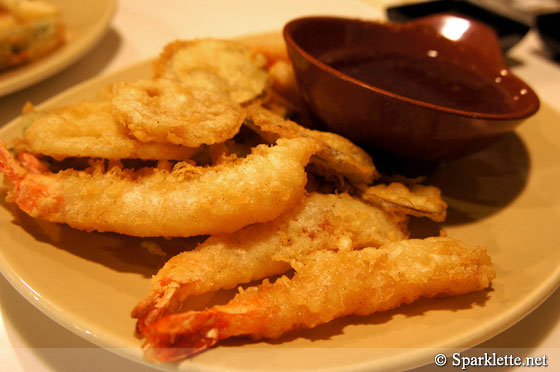 Tempura





Go for the tempura, which is executed to a crisp delight. The sweet potato and ladyfingers are unanimous favourites.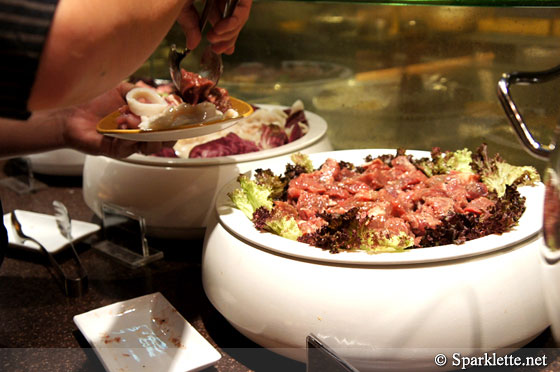 Teppanyaki
Fill your plates with the meats and greens from the teppanyaki station. The chefs are friendly and ever ready to cook up a storm with your selected items. A pity that there is no alert system to inform you when your order is done, which sometimes results in collecting a plate of food that has already gone cold.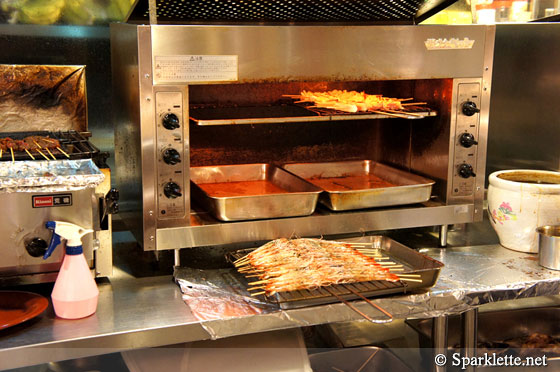 You would also find chefs hard at work grilling Japanese and local items.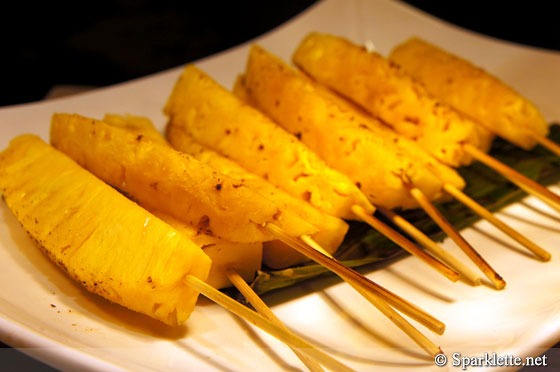 Grilled pineapple





These skewers of grilled pineapple provide an interesting combination of textures and flavours, and complement the sweet satay meats.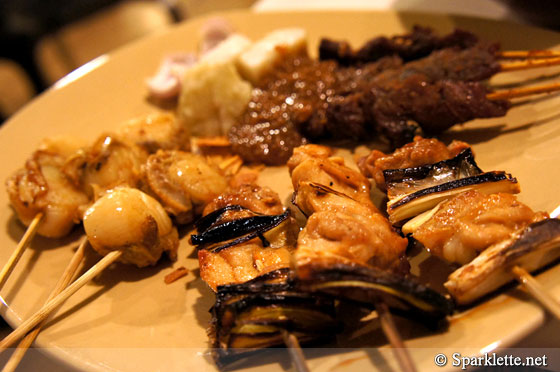 Grilled skewers





The scallops and mussel mentai are highlights from the Japanese grilled section, cooked to perfection and still retaining the fresh seafood goodness. Best enjoyed when they are fresh off the grill!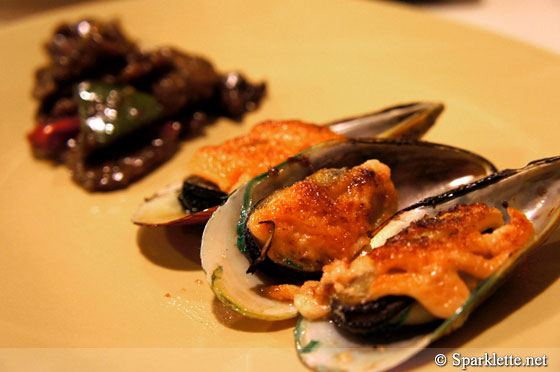 Mussel mentai





And we're still not done with this review yet! Buffet Town also has quite a few booths – like the adorable mini rojak stall – dedicated to serving Singapore local favourites.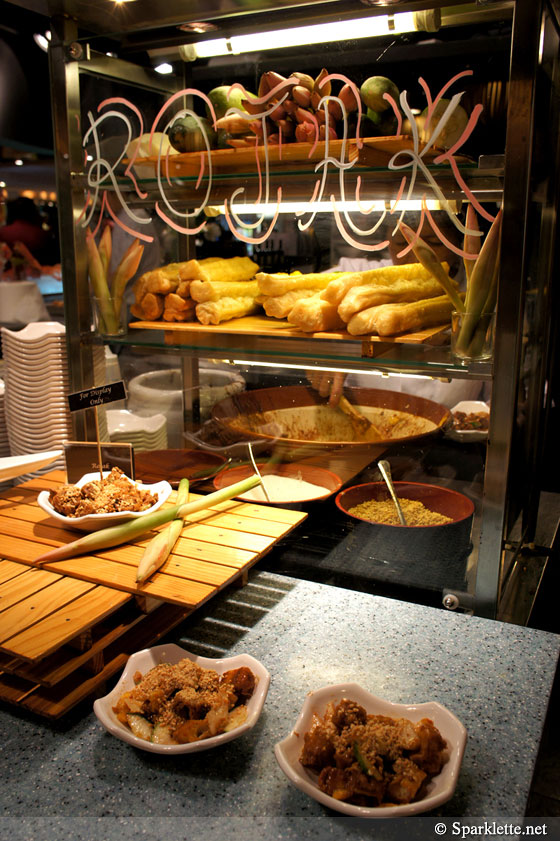 Rojak station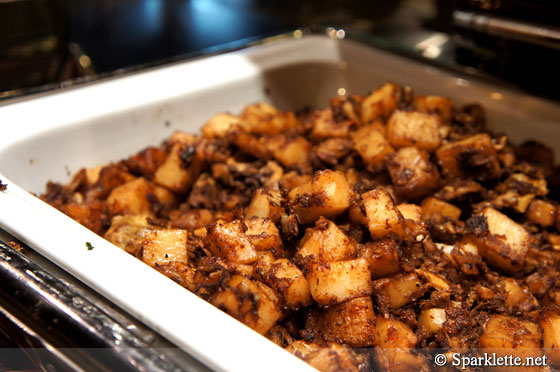 Carrot cake





The carrot cake is just the way I like it – chunky, slightly sweet and savoury.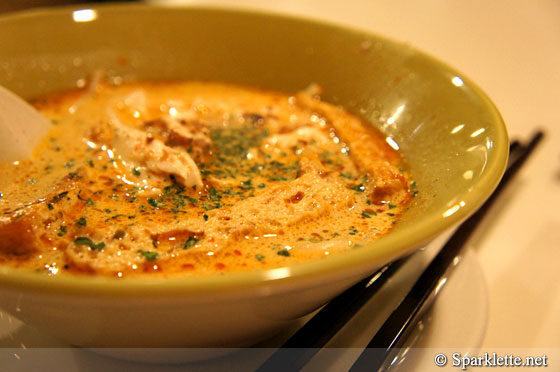 Laksa





While my dining companion enjoys the laksa, I feel it could have used more spices and chilli.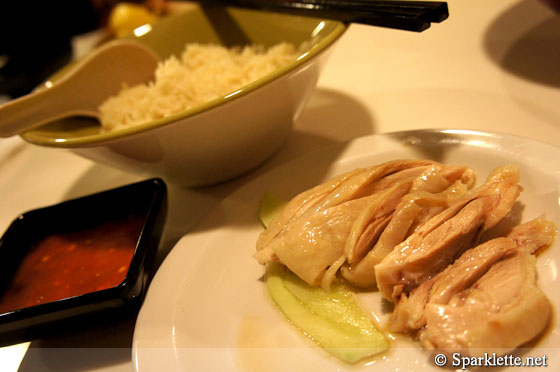 Hainanese chicken rice





The chicken rice may be a bit dry, while the meat is just the right oiliness and very flavourful.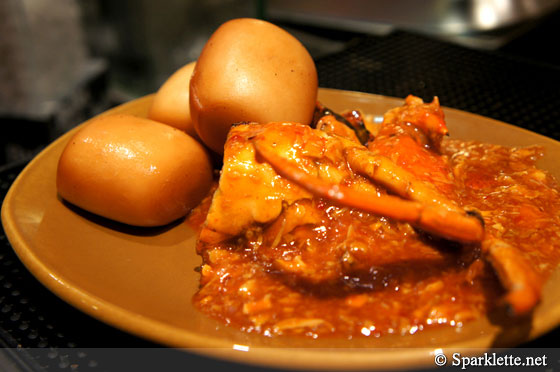 Chilli crab





Sinful, but oh-so good, the scrumptious chilli crab gravy is finger-licking good and couples well with the deep-fried mantou.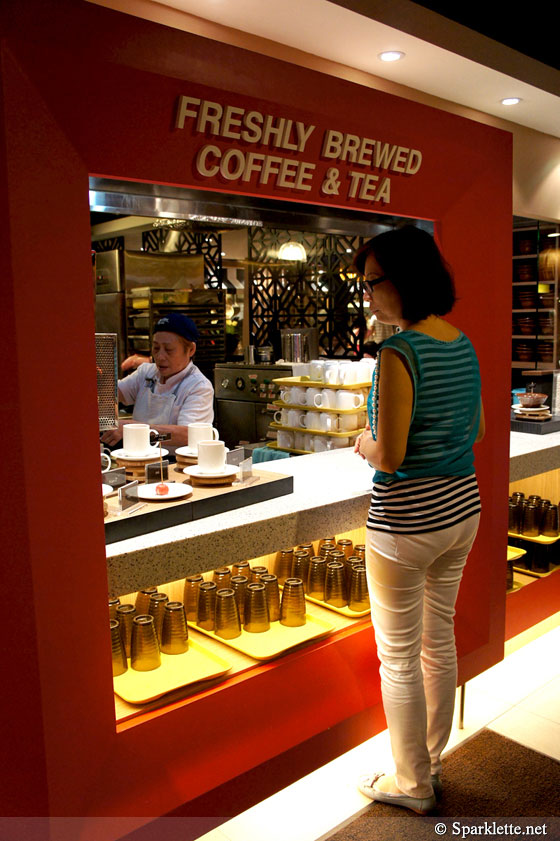 Coffee and tea station
Having a 'kopitiam' right within the restaurant is a stroke of genius! After a heavy meal, there's nothing better than to kick back and unwind with your favourite kopi-O or teh-si!
For those who prefer something else, there are also drinks machines, and even soy milk.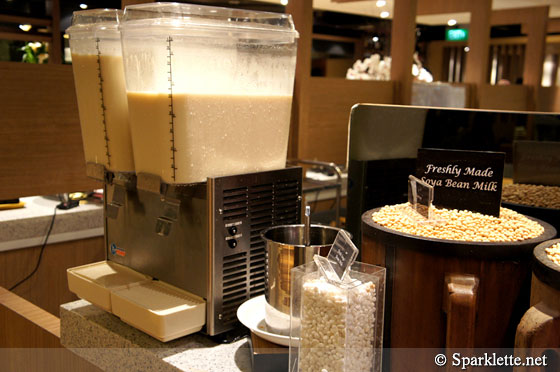 Soy milk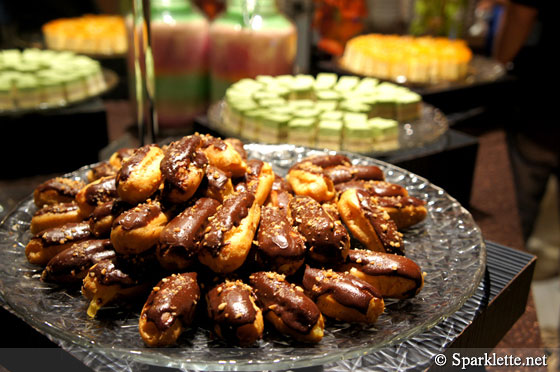 Mini cakes and éclairs
Not to be left out is the desserts selection. Aside from the usual cakes and tarts, you can also opt for green bean soup, cheng tng or even make your own ice kachang!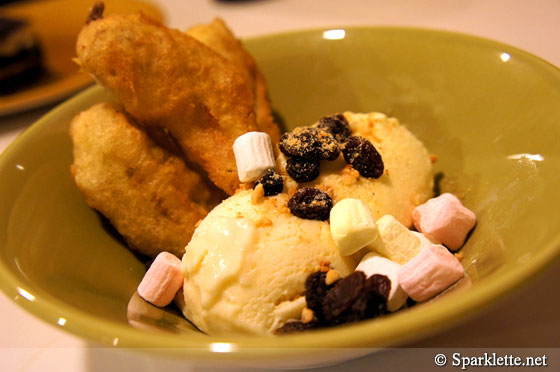 Ice cream





While the goreng pisang and waffles are nothing out of the ordinary, I find the ice cream flavours surprisingly tasty and appealing. Do try the rich chocolate as well as macadamia, which has a smooth, subtle sweetness.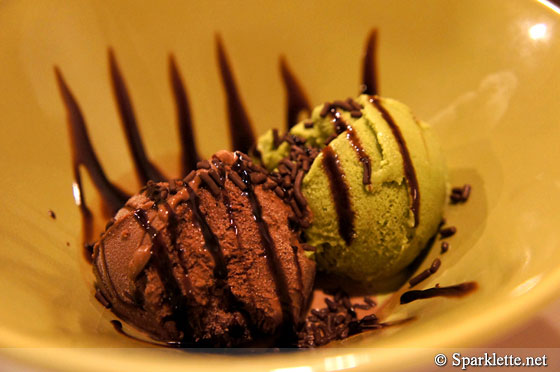 Buffet Town has its share of hits and misses. While it is not on par with the high-end buffet establishments, it offers diners a very good range of items at an affordable price. As it is still relatively new, I expect improvements and better things to come.
Have Your Say!
Where can you enjoy the best value buffet in Singapore? Share with us in the comments!
Buffet Town
Raffles City Shopping Centre
252 North Bridge Road #B1-44E
Singapore 179103
Tel: +65 6837 3793 |
Website
Opening hours:
Lunch: 11:30am to 3pm daily
Dinner: 6pm to 10:30pm daily