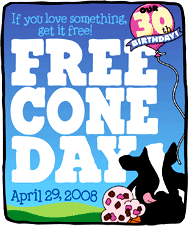 Hooray! Ben & Jerry's Free Cone Day is back for its 30th year!
Intrigued? Free Cone Day is an annual tradition of this beloved ice cream maker. Around this time of the year, Ben & Jerry's scoop shops around the world would give away free ice cream scoops all day.
In 2008, Free Cone Day falls on April 29. Mark down your calendars with smiley faces! The day also coincides with the 30th birthday of this American brand of ice cream.
Here are the details on where you can get your free yummy scoops!
Event:
Ben & Jerry's Free Cone Day
Date:
April 29, 2008
Time:
12 – 7pm
Participating outlets:
The Cathay
Raffles City Shopping Centre
United Square
White Sands
VivoCity
Jurong BirdPark
Singapore Zoo
Oh, what would I give for a scoop of their sticky, chocolaty chocolate chip cookie dough goodness? Be prepared to queue for your free ice cream though. One tip: go there while the kids are still in school!
Every free cone day, the socially-minded ice cream maker gives away more than one million ice cream scoops worldwide. That's more than one million happy people! Charitable organisations would probably be around to raise funds. So while enjoying your free treats, do also give generously!