Calling all night owls! If you're looking for a nice supper place to grab some chow, you can visit Mr. Teh Tarik Cartel!
As the name suggests, you can find teh tarik here plus a gazillion other drinks. There's Milo Dinosaur, teh halia (ginger tea), various ice blended drinks, just to name a few. Read my earlier review on Mr. Teh Tarik Cartel to find out more about the drinks!
Perhaps Mr. Teh Tarik is more well known for the vast variety of drinks. But do you know that they whip up many yummy dishes to go along too?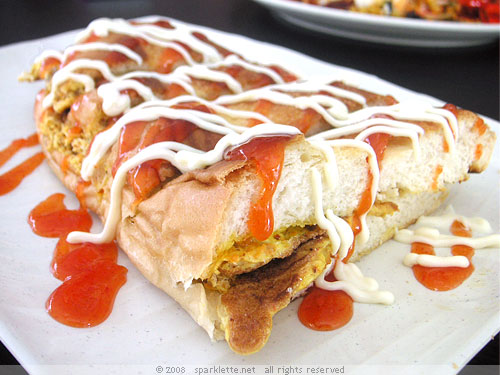 Roti John Chicken
S$3.50
Rating:





One of my favourite Muslim dishes is roti john. Most of the time, it is served with plenty of chilli sauce.
At Mr. Teh Tarik, the roti john is served with very delicious chilli sauce AND creamy mayonnaise too. Simply sedap (yummy)! This additional condiment makes a world of difference.
Plus, the way they squeeze it in a cute checkered pattern over the French bread is just neat!
Oh by the way, if you aren't too familiar with this dish, check out my earlier writeup on how roti john came about and got its name. It's pretty interesting!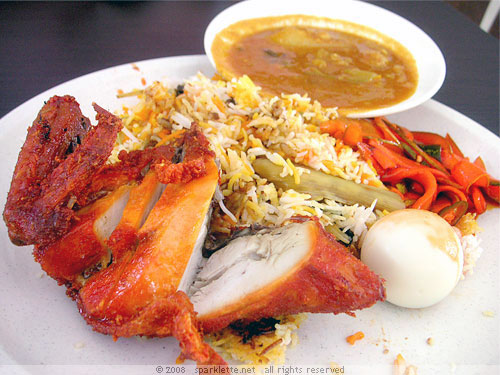 Chicken Briyani
S$6
Rating:





Of course, there's also nasi briyani for people that prefer eating rice rather than bread. We had asked for our chicken to be deep fried. It turned out pretty well, although I would still go for roti john any day!
So, for those of you looking for a late night supper place, you now have another option! That's great for all of us, right?
Mr. Teh Tarik
(

Halal certified
)
– 135 Amoy St #01-01 Far East Square
– 1 Raffles Place #b1-04 OUB Centre
– No 1 Changi Business Park Crescent #01-21 (Plaza 8)
– Blk 201D Tampines St 21 #01-1155
– Blk 503 #01-293 Tampines Central 1
– 902 East Coast Parkway Blk B #01-04/07
[email protected]
– 970 Geylang Road #01-02 Tristar Complex
– Blk 204 Bedok North St 1 #01-435
– Blk 608 Ang Mo Kio Ave 5 #01-2771 (opening soon)
– Blk 306A Woodlands St 31 #01-01
– Blk 456 Jurong West St 41 #01-750