Boathouse Singapore, situated at the beautiful heritage building of The Fullerton Waterboat House – replete with the circular stern of a ship – dishes up modern European cuisine. Decked in natural materials and historical artefacts, Boathouse provides an intimate dining area with stylish décor.
The ambience isn't the only thing that impresses; the wide wine list sets off plenty of oenological bells and whistles. You can even pop into the cellar to pick out your preferred bottles from hundreds of labels that include rare vintages.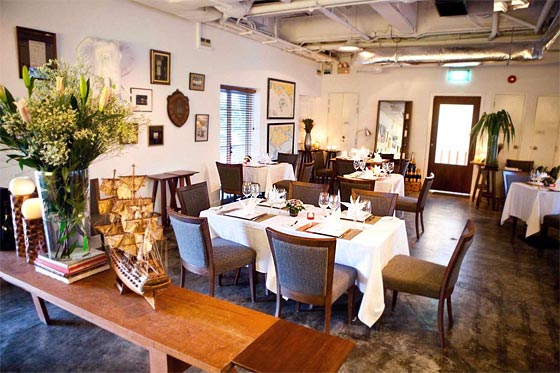 I first visited Boathouse during the months when it just opened. Then, it struck me with its appealing location while the cooking was good but not exceptional. This time round, with a different chef at helm, I decide to try the restaurant's new French-style Sunday brunch.
Sunday brunch
The brunch offers traditional country breakfast fares that you can order à la carte. On the other hand if you have time for a long leisurely brunch, then I suggest you go for the S$48++ Sunday brunch set (minimum 2 to order) that includes:
– Bread and pastry basket
– Salad or soup
– Eggs or pancakes
– Dessert or cheese trolley
– Fresh juice, coffee or tea
Bread basket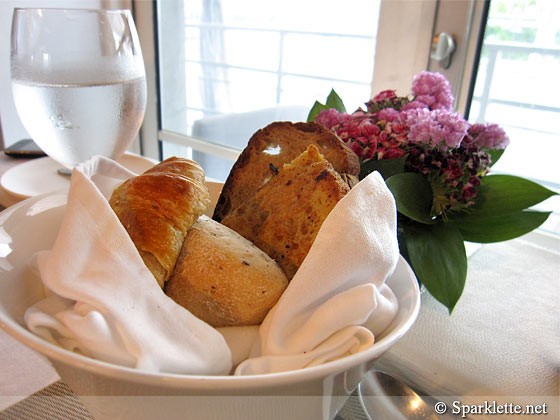 Usually, I am not one that would pay much attention to the bread served at a restaurant, preferring to dive straight into the starters or mains and save room for desserts. But in this case, it is hard to resist the soft, warm, yielding breads – served in four different kinds, no less.
Soup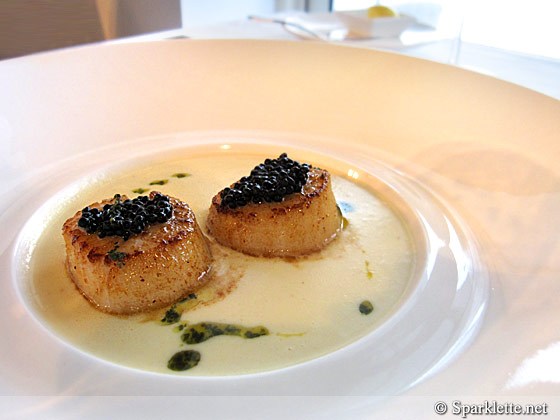 Cream of cauliflower
S$19++
Rating:





The velvety cream of cauliflower is a fabulous opener, although the real winner here is the duo of plump grilled scallops at its epicentre, crowned with a tiara of smoked black caviar.
Salad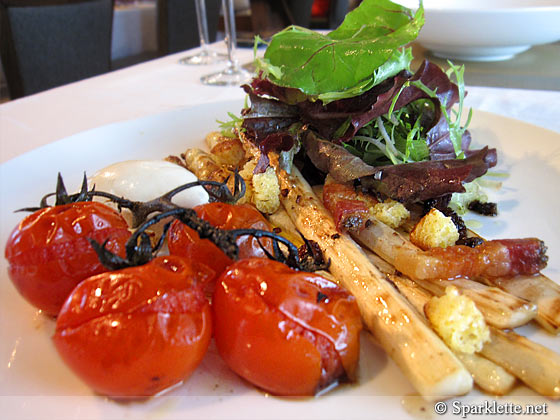 Grilled asparagus
S$25++
Rating:





The salad of grilled asparagus, cherry tomatoes, bacon, croutons and cheese is an attractive myriad of colours and textures. The greens are pristinely fresh and the tomatoes succulent. Bacon adds a contrast in flavour, and the splash of truffle vinaigrette proves the perfect culinary catalyst.
Eggs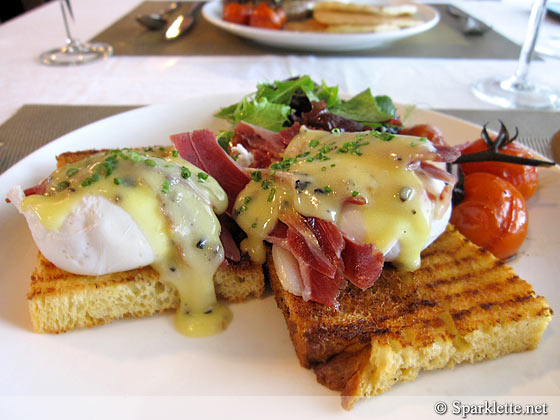 Egg Benedict
S$18++
Rating:





As for the eggs, you can have them in any way you fancy. Poached, scrambled, baked, sunny side up, you name it. For the eggs Benedict, the poached eggs are teamed with cured Petuna ocean trout and dressed with truffle hollandaise sauce on a bed of toasted brioche bread. Accompanied by a salad of greens and tomatoes on the side, I feel like I've had enough vitamin C for a week!
Pancakes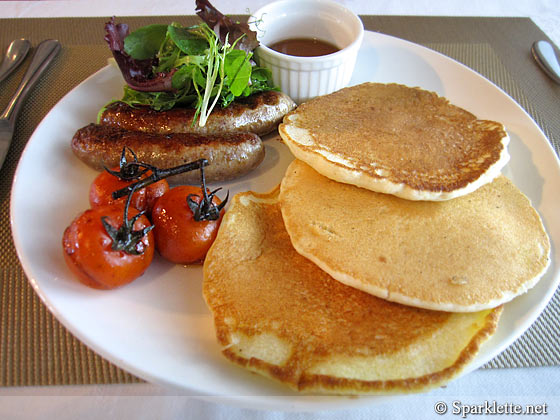 Pancakes with spicy sausages
S$19++
Rating:





The savoury pancakes are served with either spicy sausages, bacon or ibérico de bellota, a certain type of cured ham. The spicy sausages are, strangely, not spicy at all, at least in not the way that we Asians know it. For a main course, the portion is also rather small.
If you like your pancakes sweet, those are available as well, paired with blueberries, apple or banana.
Cheese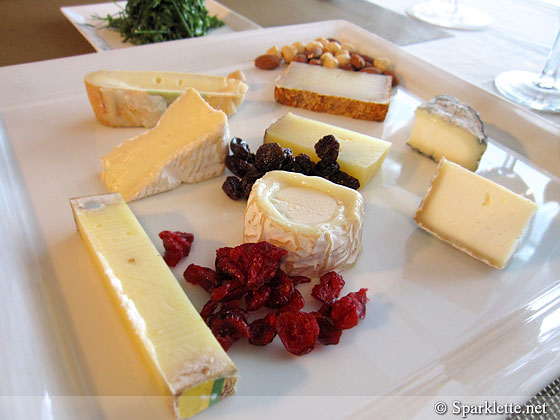 Selection of cheeses of the day
S$23++
Rating:





The assorted cheeses arrive along with toasted nuts, dried fruits, crackers and a certain type of salad that goes well with cheese.
Dessert
The desserts are made in-house and should be ordered at the start of the meal. Go for the gold by treating yourself to the Grand Marnier soufflé.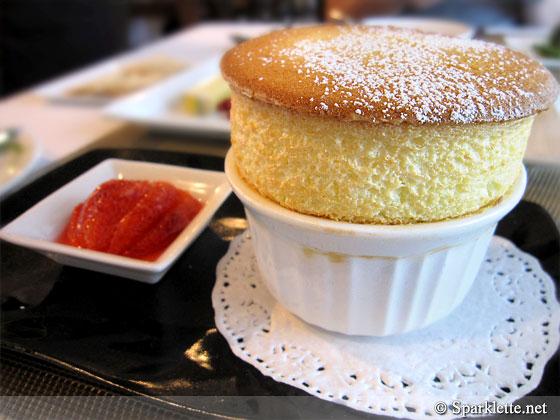 Grand Marnier soufflé
S$18++
Rating:





Soufflés often deflate the moment they hit the table and reach flat-as-a-pancake status within the minute. That's a nightmare for snap-happy bloggers like myself who frequently show off our gastronomic conquests. Thankfully, there are no such worries here. The kitchen turns out an ethereally light soufflé that is benchmark in every respect. The cake is a uniform blonde colour, with a rich eggy flavour that has been invigorated with a generous splash of Grand Marnier. I would happily eat this again any time.
Other dessert possibilities include crème brûlée, pear tarte tatin and dark and white chocolate that is served with toasted bananas and cocoa ice cream.
Cocktails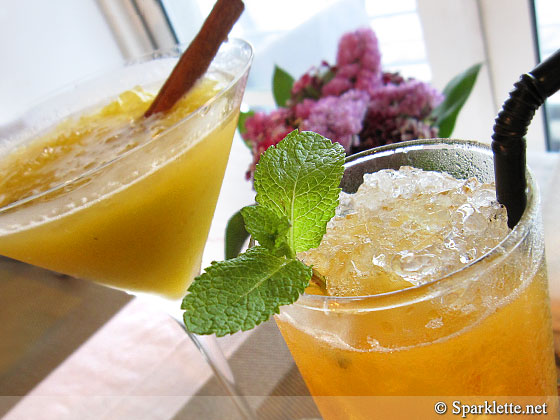 Cocktails
S$15++
Cocktails are available at the restaurant as well as the rooftop bar, Prelude, that opens in the evening. Some of these sport interesting Singapore-inspired names such as the Merlion Punch, a refreshing mix of passion fruit, white peach and pineapple jazzed up by vodka. The Orchard is a concoction of apricot, apple, cinnamon, lemon and vodka.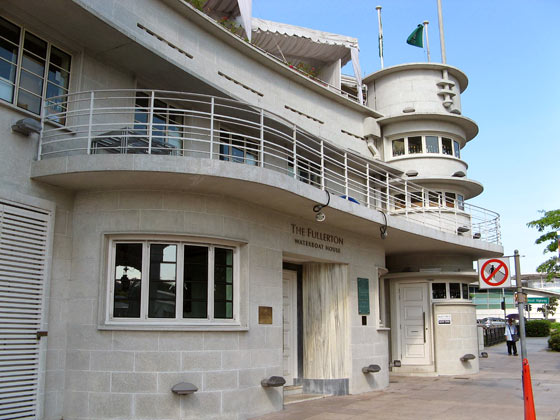 Credit
Tucked away at the picturesque Fullerton Square, Boathouse attracts a clientèle that ranges from locals, expatriates and tourists that have the common passion for lovingly prepared and well presented European cuisine.
Have Your Say!
Where would you go for Sunday brunch in Singapore? Share with us in the comments!
Boathouse
The Fullerton Waterboat House
3 Fullerton Road #03-01
Singapore 049215
Tel: +65 6538 9038 |
Website
Service:





Opening hours:
Lunch – Monday to Friday, 12noon – 2pm
Dinner – Monday to Saturday, 6:30pm – 11pm
Brunch – Sunday, 11am – 3pm