For those who have yet to try Spanish cuisine, Spanish Night at Café Swiss, Swissôtel the Stamford is perfect for sampling the cuisine without spending a bomb. If you are a grazer and can't commit to one dish, this is the opportunity where you can flirt with lots of different flavours. By the end of the night, I promise you'll become an expert in Spanish cuisine!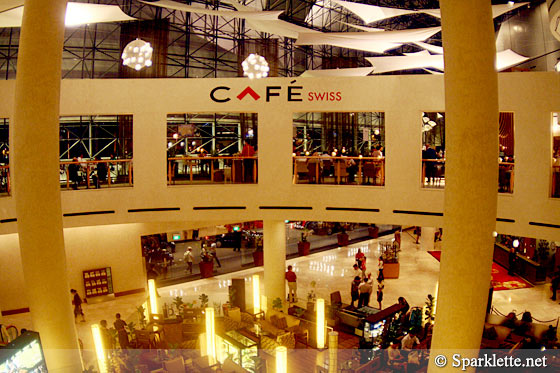 The ¡ESPAÑA! Spanish Nights
S$55.00++ per adult / S$27.50++ per child
Every Wednesday 6:30pm – 10pm





Upon entering Café Swiss, you are greeted by a waitress in a Spanish costume who will lead you into the lively atmosphere. The décor of Spanish wine bottles and ornaments lend much character to the ambience. A Spanish singer serenades the crowd, accompanied by a keyboardist and a violinist. That makes conversations a bit of a problem if you're seated near the stage. No complaints though; the music is good, and the food keeps everyone busy!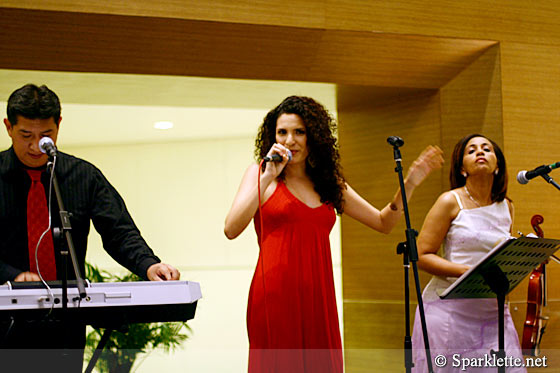 Drinks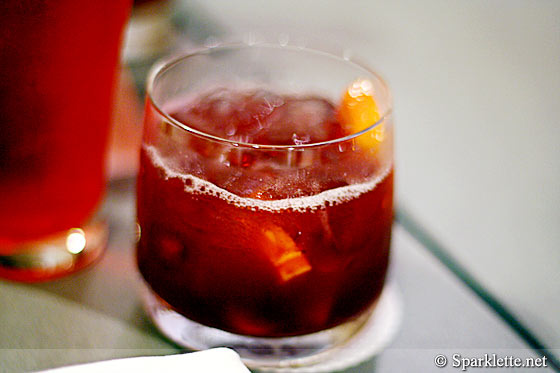 Red sangria
S$$30.00++ per pitcher





Sangria is a staple in any Spanish events; it's almost like a religion! It is very typical of the Spanish to have wine along with a meal.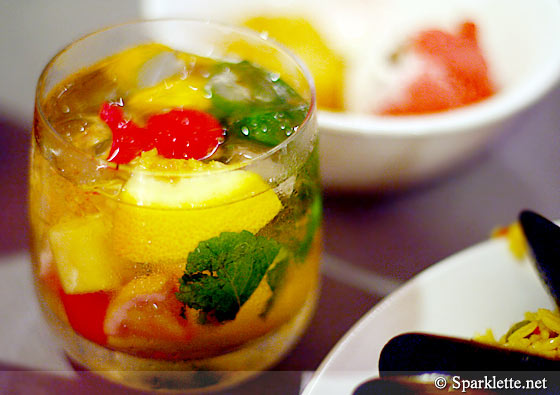 White sangria
S$$30.00++ per pitcher





I end up having two glasses: a red and a white sangria. I enjoy the latter more although both are really good!
Tapas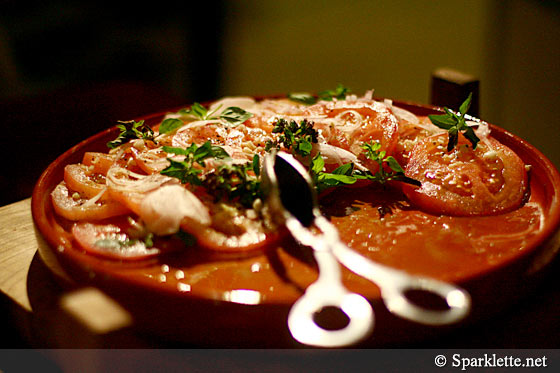 Commence your meal at the starters section where a wide selection of tapas is available, such as Torte, swordfish, prawns, meatballs, tuna turnovers, Padron peppers, garlic mushrooms on toast, octopus, baked salt cod cakes and ham croquettes.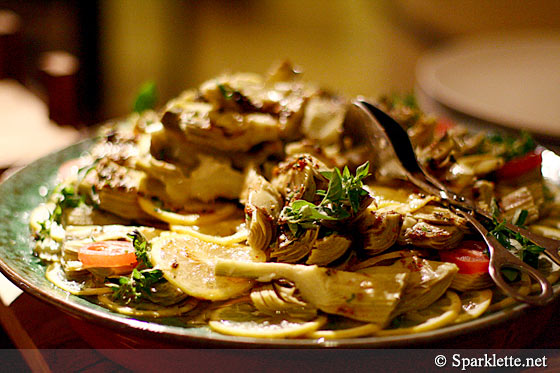 Cold items include shaved Serrano ham, salt cod, artichokes, broad beans with ham, potato salad, sweet peppers and Spanish tuna, chilled seafood salad, tomato and onion salad, as well as an assortment of Spanish cheeses.
Most tapas dishes are suitable for the health conscious, consisting of many fresh greens and fruits.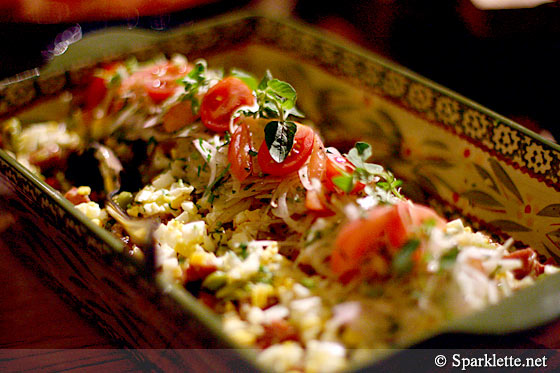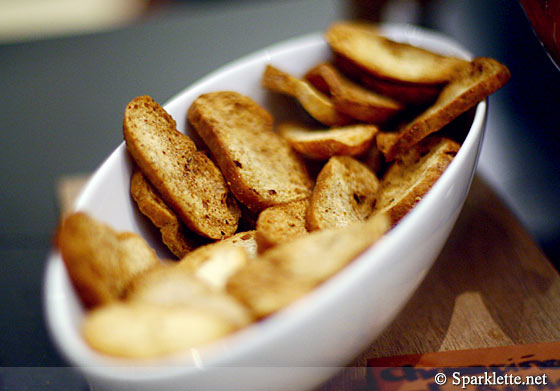 Mix and match to create your own tapas with the numerous toppings and toast bread available. The refreshing dishes from the station will definitely whet your appetite for the mains.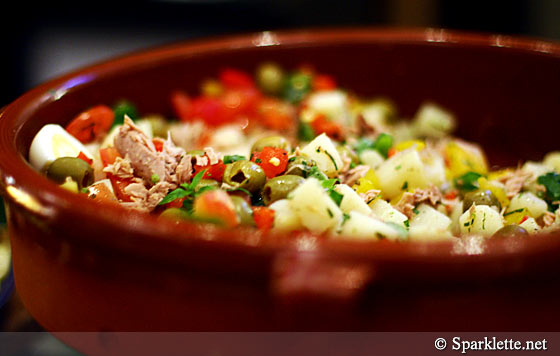 Ensala da Campera (potato salad, sweet peppers and Spanish tuna)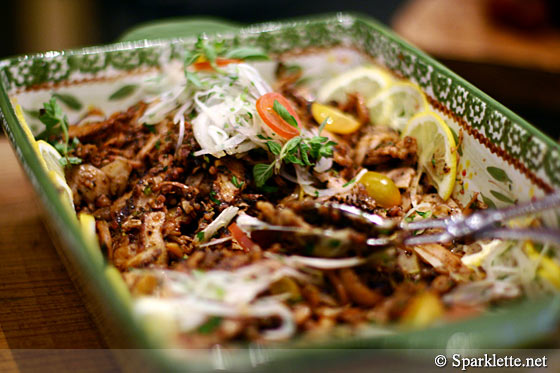 Pulpo a la Parilla (char grilled octopus marinated in rosemarry, thyme and olive oil)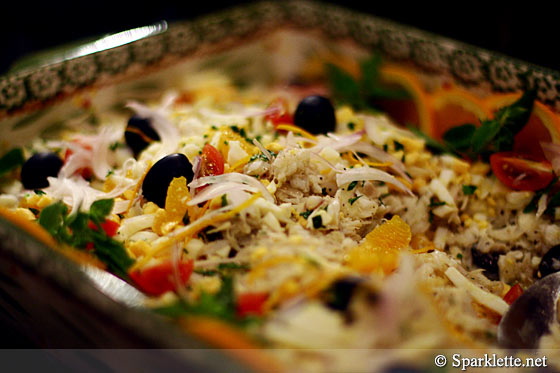 Bacalao de Granada (salt cod with oranges and olives)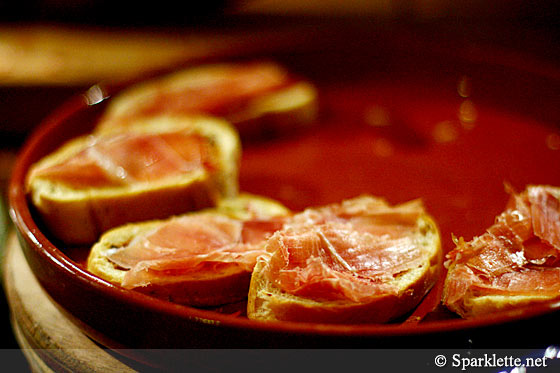 Shaved Serrano ham on tomato bread
The shaved ham is too dry for my liking. But on a positive note, the tomato bread is crispy and fragrant.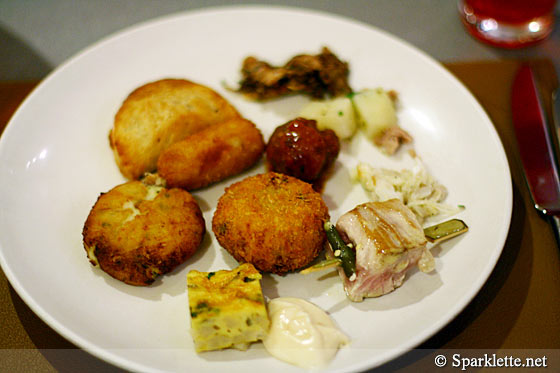 Anti-clockwise from right: Tuna Banderilla with lemon dressing on a skewer, potato and onion tart with egg and garlic aioli, baked salt cod cake, tuna turnovers, ham croquettes, char-grilled marinated octopus, potato salad, salt cod, pork meatball stewed in tomato sauce and goat cheese fritter (centre)
With so many tapas to choose from, tuna is a safe bet for the less adventurous.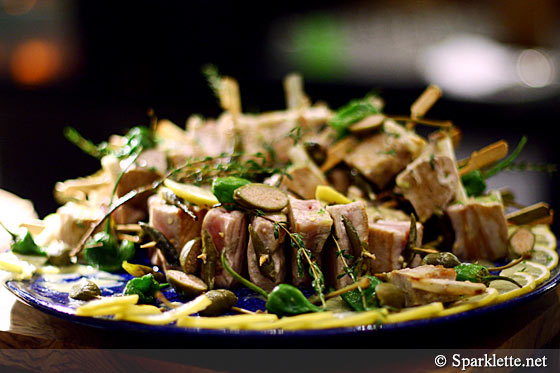 Tuna Banderilla with lemon dressing
The tuna Banderilla is fresh, slightly seared to perfection with a rare centre. The tangy lemon dressing complements the fish impeccably.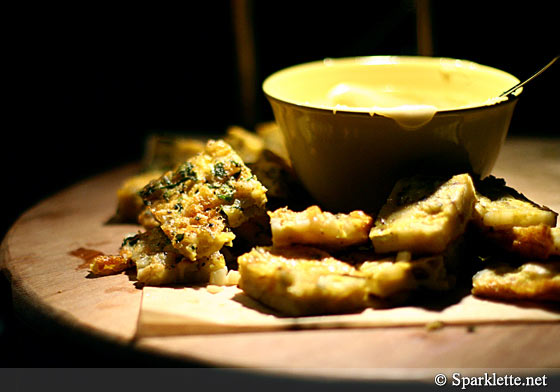 Tortilla de Patatas (potato and onion tart with egg and garlic aioli)
Being a quintessential part of the Spanish gastronomy, the Tortilla de Patatas is one dish I had high hopes for. The omelet itself has a starchy texture, and is quite forgettable. The aioli (garlic mayonnaise) on the other hand, is so delectable, I decide to use it as a dip for other dishes!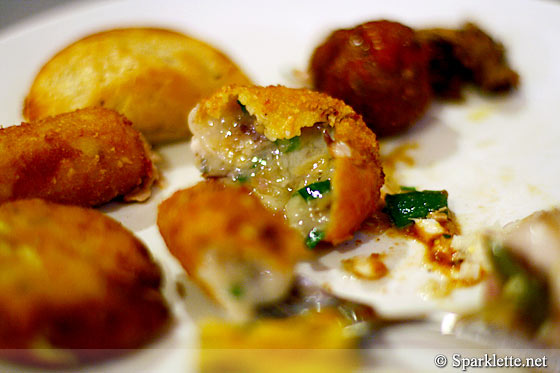 Coated in golden breading, the melted goat cheese is crispy on the outside and gooey on the inside. It doesn't have a terribly strong odour, although my partner across the table begs to differ! Goat cheese is definitely a food that divides – you either love it or hate it!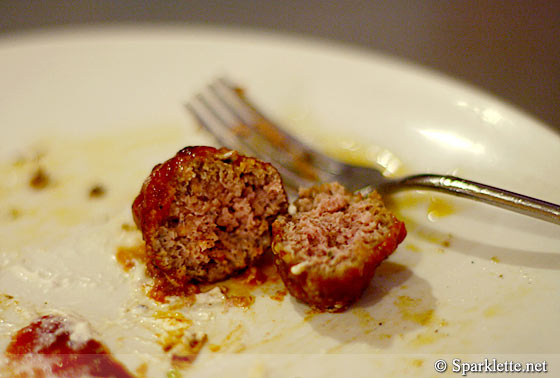 Savoury pork meatballs stewed in tomato sauce





The savoury pork meatballs stewed in tomato sauce may be a little tough, but each meatball is infused with a myriad of flavours.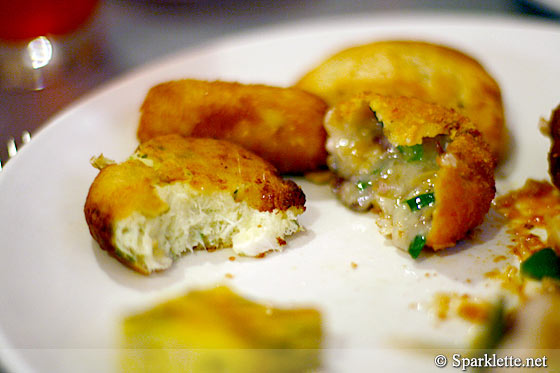 Bunuelos de Bacalao
(baked salt cod cakes)





The Bunuelos de Bacalao (baked salt cod cakes) are chock-full of nutritional salt cod, and are rich in taste and quality.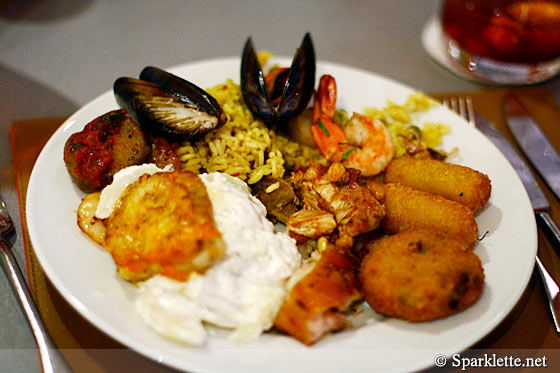 Iberico ham croquettes





The Iberico ham croquettes (on the right) are quite a hit, and get polished off the station quickly. Thankfully, the chefs are efficient in re-filling the trays with new batches. This delicious snack has a crispy breaded crust on the outside with a smooth and tasty filling.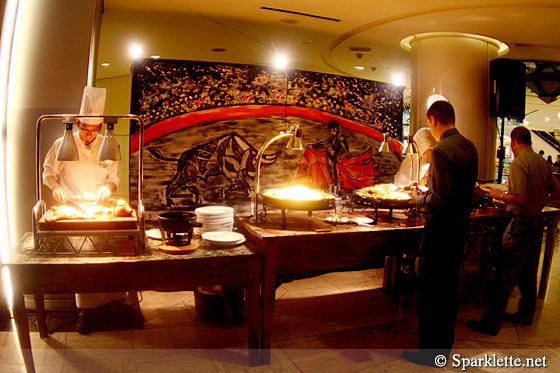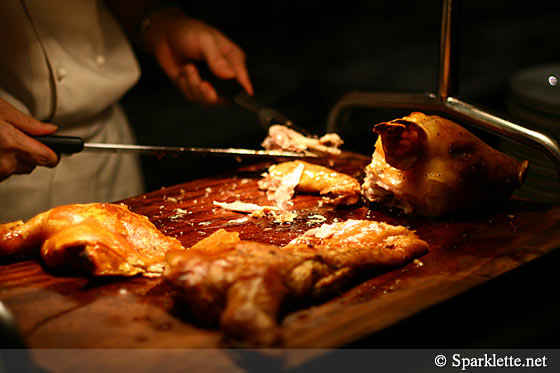 Roast piglet with Salsa Verde





At this station, you will find a chef ready to slice a slab of roast piglet on the spot. It is definitely the star of the night; the moist and tender meat under a crispy skin is perfectly seasoned. This is the time to forgo your diet, because the mouthwatering pork is totally worth the calories!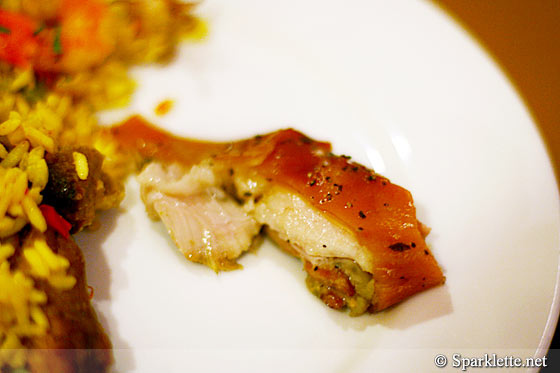 Before moving on to the second round, have a glass of refreshing lychee tea to cleanse your palate and aid in the digestion!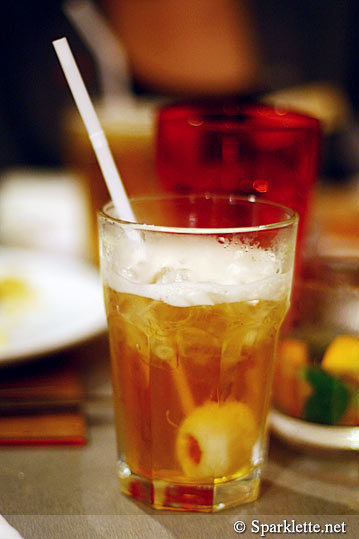 A station with a selection of breads, soups and main courses awaits you.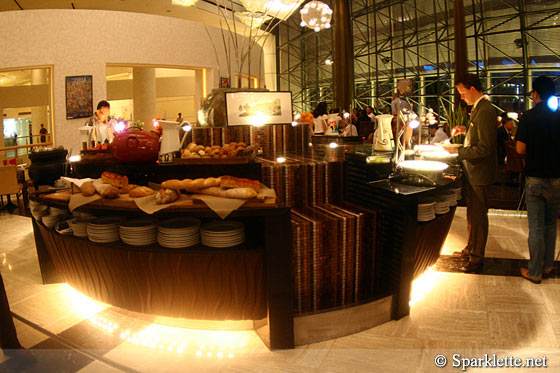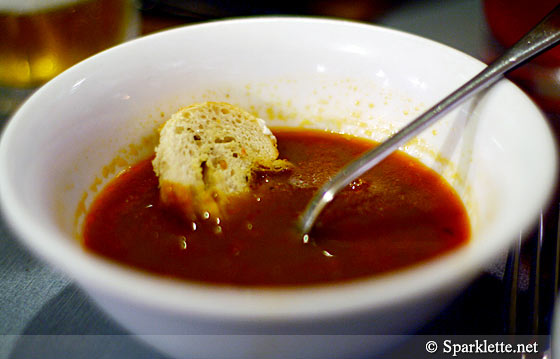 Spicy Catalan seafood soup





The spicy Catalan seafood soup is over-salted and the seafood is almost absent, likely devoured by quicker diners. But it has a perfect consistency and is full of flavour. The tangy aroma that fills my nostrils begs me to gulp it all down.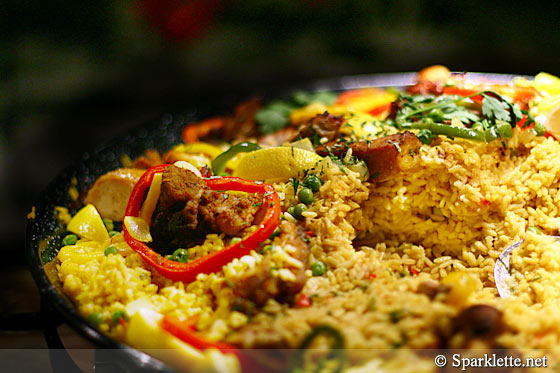 Paella Marinera





Save some room for the Paella Marinera, an identifying symbol of Spanish cuisine. Even though rice is a belly-sweller, it is definitely worth the space in your tummy!
My only nitpick is that the paella rice isn't cooked and served the traditional way in a paella pan. But it is still extremely fragrant and well-infused with authentic flavours. You won't be short-changed in terms of meat chunks and seafood. I just miss the caramelised crust of rice from the bottom of a paella pan that I had at Sol Tasca.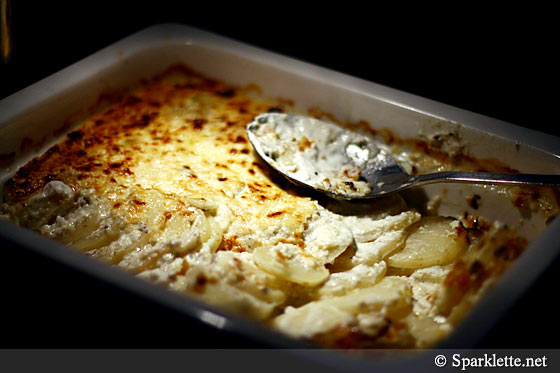 Potato gratin





The potato gratin is made with a Spanish Manchego cheese that is creamy and isn't overpoweringly rich. The potatoes are a little al dente, but it doesn't stop me from getting a second helping!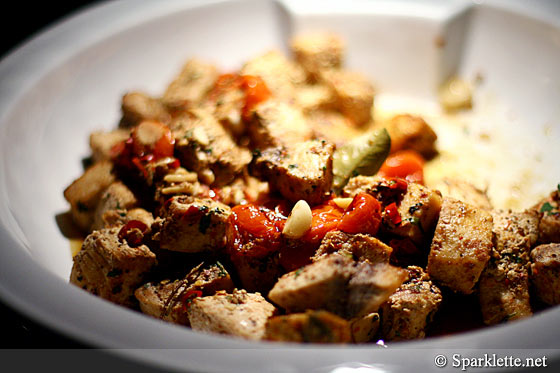 Monkfish marinated with roasted garlic, cherry tomatoes, parsley. roasted chilli and red pepper sauce





Lightly spiced, the flavourful monkfish has a broad spectrum of flavours. A shame though, that it is a little tough for my liking. A moist and tender countenance would have made it perfect.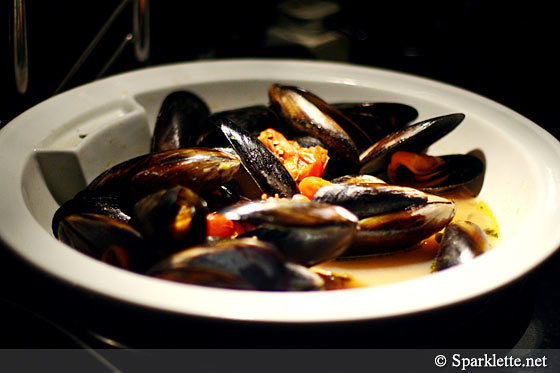 Mussels with tomato, wine, garlic, onion and coriander





Seafood, one of the pillars of Spain's gastronomy, is essential at the spread. The mussels are large and juicy. But as tempting as the sauce is, the station is missing a ladle for hungry diners to scoop it out.
You can also find a selection of chicken, goat, stuffed peppers with Serrano ham and chickpeas with Chorizo at the main course station. These will definitely satisfy your inner epicure.
Desserts
The dessert booth is somewhat of a disappointment, with just a small selection of six ice creams and sorbets that are rarely replenished, five Spanish desserts and no sign of cakes.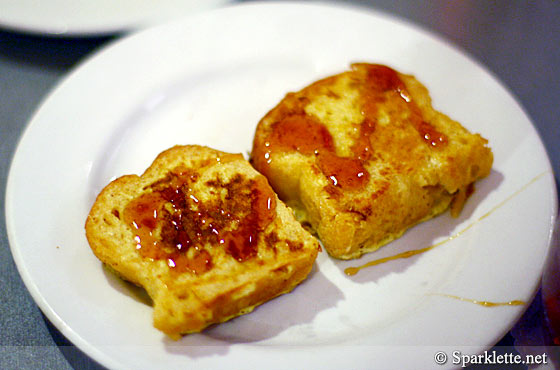 Andalucian-style fried bread with honey





The Andalucian-style fried bread drizzled with honey is prepared on the spot. Similar to French toast, the mini-sized bread is drenched in egg and pan-fried.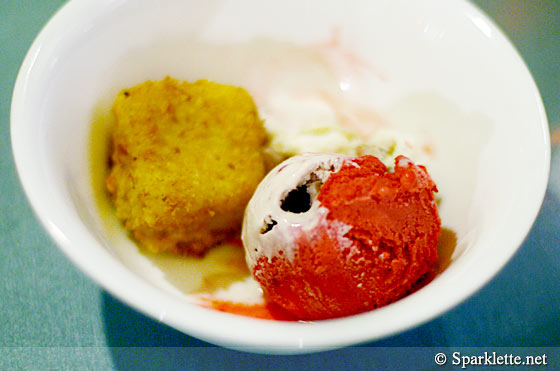 Raspberry sorbet





Raspberry sorbet doesn't exactly scream Spanish. The custard-filled fritter – smooth custard coated in a crispy golden breading – on the other hand, is delightful.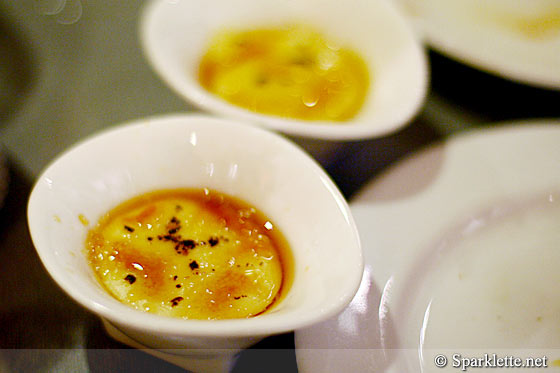 Baked Catalan custard with lemon and cinnamon





The baked Catalan custard with lemon and cinnamon is the most popular dessert of the night, flying off the shelf as soon as they have been replenished.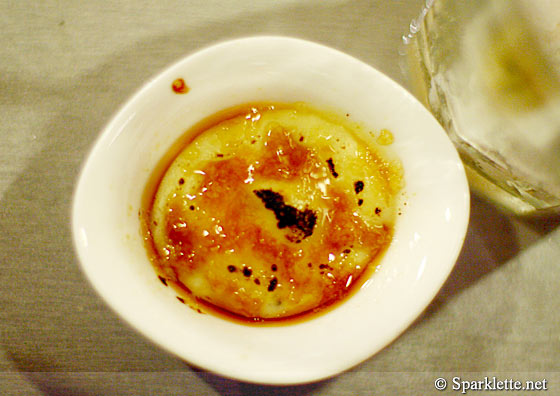 Similar to the French dessert, crème brulee, it has a crackling caramelised sugar crust on top of smooth custard. The added lemon and cinnamon make a zippy and fragrant combination. What more can we ask for? What a great way to end the night!
It is apparent that the chefs have done an extensive amount of research and put in much effort to bring Spanish culture into Café Swiss. The service is brisk and professional; the wait staffs are efficient in clearing plates from your table so there would constantly be room for more plates. This is one buffet that is totally worth your bucks!
Have Your Say!
Where can you find the best Spanish food in Singapore? Share with us in the comments!
Café Swiss
Swissôtel the Stamford, Level 2
2 Stamford Road
Singapore 178882
Tel: +65 6431 6156 |
Website