This Mid-Autumn Festival, Majestic Restaurant presents not only a selection of contemporary snowskin mooncake creations, but also a festive set menu.
Mid-Autumn Festival set menu
The 6-course menu is priced at S$88++, with a minimum party of 2 to order.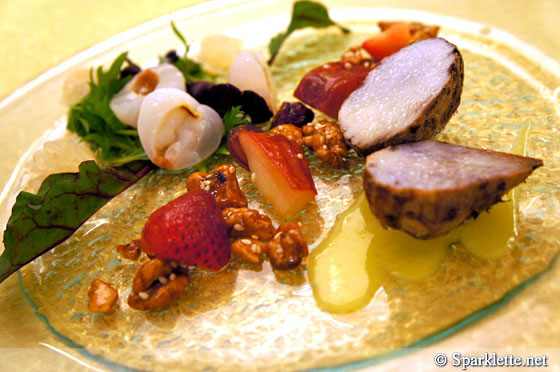 Fresh lychee, yam, pomelo and organic greens





This platter of fresh fruits and produce – I particularly enjoy the sweet lychee and juicy pomelo – is an appetising start.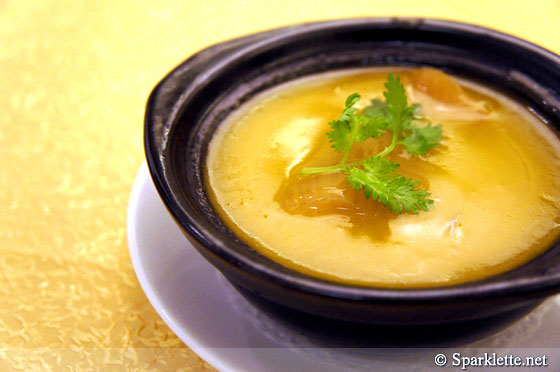 Claypot shark's fin soup in Nu Er Hong





With a generous portion of shark's fin and crab meat in a thick, rich soup, complemented by the Chinese "nu er hong" wine, you'll be asking for seconds!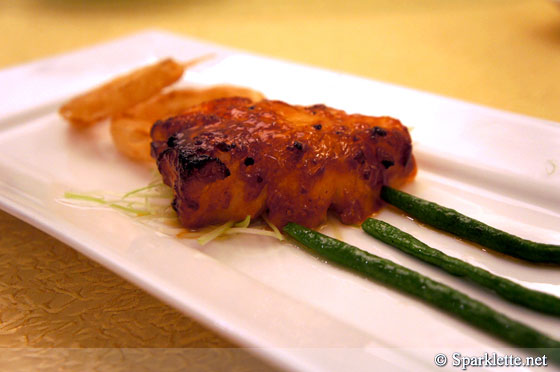 Osmanthus honey baked fillet of sea perch





I especially like the way the osmanthus flowers complement the honey-baked sea perch without overwhelming the natural fresh taste of the fish.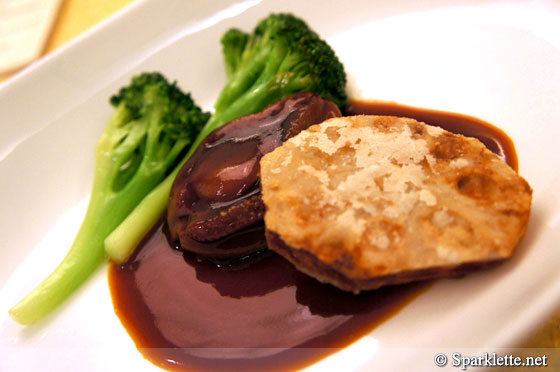 Braised whole abalone and lotus root stuffed with prawn paste





The abalone, paired with fried lotus root with delicate prawn paste filling in a superior bisque, is mouth-watering. My only complaint is that there is only one slice of fried lotus root!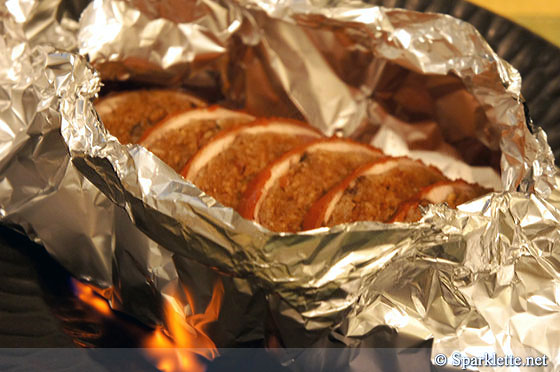 Roasted suckling pig with glutinous rice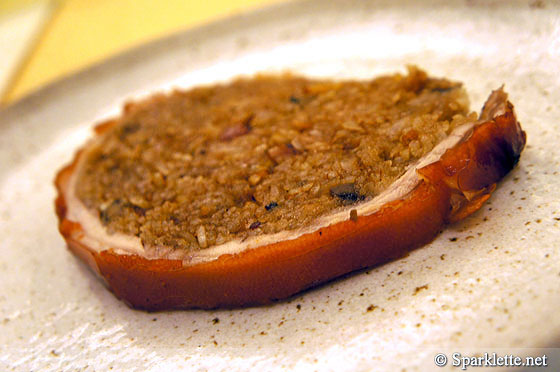 Put to the fire one last time before being served onto our plates, the skin of the roasted suckling pig is given an extra bite. The light, fragrant glutinous rice is what steals the attention for this dish though.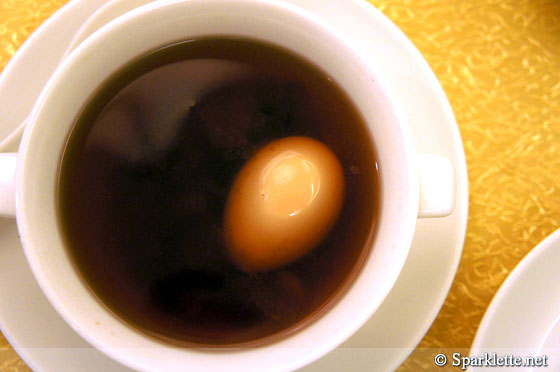 Black bone chicken egg with Chinese eight treasures tea





The black bone chicken egg may be smaller in size, but has a bigger and more flavourful yolk, making an interesting addition to the traditional eight treasures tea.
Snowskin mooncakes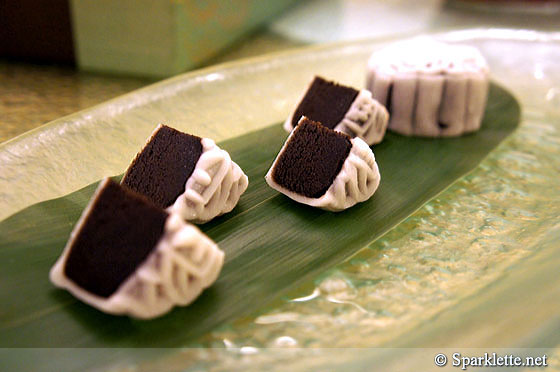 Mini dragon almond snowskin mooncake with black sesame paste
S$48 for 8 pieces





Though the black sesame paste is enjoyably rich, I feel that the almond snowskin pairing is quite peculiar.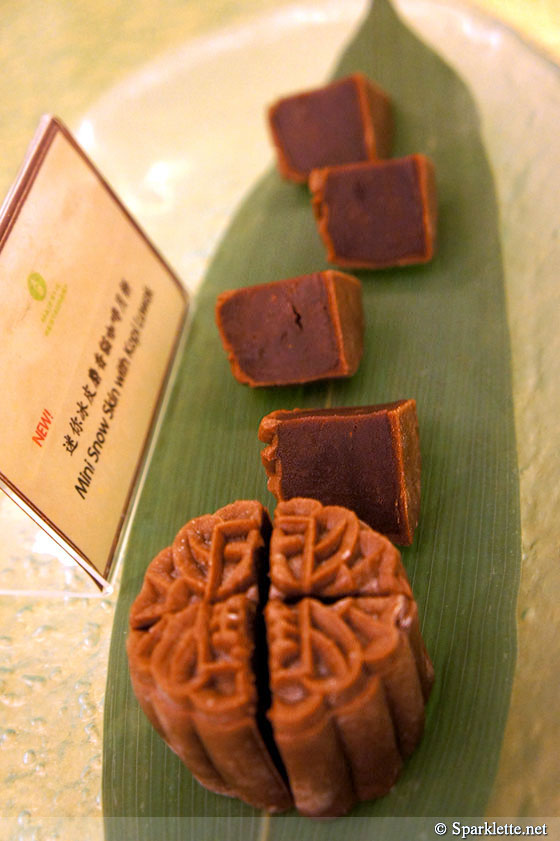 Mini snowskin mooncake with Kopi Luwat
S$50 for 8 pieces





Made with Kopi Luwak, or civet coffee – one of the world's most expensive and low-production varieties of coffee – the filling is thick and aromatic without being bitter. A great gift for coffee-lovers!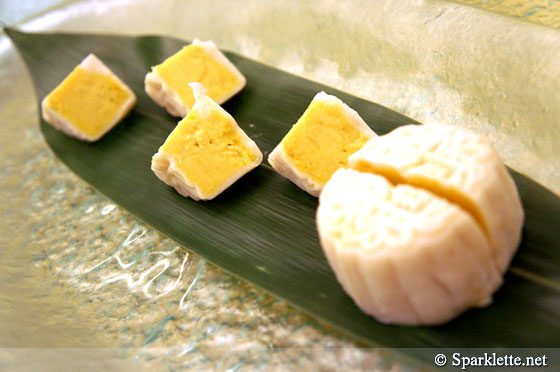 Mini snowskin mooncake with durian
S$56 for 8 pieces





Soft, fresh and pulpy, it's only too easy to get addicted to the signature Mao Shan Wang durian mooncake.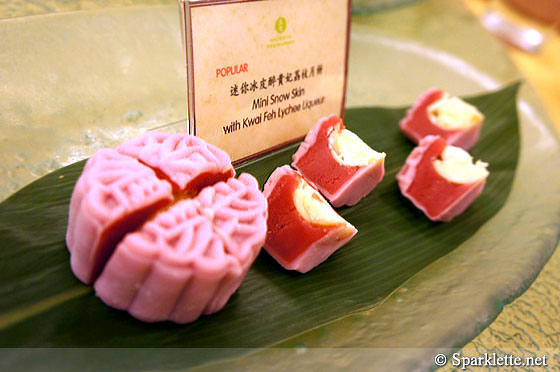 Mini snowskin mooncake with Kwai Feh lychee liqueur
S$48 for 8 pieces





Perfumed and sweet-tasting, reminiscent of chewing bubblegum, the bright pink Kwai Feh lychee liqueur mooncake is sure to bring a smile to anyone who tries it.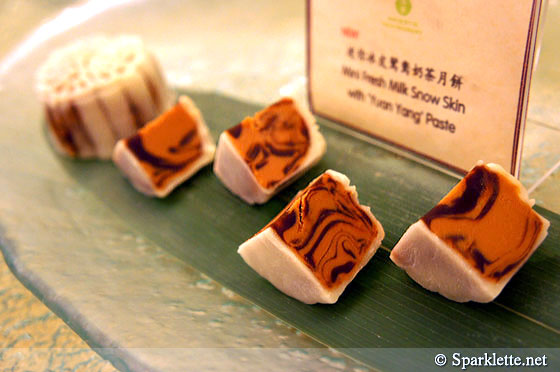 Mini fresh milk snowskin mooncake with Yuan Yang paste
S$48 for 8 pieces





Like how you would order a yuan yang at a coffee shop, the interesting mix of tea-based paste with swirls of coffee is an understated highlight of the snowskin mooncake series.
The Mid-Autumn set menu and mooncakes are available until September 12, 2011.
Have Your Say!

Loading ...
What mooncakes are you buying this year? Share with us in the comments!
Majestic Restaurant
New Majestic Hotel
31-37 Bukit Pasoh Road
Singapore 089845
Tel: +65 6511 4718 |
Website
Operating hours:
Lunch: 11:45am – 3pm (last order 2:30pm)
Dinner: 6:30pm – 11pm daily (last order 10:30pm)