Okay okay, I know I'm a little late in this. This was only my first time eating from Chippy British Take Away. I was window shopping at Raffles City, got hungry, and wanted to sit down at a nice restaurant for some sumptuous dinner. But this brightly lit red little booth caught my eye.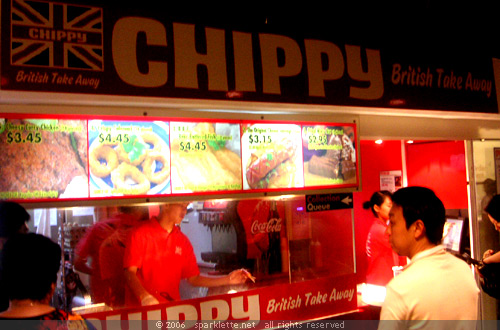 It's Chippy British Take Away! With that striking union jack, the cheery name, and so many sinful treats such as fried Mars Bars and beer-battered fish, tell me, how could I resist?
The food is seriously dirt cheap. I did a double take when I found that the yummy-sounding cheesy curry chicken cost just $3.45! Was the portion small? Not at all! Chippy promised 35 (or was it 45) pieces of chicken and definitely did not scringe on the portion.
So I asked for "extra spicy chicken", paid my $3.45, watched the crew deep-fry my chicken pieces right in front of me and waited eagerly for the chicken to be ready. I got real worried when I saw how oily it was. This was definitely not meant for everyday consumption!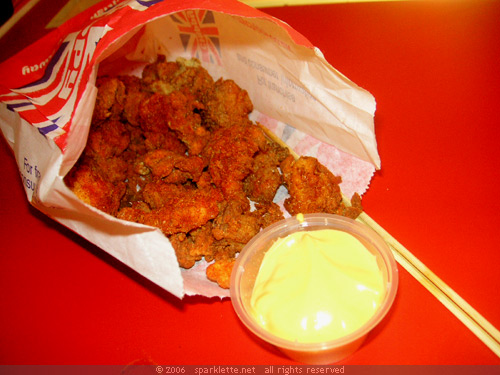 Cheesy Curry Chicken (Extra Spicy)
S$3.45
Rating:





But boy was it good. It was lip-smacking good! The food was cooked only upon each order placed, which explains why the chicken was still hot and crispy and packed with spices. As if that wasn't enough, the little tub of cheese dip that came along was perfect for the chicken. It had a sweet and sour now-you-taste-it-now-you-don't quality to it. Rather intriguing! Man, just thinking about the chicken makes me salivate already.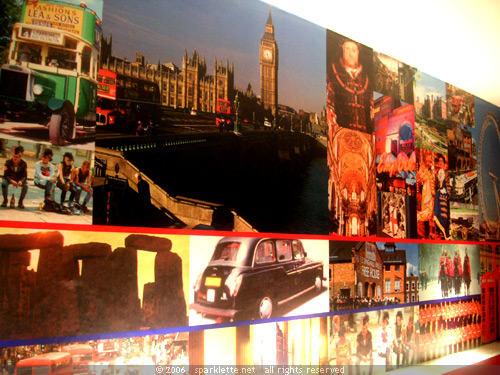 Even though this place is meant for take-aways, they do have some standing and sitting space reserved for customers. I like the colourful photo montage mural that decorated one side of the wall. I like the fact that the prices are cheap and the food is so yummilicious. Basically I like everything about the place! Chippy has totally won me over!
Gonna try out a couple of those fried Mars Bars next time!
Raffles City outlet
Raffles City Shopping Centre
252 North Bridge Road #B1-58
Singapore 179103
Plaza Singapura outlet
Plaza Singapura
68 Orchard Road #B2-38
Singapore 238839
News updates
February 3, 2007: My list of Best (& Worst) Restaurants in Singapore for 2006
– Winner of "Best Take-out"