I like Raffles Marketplace, located at the basement of Raffles City Shopping Centre, with its range of stores such as Crumpler, Roxy, MPH bookstore. Of course, what's even better is the extensive lot of restaurants such as Din Tai Fung and Aerin's, and take-out outlets like Chippy British Take Away. On a recent evening I paid a visit to the crêperie, Out of the Pan.
Located right next to the fountain, with part of the place lying beneath the skylight, out of the pan offers casual dining pseudo-alfresco style. I'm not too crazy about crêpes, nor do I get what the big deal with crêpes is, but I decided to make a meal out of seafood crêpe anyway.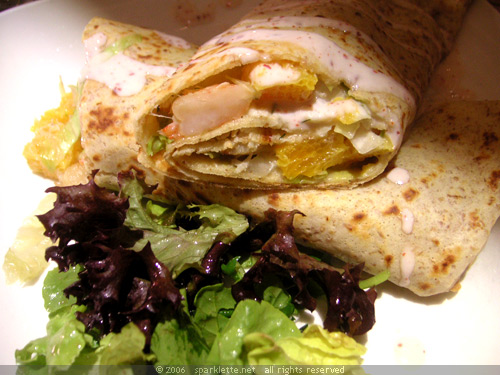 Seafood Jungle
S$15+++
Rating:





I probably should have gone for a dessert crêpe as that would have been a safer option. The seafood crêpe I had was on the boring and bland side. The taste was monotonous and certainly didn't excite for a dish that's named "seafood jungle". But I guess all healthful food tend to taste boring!
One thing noteworthy about the dish was the generous number of shrimps that had been stuffed within the crêpe layers. But that was it.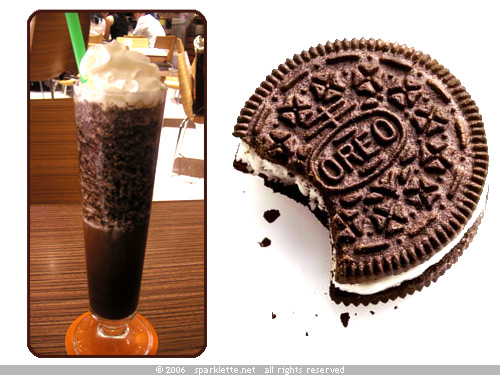 Coffee Oreo
S$5+++
Rating:





Anyhow, the number of calories that I saved by eating that healthy dish instead of a regular high-fat meal was undone when I washed it down with a tall glass of coffee Oreo. Well I had no idea when I placed my order that it would be two feet tall. It also didn't help that it was mostly milk and Oreo chocolate rather than coffee.
All in all, Out of the Pan is a place for casual dining or a late afternoon tea session with friends. The service and food is nothing to shout about. And with such stiff competition going on at Raffles marketplace, I would likely give this place a miss in future.
Out of the Pan
Raffles City Shopping Centre
252 North Bridge Road #B1-45
Singapore 179103
Tel: +65 6431 6103
Service: