If you are in the Bukit Merah vicinity and you happen to be craving for a warm plate of Hainanese chicken rice, head over to Sin Heng Kee Hainanese Chicken Rice at ABC Brickworks Market & Food Centre. This friendly family-run stall sells some of the cheapest and yummiest chicken rice around!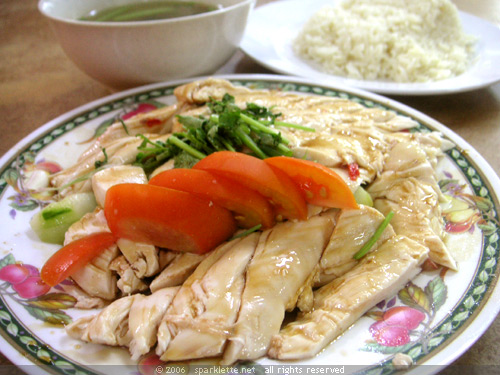 Hainanese chicken rice
S$2.50 a plate / S$6 for 2-person portion of chicken with rice (above)
Rating:





I am not exaggerating when I say that the Hainanese chicken rice here is one of the best. How many times have you eaten shoddily prepared chicken rice that comes with measly portions of dry chicken meat and plain white rice instead of chicken rice? Over here, you are assured of a sumptuous meal of chicken rice with a warm bowl of soup to wash down the yumminess. Oh and did I mention the fresh tomato and cucumber too?
My family and I LOVE this chicken rice stall because of its generous serving. The first time we came here, we were surprised by the huge portion of chicken breast meat we got for just S$6. There was enough food for four people! Back then I had attributed the huge portion to the fact that the stall was perhaps closing for the day and had a lot of leftover chicken. But in our many subsequent visits, the portions simply grew bigger and bigger!
Moreover, it's not just about having quantity. Sin Heng Kee certainly doesn't compromise on the quality of the food. The rice is fragrant, savoury and non-oily while the skinless chicken meat is silky smooth and delightfully tender too. The chilli sauce and dark soy sauce are perfect with the chicken too! If I had my wish I would eat it everyday!
I simply cannot find any fault with Sin Heng Kee Hainanese Chicken Rice. Finding cheap chicken rice that is delicious at the same time is quite hard these days. If you happen to drop by ABC Market, this nondescript stall is definitely worth checking out for a quick, no-fuss meal.

Loading ...
Sin Heng Kee Hainanese Chicken Rice
ABC Brickworks Market & Food Centre
6 Jalan Bukit Merah #01-37
Singapore 150006
Bus services: 123, 14, 147, 153, 196, 197, 198, 855, 961
Nearest MRT: Redhill