Over the weekend we tried out the Sakura buffet. The wide variety of food meant that we could really keep ourselves busy throughout the entire duration of the dinner buffet. Food items that we buried our faces in included oysters, sashimi, drunken prawns, shark fin soup, steaks and cheesecakes. With the exception of the Chinese dishes, I sampled a little of everything.
Dory Fish Teppanyaki
Rating:





The first thing I had was the dory fish teppanyaki. Along with other teppanyaki and barbecued dishes, the chef prepared it on the spot. Every table in the restaurant is assigned colourful tags labeled with the table number. These tags can then be used to queue for food which would be served at your table once it's ready.
Anyway, the dory fish teppanyaki was a good choice. It had a lot of flavour and fared much better than the salmon teppanyaki, which turned out bland and stiff and was quite hard to swallow.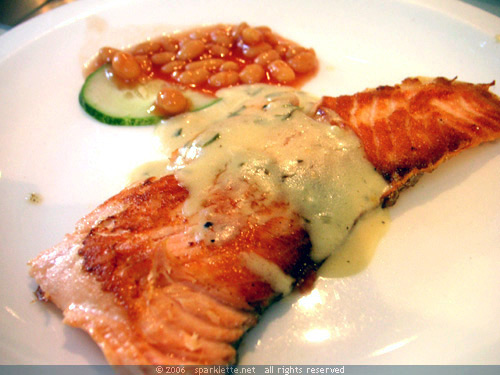 Salmon Teppanyaki
Rating: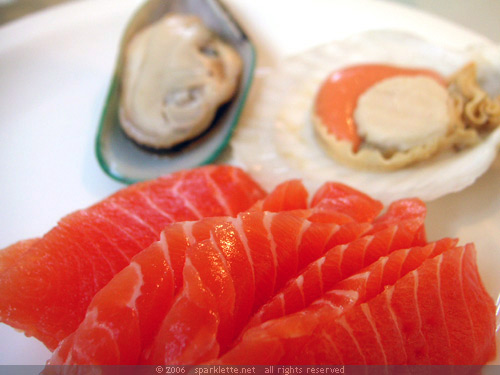 Salmon Sashimi, Scallop & Mussel
Rating:





Fresh salmon sashimi was a much better option. A pity the salmon wasn't too fresh. It flew off the shelf pretty quickly though and the staff had to keep replenishing it. The scallops and mussels were very fresh in comparison. I love those!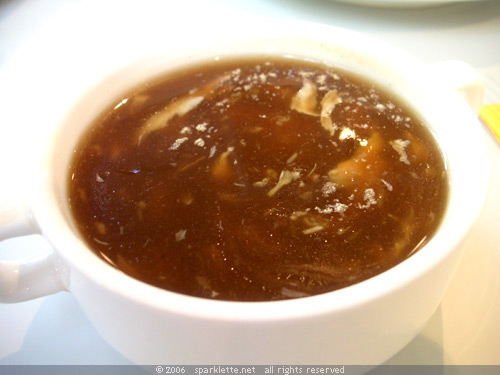 Shark Fin Soup
Rating:





There did not appear to be any miso soup. What I could find was shark fin and cream of mushroom soup. Had me a bowl of shark fin soup which was a little on the thin side but otherwise quite okay.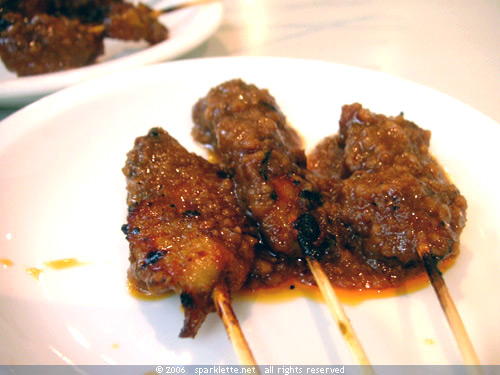 Chicken Satay
Rating:





Chicken satay was also barbecued on the spot, and served with peanut gravy already ladled over it. The chicken flesh was tender enough and the gravy was decent too.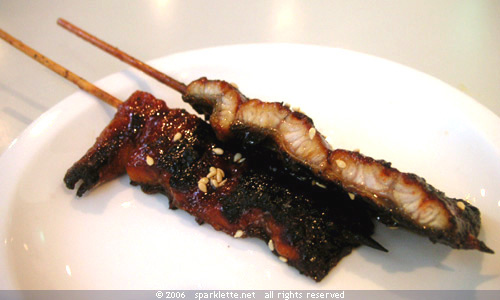 Unagi Satay
Rating:





If you love unagi you would love it in the satay form. It had been nicely marinated and was juicy and savoury. The cook didn't do a good job of barbequeing. It ended up being slightly burnt, which was a real shame.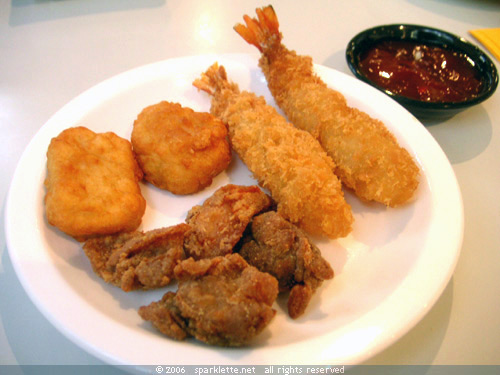 Fried Stuff
Rating:





Stay away from the fried food section. There were chicken nuggets, chicken popcorn, breaded crab claws, breaded prawns, etc. On paper these sound yummy but the real deal was all oily. The moment I sank my teeth into a breaded prawn, oil came oozing out. Ugh!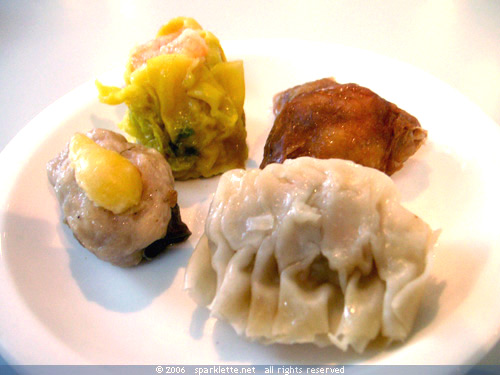 Dim Sum
Rating:





I made a bad decision in eating the dim sum. They were rather bland and did a lot to fill me up. I felt quite stuffed after eating those.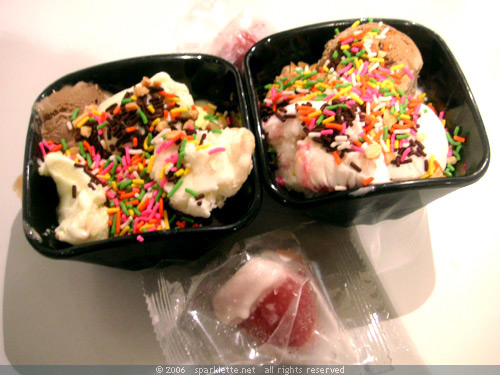 Ice Cream
Rating:





The best part of the buffet had to be the dessert. For ice cream they had twelve different flavours. My favourite was the strawberry ripple – yummy and not too sweet at the same time. Strangely I couldn't find a chocolate tub anywhere. The toppings of chocolate sprinkles, rainbow sprinkles and chopped nuts were a real delight! We had fun making our own sundaes.
They also had some of those strawberries with ice cream fillings. Is there a name for those things? They are getting pretty popular these days. I don't really like strawberries, but those things sure are fun to eat. First you unwrap the clear plastic wrapper. Then you spend some time admiring the pretty fruit. You bite into it, and finally taste the first hint of ice cream.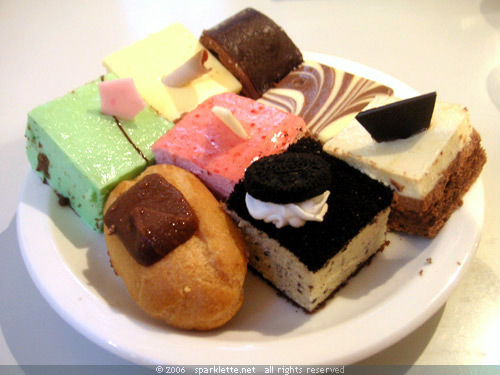 Miniature Cakes
Rating:





Other than ice cream there was also a huge assortment of miniature cakes for dessert. That's hands down my most favourite part! Just looking at those cute little cakes alone was enough eye candy! Each one looked so adorable, and there were so many of them! Marbled cheesecake, New York cheesecake, oreo cheesecake, peppermint, strawberry mousse, white chocolate lavender, chocolate eclair, etc. Yummy, yummy, yummy!
One major gripe I have with Sakura is that the plates were not properly cleaned. I had to search through stacks of supposedly clean plates to find one that didn't have specks of food left behind! I didn't really care to know what the previous user had eaten. So Sakura or Suki, if you're reading this, please invest in better dishwashers!
Other than that, with the vast range of food available, this buffet really promises to cater to multiple tastes. With all the sushi, sashimi, teppanyaki, Chinese dishes, dim sum, good desserts, it probably wouldn't be the last time I visit.
Sakura
(

Halal certified
)
Lunch
12noon – 2:30pm:
– S$21+ for adults
– S$18.90+ for senior citizens (60 years and above)
– S$11.90 for children (12 years and below)
Dinner 6pm – 9:30pm:
– S$25+ for adults
– S$18.90+ for senior citizens (60 years and above)
– S$11.90 for children (12 years and below)
Additional S$2 on Friday nights, weekends, eve of PH and PH
Additional S$2 for adults, S$1 for senior citizens and children at Dhoby Ghaut Green and Cairnhill Place outlets
Outlets:
– Admiralty Park, 31 Riverside Road, Tel: +(65) 6368 8197
– Cairnhill Place, 15 Cairnhill Road #02-01, Tel: +(65) 6735 8197
– Clementi Woods Park, 93A Clementi Road, Tel: +(65) 6474 8197
– Dhoby Ghaut Green, 10 Penang Road #01-02, Tel: +(65) 6334 8197
– Downtown East, 1 Pasir Ris Close #02-02, Tel: +(65) 6755 8197
– Jurong West Sports & Recreation Centre, 20 Jurong West Street 93 #02-06/07, Tel: +(65) 6899 8197
– Omni Theatre, 21 Jurong Town Hall Road, Tel: +(65) 6566 8197
– SAFRA Tampines, 1A Tampines St 92 #01-00, Tel: +(65) 6784 8197
– Shaw Plaza, 360 Balestier Road #04-01, Tel: +(65) 6736 8197
– Yio Chu Kang Stadium, 210 Ang Mo Kio Ave 9 #01-208, Tel: +(65) 6754 8197
Website
News updates
February 3, 2007: My list of Best (& Worst) Restaurants in Singapore for 2006
– Winner of "Best Value Buffet"
– Nominated for "Best Buffet"