Having had such a wonderful and memorable Christmas dining experience at graze, I returned there on a different occasion barely a couple weeks later. Unfortunately it doesn't open for lunch so Da Paolo, its adjacent neighbour at Rochester Park, played host to us instead.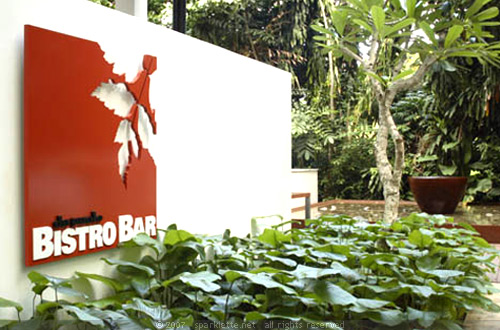 Comparing Rochester Park in daytime and night time, there is a stark contrast. In the day, this place seems almost lifeless with few customers even during lunch hours. The alfresco dining areas at graze and Da Paolo are not even open, with chairs flipped over and tables blanketed with canvas. My advice is to visit Rochester Park only at night, because that's when it becomes much sexier and livelier.
But for now, let's just take a look at Da Paolo Bistro Bar.
This isn't the first Da Paolo restaurant. It has a few other branches including Club Street and Holland Village. But the Rochester Park branch definitely has the winning design. Like the other restaurants at Rochester Park, it is housed in a restored colonial bungalow. The courtyard has been converted into a charming alfresco dining area, and the old swimming pool is now an outdoor bar!
Besides the huge expanse of space dedicated to outdoor dining, the bungalow itself offers indoor dining with its own bar so that people may wine and dine in comfort.
Bruschetta con Melanzane e Acciughe
(Braised eggplant, garlic and anchovies on grilled bread)
S$10++
Rating:





We had a few appetisers, with this bruschetta con melanzane e acciughe being the most interesting one. The bread had been grilled just right and the eggplant, garlic and anchovies combined to form a nice topping.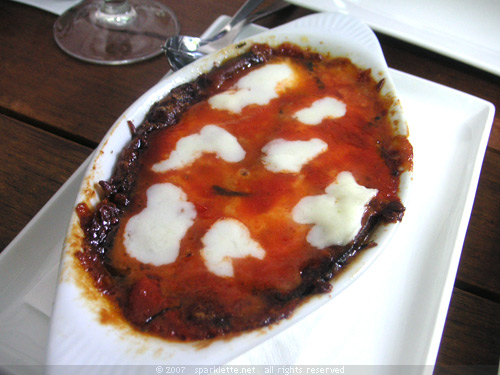 Melanzane alla Parmigiano
(Eggplant layered with mozzarella, tomatoes, parmesan cheese and basil)
S$14++
Rating:





Okay I'm pretty sure I got the name of this dish wrong, but it looked and tasted pretty much like lasagna. It was very flavourful and rich in cheese.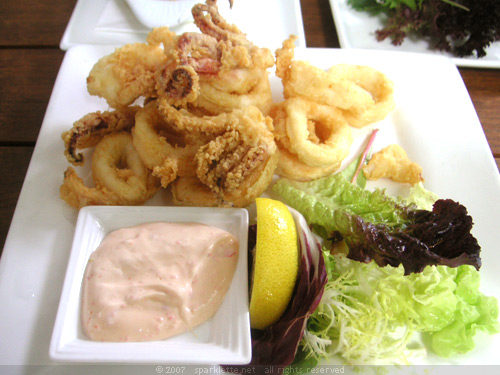 Calamari
S$17++
Rating:





As for the fried calamari rings, I feel that it is a staple dish in all Western meals. This particular one was unfortunately too chewy and rubbery in texture. And to add salt to the wound, the miserly portion of calamari cost a hefty $17! It was more expensive than most of the main courses in the menu! What's up with that, da paolo? Were those famous squids or something?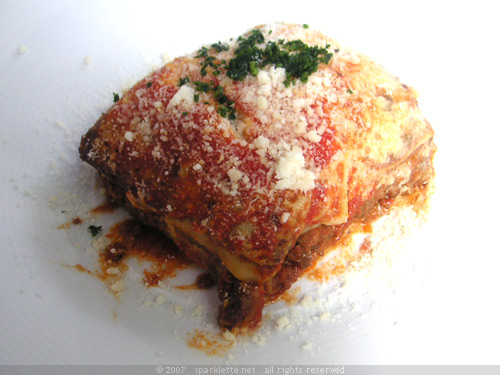 Lasagne alla Bolognese
S$15++
Rating:





The main course I ordered was the lasagna bolognese. This is one of those dishes that can't go wrong. (no wonder it's garfield's favourite food!) but because of the generous amount of mozzarella cheese, I felt full pretty quickly. And yes, I know it's minced beef and all and I'm no longer eating beef. But I couldn't find any vegetarian, chicken or seafood dish that I liked on the menu. This is the first time I had eaten beef in a year, or perhaps even longer.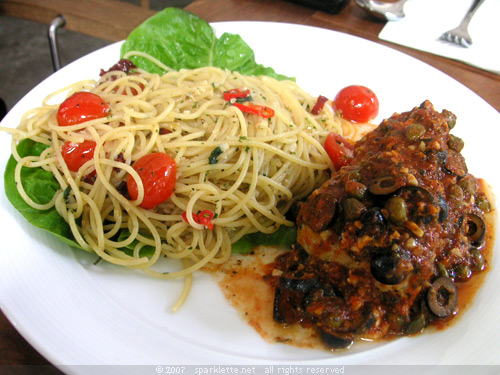 Tuna Spaghetti (fish of the day)
S$?++
Rating:





The fish dish of the day was tuna spaghetti. Now, I'm extremely picky when it comes to fish, and the only ones I eat are cod, salmon and dory. Tuna has never been a personal favourite. So it was rather surprising that I actually kind of liked the tuna spaghetti.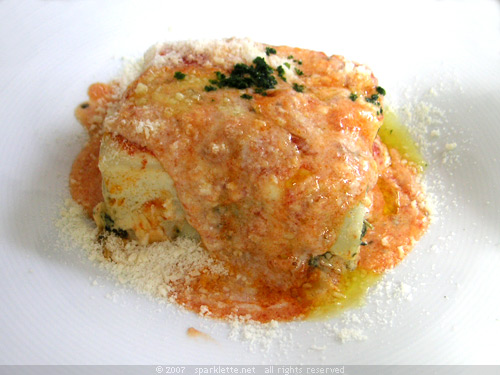 Cannelloni con Spinaci e Ricotta
(Home made pasta rolled with spinach and ricotta)
S$16++
Rating:





Okay this is another dish that I'm pretty sure I got the name wrong. I apologise but I really struggle with long dish names especially when they aren't in a familiar language. Anyway when it was served we all commented that it looked like one huge tofu with gravy! Also, it kind of looked like my lasagna don't you think?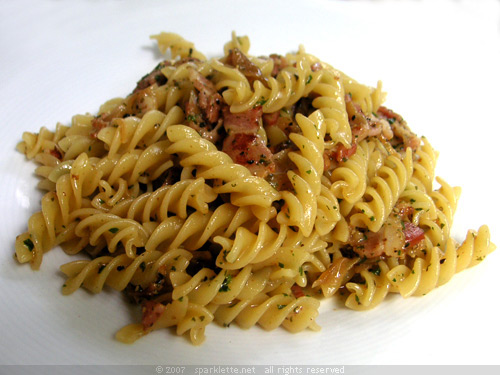 Fusilli con Pancetta e Pepe (Short pasta with bacon, sweet onions, black pepper and parmesan cheese)
S$19++
The fusilli pasta turned out to be the most pricey dish of the day. Who would have thought?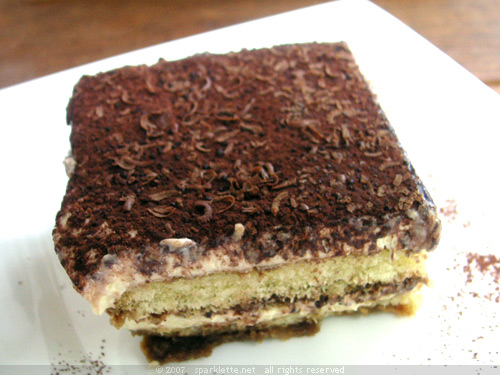 Tiramisu
S$10++
Rating:





After an ensemble of starters and mains, it's time for desserts! The tiramisu was a little on the bland side.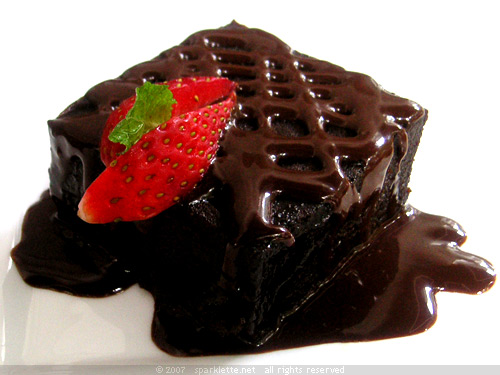 Torta al Cioccolato (Flourless chocolate cake)
S$10++
Rating:





But fortunately, the flourless chocolate cake fared way better! The flourless part sounded rather intriguing – great news for all the atkins and South beach dieters! As it turned out, this chocolate cake was marvellous and for me, it was the best part of the entire meal.
So the food at the bistro bar didn't fare exceptionally well, which is understandable since it appears to be more of a bar than a restaurant. For those who want a reprieve from work, over some nice wine and candlelight, this would be the perfect place. But if you're looking for a good and satisfying meal, any of the other da paolo restaurants would probably be a much better option.
Da Paolo Bistro Bar
3 Rochester Park
Singapore 139214
Tel: +65 6774 5537
Service:





Website