A new authority has arrived in town, and they want to take care of all your dessert needs! At Dessert Ministry, you can have your fill from the large variety of over 80 Asian sweet concoctions all in one place.
Located at the ground floor of Cathay Orchard Cineleisure, the cheekily named café sports a simple and casual concept. You can order a bubble tea to go, or dine in with one of the colourful desserts. The eating area is filled with wooden tables, brightly-coloured stools and a few booth seats. Large prints of the tantalising house specialty desserts adorn the walls.
If you are unsure of what to choose from the menu, start with the signature items. These are the mango series and the Japanese daifuku, better known to Singaporeans as the mochi.
Mango desserts
The mango-based creations include puddings and ice cream treats. If you are a mango die-hard fan, the all-inclusive Mango Supreme would hit the spot.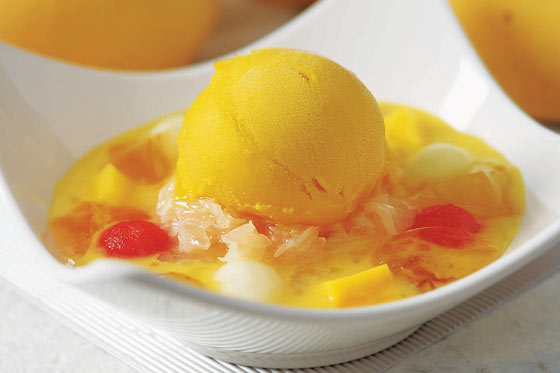 Mango Supreme
S$8.80
Rating:





As its name suggests, the Mango Supreme contains all things mango. An order of this gets you a scoop of homemade mango ice cream sitting on a bed of mango pudding, surrounded by a moat of mango puree. To ensure a well-rounded mix, chunks of watermelon and honeydew have been introduced, with lemon jelly and juicy pomelo sacs thrown in for good measure. At $8.80, this happens to be the priciest, and also the most wholesome dessert on the menu.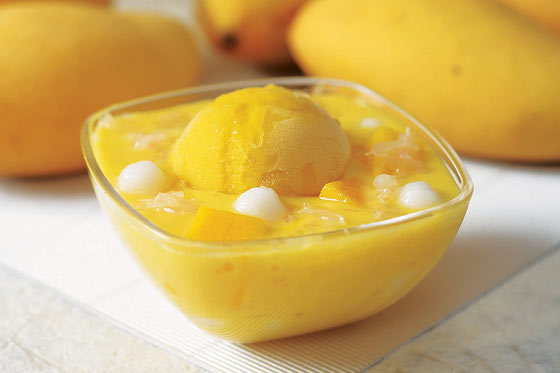 Mango Passion
S$7.20
Rating:





If you feel that is too much of an indulgence, go for Mango Passion, a scaled down version. It has all the goodies from the Supreme except for the pudding and watermelon balls.
Daifuku
The aforementioned daifuku (meaning "good luck" in Japanese) is handmade using Japanese flour. Apparently, it takes the chefs around four hours to make a batch of forty pieces, available in four flavours – strawberry, matcha (green tea), mango and durian.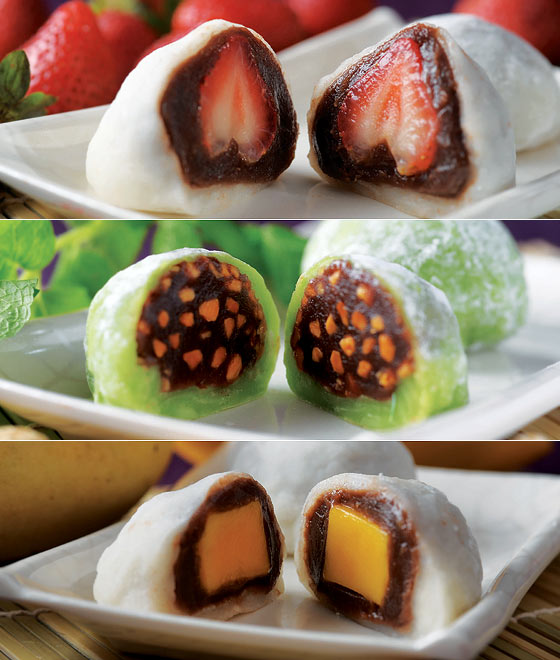 Strawberry, Matcha (green tea) and mango Daifuku (Japanese mochi)
S$3.50 for 2
Strawberry




Matcha





Mango Rating:





The strawberry and mango flavours are stuffed with huge chunks of fruits. Some of you may prefer the more delicate matcha mochi which has a green tea flavoured skin embracing an ingratiating mixture of red bean paste and chopped peanuts.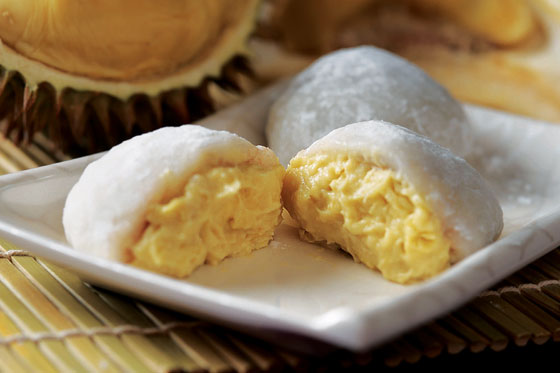 D24 Durian Daifuku (Japanese mochi)
S$4.20 for 2
Rating:





Durian lovers would be pleased with the durian mochi that is filled with fresh D24 durian pulp. As much as I love the taste of this, I can't help but draw a comparison with Kia Hiang Restaurant's top-notch rendition of the same delicacy, which is bigger, plumper and costs slightly less, too.
Ice cream
A small selection of melt-in-the-mouth ice cream treats such as mango, green tea and black sesame is also available.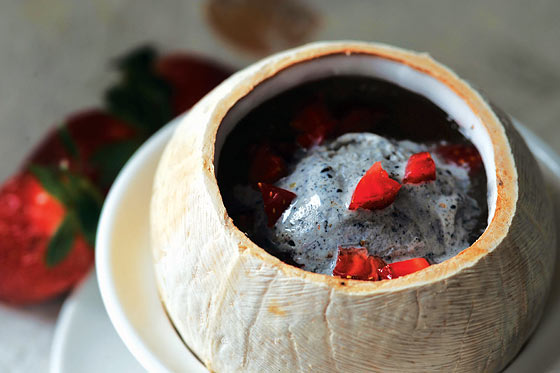 Young coconut with black sesame ice cream & strawberry
S$7.80
Rating:





The black sesame ice cream, for instance, is presented in a young coconut, coupled with chunks of strawberry. While it isn't as rare as it used to be, Goma ice cream is still not something you commonly get in restaurants or supermarkets, so finding it here is a nice surprise. The roasted, nutty taste of the black sesame seeds is just elegant.
Hot desserts
Fans of hot desserts need not feel the least bit slighted. Heartwarming steamed desserts come in the form of the cream dessert soups, available in almond, walnut, peanut, black sesame and walnut.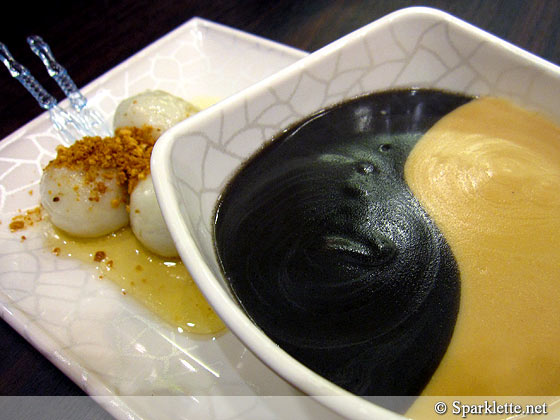 Black sesame & peanut cream with sticky sugar rice balls
S$5.50
Rating:





I especially like the combos that have a pair of cream pastes in the same bowl, partitioned neatly like the yin-yang symbol. The black sesame cream paste is just in the "OK" category, so my pick for this round goes to the peanut paste. For these combos, you can choose to have them accompanied by a trio of glutinous rice balls or sticky sugar rice balls, both with black sesame filling.
Drinks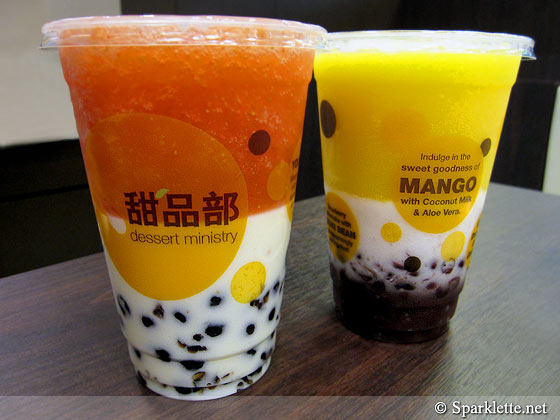 Strawberry milkshake with pearl, and mango with coconut milk & Azuki (red bean)
S$4.80 and S$4.50
Rating:





For drinks, you can choose from an array of fruity flavours such as strawberry, papaya and honeydew, and bases like bubble tea pearls, aloe vera, azuki (red bean), honey jelly and sago. These are so filling, they are practically desserts in their own right!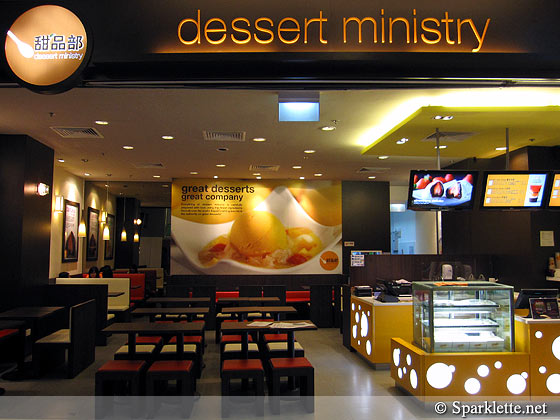 Dessert Ministry certainly has authority when it comes to desserts. With dozens of dazzling creations, you are bound to find something you like, if Asian desserts are your thing, that is.
Have Your Say!
What are your favourite Asian desserts? Share with us in the comments!
Dessert Ministry
Cineleisure Orchard
8 Grange Road #01-03
Singapore 239695
Tel: +65 6887 5347
Opening hours:
Sun – Thu: 11am – 11pm
Fri, Sat & Eve of PH: 11am – 2am