Want a super easy way to buy a cake in Singapore? You gotta check out MetroCakes then. This Christmas, you can order a log cake online and have it delivered without ever leaving your house!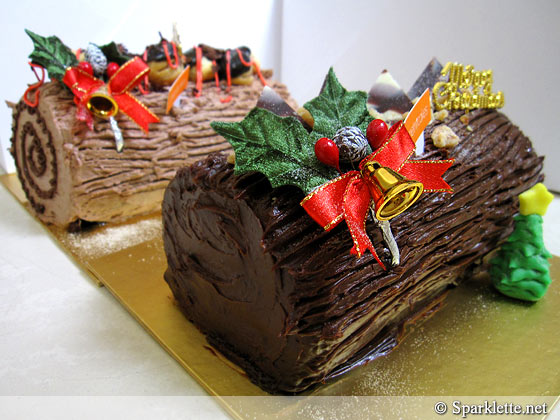 MetroCakes is an online bakery with a physical shop at Kampong Glam. I recently reviewed their diverse miniature cake collection. For the festive season, they have whipped up two attractively designed log cake creations. Interestingly, both log cakes have fairytale-like names – Christmas Knight and Enchanted Woods.
Unboxing the cakes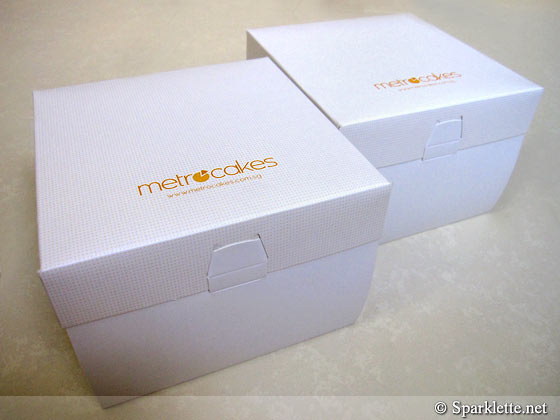 The cakes come in the MetroCakes' signature white boxes with the orange logo. Depicted here are the 500 gram log cakes, which are also available in three other sizes – 1, 1.5 and 2 kilograms.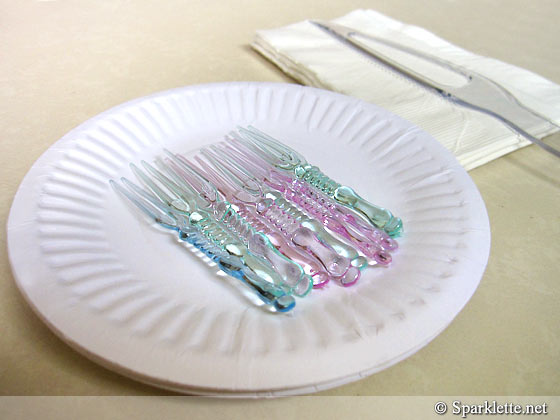 A separate compartment at the base of the box is where you would find disposable cutlery such as a plastic knife, paper plates and colourful picks for your cake cutting and eating convenience.
Christmas log cakes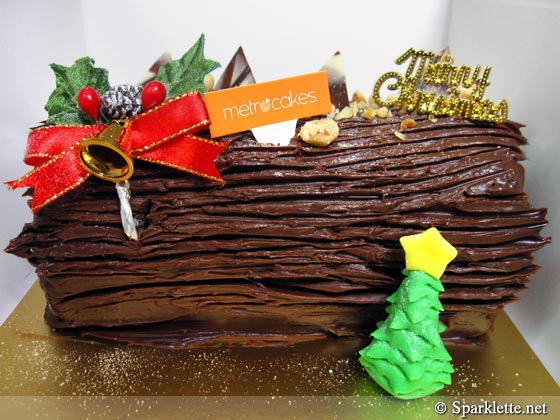 Christmas Knight
500g – S$44.90
1kg – S$59.90
1.5kg – S$79.90
2kg – S$99.90
Rating:





The Christmas Knight – chocolate sponge cake dressed with milky hazelnut cream and finished with dark chocolate fudge – is rich yet supernal upon the tongue. Topped with pieces of white chocolate and crushed hazelnut bits, this is the traditional chocolate log cake in every sense. Oldies are goldies indeed! Bonus points for the beautiful toppings and ornaments. I especially like the little handmade fondant Christmas tree, which even has a yellow star!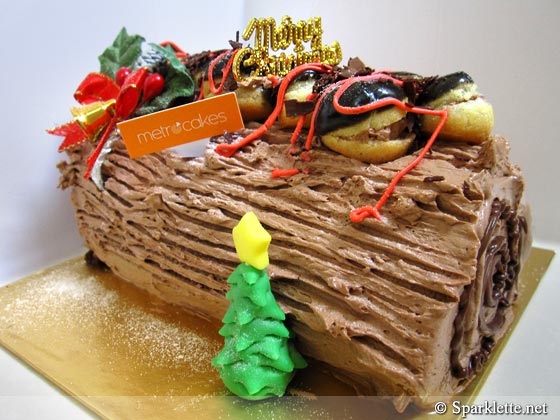 Enchanted Woods
500g – S$44.90
1kg – S$59.90
1.5kg – S$79.90
2kg – S$99.90
Rating:





But if you happen to be a black forest cake fanatic, the Enchanted Woods may just cast a spell on you. This chocolate mousse log cake has two layers of rich chocolate mousse and rum-soaked cherries sandwiched between chocolate sponge. And that's not all.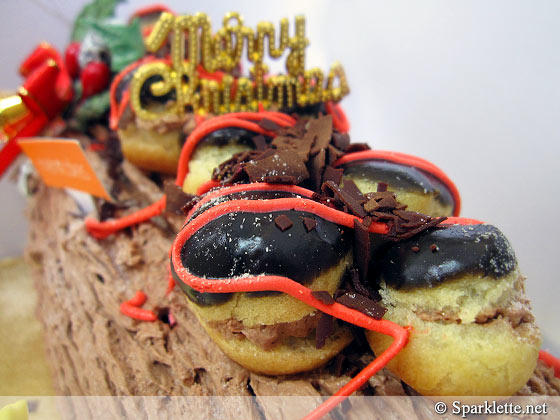 Set atop the cake is a delicious armada of mini eclairs for a wholesome cake indulgence.
Mouse potatoes who enjoy the convenience of purchasing cakes online can head on over to the website and get clicking. Prices include delivery.
Have Your Say!
Where are you buying your log cakes this Christmas? Do you prefer the traditional chocolate log cake or the modern ones with innovative flavours? Share with us in the comments!
MetroCakes
774 North Bridge Road
Singapore 198742
Tel: +65 6294 9929 |
Website
Opening hours:
Mon – Fri: 10:30am – 7pm
Sat: 10:30am – 3pm
Closed on Sundays & Public Holidays